Cissampelos capensis L.f.
Family: Menispermaceae
Common names: Cape moonseed vine (Eng.); dawidjies, davidjes, dawidjieswortel, dawedjieswortel, fynblaarklimop (Afr.); umayisake (isiXhosa)
Introduction
Cissampelos capensis is a tough, slow-growing, sprawling or climbing shrublet with beautiful bluish-green foliage, and is a well-known medicinal plant that has been used for hundreds of years.
Description
Description
Cissampelos capensis is a dioecious (male and female flowers on separate plants), perennial climber or twining shrublet growing up to 1 m tall. The plant does not have tendrils but supports itself by twining around the stems of other plants. Leaves are rounded or heart-shaped, up to 25 × 25 mm long, bright green, on thin petioles up to 30 mm long.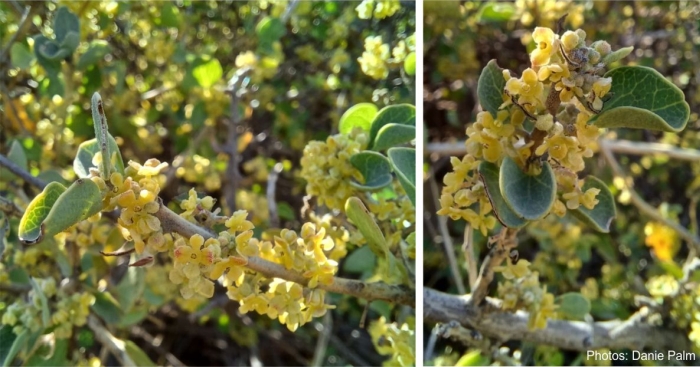 Small, velvety hairy, greenish-yellow flowers are produced in leaf axils, in late summer to autumn (from February to May). Male flowers are in clusters, female plants produce 1–2 flowers.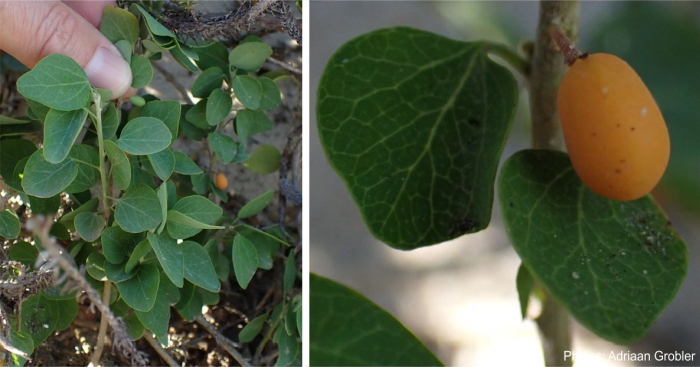 The fruit is an inedible, grape-sized, fleshy, orange berry.
Conservation Status
Status
Cissampelos capensis is currently assessed as Least Concern (LC) in the Red List of South African plants. This means that the species is not threatened and is not at risk of becoming extinct.
Distribution and habitat
Distribution description
The plant is widely distributed in the western and southern parts of South Africa, from the western Karoo to Gqeberha (formerly Port Elizabeth), and in southern Namibia. It grows in open localities on sandy slopes and scrublands, on well-drained, sandy or granite-derived soils, at elevations up to 1 900 m. In most lowland habitats (absent from Protea and Erica Fynbos), plants are found sporadically in loamy or clayey soils. In the arid parts of the Karoo, plants with berries are found only along rivers and in sheltered places among boulders on koppies.
Derivation of name and historical aspects
History
The genus name Cissampelos comes from the Greek kissos, meaning 'ivy', and ampelos, meaning 'vine', referring to the scrambling, climbing habit of the species. The specific epithet capensis means 'belonging to the Cape Province, South Africa'.
In about 1772, Thunberg first recorded the common name dawidjieswortel and noted that in infusions of wine and brandy, the root was used as an emetic and purgative. This name is applied to a number of different plants that are used in a similar fashion, including Cissampelos spp., Pilogyne scabra (= Melothria cordata), Kedrostis crassirostrata and Trochomeria deblis (= Zehneria wyleyana). The name davidjieswortel literally means 'david's root' although the meaning is obscure, but perhaps has some Biblical reference "… waar David die wortel gegrawe het" meaning '… where David buried the root' (Smith 1966).
The genus Cissampelos has about 30 species of which one occurs in the Klein Karoo. Other South African members of the genus are C. mucronata and C. torulosa, both of which are also medicinal plants and occur in northeastern South Africa in KwaZulu-Natal, Mpumalanga and Limpopo, and C. hirta which occurs in KwaZuluNatal. These flowering plants are members of the moonseed family, Menispermaceae, which consists of 75 genera, with 520 species.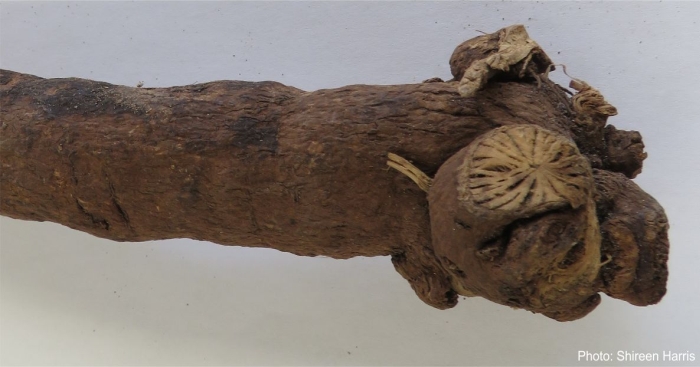 Ecology
Ecology
Cissampelos capensis may be burned in a fire but survives and resprouts after fire because it has a woody rootstock below the ground. In cross-section, the woody underground stems are easily identified by the star-shaped pattern created by the ray cells.
Bees are possibly the pollinators of the minute, greenish-yellow flowers. The fleshy orange berries are possibly dispersed by birds or baboons. For the establishment and growth of the seeds of berries, generally, moisture and fertile sites are needed.
Uses
Use
A tincture of the rhizome in alcohol or brandy or a decoction of the rhizome is taken as a blood purifier to treat boils and glandular swellings, syphilis, cholera, colic, diarrhea, skin diseases, diabetes and several cancers. The extract is also used to prevent miscarriages and difficulty in labour, and to expel retained placenta. The leaves are applied as a paste to treat sores and snakebites. The leaves and rhizome are almost certainly toxic to humans, as the latter has been used as emetics and purgatives. The leaves of Cissampelos capensis are known to be toxic to cattle.
To ward off evil spirits, stems are burnt as incense, while a stem infusion is used as a ritual wash for the same purpose. As protective charms, pieces of root are commonly worn around the neck, arms or waist.
In the garden this plant can be used as a groundcover or as a climber to cover an unsightly fence.
Dawidjieswortel plants are well known to Rastafarians who harvest the woody stems (rhizomes) of these plants from the wild for medicinal purposes or to sell in local markets. The lay person living in Cape Town is unfamiliar with this plant unless the person has an interest in medicinal plants. None of the online websites sell seeds of this plant. It is also not sold in retail nurseries because it is difficult to obtain seeds of the plant.
Growing Cissampelos capensis
Grow
Cissampelos capensis is propagated sexually from seeds. Collect the seeds, which are orange when ripe. Clean off the flesh. Before sowing, soak the seeds in lukewarm water for 12–48 hours. The ideal sowing mixture is well-drained, made up of 2 parts river-sand and 1 part fine-milled bark. Sow the seeds in autumn, 1 cm deep, taking care to space them evenly. The sowing mixture must be kept moist by using a mist sprayer. Place the seed tray in a warm, partially shaded place to protect the seedlings from fluctuating temperatures and too much sun. During their germination period the seeds need sufficient moisture, circulating air and optimum temperatures with enough light. Seedlings should be popping up within 10–14 days.
Cissampelos capensis is a low-growing, hardy shrub. It is not well-known as a garden ornamental, but is ideal for sunny, dry and windy spots in any garden, as it grows in sandy and well-drained soils with plenty of compost. It is best to plant dawidjies against a trellis close to a wall, so that it can twine itself around the structure. Or make use of a wire fence in front of the house so that the plant can twine and creep itself along it. Or it can be used to soften a dead tree in your garden.
Companion plants that will grow well with dawidjies and its beautiful bluish-green foliage are Carpobrotus quadrifidus (eland sour fig) with its big purplish-pinkish flowers, Salvia aurea (= S. africana-lutea) (brown sage) with its aromatic grey leaves and striking brown flowers which adds colour and texture to a garden, Didelta spinosa (spiny salad bush) with its attractive yellow flowers, Dimorphotheca fruticosa (creeping marguerite) with its bright purple flowers and Babiana thunbergia (cockscomb) with its eye-catching red flowers and Cleretum bellidiforme (bokbaaivygies) for colour.
The plant is relatively pest free.
References
Cocks, M.L. & Dold, A.P. 2006. Cultural significance of biodiversity: the role of medicinal plants in urban African cultural practices in the Eastern Cape, South Africa. Journal of Ethnobiology 26(1): 60-81.
De Jager, S. 2010. Veld medicine from the Klein Karoo. Publisher not identified, George.
Esler, K.J., Milton, S.J. & Dean, W.R.J. 2010. Karoo veld - ecology and management. Briza Publications, Pretoria.
Fern, K. undated. Cissampelos capensis. Useful Tropical Plants. Online.http://tropical.theferns.info/viewtropical.php?id=Cissampelos+capensis. Accessed 30/04/2022.
Foden, W. & Potter, L. 2005. Cissampelos capensis L.F. National Assessment: Red List of South African Plants version 20202. 1. Accessed on 2021/04/04.
Kyffhauser Flora. Cissampelos capensis L.f. https://www.kyffhauser.co.za/Plants3/Cissampelos_capensis/Image2.htm. Accessed 01/05/2022.
Low, A.B. 1983, Flowering plants of the Cape Flats Nature Reserve. University of Western Cape, Bellville.
Manning, J. & Goldblatt, P. 1996. West Coast. South African Wild Flower Guide 7. Botanical Society of South Africa, Cape Town
Oyen, L.P.A. 2008. Cissampelos capensis L.f. PROTA4U. Online. https://www.prota4u.org/database/protav8.asp?h=M4&t=Cissampelos,capensis&p=Cissampelos+capensis#Synonyms. Accessed 3 May 2022.
PlantZAfrica, Medicinal monographs, CISSAMPELOS CAPENSIS HERBA. Online. http://www.plantzafrica.com/medmonographs/cissampcap.pdf. Accessed 01/05/2022.
Smith, C.A. 1966. Common names of South African plants. Memoirs of the Botanical Survey of South Africa No. 35. Government Printer, Pretoria.
Van Wyk, B.-E., Van Oudtshoorn, B. & Gericke, N. 2009. Medicinal plants of South Africa, edn 2. Briza Publications, Pretoria.
Vlok, J. & Schutte-Vlok, A-L. 2015. Plants of the Klein Karoo. Umdaus Press, Hatfield.
Watt, J.M. & Breyer-Brandwijk, M.G. 1962. The medicinal and poisonous plants of southern and eastern Africa , edn 2. Livingstone, Edinburgh & London.
WordSense Dictionary. capensis. https://www.wordsense.eu/capensis/. Accessed 01/05/2022.
Credits
Laura Dineo Selepe & Shireen Harris
Karoo Desert National Botanical Garden
June 2022
Acknowledgements: the authors thank Nicola van Berkel, Sandra Falanga, Adriaan Grobler, Danie Palm and Jenny Potgieter for providing images.
Plant Attributes:
Plant Type: Climber, Shrub
SA Distribution: Eastern Cape, Northern Cape, Western Cape
Soil type: Sandy, Loam
Flowering season: Late Summer, Autumn
PH: Acid
Flower colour: Green, Yellow
Aspect: Full Sun
Gardening skill: Challenging
Special Features:
Drought resistant
Poisonous
Medical plant
Horticultural zones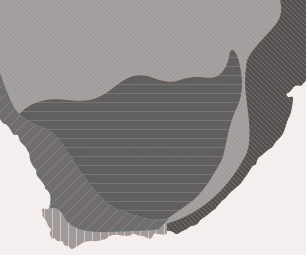 Zone 2 Coastal winter rainfall, frost free
Zone 3 Winter rainfall Karoo, light frost
Google QR Code Generator