Clematis brachiata x villosa 'Silver Beard'
Clematis brachiata x villosa 'Silver Beard'
Family: Ranunculaceae
Common names: silver beard clematis
Introduction
A sweet, pretty, indigenous hybrid clematis, named in honour of its creator, renowned horticulturist and botanist, Rodney Saunders.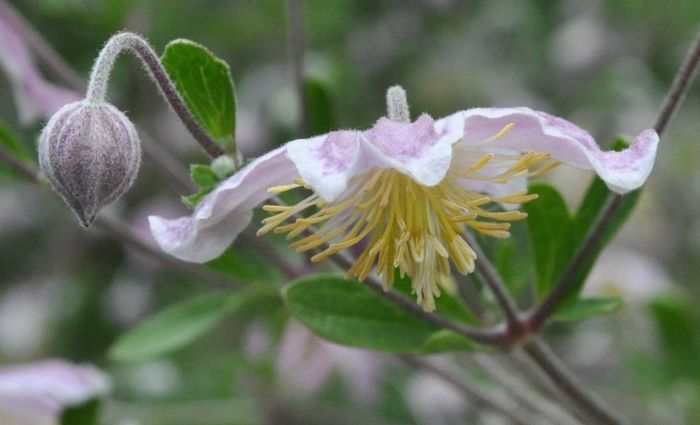 Description
Description
This hybrid is a small, evergreen creeper, with attractive, lightly scented, pink-blushed flowers, created from a cross between the climber, Clematis brachiata, and the shrublet, C. villosa, which until recently was called Clematopsis scabiosifolia. Up until now, this hybrid was simply referred to as Clematis x Clematopsis.
In order to understand 'Silver Beard' it is useful to look at both parents distinguishing characteristics.
Clematis villosa (= Clematopsis scabiosifolia), the Bush Clematis, is a tough shrublet  up to 1 m tall, with annual aromatic stem shoots covered in silvery hairs, originating from a woody rootstock. Its leaves are compound and are quite variable in shape. It bears numerous large, nodding and drooping, solitary, creamy white, mauve or pale pink, sweetly scented, hellebore-like flowers in summer (December to March) followed by the characteristic decorative, upright, feathery fruiting heads so much associated with this plant and that of its relative, the other parent of this cross.
Clematopsis brachiata, known as Traveler's Joy and Old Man's Beard, is a deciduous climber or scrambler, with slender, twining woody stems, that can reach 5 m long, with well-spaced, opposite, pinnately lobed leaves, tapering to narrow tips. It bears masses of smallish, sweetly-scented, creamy white flowers in late summer and autumn (February to May). These are so numerous, that they create a snowy effect. The flowers are followed by seed heads that persist on the plant, until well after mid-winter. The decorative fluffy effect of the seed clusters are formed by the long, graceful, feathery persistent styles attached to each seed.
Saunders (1995) explains how this hybrid came about: "Clematis and Clematopsis flower at the same time of year and at one stage I had them growing side by side in the nursery at Kirstenbosch. Feeling meddlesome I crossed the two species by hand". Rodney goes on to describe how he selected Clematis brachiata as the seed parent, and the seed that was sown from this cross yielded seedlings that were obviously hybrids, as they had the vigour and speed of Clematis brachiata combined with the foliage and compactness of Clematis villosa (= Clematopsis scabiosifolia). The flowers are slightly smaller than Clematis villosa (= Clematopsis scabiosifolia) but have the mauve-pink colouring and nodding habit of this parent plant, while being borne in clusters of multiple flowerheads with a floriferousness more characteristic of Clematis brachiata. 'Silver Beard' is a lovely combination of the best features of both its parents.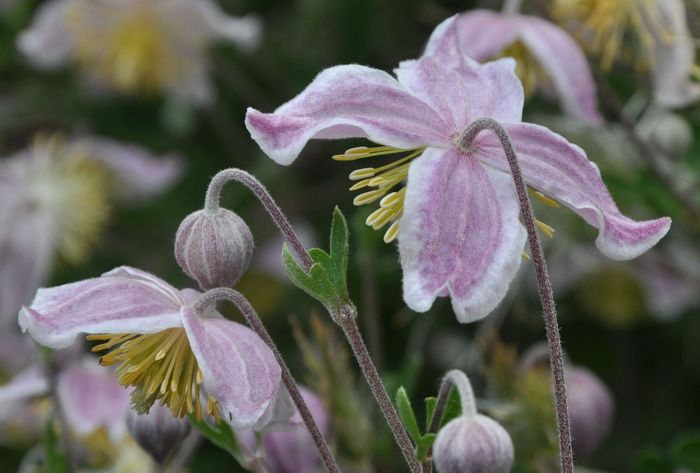 'Silver Beard' has numerous delicate, lightly wooded stems arising from a central woody rootstock, which scramble, twine and mound together very attractively if left to do so, never extending much further than 3 m in any direction. The young stems are pale green, softly hairy and ribbed.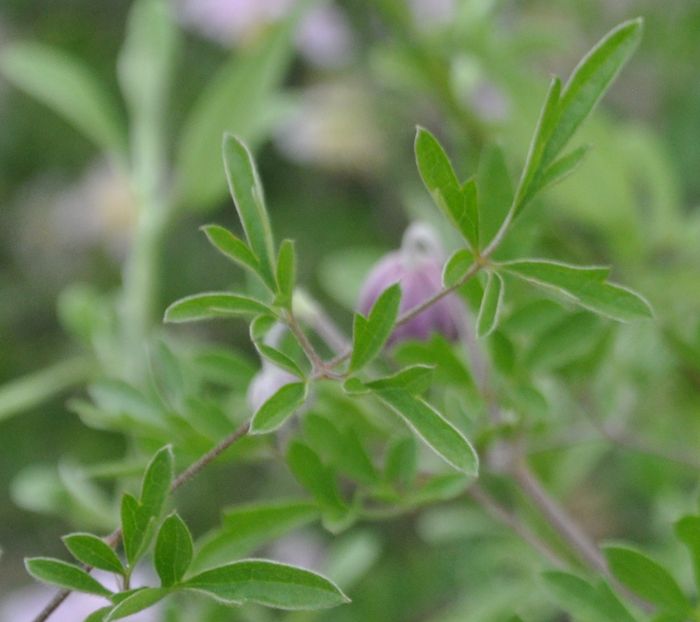 The light-green softly hairy foliage consists of well-spaced, opposite, pinnately compound leaves which are deeply divided into 5, ovate leaflets, each with their margins irregularly and/or deeply toothed. The foliage of Clematis villosa (= Clematopsis scabiosifolia) is very aromatic, but unfortunately 'Silver Beard' seems to have lost this characteristic – luckily it has retained a lightly sweet flower scent from both its strongly fragranced parents.
The cyme inflorescence stalks are lightly hairy and extend to raise the 3–5 flowers they carry, to stand just above the foliage, adding to the showiness of the plant when in flower. Flowers are beautiful, also light hairy, nodding prettily with 4 petal-like sepals, blushed pink to mauve and spreading to showcase a profusion of bright yellow anthers. The true petals are absent.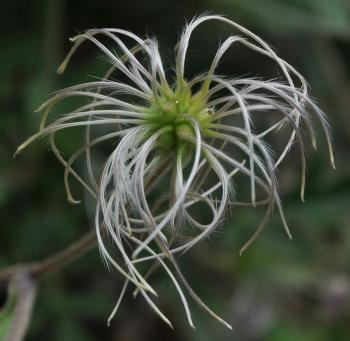 The fruit is an aggregation of greenish brown, plump achenes. These small seeds have persistent slender feathery styles, up to 40 mm long, covered in long, silvery white, silky hairs that glow with a silvery shimmer in the sunlight.
Conservation Status
Status
'Silver Beard' has no conservation status, as it is a hybrid.
Distribution and habitat
Distribution description
In the Gauteng Province, where the distribution ranges of both parent plants overlap, natural hybrids between them have been noted in the past.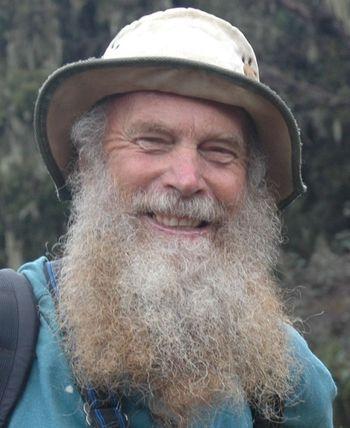 Derivation of name and historical aspects
History
The genus name Clematis is derived from the Greek, klema meaning 'vine', referring to its twining growth habit. The former name of the other parent Clematopsis means 'resembling Clematis'. The hybrid name 'Silver Beard' is in honour of Rodney Saunders, who always sported an impressive beard; a distinguishing feature and not unlike the masses of fluffy feather-tailed seeds of his hybrid. It is also inspired by one of the common names of its parent, Clematis brachiata, being Old Man's Beard. Rod Saunders (1945-2018), was a British born horticulturist who worked in both the Pretoria and Johannesburg Parks Departments, and was the Nursery Manager at Kirstenbosch National Botanical Garden in the 1980s to early 90s before buying the business Silverhill Seeds with his wife Rachel (1954-2018). They travelled extensively throughout southern Africa collecting seeds and were working on a book on Gladiolus when they were abducted and murdered in KwaZulu-Natal in February 2018.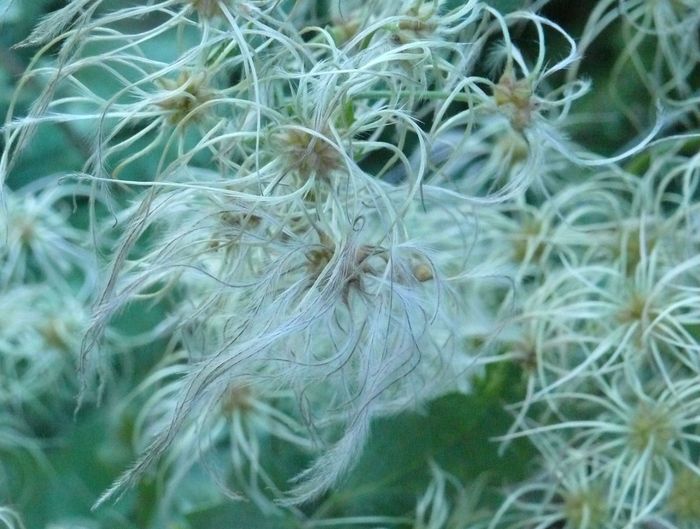 Clematis is a large genus, including herbaceous perennials, although better known for its climbers. The small-flowered woody vines are used as creepers in gardens and the large-flowered vines are used extensively in the development of ornamental hybrids grown for their exceptionally beautiful flowers.
The genus Clematopsis was accepted for many years as distinct from Clematis, but the current thinking regards them as one genus, Clematis. Clematopsis was made up of mainly shrubby plants from Madagascar and tropical and subtropical Africa. There was just 1 species, C. scabiosifolia, that occurred in South Africa, and this name was corrected to C. villosa (Brummit 2000).
Ranunculaceae, also known as the buttercup family, comprises about 50 genera and over 2 000 species that occur worldwide. Thirteen genera are found in southern Africa.
Ecology
Ecology
The flowers attract useful insects such as bees and attractive insects such as butterflies. The persistent feathery tails help the seeds in being dispersed by the wind.
Uses
Use
The many medicinal uses of Clematis brachiata have earned it the name of Traveler's Joy, and it is possible that 'Silver Beard' might well have retained some of these useful properties passed on from its parent, but this has not been tested.
The 'Clematis x Clematopsis' cross has loads more hybrid breeding potential, Saunders (1995) "There is still room for further selection and improvement".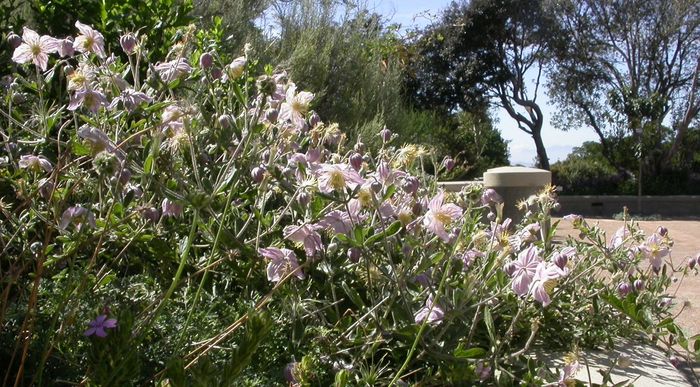 Growing Clematis brachiata x villosa 'Silver Beard'
Grow
Clematis 'Silver Beard' appears delicate, but is in fact quite hardy, and grows more lushly in good garden soil or soil enriched with compost, but ensure the soil is very well drained or the plant will rot during a wet winter. It requires only moderate water in general, and may be grown in areas with cold winters as it is frost hardy, simply dying down in unfavourable circumstances and resprouting again from the base. It does not require a lot of fuss and care – in fact it seems to thrive if simply left to its own devices once placed in the correct position and in soil that it likes.
It prefers a position in full sun to partial shade; if possible plant it in a position where the roots are in the shade and the foliage can then grow out to be in the full sun. If in a container, use a small groundcover or pretty stones to shade the roots.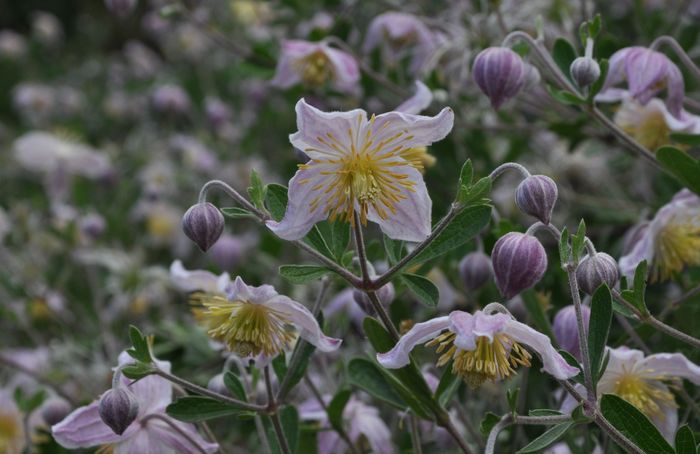 Somewhat fast growing, it puts out a significant amount of growth in summer, and flowers in profusion at the end of summer. I recommend that the plants be pruned back hard in late winter, once the display from the puffed and fluffy seed heads have finished looking good.
Clematis 'Silver Beard' can be allowed to freely grow, and will naturally form a mound of foliage, otherwise provide a frame or trellis for it to be gently trained up on. To make the most of the sweet fragrance, plant it closer to outside entertainment areas of the house or intermix amongst your shrubbery in the garden. Can be grown in a large container on a sunny patio, if a trellis is provided for support. Place to gently scramble down slopes, and to brighten up unattractive retaining walls.
Propagation is done with seed, cuttings or layering.
Although a large proportion of the seed may be infertile, about 50% should germinate. Seed should be sown in spring or early summer, in a well-drained seedling mix. The trays should be kept moist in a warm, but shaded position – do not allow to dry out, but also do not overwater. Germination should occur in 3–5 weeks and the seedlings can be potted up after the first pair of true leaves have developed.
Semi-hardwood cuttings can be taken in spring, just as the new growth, which emerges from the rootstock, has started to slightly harden or turn a light brown colour. Place in a suitable propagation medium; use rooting hormone to increase chances of success; keep moist but not wet. Rooting period is 4–6 weeks. Pot up once a significant amount of roots have formed.
You can get more plants by removing side branches that have rooted by themselves or by lifting rooted runners. To do layering, take a low-growing stem, lay it along the ground without breaking it off the mother plant, bend the tip to a vertical position, stake the stem in place, taking care to ensure as many nodes as possible are in direct contact with the soil and cover the parts touching the ground, with soil. The roots should form at each covered section, but inflicting a light wound on the underside of those stem areas, may also increase the possibility of roots forming. Keep the soil moist and remove the stem from the mother plant when roots are well developed.
References
Brummit, R.K. 2000. Inclusion of Clematopsis Hutch. In Clematis L. (Ranunculaceae). Kew Bulletin 55: 97–108.
Foden, W. & Potter, L. 2005. Clematis brachiata Thunb. National Assessment: Red List of South African plants version 2017.1. Accessed on 2019/03/11.
Germishuizen, G. & Clarke, C. 2003. Illustrated guide to the wildflowers of northern South Africa. Briza Publications, Pretoria.
Hansen, R. (ed.) 2018. In memoriam – Rod and Rachel Saunders. Pacific Bulb Society, The Bulb Garden. Volume 16, No.2. https://www.pacificbulbsociety.org/tbg/v16n2.pdf Retrieved 8 April 2019
Joffe, P. 2001. Creative gardening with indigenous plants. Briza Publications, Pretoria.
Leistner, O.A. (ed.). 2005. Seed plants of southern tropical Africa: families and genera. Southern African Botanical Diversity Network Report No. 26. SABONET, Pretoria
Manning, J. 2003. Photographic guide to the wildflowers of South Africa. Briza Publications, Pretoria.
Pienaar, K. 1991.Gardening with indigenous plants. Struik Timmins Publishers, Cape Town.
Pooley, E. 1998. A field guide to wild flowers Kwazulu-Natal and the eastern region. Natal Flora Publications Trust, Durban.
Powrie, F. 1998. Grow South African Plants. A gardener's companion to indigenous plants. National Botanical Institute, Cape Town.
Saunders, R. 1995. Clematis brachiata x Clematopsis scabiosifolia. Veld & Flora, Volume 81, Issue 2, p. 45.
Smith, C.A. 1966. Common names of South African plants. Memoirs of the Botanical Survey of South Africa No. 35. Government Printer, Pretoria.
Van Wyk, B.-E. & Gericke, N. 2000. People's plants. Briza Publications, Pretoria.
Van Wyk, B.-E., Van Oudtshoorn, B. & Gericke, N. 2009. Medicinal plants of South Africa, edn 2. Briza Publications, Pretoria.
Credits
Cherise Viljoen
Kirstenbosch National Botanical Garden
April 2019
Acknowledgements: The author thanks Monique McQuillan and Alice Notten for the images of 'Silver Beard', and Anthony Hitchcock for the image of Rod Saunders.
Plant Attributes:
Plant Type: Climber, Ground Cover, Perennial, Scrambler
SA Distribution:
Soil type: Sandy, Loam
Flowering season: Late Summer, Autumn, Winter
PH:
Flower colour: White, Pink, Mauve/Lilac
Aspect: Full Sun, Morning Sun (Semi Shade), Afternoon Sun (Semi Shade)
Gardening skill: Average
Special Features:
Attracts butterflies
Drought resistant
Fragrant
Hedge/screen
Feeds honeybees
Horticultural zones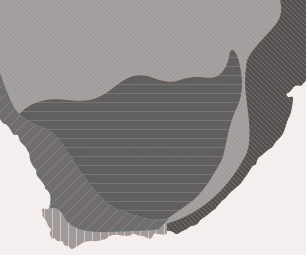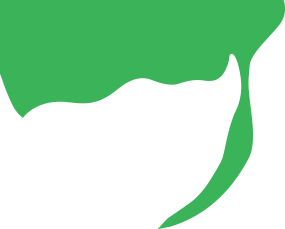 Zone 1 Coastal summer rainfall, frost free
Zone 2 Coastal winter rainfall, frost free
Zone 3 Winter rainfall Karoo, light frost
Zone 4 Summer rainfall Karoo and Highveld, Frost in winter
Zone 5 Bushveld summer rainfall, Light frost
Google QR Code Generator