Cleretum bellidiforme (Burm.f.) G.D.Rowley (=Dorotheanthus bellidiformis (Burm.f.) N.E.Br.)
Family: Aizoaceae
Common names: Buckbay-vygie, Livingstone Bokbayfig, Livingstone Daisy (Eng.); bokbaaivygie, sandvygie, skilpadkos, ysplant (Afr.)
Introduction
Cleretum bellidiforme, previously Dorotheanthus bellidiformis, is one of South Africa's most famous wildflower exports, grown worldwide for its dazzling, shiny blooms in a range of colour combinations. This sun-loving annual is ideally suited to spring borders, rock garden pockets and containers, and seeds itself freely.
Description
Description
This winter-growing, succulent annual, forms a low groundcover with several spreading branches. The green or maroon-tinted leaves are tongue- or spoon-shaped and more or less flat, with conspicuous raised, bladder-like, surface cells modified for water storage, which glisten in bright sunlight.
The slender, upright or leaning flower stalks are fleshy, grow up to 25 mm long and emerge from the branch tips. Numerous large, solitary, brightly coloured flowers, 20–30 mm in diameter, are produced, each having many, narrowly lance-shaped petals, which open widely in bright sunlight.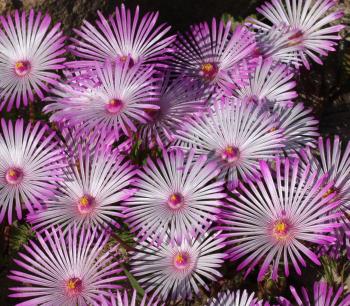 Petal colour is very variable, including white, cream-coloured, yellow, salmon-coloured, orange, pink, mauve, magenta or red, sometimes with contrasting white, maroon, yellow or light orange bases. The stamens are clustered together in the centre of the flower in 2 to 4 rows and have maroon filaments with purple or yellow anthers. The ovary is inferior, meaning that it appears below the stamens, and the ripe fruit is a capsule with expanding membranes, which bend outwards in wet weather. The flattened, 5-sided capsules are hard and dry when ripe, and comprise 5 compartments. The minute, irregularly shaped seeds are light brownish cream-coloured, with smooth surfaces.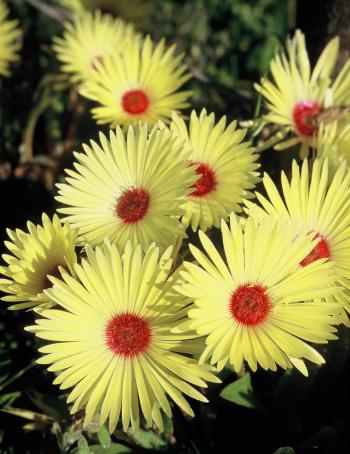 Conservation Status
Status
Cleretum bellidiforme is not threatened and according to the Red List of South African plants, consulted on 26 July 2017, it is assessed as Least Concern (LC).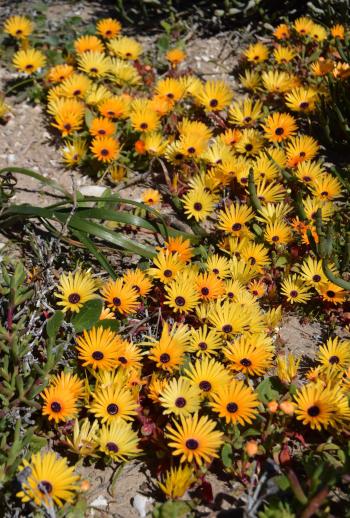 Distribution and habitat
Distribution description
Cleretum bellidiforme is widely distributed in the Fynbos and Succulent Karoo Biomes in the winter rainfall area of the Western and Northern Cape, from Namaqualand to the Cape Peninsula, eastwards to Riversdale in the southern Cape and inland to Laingsburg and Calvinia along the southern and western fringes of the Great Karoo, respectively. It occurs in numerous vegetation types, including Bokkeveld Sandstone Fynbos, Vanrhynsdorp Gannabosveld, Cape Flats Dune Strandveld, Breede Shale Renosterveld and Saldanha Limestone Strandveld, and is most commonly seen on open, sandy flats, but also favours gravelly clay slopes, limestone ridges and humus-rich soil on granite outcrops. It grows as scattered, solitary individuals or in small to large colonies, sometimes in close association with low-growing geophytes and annuals, such as species of Oxalis and Senecio, respectively. It is suited to cultivation in low humidity, frost-free environments.
Derivation of name and historical aspects
History
The genus Cleretum was established by the English plant taxonomist N.E. Brown in volume 78 (series 3) of The Gardener's Chronicle in 1925, in an article titled 'Mesembryanthemum and some new genera separated from it', however, the meaning of the name is unclear; Cleretum is derived from the Greek kleros, an item used in drawing lots for land in Spartan times, i.e. a pebble, a potsherd or a piece of wood, and the Latin ending –etum, refers to the place dominated by a given plant. The specific name bellidiforme is descriptive of its likeness to flowers of the European daisy genus Bellis, meaning 'handsome'. The common name bokbaaivygie commemorates the farm Bokbaai (Buck Bay) near Darling on the Cape west coast, where this species occurs commonly, which was owned by the Duckitt family for generations.
The Dutch botanist Nicolaas L. Burmann (1733–1793) initially described this species as Mesembryanthemum bellidiforme in his Prodromus florae capensis, published in Amsterdam in 1768. In 1928, N.E. Brown placed it in the genus Dorotheanthus as D. bellidiformis, a name by which it became very well known, but in 1979, the English botanist Gordon Rowley transferred it to the genus Cleretum, as C. bellidiforme in the horticultural taxonomy journal Baileya. From the early to mid- 20th century, various botanists, primarily Louisa Bolus at the University of Cape Town, described numerous species of Dorotheanthus, including D. acuminatus, D. bidouwensis, D. flos-solis, D. hallii, D. littlewoodii, D. lutens, D. muirii, D. oculatus var. oculatus, D. oculatus var. saldanensis and D. stayneri, however, all these taxa were subsequently regarded as synonyms of D. bellidiformis when the German botanists H.-D. Ihlenfeldt and M. Struck placed Cleretum in synonymy under Dorotheanthus, in 1987. In 2012, the University of Cape Town botanists Cornelia Klak and Peter Bruyns published a molecular phylogeny of the tribe Dorotheantheae (a study of its evolutionary development and diversification, based on DNA analysis) in which it was shown that Dorotheanthus was best placed within the genus Cleretum, thus D. bellidiformis became Cleretum bellidiforme once again; among several other taxonomic changes they made, the purple- or white-flowered Dorotheanthus bellidiformis subsp. hestermalensis from Namaqualand, was renamed Cleretum hestermalense.
Comprising 14 species of succulent annuals, Cleretum is endemic to the western, southwestern and southern winter rainfall parts of South Africa. Its distribution extends from Namaqualand to the southern Cape and inland to the western and southern Great Karoo, and its 2 main centres of diversity are in the Kamiesberg in southcentral Namaqualand and the coastal southwestern part of the Western Cape. Cleretum also includes the genus Aethephyllum, and is the sole member of the tribe Dorotheantheae. Eight of the fourteen species of Cleretum have large, flamboyant flowers, whereas 6 have small, rather insignificant ones; C. bellidiforme is by far the most familiar species and one of the most attractive. In the horticultural trade it is still often referred to as 'Mesembryanthemum'.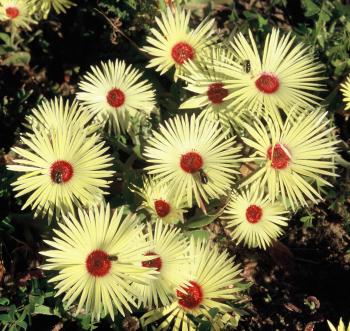 Ecology
Ecology
Cleretum bellidiforme is a winter-growing annual adapted to cool, moist winters and hot, dry summers. The seeds germinate after the first autumn rains, followed by rapid vegetative growth in winter, and the plants flower from early to late spring (early August to mid-October, with a peak in September). The leaves are succulent and covered with raised, bladder-like surface cells which store water to nourish the plant during dry periods.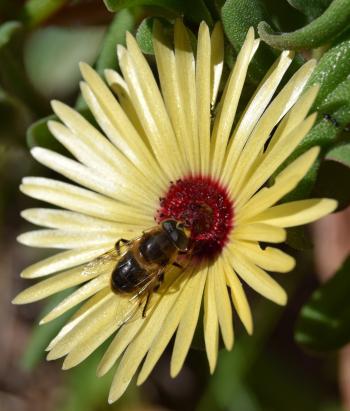 The flowers only open fully on warm, sunny days, remaining closed in cold or rainy weather. The flowers are self-fertile, but are visited by numerous insects which feed on the pollen, including monkey beetles, honey bees, drone flies and small, black, bee-flies.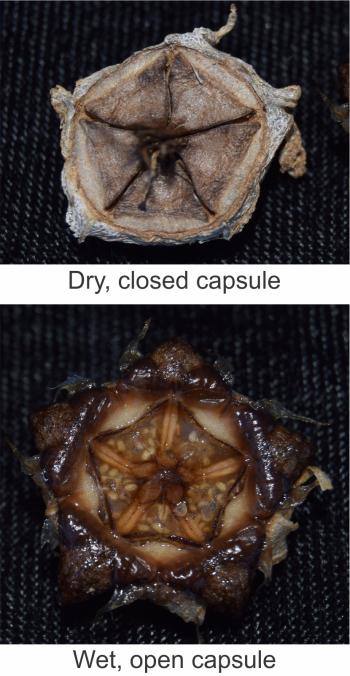 The seed capsules ripen in summer, during which the seeds remain hidden within the hard and dry, closed capsules. The capsules are almost completely covered by membranes, with only a narrow opening between the membranes. Seed dispersal in these plants is termed ombrohydrochorous, meaning that it is activated by rain drops. The rain drops fall onto the covering membranes, resulting in them bending outwards and the seeds being forcefully ejected some distance from the plant, timed to coincide with autumn rains. As soon as dry weather returns, the membranes bend inwards to cover the remaining seeds. This mechanism ensures that the seeds germinate at the optimum time of year in autumn and early winter, and that they are protected from predators during the hot summer months. Only some of the seeds are released per rainy spell, thus preserving a reservoir of seeds.
Uses
Use
This species has no traditional, economic or magical uses, but it is grown worldwide as a spring-flowering ornamental.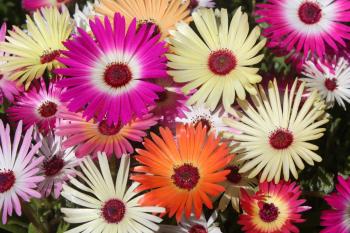 Growing Cleretum bellidiforme
Grow
Bokbaaivygies are excellent spring-flowering annuals for mass display. These mat-forming plants ideally require sun all day, but will also perform well in full morning or afternoon sun. They are especially well suited to rock garden pockets, slopes and annual borders, or grown in soil-filled cracks between paving slabs and in dry stone walls. They can also be cultivated in window boxes, or in troughs and pots on a sunny patio, and are ideal for seaside gardens and small gardens. Flowering commences in early August and ends in early October, with a peak in September. They are effectively displayed when inter-planted with low-growing, spring-flowering bulbs and annuals, such as bright yellow Sparaxis grandiflora subsp. acutiloba and orange, white, red or yellow Nemesia strumosa, and low-growing perennials, such as Agathosma ciliaris. Bokbaaivygies can be grown in any well-drained soil, but perform best in fertile media containing well-rotted compost. They are propagated from seed sown from early to mid-autumn (March to April), and germination takes place within 7–14 days. Sow the seeds directly onto open ground and cover lightly, or alternatively sow in deep seed trays and plant out seedlings 15 cm apart, once large enough to handle. Keep well watered until the plants are established, thereafter only occasional heavy watering is necessary in winter and spring. The plants can take light frost for periods of a few hours. In ideal conditions, this species often seeds itself from year to year.
The leaves are relished by the European brown garden snail (Cornu aspersa), and if grown in insufficiently well-drained soil, the roots may succumb to fungal attack.
References
Duncan, G.D. 2017. Bokbaaivygies. The Gardener (April 2017): 30.
Ihlenfeldt, H.-D. & Struck, M. 1987. Morphologie und Taxonomie der Dorotheanthinae Schwantes (Mesembryanthemaceae). Beiträge zur Biologie der Pflanzen 61: 411–453.
Klak, C. & Bruyns, P.V. 2012. Phylogeny of the Dorotheantheae (Aizoaceae), a tribe of succulent annuals. Taxon 61(2): 293–307.
Kurzweil, H. & Burgoyne, P. 2009. Closing bodies in the capsular fruits of Ruschioideae (Aizoaceae) — a review. Bothalia 39 (1): 107–116.
Mike Picker, personal communication.
Mucina, L. & Rutherford, M.C. 2006. The vegetation of South Africa, Lesotho and Swaziland. Strelitzia 19. South African National Biodiversity Institute, Pretoria.
Credits
Graham Duncan
Kirstenbosch National Botanical Garden
October 2017
Plant Attributes:
Plant Type: Bi/Annual, Ground Cover
SA Distribution: Northern Cape, Western Cape
Soil type: Sandy, Loam
Flowering season: Spring
PH: Acid, Alkaline, Neutral
Flower colour: Red, White, Pink, Cream, Yellow, Orange, Mauve/Lilac
Aspect: Full Sun
Gardening skill: Easy
Special Features:
Good potplant
Feeds honeybees
Horticultural zones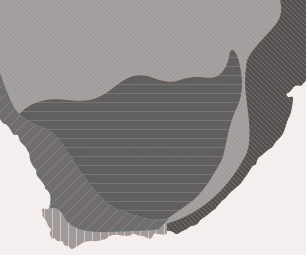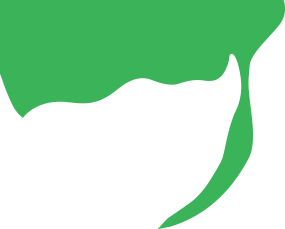 Zone 1 Coastal summer rainfall, frost free
Zone 2 Coastal winter rainfall, frost free
Zone 3 Winter rainfall Karoo, light frost
Zone 5 Bushveld summer rainfall, Light frost
Google QR Code Generator