Coccinia rehmannii Cogn.
Family: Cucurbitaceae
Common names: wild cucumber (Eng.); wilde komkommer (Afr.); kgaba, kubjana, mogakangwaga, oro, otjinaga, mmadigônyane (Tsw.); uselwa-lwenyoka (Zul.)
Introduction
Coccinia rehmannii is a perennial creeper or climber arising from a large tuberous rootstock, with conspicuous, many-seeded, globose fruits.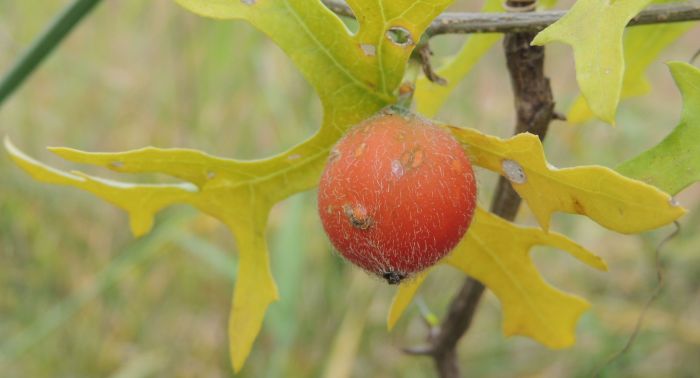 Description
Description
Coccinia rehmannii is a slender perennial, creeper or climber, arising from a large tuberous rootstock, almost glabrous to rather densely hairy, becoming smooth whitish and speckled at maturity, especially in drier areas. The simple tendrils enable the vine to grow over and smother vegetation, cover fences and power lines, trees, shrubs and walls. It can grow up to 4 m high. The plant has perennial roots, woody at the base producing hypocotyl (carrot-like) tubers, that grow up to 0.5 m deep.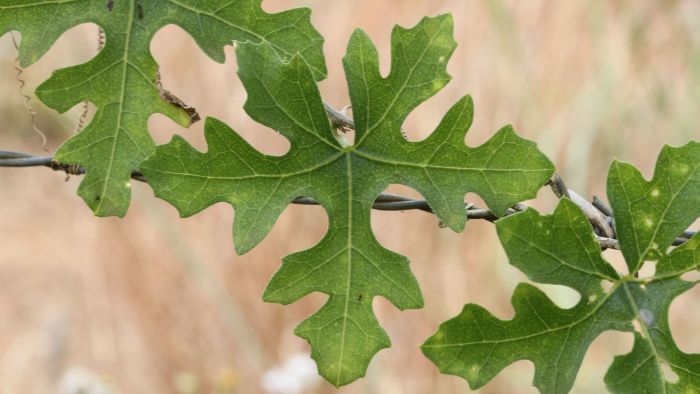 The leaves of C. rehmanni are simple, alternate, and paired, with a tendril on each node, except for the first nodes. The leaves are 20–80 × 25–130 mm, usually distinctly petiolate. Young leaves tend to be shallowly lobed. Upper leaf surface more or less densely white, pustulate. Lower leaf surface glabrous, sometimes wart-like; the leaf margin usually beset conspicuously with small teeth and often bears trichomes.
Flowers are whitish cream-coloured to pale yellow, with green venation. Male flowers mostly occur in racemes with 1 or 2 solitary flowers on the same node. Female flowers are solitary, glabrous, with long articulate trichomes.
The fruits are many-seeded globose berries, 10 mm in diameter at maturity. Ovoid fruits may also occur, especially in more humid habitats. Immature fruits often have white, pale green or dark green longitudinal lines. The white spots or lines become surrounded by a dark green halo during ripening. The mature fruit is usually uniformly coloured red. Ripening usually occurs from green with or without mottling, to yellow to orange, the final colouration. Colour changes from the apex of the fruit downwards. The seeds are ovate, with a flat surface, beige to greyish, with a small margin, which often has a darker colouration.
Flowering time is in summer, October–April.
Conservation Status
Status
Coccinia rehmanni is not threatened and, therefore, assessed as Least Concern (LC).
Distribution and habitat
Distribution description
Coccinia rehmannii is found in South Africa (except in the Western Cape and southwestern Eastern Cape), and in Namibia, eSwatini, southern Mozambique, Botswana, Zimbabwe and southern Angola. Elevation is from sea level to 1 850 m. Coccinia rehmannii grows in full sun or shade and they can be found in coastal dunes, riverbanks, woodlands, bushland, Kalahari thornveld, grasslands, semi-deserts and dunes, in limestone, dolomitic, quartzitic, granitic, and ultrabasic soils, with possibly some tolerance to Ni and Cu. Also found on loam, clay, white and red sand, sandstone and gravel, but prefers sandy or well-drained soils. It is grazing and light frost tolerant.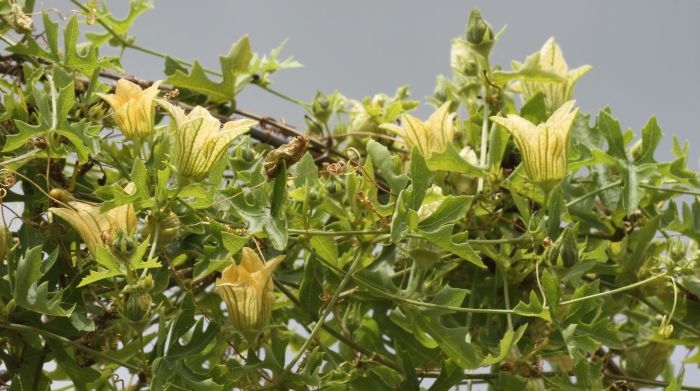 Derivation of name and historical aspects
History
Coccinia is derived from the Latin coccinus, meaning 'scarlet', and kokkos, meaning 'berry'. The species name commemorates Anton Rehmann (1840–1917), a Polish botanist, geographer and collector, who visited South Africa twice.
Coccinia rehmannii belongs in the Cucurbitaceae, also known as pumpkin, cucumber or gourd family, and contains 975 species across 98 genera. The genus Coccinia recognizes 25 species and is the 11th largest of the 97 genera. Many Coccinia species are used for food, either as roasted tubers, greens as spinach, or the fruits as vegetables. The carrot-like root is a food item both as source of water and starch.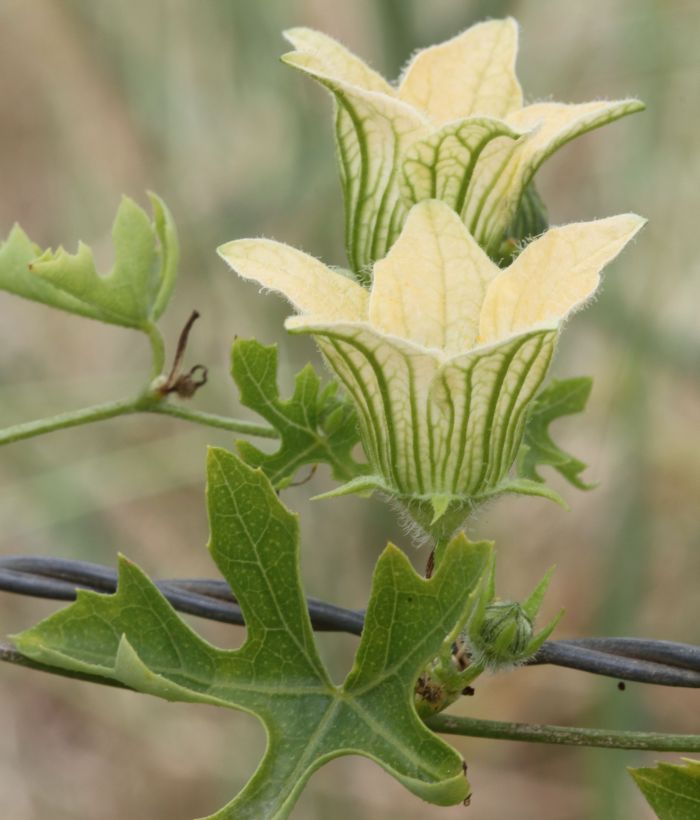 Ecology
Ecology
Coccinia flowers exhibit characters that support a general attraction for bees. Coccinia rehmannia is pollinated by bees. The petal colour is commonly pale yellow but can also range from white, pale pink or bright orange, with green, yellow, orange to purple venation, with a weak and dull, sweetish scent, resembling that of honey melon. Flowering occurs during the day, often only for few hours.
There are no observations of actual seed dispersal for this species, but mammals and birds appear to be attracted by the fruits, eat them and likely act as seed dispersers. However, it has been recorded that fruit bats feed on other species of Coccinia fruits, for instance in Thailand, fruits of C. grandis are eaten by fruit bats, such as Cynopterus sphinx, so it is possible that African bats also feed on the fruits of African species. The fruits are also eaten by humans and elephants feed on them as well. Fruits of other species of Coccinia are reported to be eaten by snails and beetles. Many different organisms are reported to live on or feed on Coccinia species, like beetle and fly larvae. They are possibly also seed dispersers.
The tubers store water and nutrients, which enables to plant to survive periods of drought, grazing and fires.
Uses
Use
Several Coccinia species are used by local communities, mainly as a food source, but also for cultural purposes. Unripe fruits of C. rehmannii are eaten by children, even though it is said to cause sore eyes. However, the fruits are considered inedible in some areas. The tubers contain starch and are eaten raw for moisture or boiled or roasted as food. The roasted tuber is then peeled and pounded, and mixed with leafy vegetables. It can be challenging to obtain the roots because they can go as deep as 500 mm or more underground. It is said that in Mozambique the leaves are used as spinach.
 
Growing Coccinia rehmannii
Grow
Coccinia rehmannii can be propagated from seeds. The seeds maintain a high germination rate, about 100% after 3 weeks of storage at room temperature. Seeds can be sown from mid- or late spring in a well-prepared seedbed or in separate pots or plug trays filled with fairly rich soil mixed with dry sand, as this will allow water drainage to prevent the seeds from rotting. Place 1 or 2 seeds in each pot. Scratch shallow rows 3–6 cm apart. Deep sowing should be avoided because it hampers germination. Seedlings usually germinate after 2–4 weeks under favourable conditions. Water regularly, the mix needs to stay moist but not soggy, or the delicate roots will rot. Seeds will quickly die if allowed to dry mid-germination; check them often. Transplanting is only possible at the very early stage, taking care of the roots because the seedling may suffer when transplanted if their roots are disturbed. Best practice is to plant each seed in a separate cell of a plug tray and transplant the whole chunk of soil with the root intact inside.
References
Holstein, N. 2015. Monograph of Coccinia (Cucurbitaceae). PhytoKeys 54: 1–166. doi: 10.3897/phytokeys.54.3285
Retief, E. & Herman, P.P.J. 1997. Plants of the northern provinces of South Africa: keys and diagnostic characters. Strelitzia 6. National Botanical Institute, Pretoria.
Retief, E. & Meyer, N.L. 2017. Plants of the Free State inventory and identification guide. Strelitzia 38. South African National Biodiversity Institute, Pretoria.
Van der Walt, R. 2009. Wild flowers of the Limpopo Valley. Retha van der Walt, Musina.
WikiHow. How to grow plants from seed. https://www.wikihow.life/Grow-Plants-from-Seed. Accessed 04/02/2020.
Credits
Khululwa Mfondini
Pretoria National Herbarium
February 2020
Acknowledgements: The author thanks Robetta Kandawire for assisting with info, Hester Maria Steyn for helping with books, to find more info, and Marinda Koekemoer for assisting with images.
Plant Attributes:
Plant Type: Climber, Perennial
SA Distribution: Eastern Cape, Free State, Gauteng, KwaZulu-Natal, Limpopo, Mpumalanga, North West, Northern Cape
Soil type: Sandy, Loam
Flowering season: Early Summer, Late Summer
PH:
Flower colour: White, Cream, Yellow
Aspect: Full Sun
Gardening skill: Average
Special Features:
Attracts birds
Drought resistant
Edible plant
Useful plant
Feeds honeybees
Horticultural zones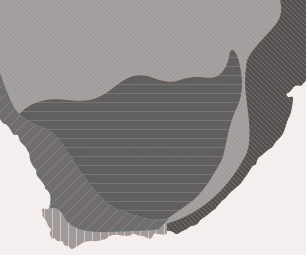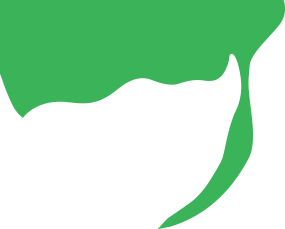 Zone 1 Coastal summer rainfall, frost free
Zone 2 Coastal winter rainfall, frost free
Zone 3 Winter rainfall Karoo, light frost
Zone 4 Summer rainfall Karoo and Highveld, Frost in winter
Zone 5 Bushveld summer rainfall, Light frost
Google QR Code Generator