Coleus tenuicaulis Hook.f. (= Plectranthus tenuicaulis (Hook.f.) J.K.Morton.)
Family: Lamiaceae
Common names: Angolan blue coleus (Eng.); Angola blouspoorsalie (Afr.)
Introduction
Coleus tenuicaulis is an aromatic shrub with panicles of dark blue flowers in autumn and winter, from the southwestern highlands of Angola. Easily propagated and best for sunny Highveld gardens.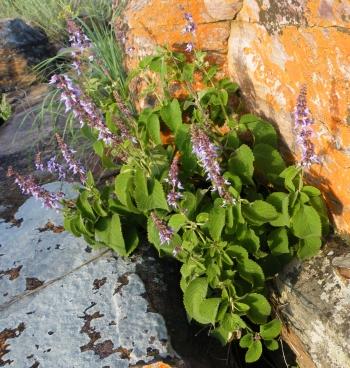 Description
Description
Ascending, rapid-growing, branched shrub, up to 1.5 m tall, with a perennial, tuberous base, re-sprouting after fires. Rootstock fleshy. The stems are ascending, 4-angled (square); the older main branch almost becoming rounded (terete), covered in short, white, glandular, translucent hairs. Leaves leathery in opposite pairs (decussate), spreading to ascending spreading, broadly egg-shaped-triangular, 80–160 mm long and 45–85 mm wide; the petiole 10–25 mm long. The leaf surface is covered in short transparent hairs, some that are glandular. The lower surface with white swollen veins, which are also covered in short hairs. The leaf tip ends in a sharp, but soft point and the base is wedge-shaped. The leaf margin are beset with 18–20 pairs of short, rounded teeth (crenate) in the upper two-thirds.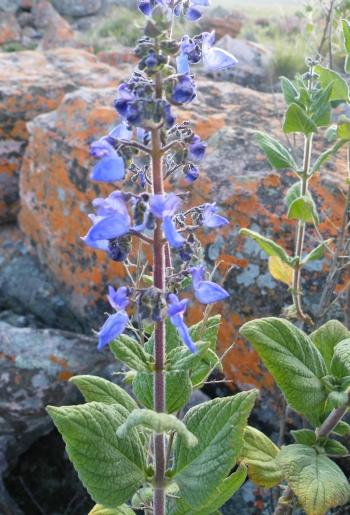 The inflorescence consists of elongated, pyramidal panicles at the branch ends and these are 300–350 mm long and 100–120 mm in diameter. The rachis is green, often becoming maroon-greenish and densely covered in glandular hairs. The young inflorescence in bud stage bearing large protective bracts arranged like the tiles on a roof (imbricate), soon deciduous. The bracts are broadly egg-shaped-triangular, 10–14 × 8–12 mm long. Flowers are alternately arranged on ascending, forked side branches, 45–80 mm long; each flower on a pedicle of 5 mm long. The flowers are about 20–22 mm long. The calyx is 5 mm long, enlarging to 8 mm in fruit, glandular hairy; the upper lip egg-shaped, 3–4 mm long. The corolla (flower) is tubular at the base and sharply curved (sigmoid), opening up in a 4-lobed upper lip and the large, lower, boat-shaped lip is 15 mm long, violet-blue and sparsely beset with translucent hairs. The corolla tube at the base about 1.5–2.0 mm long, abruptly expanding after the curve; upper lip ascending, partially reflexed. The fruit is a small, oblong-rounded, brownish nutlet 1.5 mm long and 1.2 mm in diameter.
Flowering time: autumn, but also in mid-summer (November to March in the southern hemisphere).
Conservation Status
Status
Locally common and consequently not threatened.
Distribution and habitat
Distribution description
Coleus tenuicaulis is only known from the highlands of Angola. It was encountered on the escarpment margin near Lubango and Humpata, in soutwest Angola, at an altitude of about 2 000 m above sea level, growing in grassland.
Derivation of name and historical aspects
History
Coleus tenuicaulis was first collected by the Austrian Friedrich Welwitsch (1806–1872) (Welwitsch 5543) in Angola and named by Hooker as Coleus tenuicaulis Hook.f. Welwitschwas employed in Portugal and in 1853, was sent to Angola to record plants and animals. He remained in Angola until 1961, after he had collected some 8 000 botanical specimens, of which many were new to science (Figueiredo & Smith 2008). Welwitschia being one of them, named after him by Joseph Hooker. It was moved into the genus Plectranthus by Morton in 1962, and in 2019 was moved back into Coleus by Paton et al after molecular studies supported the re-instatment of the genus. The specific epithet tenuicaulis pertains to its stems, as named by Hooker, meaning 'narrow'.
Coleus belongs to the family Lamiaceae, a large cosmopolitan aromatic plant family characterized by its usually square stems, leaves in opposite pairs and 2-lipped flowers. The family consist of about 6 800 species (Christianhusz 2017) and 241 genera.
Ecology
Ecology
Coleus tenuicaulis is a grassland species. It grows on the margin of the African inland escarpment at an altitude of about 2 000–2 200 m above sea level. Annual fires in winter ensures a natural pruning process and the plants sprouting in spring from a subterranean rootstock. The rootstock is well protected from the fire. It grows in mineral-poor, quartzitic sandstone soil, on outcrops in full sun. Winters are cold during the night, however, frost is a rarity.
Pollination is by bees. After pollination the calyx enlarges, each carrying up to 4 nutlets. When mature, the seeds simply fall to the ground when the infructescence is disturbed. The seed, a small nutlet, germinates after spring or summer rains. The rainy season is in summer and about 1 000 mm per annum.
The plants are highly aromatic, a chemical defense mechanism against plant-eating insects.
Uses
Use
It is not known whether the plants are used medicinally.
Growing Coleus tenuicaulis
Grow
Coleus tenuicaulis is best grown in full sun, in Highveld grassland gardens (Van Jaarsveld 2010). In cultivation the plant will grow to about 700 to 1000 mm high. Plant in an acidic, sandy soil. Plants are fast growing and will establish within a year or two. This is a long-lived perennial which can remain in the bed for some years. Best to prune plants back hard, annually, just after flowering or fruiting time. Grows well in rockeries in a bed with well-drained soil. Companion plants includes Aloe palmifrons, Agapanthus spp., Leonotis leonurus, Merwilla plumbea and Kniphofia spp.
Plants have been established at Kirstenbosch National Botanical Garden with success, flowering annually in autumn.
Propagation is from cuttings taken during the growing season and rooted in a sandy mixture. Keep moist and lightly shaded. Rooting is rapid and plants can be planted out in a chosen spot. Establishment is important and keep moist until well taken. Additional feeding includes compost as mulch.
References
Bentham, G. 1848. Labiatae. In A.P. De Candolle, Prodromus 12: 55.
Christenhusz, M.J.M., Fay, M.F. & Chase, M.W. 2017. Plants of the World, an illustrated Encyclopedia of vascular plants. Kew Publishing, Royal Botanic Gardens, Kew.
Codd, L.E. 1975. Plectranthus (Labiatae) and allied genera in southern Africa. Bothalia 11: 371–442.
Codd, L.E. 1985. Lamiaceae. Flora of southern Africa, Vol. 28, 4. Botanical Research Institute, Department of Agriculture and Water Supply, Pretoria.
Edwards, T.J. 2005. Two new Plectranthus species (Lamiaceae) and new distribution records from the Pondoland Centre of Plant Endemism, South Africa. Bothalia 35: 149–152.
Figueiredo, E. & Smith, G.F. 2008. Plants of Angola. Strelitzia 22. South African National Biodiversity Institute, Pretoria.
Paton, A.J., Mwanyambo, M., Govaerts, R.H.A., Smitha, K., Suddee, S., Phillipson, P.B., Wilson, T.C., Forster, P. I. & Culham, A. 2019. Coleus and Plectranthus (Lamiaceae): a tale of more than two genera. Phytokeys 129: 1–158.
Potgieter, C.J., Edwards, T.J., Miller, R.M. & Van Staden, J. 1999. Pollination of seven Plectranthus spp. (Lamiaceae) in southern Natal, South Africa. Plant Systematics and Evolution 218: 99–112. Springer-Verlag, Austria.
Van Jaarsveld, E.J. 2010. Water wise gardening. Struik, Cape Town.
Credits
Ernst van Jaarsveld
Kirstenbosch National Botanical Garden (Retired)
Babylonstoren Farm
Extraordinary senior lecturer and researcher, Department of Biodiversity and Conservation, University of the W. Cape
October 2018, updated May 2020
Plant Attributes:
Plant Type: Shrub
SA Distribution:
Soil type: Sandy
Flowering season: Autumn, Winter
PH: Acid
Flower colour: Purple, Mauve/Lilac
Aspect: Full Sun
Gardening skill: Easy
Special Features:
Fragrant
Horticultural zones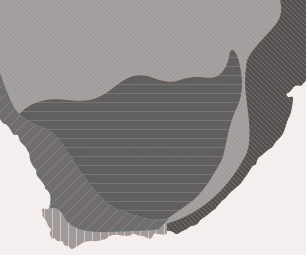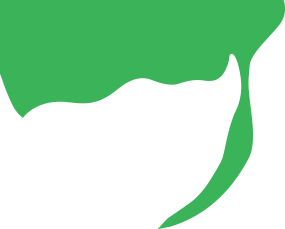 Zone 1 Coastal summer rainfall, frost free
Zone 2 Coastal winter rainfall, frost free
Zone 4 Summer rainfall Karoo and Highveld, Frost in winter
Zone 5 Bushveld summer rainfall, Light frost
Google QR Code Generator