Crassula cremnophila Van Jaarsv. & A.E.van Wyk
Family: Crassulaceae
Common names: cliff crassula (Eng.); kransrosie (Afr.)
Introduction
Crassula cremnophila is a rare, dwarf, cluster-forming, cliff-dwelling succulent, up to 70 mm high, with leaves in a tight, hemispherical, bluish green rosette. The ascending inflorescence has a rounded top and conspicuous, pink, tubular flowers that are produced from spring to summer. Confined to the eastern Baviaanskloof and Kouga River region of the Eastern Cape. It grows well in containers.
Fig. 1. Close-up of a non-flowering leaf rosette of Crassula cremnophila.
Description
Description
Dwarf, perennial, sparsely to moderately branched leaf succulent, forming clusters or small mats 12–25 mm high (up to 70 mm high with inflorescence) and about 150 mm in diameter. Leaves in a tight rosette, alternately arranged and like tiles on a roof (imbricate), spreading and recurved, forming a hemispherical body 20–70 mm in diameter. The leaf is broadly ovate to obovate, 15–35 × 10–32 mm with a smooth surface. The leaf colour is a pale bluish green (glaucous) and the margin ciliate (with a row of firm, white hairs like an eyelash), the tip rounded to almost sharp, and ending in a sharp point (mucronate).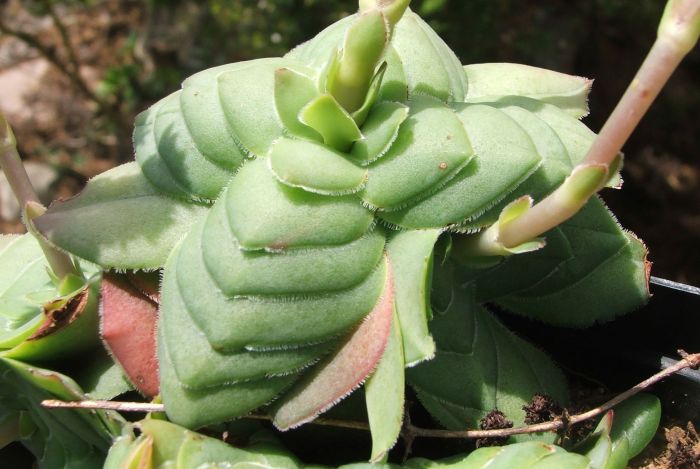 Fig. 2. Crassula cremnophila, close-up of the leaf rosette of a flowering plant in cultivation. Note the fringe of white firm hairs on the leaf margin (ciliate).
The inflorescence is produced from the centre, is an ascending and round-topped thyrse up to 30 mm in diameter, bearing numerous clustered flowers. The peduncle is up to 35 mm long, with spear-shaped bracts 7 × 2 mm. The flowers are stemless or on short stems up to 1 mm long. The calyx lobes are elongated, spear-shaped, 3 × 1 mm long, with small teeth (ciliate), the tip sharply pointed and ending in a transparent, but firm hair. The flower (corolla) is sweetly scented and up to 7 mm long; the lobes not fused at their base and ascending to spreading, pink, 7.0 × 1.5 mm. The stamens are about 4 mm long, not broadening towards the base; the anthers are yellow and about 0.5 mm long. The glands (squamae) are narrow-oblong, broadening towards the tip, 5–7 × 2 mm, slightly yellowish and somewhat transparent. The carpels are 2.5 mm long, with kidney-shaped ovaries (reniform), abruptly constricted to outward pointing, short, reflexed styles. Flowering time is spring to midsummer (September–January).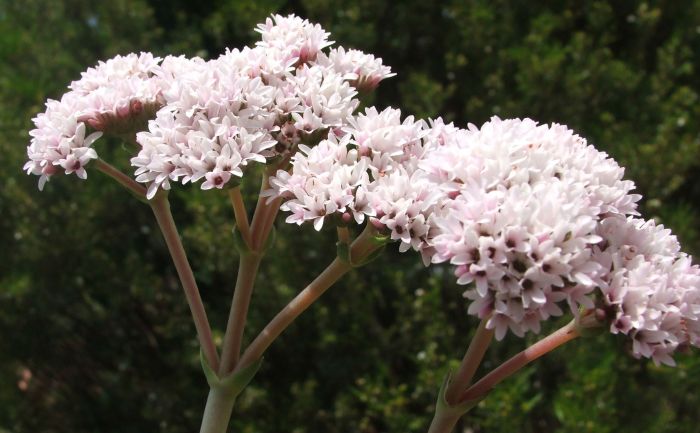 Fig. 3. Close-up of the flowers of Crassula cremnophila in cultivation at Kirstenbosch National Botanical Garden.
Conservation Status
Status
Classified as Rare (Raimondo et al. 2009). Although Crassula cremnophila is not common locally, it is well protected by its inaccessible cliff habitat.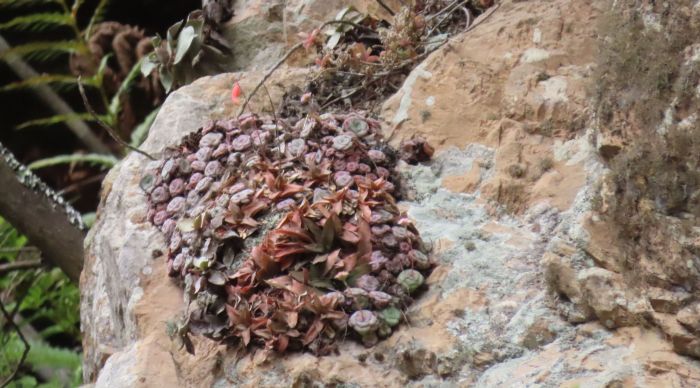 Fig. 4. Crassula cremnophila in its cliff-face habitat, eastern Baviaanskloof together with Gasteria camillae. 
Distribution and habitat
Distribution description
Crassula cremnophila is confined to the Baviaanskloof and Kouga River region. The habitat consists of sheltered, south-facing cliffs (all aspects, more on southern slopes), at altitudes of 500–800 m. Plants grow in shallow soil among leaf litter on shady rocky ledges and often among lichens and moss, often in the shade of cliff-dwelling shrubs or trees. Temperature is high in summer and mild in winter. The average daily maximum temperature is about 27ºC and daily minimum about 12ºC. Rainfall in winter (cyclonic winter rain) and summer (thunder showers), ranging from 200–400 mm per annum.
The associated vegetation consists of Gamtoos Thicket of the Albany Thicket Biome (Mucina et al. 2006). The habit sometimes fringes on fynbos and Afromontane forest along the lower mountain slopes. Crassula cremnophila shares its habitat with other cliff-dwelling succulents such as Crassula lactea, C. perfoliata var. minor and C. perforata, Gasteria camillae, Drimia anomala, Plectranthus verticillatus and Ornithogalum longibracteatum.
Plants grow in mineral-poor soil derived from quartzitic sandstone (Table Mountain Formation, Cape Supergroup).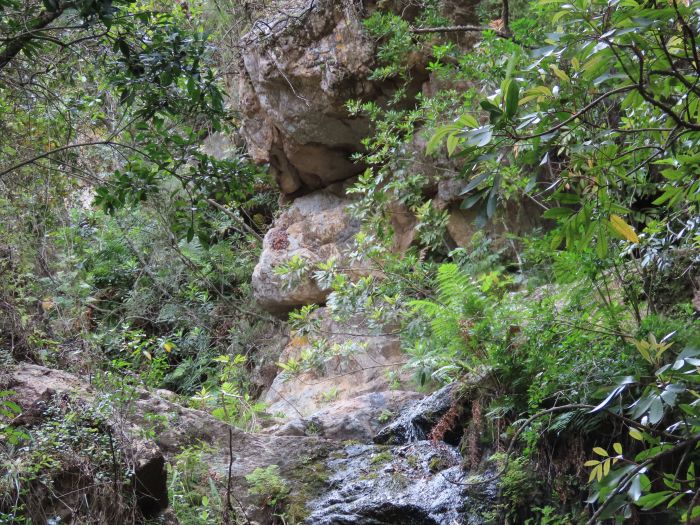 Fig. 5. The same group of Crassula cremnophila plants in its riverine cliff habitat. Note the Cunnonia capensis trees in the foreground. Eastern Baviaanskloof.
Derivation of name and historical aspects
History
Crassula cremnophila was named by Braam van Wyk and the author in the magazine Aloe in 1999 (Van Jaarsveld & Van Wyk 1999) from plants collected in 1997 in the lower Kouga River region of the Eastern Cape. Named for its cliff-face habitat, from the Greek, kremno, meaning 'cliff' and phyton 'plant'. Since its naming, it was found in a few more sites of the Kouga and eastern Baviaanskloof region. 
Crassula cremnophila belongs to section Rosulares, which includes 22 species (Toelken 1985). Rosulares are characterised, as its name implies, by plants with leaves in tight basal rosettes. The leaves all have the firm, bristle-like, hairy margin and the elongate inflorescence with a distinct peduncle. Plants vary from the dwarf C. socialis to C. acinaciformis, which can be more than a metre tall when in flower.
Crassula cremnophila is related to both C. montana subsp. quadrangularis and C. hemisphaerica. It is at once distinguished from these species by its glaucous leaves, hemispherical bodies and pink corolla, 7 mm long. The flowers of C. hemisphaerica are 2.0–2.8 mm long. The stamens of C. cremnophila are about 4 mm long and also without black anthers. Crassula montana subsp. quadrangularis is a smaller mat-forming species (square bodies) with white flowers. It is also related to C. intermedia from cliffs further east. The rosettes are also bluish green (glaucous) in the latter species but larger, and cup-shaped or sunken and never hemispherical as found in C. cremnophila. The inflorescence in C. intermedia is elongate with many side branches and the flowers are much smaller. Of the 23 species in section Rosulares, 10 are confined to cliffs, and all are dwarf cliff-huggers. These include C. brachystachya, C. cremnophila, C. cymbiformis, C. exilis, C. luederitzii, C. montana, C. pseudohemisphaerica, C. sediflora, C. socialis and C. tabularis. 
Of the other species commonly found on cliffs (but not obligatory) include C. capitella, C. orbicularis, C. intermedia, C. setulosa, C. tomentosa and C. barbata.
Crassula was established by Linnaeus in 1753 and the Latin genus name Crassula pertains to its thick fleshy parts: crassus, meaning 'thick', and ula, indicating diminutive, pertaining to the fleshy leaves (Clark & Charters 2016). The genus Crassula is very common all over South Africa with about 150 species. Helmut Toelken former South African botanist (presently Australian), revised the southern African Crassulaceae in 1985 (Toelken 1985). Crassula reaches their greatest species diversity in the semi-arid parts of the winter rainfall region of South Africa. Crassula today consists of about 200 species. The family Crassulaceae has a world-wide distribution consisting of 35 genera and about 1 400 species (Christenhusz 2017). The most cultivated is probably the jade or money plant, Crassula ovata, a thick-set South African species (from the eastern parts) which can reach a size of 3 m tall, also depicted in this series.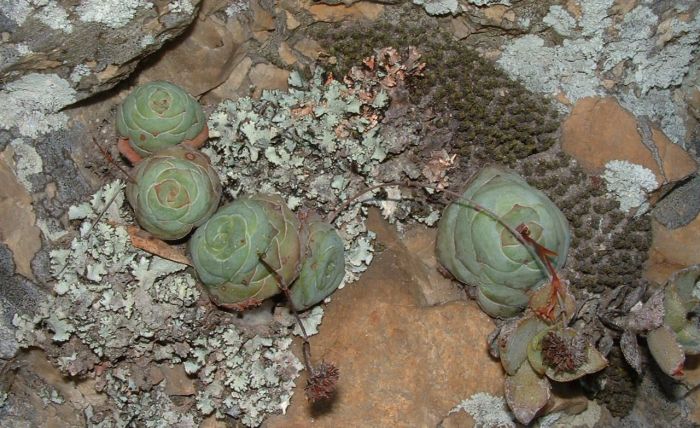 Fig. 6. Crassula cremnophila among lichen (Parmelia sp.) and moss. Note the old dried inflorescence.
Ecology
Ecology
The inflorescence is conspicuous and the tubular, scented, pink flowers of C. cremnophila attract insects such as butterflies, for pollination. The seed is very small and wind dispersed in autumn. When seed lands among moss or lichens on the cliff, they soon become established. When seed falls in an accessible place it would soon be devoured by herbivores, such as the leopard tortoise, which is commonly found in the region. 
Plants are only found on cliffs, thus out of reach from herbivores such as tortoises. It is a cliff-hugger and the compact, tightly packed succulent leaves is an adaptation to dry conditions. Plants grow in shallow soil which regularly dries out. The leaves during times of drought will become purplish green because of anthocyanins, which reduces photosynthesis. The bluish green colour of the leaves is a result of a waxy, powdery bloom, which also reduces moisture loss.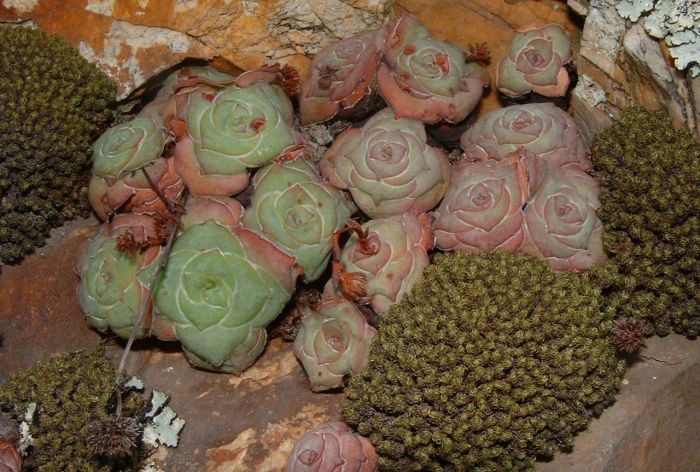 Fig. 7. Crassula cremnophila in habitat at Keurkloof (Kouga River) growing among moss and lichen (Parmelia sp.). Note the old dried inflorescence. Group of plants on the right hand side becoming purplish green because of drought stress as a result of anthocyanins.
Crassula cremnophila proliferates from its base forming small mats and cushions, an efficient vegetative backup strategy helping the plants to survive the conditions on the cliff face. When an offshoot or portion of a cluster becomes detached and falls into another crevice (as a result of gusts of wind or other disturbance), it will root, ensuring long-term survival.
Uses
Use
It is not known whether the plants are used medicinally.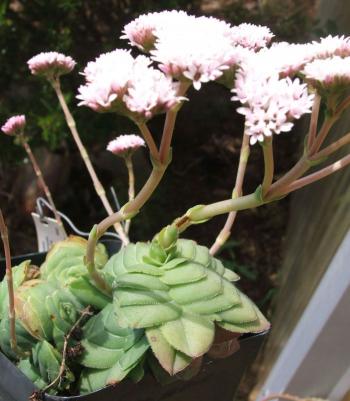 Fig. 8. Crassula cremnophila in cultivation at Kirstenbosch National Botanical Garden. Note the tubular, pink flowers. 
Growing Crassula cremnophila
Grow
Although Crassula cremnophila is not well-known from cultivation, it is fairly easily grown and makes a beautiful small potplant. Best for miniature succulent gardens and containers grown under controlled conditions. Grow it preferably in light shade or in a dappled shade environment. Soil should be sandy and slightly acidic and well drained. Add ample compost or feed with a liquid organic fertiliser. Water well, but allow plants to dry out for some time before watering again. The stored moisture in their leaves and stems allow succulents to survive when no soil moisture is present. 
Best propagated by division of stolons. Plant offshoots in a sandy soil. Best time is in spring and summer. Roots are sometimes affected by mealybug, treat accordingly. 
Seed is fine and can be sown in a sandy mixture in autumn; cover with a very thin layer of gravel. Keep moist. Remove seedlings as soon they are large enough to handle.
References
Christenhusz, M.J.M., Fay, M.F. & Chase, M.W. 2017. Plants of the World, an illustrated Encyclopedia of vascular plants. Kew Publishing, Royal Botanic Gardens, Kew.
Clarke, H. & Charters, M. 2016. The illustrated dictionary of southern African plant names. Flora & Fauna Publications Trust, Jacana, Johannesburg.
Eggli, U. (ed.) 2003. Illustrated handbook of succulent plants: Crassulaceae. Springer, Berlin.
Linnaeus, C. 1753. Species plantarum. 1st edition. Salvius, Stockholm.
Mucina, L. & Rutherford, M.C. (eds) 2006. The vegetation of South Africa, Lesotho and Swaziland. Strelitzia 19. South African National Biodiversity Institute, Pretoria.
Rowley, G. 2003. Crassula: a growers guide. Cactus & Co. Vista, California.
Toelken, H.R. 1985. Crassulaceae. Flora of Southern Africa 14: 1–229.
Van Jaarsveld, E.J. & Van Wyk, A.E. 1999. Five new cremnophilous taxa from semi-arid regions in South Africa. Aloe 36 (4): 71–74).
Credits
Ernst van Jaarsveld
Kirstenbosch National Botanical Garden (Retired 2015)
Babylonstoren Farm
Extraordinary senior lecturer and researcher,
Department of Biodiversity and Conservation, University of the Western Cape
August 2020
Plant Attributes:
Plant Type: Succulent
SA Distribution: Eastern Cape
Soil type: Sandy, Loam
Flowering season: Spring, Early Summer
PH: Acid, Neutral
Flower colour: Pink
Aspect: Shade, Morning Sun (Semi Shade), Afternoon Sun (Semi Shade)
Gardening skill: Average
Special Features:
Attracts butterflies
Drought resistant
Fragrant
Good potplant
Indoor plant
Horticultural zones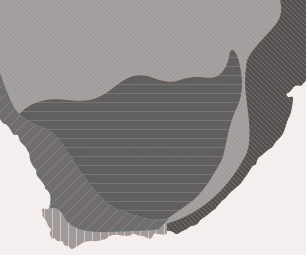 Zone 1 Coastal summer rainfall, frost free
Zone 2 Coastal winter rainfall, frost free
Google QR Code Generator