Crassula ericoides subsp. ericoides
Crassula ericoides Haw. subsp. ericoides
Family: Crassulaceae
Common names: heath crassula, large whipcord (Eng.); malmeidbossie, skilpadbossie (Afr.)
Introduction
A beautiful stand-alone plant that is easy to propagate and works well in pot arrangements and in succulent gardens. This succulent plant is more of a subshrub, with white, star-shaped flowers and its leaves are densely arranged in a packed order, which appears to be very strong, thin, and twisted. This is why it is called the large whipcord.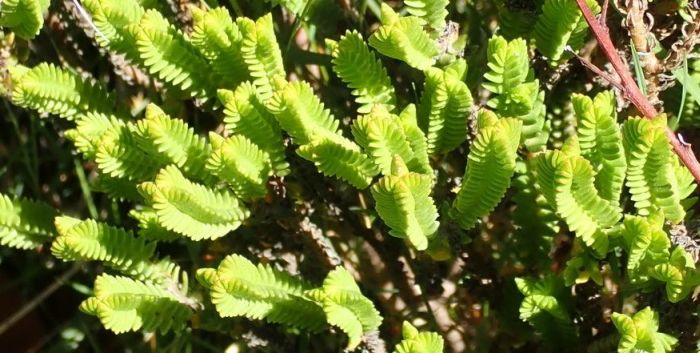 Description
Description
Crassula ericoides is a small bushy shrub, up to 250 mm tall, with upright and firm, clustered branches which are smooth and layered as scales, branching towards the apex. The main stem is 10 mm in diameter, brown, with horizontal strips of flaking bark on the older branches, and the branches are 2 mm in diameter. The first attraction you will get from the plant is the star-shaped leaf arrangement that appears in a brush-like form, which is very fascinating. The leaves are small, 4 mm long and 2 mm wide, triangular, succulent, tough, green, with short internodes. They are spreading, densely 4-ranked, becoming smaller towards the branch tips. They are packed tightly and neatly around the stem and arranged opposite each other, making the plant an interesting and ornamental garden subject.
Its flowers are in sessile, rounded clusters at the tips of the branches. The flower petals are white to cream, tubular in shape, fused shortly at the base, tips erect and acute, and their size is 2–4 mm long, with 3 mm long sepals. The anthers are brown. This plant flowers in summer (December to March).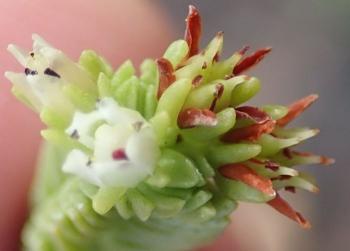 Conservation Status
Status
This plant species was not selected in any one of four screening processes for highlighting potential taxa of conservation concern for detailed assessment. Therefore, Crassula ericoides subsp. ericoides was given an automated status of Least Concern (LC) in the Red list of South African plants. The threatened species programme is currently completing full assessments for all taxa with an automated status.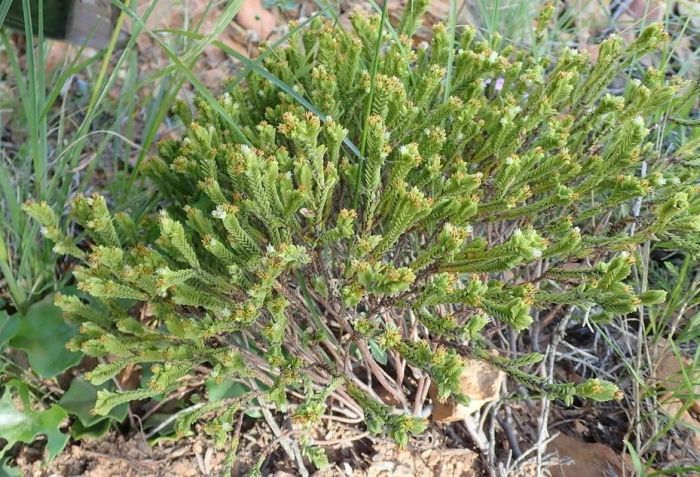 Distribution and habitat
Distribution description
Crassula ericoides subsp. ericoides grows in dry areas of the coastal belt, from Bredasdorp in the Western Cape to Eshowe in KwaZulu-Natal. This species grows in grasslands, on sandy flats among granite boulders, on dry rocky slopes; it is mostly found growing in shallow gravel and sand between rocks.
Derivation of name and historical aspects
History
Crassula ericoides was named in 1825 by Adrian Haworth (1768–1833), an English botanist and one of the most important writers on succulent plants. He called it Crassula ericoides because the plant looks similar to an Erica, commonly called heath or Cape heath. Ericas typically have small leaves closely packed along the stems, and most other crassulas have thick, fleshy leaves and succulent stems.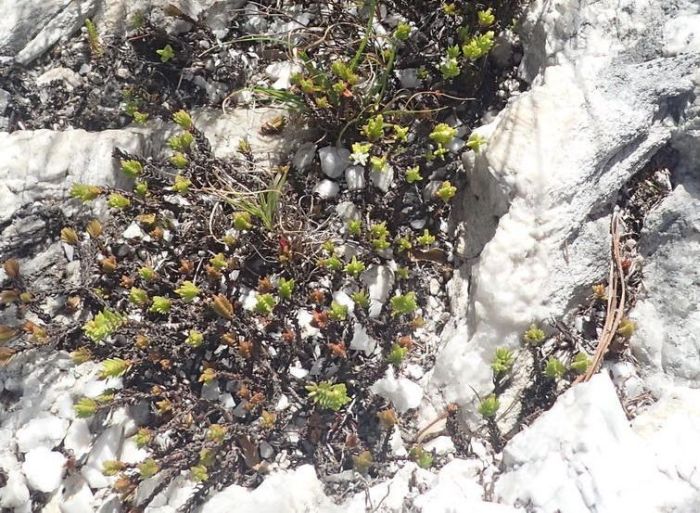 Crassula ericoides has one recognized subspecies: tortuosa, a prostrate form that grows at high altitudes in the mountains of the Little Karoo.
Ecology
Ecology
Crassula ericoides has a metabolism that allows the plant to photosynthesize normally without losing much water through their leaves, known as Crassulacean Acid Metabolism or CAM. Instead of opening the stomata on their leaves to take in carbon dioxide for photosynthesis during the day, they do it at night, therefore, minimizing the loss of internal moisture to evaporation. This allows them to survive and thrive in dry regions or areas that experience regular droughts.
Uses
Use
The horticultural usage of the Crassula ericoides is that it makes a wonderful rockery plant in hot, dry areas and also grows well in containers on sunny patios. It could be used as a garden ornamental as it is aesthetically appealing with its unique leaves and texture.
Growing Crassula ericoides subsp. ericoides
Grow
Crassula ericoides is easy to grow and is easy to root and propagate. Use well-drained, sandy soil, or a free-draining succulent mix, with an ideal pH around 6.0 (slightly acidic). It requires full sun, does well in filtered sun, and can handle some shade too, but tends to become lank and floppy in shade. It can be sunburned if moved from shade into full sun too quickly.
In the garden, plant it in a sunny position, in well-drained soil. It can also be grown indoors throughout the year, where it requires heat and bright light with good air circulation, and will not do well in still, humid air. This plant species is drought tolerant and needs only light watering. Water regularly in the growing season, but avoid water-logging and let the soil dry out between waterings. Water with caution in winter, as the plant can lose its roots if the soil stays cold and wet for extended periods. It is a rapid grower. Protect from frost to prevent any sort of damage, and when grown indoors keep at a minimum winter temperature of 10°C. In cold climates plant this in a container, so it can be moved into a protected area during cold periods.
To make new plants, take stem cuttings or detach leaves, by pulling or bending them away from the stem and allow them to dry for a day or two. Then simply place the cut stems or detached leaves in well-drained, gritty soil or in a mix such as one part slightly moist peat and two parts sharp sand, keep moist and place in a bright situation but out of direct sun, and within a week or two you will have a new plant. The rooted cuttings and leaves can be repotted. You can also propagate Crassula ericoides from seed but it is easily increased through cuttings because they root very easily.
References
Plants of Hawaii, Crassula ericoides. Images by Forest & Kim Starr http://www.starrenvironmental.com/images/search/?q=Crassula+ericoides&sort=interestingness-desc&show=show Accessed on 2019/08/08
Foden, W. & Potter, L. 2005. Crassula ericoides Haw. Subsp. ericoides. National Assessment: Red List of South African Plants version 2017.1. Accessed on 2019/08/08
Philipskop Mountain Reserve website, The stonecrop that thinks it's a heath. Accessed on 2019/08/08. https://www.phillipskop.co.za/flora/crassula-ericoides
Toelken, H.R. 1977. A revision of the genus Crassula in southern Africa. Contributions from the Bolus Herbarium No.8. Bolus Herbarium, University of Cape Town.
World of Succulents website, Crassula ericoides page. Accessed on 2019/08/08. https://worldofsucculents.com/crassula-ericoides-large-whipcord
LLIFLE – Encyclopedia of living forms, Encyclopedia of Succulents, Crassula ericoides page. Accessed on 2019/08/08. http://www.llifle.com/Encyclopedia/SUCCULENTS/Family/Crassulaceae/27360/Crassula_ericoides
Court, D. 1981. Succulent flora of southern Africa. Balkema, Cape Town.
Jackson, W.P.U. 1990. Origins and meanings of names of South African plant genera. University of Cape Town.
Smith, C.A. 1966. Common names of South African plants. Memoirs of the Botanical Survey of South Africa No. 35. Government Printer, Pretoria.
Credits
Sboniso Zwane
KwaZulu-Natal National Botanical Garden
September 2019
Acknowledgements: Images by Nicola van Berkel from her observations posted on iNaturalist.org
Plant Attributes:
Plant Type: Shrub, Succulent
SA Distribution: Eastern Cape, KwaZulu-Natal, Western Cape
Soil type: Sandy
Flowering season: Early Summer, Late Summer
PH: Acid
Flower colour: White
Aspect: Full Sun
Gardening skill: Easy
Special Features:
Drought resistant
Good potplant
Horticultural zones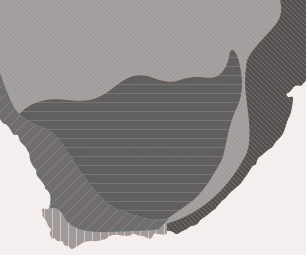 Zone 2 Coastal winter rainfall, frost free
Google QR Code Generator