Crassula fascicularis Lam.
Family: Crassulaceae
Common names: fragrant crassula, sweet-scented crassula (Eng.); ruiksissie, klipblom, karnaatjieblom, keiserskroon (Afr.)
Introduction
An elegant little succulent shrub, with beautiful and fragrant spring flowers, ideal for pots, rockeries and fynbos gardens.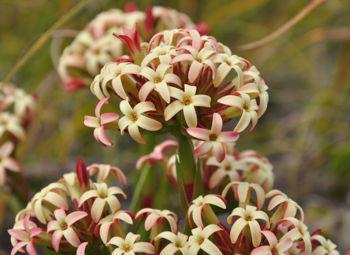 Description
Description
Crassula fascicularis is an erect, succulent shrublet, 150–400 mm high, branching from a slightly woody base. It has sessile (stalkless), narrow lance-shaped, upward-pointing, scarcely fleshy leaves, 20–40 mm long and 2–3 mm broad, on stems that are frequently reddish. They usually have tiny curved hairs along the margins, which give the leaves a silvery edge.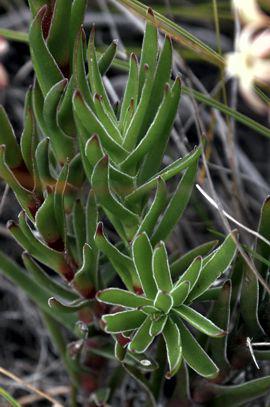 In spring and early summer (September–November), it has attractive, rounded to flat-topped clusters of cream-coloured to pale yellowish green or rarely white flowers. Each flower is 20–32 mm long, tubular, with lobes curled back, and often flushed with reddish pink. The flowers have no stalk. The base of the floral tube is enclosed in a green or red or red-streaked calyx, which is fringed with tiny white hairs. The flowers are strongly sweet scented, the scent growing even stronger at dusk.
Conservation Status
Status
According to the Red List of South African plants checked on 23 September 2015, the conservation status of this plant is Least Concern (LC). This species is not threatened and its wild population is stable.
Distribution and habitat
Distribution description
Crassula fascicularis grows in fynbos on dry sandstone slopes, at 50 to 1 200 m altitude in the mountains of the Western Cape, from Gifberg near Vanrhynsdorp to the Langeberg Mountains near Bredasdorp, including the Cape Peninsula.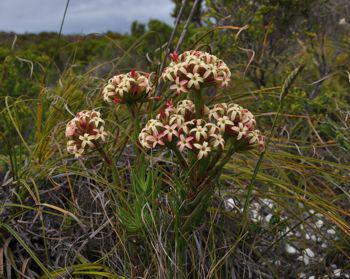 Derivation of name and historical aspects
History
The name Crassula is the diminutive of the Latin crassus which means 'thick' or 'fat', referring to the fleshy nature of the genus as a whole. The name fascicularis means 'clustered' or 'bundled', from the Latin fasciculus meaning 'a little bundle' or 'packet', or 'a bunch of flowers', and referring to the clustered flowers.
Crassula fascicularis is widespread and variable in the wild, in terms of the size of the leaves, number of flowers and flower colour, and this is the cause of some of its many synonyms. It is found in the older literature under some of them, in particular Crassula odoratissima Andrews and Rochea odoratissima (Andrews) Link. The name odoratissima means 'most scented', from the Latin odoro meaning 'to smell' or 'give off a fragrance' and issima is the superlative. The name Rochea, the old name for some crassulas and which was sunk into synonymy under Crassula by Toelken in 1985, honours the Swiss botanical author Francois de la Roche, who died in 1813.
Crassula fascicularis was described by Lamarck in 1786. It was first illustrated in volume 1 of The Botanists's Repository by Henry Charles Andrews, under the name Crassula odoratissima Andrews or sweet-scented crassula. The plant illustrated was raised in the nursery of Messrs. Lee and Kennedy in Hammersmith in about 1794, although it did not flower until 1796. They describe the scent of this plant to be so powerful at night that some may deem it almost offensive, but others consider it most agreeable and similar to that of the tuberose (Polianthes tuberosa).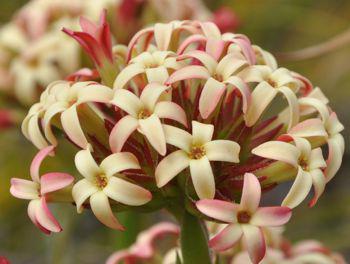 The genus Crassula is one of the most diverse succulent genera, varying from tiny moss-like annual plants and small rosettes a few millimetres tall, to 2 m tall succulent 'trees' like Crassula ovata. There are more than 300 Crassula species of which approximately 150 are found in southern Africa where they are widespread but concentrated in the semi-arid winter-rainfall areas. The centre of distribution of this genus is in southern Africa, but they extend beyond Africa into Europe, America, Australia, New Zealand and the southern islands.
Ecology
Ecology
Crassula fascicularis has pale coloured, evening-scented flowers, with long narrow corolla tubes, with the anthers inside the tubes, all of which indicate that it is pollinated by moths. This was confirmed by the 1993 study by Johnson et al., where no insect visitors were observed during the day, but light trapping at night caught a number of Geometrid moths with Crassula fascicularis pollen on their probosces. Thus Crassula fascicularis attracts and is pollinated by Geometrid moths. The flowers are fragrant from about midday and the fragrance grows stronger during the afternoon and into the evening, reaching a peak around midnight. The nectar is secreted in the afternoon until midnight, while the moths are active. The volume of nectar and the intensity of the fragrance are at their peak just before midnight.
Crassulas have an extraordinary metabolism that allows them to photosynthesise normally without losing much water through their leaves, known as Crassulacean Acid Metabolism or CAM. This gives them the ability to survive and thrive in dry regions or those that experience recurring droughts. All plants need CO2 (carbon dioxide) for photosynthesis. Most plants take in CO2 during daylight hours through their stomata (pores in the leaves) and cannot avoid losing water at the same time through these open pores. In Crassula the stomata are closed during the day, but open at night, so that when they take in the CO2, they lose the least amount of water. The CO2  taken in at night is stored in the form of organic crassulacean acids. During the day, these acids are broken down and the CO2  is released and re-used in the photosynthetic process. In this way they lose much less water, yet can photosynthesise normally during the daylight hours. Furthermore, during extremely dry periods they won't even open their stomata at night, and will re-cycle the CO2 within the cells. They would not be able to grow at all, but the cells will be kept healthy – this is known as CAM-idling.
Most crassulas have hydathodes on the leaves. In Crassula fascicularis they are in a dense row along the upper and lower leaf margins, but they are very small and usually hardly visible. Hydathodes are special water-secreting structures on the surface of a leaf, similar to stomata, but larger. They are mostly found on aquatic plants where their function is to get rid of excess water in the plant. In Crassula, which are adapted to arid environments, the hydathodes have a different function, they are able to take up liquid water on the leaves. This enables them to survive in arid regions where rainfall is infrequent but the plants often get wet from dew or fog.
Uses
Use
Although Crassula fascicularis was introduced into horticulture in England in about 1794, it is not widely grown or very well known as a garden plant or pot plant. Crassula fascicularis is not used in traditional medicine.
Growing Crassula fascicularis
Grow
Crassula fascicularis is not quite as tough, adaptable and easy to grow as some other crassulas. Grow it in a sunny position in well-drained, sandy soil with an acidic to neutral pH. Feed with well-rotted compost applied as a mulch, or frequent low doses of fertiliser. Take care not to overwater. Try this elegant little succulent in a sunny rockery or terrace wall, the fynbos garden, or water-wise garden. It is easy to grow in containers and can also be grown indoors on a sunny windowsill, or where it gets bright light. The spring flowers are most strongly fragrant in the evening, so plant one where you are likely to smell it in the evenings, or take the pots indoors or onto the patio in the evenings, while they are in flower. They don't need much care once they are established, but in a garden situation, make sure that they are not overgrown or crowded out by neighbouring plants. It is not suited to very cold climates although it is probably frost hardy to USDA Zone 9, -1 to -7ºC.
Propagate Crassula fascicularis by seeds or cuttings. Sow seeds in autumn, or spring in summer-rainfall climates. Use a well-drained sandy, sterile medium. The seeds are small and can be mixed with fine sand and sprinkled over the surface. Keep moist and warm, but shaded and well ventilated.
Crassula fascicularis is easy to root. Remove a side shoot, gently remove or cut off the leaves from the lower third of the stem and place in a sandy, well-drained soil mix in a semi-shaded position and keep moist but not wet. Cuttings can be taken at any time of the year and there is no need for rooting hormone, bottom heat or misting.
References
Andrews, H.C. 1797–1799. The botanists's repository: for new, and rare plants, Volume 1. Plate XXVI. Printed by Bensley, London. Digitised by Google.
Foden, W. & Potter, L. 2009. Crassula fascicularis Lam. National Assessment: Red List of South African Plants version 2015.1. Accessed on 2015/09/23
Goldblatt, P. & Manning, J. 2000. Cape Plants. A conspectus of the Cape flora of South Africa. Strelitzia 9. National Botanical Institute, Pretoria & Missouri Botanical Garden, Missouri.
Jackson, W.P.U. 1990. Origins and meanings of names of South African plant genera . University of Cape Town.
Johnson, S.D., Ellis, A.G., Carrick, P.J., Swift, A., Van Rensburg, S., Horner, N, & Bond, W.J. 1993. Moth pollination and rhythms of advertisement and reward in Crassula fascicularis (Crassulaceae). South African Journal of Botany 59(5): 511–513.
Leistner, O.A. (ed.). 2000. Seed plants of southern Africa: families and genera. Strelitzia 10. National Botanical Institute, Pretoria.
Toelken, H.R. 1977. A revision of the genus Crassula in southern Africa. Contributions from the Bolus Herbarium No.8. Bolus Herbarium, University of Cape Town.
Trinder-Smith, T. 2006. Wild flowers of Table Mountain. Botanical Society of South Africa, Cape Town
Van Rooyen, G. & Steyn, H. 1999. Cederberg Clanwilliam & Biedouw Valley South African wildflower guide 10. Botanical Society of South Africa, Cape Town.
Von Willert, D.J., Eller, B.M., Werger, M.J.A., Brinckmann, E. & Ihlenfeldt, H.-D. 1992. Life strategies of succulents in deserts, with special reference to the Namib desert. Cambridge University Press, Cambridge.
Credits
Alice Notten
Kirstenbosch National Botanical Garden
October 2015
Plant Attributes:
Plant Type: Shrub, Succulent
SA Distribution: Western Cape
Soil type: Sandy
Flowering season: Spring
PH: Acid, Neutral
Flower colour: Red, Cream
Aspect: Full Sun
Gardening skill: Easy
Special Features:
Drought resistant
Fragrant
Good potplant
Indoor plant
Horticultural zones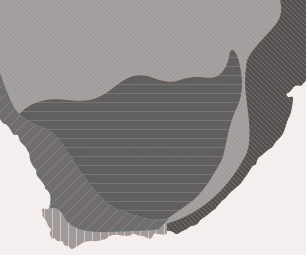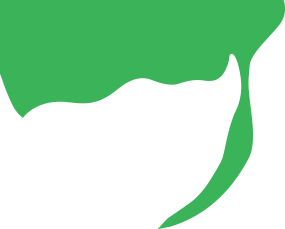 Zone 1 Coastal summer rainfall, frost free
Zone 2 Coastal winter rainfall, frost free
Zone 3 Winter rainfall Karoo, light frost
Zone 5 Bushveld summer rainfall, Light frost
Google QR Code Generator