Crassula perfoliata var. minor
Crassula perfoliata L. var. minor (Haw.) G.D.Rowley
Family: Crassulaceae
Common names: sickle-leaf red crassula, Eastern Cape red crassula (Eng.); sekelblaarplakkie (Afr.)
Introduction
Crassula perfoliata var. minor is an attractive summer-flowering succulent with greyish-green, sickle-shaped leaves and red flowers in summer. It is easily grown from cuttings or seed.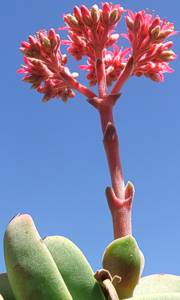 Description
Description
An erect, sparingly branched perennial succulent up to about 0.5 m high when in flower, often growing singly. The leaves are oblong-sickle-shaped, succulent, firm, up to 90 x 28 mm, arranged in opposite rows, laterally compressed, ascending-spreading and with blunt ends. They are greyish green, often with red markings, their surface is covered with dwarf rounded papillae and the leaf margins are armed with minute teeth. The older leaves are persistent on the branches.
Many small flowers are densely arranged in a rounded to flat-topped inflorescence (thyrse) borne on an elongated peduncle up to 100 mm high. The bright red or pink to almost white tubular flowers are up to 7 mm long. The seeds are very small.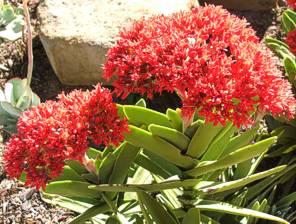 Conservation Status
Status
Crassula perfoliata var. minor, is not often encountered and has a limited distribution. It occurs on rocky outcrops in grassland and on inaccessible cliffs in river valleys where it is well protected. The plant is also well established in cultivation (ex situ conservation) and is grown by succulent plant growers all over the world.
Distribution and habitat
Distribution description
Crassula perfoliata var. minor is confined to quartzitic sandstone outcrops (rarely shale), from the Groot Winterhoek Mountains and Port Elizabeth in the south to Umtata in the northeast. The plants grow solitary or in small clusters on north-, east- and west-facing cliffs along dry river valleys. The average daily maximum temperature in the area is about 25°C and the average daily minimum about 10°C. Winters are cooler but frost is a rarity or absent. Rainfall occurs during winter and summer and ranges from 400 to 500 mm per annum. Associated succulents in its habitat include: Cyrtanthus sanguineus, Gasteria glomerata, Haworthia gracilis var. picturata, H. viscosa, Cotyledon orbiculata, Crassula rupestris and Adromischus cristatus. Plants grow at an altitude of 250-1000 m in Fynbos- or Albany Thicket Biome.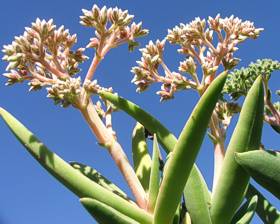 Derivation of name and historical aspects
History
The specific epithet perfoliata, is derived from per, meaning 'through' and folia, leaves, and alludes to the leaf bases surrounding the stem, which appears to pass through the substance of the long-lived evergreen leaves. The variety name indicates that the plants are smaller than in the other varieties.
Crassula perfoliata was named by Carl Linnaeus in 1753.
The var. minor was named by the well-known succulent student Adrian Haworth in 1821 (Britain) who grew plants from an unknown source. There are four known varieties:
The var. minor is at once distinguished from its close relatives by its small size (only 1 to a few branches), the leaves which are often mottled and grey-green, distinctly sickle-shaped and not channelled at the base, and the red to pink flowers which are up to 7 mm long.
 
The var. perfoliata (from the eastern Nama Karoo) is up to 1.3 m tall with erect lance-shaped channelled leaves and white flowers 3-4 mm long. It flowers from spring to summer.
 
The var. coccinea is confined to the coast between Port Elizabeth and King William's Town. It is up to 1.5 m tall with spreading green leaves and red flowers up to 7 mm long (summer flowering).
 
The var. heterotricha is up to 40 cm tall with erect grey-green leaves and white flowers up to 7 mm long. It flowers in winter and has a very wide distribution from tropical Africa to South Africa (to the northeast Eastern Cape). Var. heterotricha grows on the escarpment and below the escarpment mountains and in river valleys, often confined to ledges.
Ecology
Ecology
Crassula perfoliata var. minor flowers during summer (November to February). Plants are pollinated by butterflies and the seeds are dispersed by the wind. The plants grow on outcrops and ledges in full sun. Plants are initially solitary but may sometimes have up to three heads later. During wet conditions the leaves become very turgid and during dry spells they become flattened and tinged reddish.
Uses
Use
It is popular in cultivation, but not used medicinally.
Growing Crassula perfoliata var. minor
Grow
Crassula perfoliata var. minor is best grown in dry gardens where frost is not severe. It grows easily and is best planted on rockeries in full sunlight. It would be excellent for dry thicket gardens. In regions where frost is experienced, it is best grown in containers in a greenhouse, or on windowsills under controlled conditions. Propagation is easily effected by division, leaf cuttings or seed. Seed germinates within 3 weeks and plants should flower in the fourth year. Leaf cuttings can be made during spring or summer and rooted in clean sand. They must be kept moist. Sulphur should be applied as a fungicide to wounds.
References
Tölken, H.R. 1985. Crassulaceae. Flora of Southern Africa 14. Botanical Research Institute, Department of Agriculture and Water Supply, Pretoria.
Rowley, G. D. 2003. Crassula. A growers guide. Cactus & Co.
Credits
Ernst van Jaarsveld
Kirstenbosch National Botanical Garden
November 2008
Plant Attributes:
Plant Type: Succulent
SA Distribution: Eastern Cape
Soil type: Sandy
Flowering season: Early Summer
PH: Acid, Neutral
Flower colour: Red, White, Pink
Aspect: Full Sun, Morning Sun (Semi Shade), Afternoon Sun (Semi Shade)
Gardening skill: Easy
Special Features:
Drought resistant
Indoor plant
Horticultural zones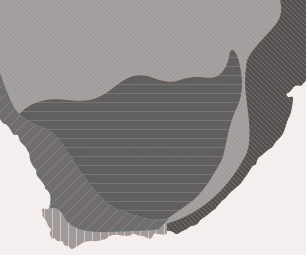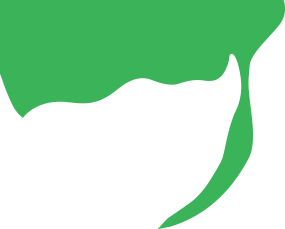 Zone 1 Coastal summer rainfall, frost free
Zone 2 Coastal winter rainfall, frost free
Zone 3 Winter rainfall Karoo, light frost
Zone 5 Bushveld summer rainfall, Light frost
Google QR Code Generator