Crassula sarcocaulis Eckl. & Zeyh.
Family: Crassulaceae
Common names: bonsai crassula (Eng.); serelilenyane (S.Sotho); umadinsane (isiZulu)
Introduction
Crassula sarcocaulis is one of the few plants that has a tree-like form, in miniature. It's also a tough, water-wise, drought- and cold-tolerant plant, that does well in containers.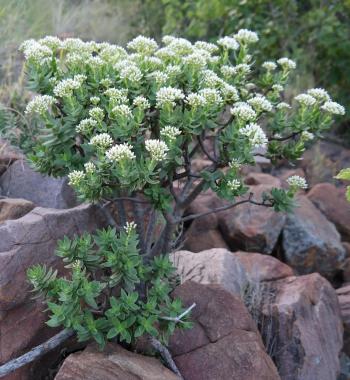 Description
Description
Crassula sarcocaulis is a small, evergreen, succulent sub-shrub, 250–400 mm high. The plants are tree-like in form, with a single main stem and a well-branched crown. On older specimens the bark is flaky or peeling. Leaves are flat and narrow, awl-shaped, up to 12 mm long, fleshy, light green. Clusters of small white to pinkish flowers are borne at the tips of the branches, and smell like honey or black currant jam. The individual flowers are cup-shaped, 3–5 mm long. Flowering time is late summer to autumn to winter (January to June).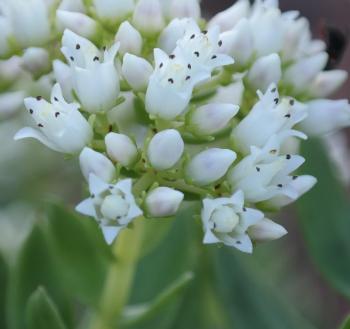 Crassula sarcocaulis has two recognised subspecies: subsp. sarcocaulis and subsp. rupicola Toelken. The subsp. sarcocaulis has an upright habit with moderate branching and main branches up to 10 mm in diameter. Its leaves are elliptic, broadest at the middle, 5–30 mm long and 2–8 mm broad. It It flowers in autumn and winter (April–June). The subspecies rupicola is upright and spreading and much branched, forming dense shrubs with main branches up to 50 mm in diameter. The leaves are linear to lance-shaped and broadest towards the base, 8–20 mm long and up to 1.5 mm broad. It flowers in late summer to autumn (January–April).
Conservation Status
Status
Crassula sarcocaulis is not threatened. The conservation status of both subspecies is Least Concern (LC).
Distribution and habitat
Distribution description
Crassula sarcocaulis is native to the eastern part of South Africa and neighbouring countries. The typical subspecies is widespread from the Soutpansberg and Blouberg in the Limpopo Province, along the escarpment into Mpumalanga and Swaziland; occasionally found in KwaZulu-Natal and scattered in the Eastern Cape and Zimbabwe. Subspecies rupicola is mainly found in the Drakensberg Mountains in Mpumalanga, Free State, Lesotho, KwaZulu-Natal and the Eastern Cape, as well as in Malawi. Both subspecies occur on mountain slopes, among rocks, in rock crevices, often on the border of scrub or forest experiencing rain in summer and a dry winter.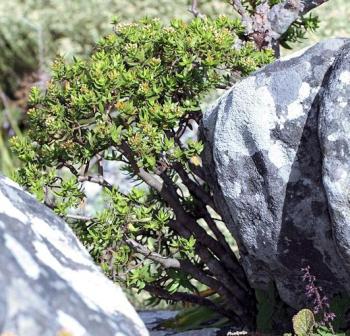 Derivation of name and historical aspects
History
The name Crassula is the diminutive of the Latin word crassus, which means 'thick' or 'fat', referring to the fleshy nature of the genus as a whole. The name sarcocaulis means 'fleshy stemmed' from the Greek sarx or sarkos, meaning 'flesh' and kaulon, meaning 'stem'. The name rupicola means 'growing among rocks' from the Latin rupes, meaning 'cliff' or 'rock', and incola, meaning 'dweller'.
Ecology
Ecology
Crassulas are well adapted to survive periods of drought. They have an extraordinary metabolism that allows them to photosynthesize normally without losing much water through their leaves, known as Crassulacean Acid Metabolism or CAM. This gives them the ability to survive and thrive in dry regions or areas that experience recurring drought. This species also has the ability to survive in cold temperatures as low as -12ºC, which is unusual in crassulas.
Uses
Use
Crassula sarcocaulis is used in traditional medicine as a strong emetic. It is a popular pot plant and windowsill plant in many countries.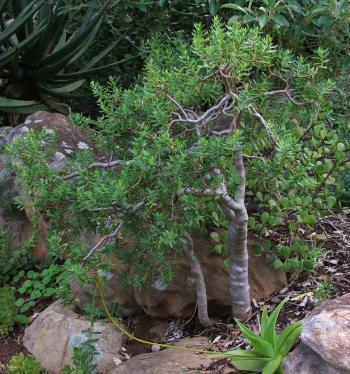 Growing Crassula sarcocaulis
Grow
Crassula sarcocaulis resembles a small tree, and does well in containers, making it an easy-care, succulent, bonsai plant. It is suitable for indoors in bright light or on a sunny windowsill. In the garden it is ideal for a rockery, or retaining wall, and for an arid garden or water-wise garden. Plant it in sun or semi-shade, in a well-drained soil and take care not to overwater. When growing it in a container, use a well-drained medium such as one consisting of a mixture of 1 part peat moss to 1 part loam and 1 part coarse, and allow the soil to dry out before watering again. It is also hardy to cold and should withstand temperatures as low as -12oC.
This plant is easily propagated by cuttings. Root cuttings in a well-drained, sterile medium. Take cuttings in at any time of the year, but better in spring before it starts flowering. Place the cuttings in a glasshouse or cold frame to protect against frost. The cuttings root easily without the need for a rooting hormone, misting or under-bench heating.
References
Barkhuizen, B.P. 1978. Succulents of southern Africa. Purnell and Sons Publishers, Cape Town.
Burrows, J.E. & Willis, C.K.. 2005. Plants of the Nyika Plateau. South Africa Botanical Diversity Network Report
Court, D. 1981. Succulent flora of southern Africa. Balkema, Cape Town.
Hutchings, A., Scott, A.H., Lewis, G. & Cunningham, A.B. 1996. Zulu medicinal plants: an inventory. University of Natal Press, Pietermaritzburg.
Jackson, W.P.U. 1990. Origins and meanings of names of South African plant genera. University of Cape Town.
Van Jaarsveld, E.J. 2010. Waterwise gardening in South Africa and Namibia. Struik, Cape Town.
Flora of southern Africa entry 61 for Crassula sarcocaulis, accessed via Plants of southern Africa online http://posa.sanbi.org/flora/results_browse.php?src=FloraSA&taxon=genno=3835,spno=353, accessed 23 November 2015.
iSpot southern Africa http://www.ispotnature.org/search/node/crassula%20sarcocaulis
San Marcos Growers page on Crassula sarcocaulis: http://www.smgrowers.com/products/plants/plantdisplay.asp?plant_id=3092, accessed 23 November 2015
Credits
Samuel Lekhetho and Ofentse Naanyane
Free State National Botanical Garden
and Alice Notten
Kirstenbosch National Botanical Garden
December 2015
Plant Attributes:
Plant Type: Shrub, Succulent
SA Distribution: Eastern Cape, Free State, KwaZulu-Natal, Limpopo, Mpumalanga
Soil type: Sandy, Loam
Flowering season: Late Summer, Autumn, Winter
PH: Acid, Neutral
Flower colour: White, Pink
Aspect: Full Sun, Morning Sun (Semi Shade), Afternoon Sun (Semi Shade)
Gardening skill: Easy
Special Features:
Drought resistant
Feature plant
Fragrant
Good potplant
Indoor plant
Medical plant
Horticultural zones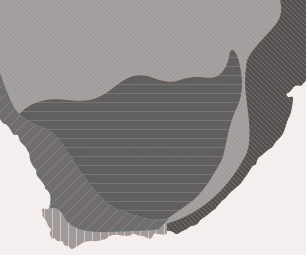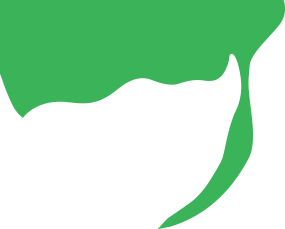 Zone 1 Coastal summer rainfall, frost free
Zone 2 Coastal winter rainfall, frost free
Zone 3 Winter rainfall Karoo, light frost
Zone 4 Summer rainfall Karoo and Highveld, Frost in winter
Zone 5 Bushveld summer rainfall, Light frost
Google QR Code Generator