Crinum paludosum I.Verd.
Family: Amaryllidaceae
Common names: bushveld vlei lily
Introduction
This is a very beautiful lily with funnel-shaped flowers that are white to pale pink, enhanced by reddish stigmas. Crinum paludosum is a slender, erect, herbaceous plant that grows in marshy places, making it a perfect plant for the pond or a swamp.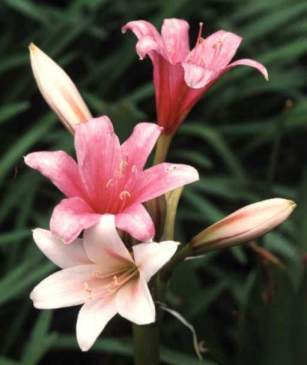 Description
Description
Crinum paludosum is a low-growing plant that is found in large colonies in marshy areas. The fully-grown bulb is ± 200 mm in diameter, but it may take about four years to reach this size. It is more or less globose, narrowing into a long neck. The leaves are stem-clasping at the base. The species is characterised by arching leaves, which are often described by collectors as 'like young maize'. They are pale green, soft and have wavy margins. Leaves die back in autumn, but not entirely. A cut-off point is reached from which the new growth regenerates the following season.
The bushveld vlei lily has a long flower stalk that carries flower tubes that are ± 120 mm in diameter. The tepals are + 100 x 30 mm and are suberect to spreading. The flowers are white to pale pink with a darker pink keel. They only open fully at midday and are slightly sweet-scented. They appear from December to January. The fruits, that appear thereafter, are about 35 mm in diameter and are red. This plant usually blooms while submerged in + 300 mm water.
Distribution and habitat
Distribution description
The genus is found mainly in tropical Africa; ± 130 species of Crinum are found all over Africa and 21 in South Africa. C. paludosum is found growing naturally in large colonies in marshy places from northern KwaZulu-Natal to Limpopo. It is also found in Namibia and Botswana.
Derivation of name and historical aspects
History
The genus Crinum consists mainly of bulbous herbs, the bulbs of which are relatively large and often contracted into a neck. They sometimes split to form clumps. The leaves of members of this genus range from linear, limp and strap-shaped to sword-shaped, sheathing at the base, arranged in a rosette. Flowers vary in numbers, colours and shapes.
Crinum is a Greek word meaning 'lily' and paludosum is a Latin word meaning 'of swamps' or 'of marshes', which is derived from its preferred habitat.
Ecology
Ecology
This plant is a food source for amaryllis caterpillars (Brithys pancratii sometimes regarded as B. crinii subsp. pancratii). They may be found feeding at the bases of the stems and on bulbs. These may cause a serious problem on bulbs because the whole plant eventually rots as a result. They may be controlled by a khakibos weed (Tagetes minuta) brew that is poured on infected parts. Dry leaves of the weed may also be used.
Uses
Use
Most species of Crinum have been recorded as been used medicinally by Africans. Some species of Crinum are used as blood purifiers. Roots are ingredients in decoctions used for the treatment of scrofula. These may be mixed with some other plant species. All members of the genus are, however, considered capable of causing dermatitis. The leaves are browsed by stock.
Growing Crinum paludosum
Grow
C. paludosum may be grown from seed. Seedlings may take about four years to flower, as the bulbs take time to reach maturity. It can also be grown from offsets, should they occur, although they are not commonly formed from the parent bulb.
Seedlings may be grown in compost-enriched soil. As they mature they may be taken to a marshy area or a swamp and planted out. C. paludosum may also be grown in on a shady area with well-aerated soil and given plenty of water. After flowering, the leaves die off and the plant goes dormant. During this stage bulbs may be lifted and stored in a dry place. During the growing season, the bulbs should not be disturbed as this may have a negative effect on the flowering of the plant.
C. paludosum is a good companion for summer rainfall, evergreen Agapanthus species as the flowers and growth form of these two complement each other, but agapanthus generally require less water and are not swamp plants.
References
GERMISHUIZEN, G. & FABIAN, A. 1997. Wild flowers of northern South Africa. Fernwood Press, Vlaeberg, Cape Town.
HUTCHINGS, A., SCOTT, A.L., LEWIS, G. & CUNNINGHAM, A. 1996. Zulu medicinal plants. University of Natal Press, Pietermaritzburg.
POOLEY, E. 1998. A field guide to wild flowers of KwaZulu-Natal and the eastern region. Natal Flora Publications Trust, Durban.
Credits
Mhlonishwa D. Dlamini
Witwatersrand National Botanical Garden
April 2003
Plant Attributes:
Plant Type: Aquatic, Bulb
SA Distribution: Gauteng, KwaZulu-Natal, Limpopo, North West
Soil type: Clay
Flowering season: Late Summer
PH: Neutral
Flower colour: White, Pink
Aspect: Full Sun
Gardening skill: Easy
Special Features:
Fragrant
Poisonous
Medical plant
Feeds honeybees
Wet sites
Horticultural zones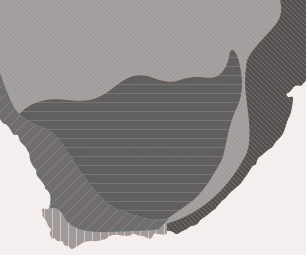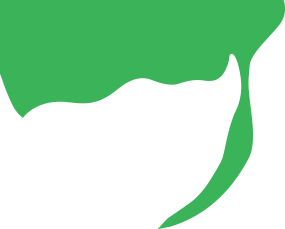 Zone 1 Coastal summer rainfall, frost free
Zone 4 Summer rainfall Karoo and Highveld, Frost in winter
Zone 5 Bushveld summer rainfall, Light frost
Google QR Code Generator