Crotalaria capensis Jacq.
Family: Fabaceae
Common names: Cape rattle-pod, Cape laburnum (Eng.); Kaapse klapperpeul (Afr.); bukheshezane (Zulu)
SA Tree No: 225.12
Introduction
Clusters of large golden yellow flowers and seedpod bunches that rattle with dry seeds make this quick-growing shrub a delight in any garden.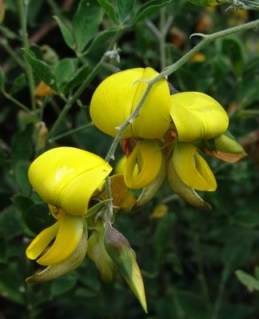 Description
Description
Crotalaria capensis is an evergreen, quick-growing, much-branched shrub or small upright tree, 2-5 m high. The main stem is slender with drooping branches, the new stems are velvety to the touch.Attractive trifoliate leaves are bright green above and blue-green beneath, and the young growth is silvery blue.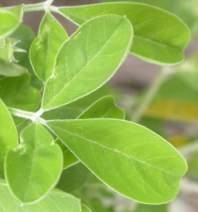 The large, very pretty flowers have bright yellow petals which are often edged with red. They are borne in lovely long pendulous sprays at their best between October and April, but often found on the bush throughout the year. The fruit, borne January to June, are inflated hollow pods that are light brown when ripe. When the pods are dry, the ripe seeds rattle in the wind.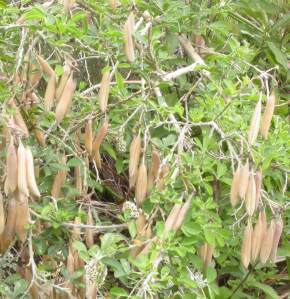 Distribution and habitat
Distribution description
Found on forest margins, in coastal bush, and in riverine areas. Occurs in Transkei and KwaZulu-Natal, from the Cape Peninsula, Eastern Cape, Free State, Gauteng, Swaziland and Mozambique.
Derivation of name and historical aspects
History
The genus name Crotalaria derived from the Greek word krotalon, meaning castanet, refers to the sound of the ripe seeds rattling in the dry pod. The species name capensis means of the Cape. The common name Cape laburnum refers to its flowers resembling those of the European laburnum ( Laburnum anagroides ). Calpurnia aurea is also sometimes called Cape laburnum which can cause confusion.
This genus occurs in the large legume family Fabaceae, within the subfamily Papilionoideae. A characteristic of this subfamily is that the flowers have a typical pea shape: a large upper petal (the standard), two side petals (wings) and two lower petals that are fused to form a keel enfolding the stamens and pistil.
The genus Crotalaria has about 600 species of annual and perennial herbs, and shrubs occurring world-wide mainly in the warmer countries but mostly in Africa.
Ecology
Ecology
Members of the legume family have a symbiotic relationship with bacteria that live in their roots: these nitrifying bacteria are able to fix atmospheric nitrogen, making it available to the plant that is hosting them. When the plant dies, the nitrogen is released to the soil enriching it, and is then also available to other plants. This is what makes a lot of members of this family good pioneers-the first plants to inhabit a damaged or disturbed area, making it more habitable for other plants to also settle themselves. Other species of Crotalaria are used as cover crops and in re-vegetation projects for this reason, also to bind the sand and as windbreaks because they grow are fast growing.
They are pollinated mainly by carpenter bees. Blue butterfly larvae, of the family Lycaenidae, parasitize the pods. Chameleons are often found on the bushes waiting to predate the adult butterflies. Browsed by buck and livestock, it is often used as fodder.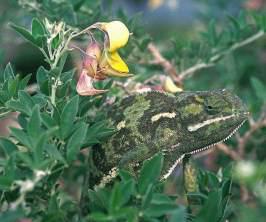 Uses
Use
Already grown in Europe for more than 200 years, this plant has much decorative horticultural value and as mentioned above is often used as fodder.
Growing Crotalaria capensis
Grow
Crotalaria capensis can be lovely used as a decorative hedge, an informal shrub border or as a screen. It makes a good flowering specimen tree ideal for the small garden, or use it mixed in an informal bed to make a lovely display. It is also recommended for a new garden as it is so fast-growing and wind resistant.
It prefers full sun, and will tolerate most soils as long as they are well drained and enriched with compost. Crotalaria likes a reasonable, regular amount of water so will do best in areas that have moderate to good rainfall as it has poor drought tolerance.
Sensitive to frost, so it will need protection when grown in gardens where severe frost may occur.
It is best grown from seed sown in autumn or spring, in well-drained soil. Seeds germinate easily. Soaking seed in hand-hot water and treating with a fungicide that combats pre-and post-emergence damping off, although not essential for germination, will increase the number of successful seedlings. Seed germinates in approximately two weeks. Prick out soon after the first pair of true leaves have developed. Protect young plants from frost. The growth rate is fast, up to 1 m per year. The plants will flower in the second year.
Seed can also be sown in situ especially when used for rehabilitation projects.
Propagation from cuttings taken from young growth may also be successful.
References
Johnson, D., Johnson, S. & Nichols, G. 2002. Gardening with indigenous shrubs. Struik, Cape Town.
Leistner, O.A. (ed.). 2000. Seeds plants of southern Africa : families and genera. Strelitzia 10. National Botanical Institute, Pretoria.
Nichols, G. 2007. Shake, rattle and roll. Farmers Weekly : 7 April, 86- 8.
Pienaar, K.1991. Gardening with indigenous plants. Struik & Timmins, Cape Town.
Pooley, E. 1993. The complete field guide to trees of Natal, Zululand and Transkei. Natal Flora Publications Trust, Durban.
Credits
Cherise Viljoen
Kirstenbosch NBG
March 2007
Plant Attributes:
Plant Type: Shrub, Tree
SA Distribution: Eastern Cape, KwaZulu-Natal, Limpopo, Mpumalanga
Soil type: Sandy, Clay, Loam
Flowering season: Spring, Early Summer, Late Summer
PH: Acid, Neutral
Flower colour: Yellow
Aspect: Full Sun, Afternoon Sun (Semi Shade)
Gardening skill: Easy
Special Features:
Attracts butterflies
Drought resistant
Useful plant
Pioneer plant
Horticultural zones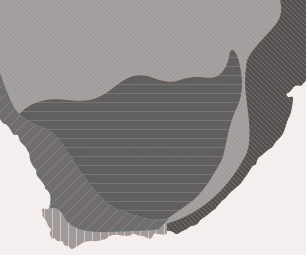 Zone 1 Coastal summer rainfall, frost free
Zone 2 Coastal winter rainfall, frost free
Google QR Code Generator