Crotalaria natalitia var. natalitia
Crotalaria natalitia Meisn. var. natalitia
Family: Fabaceae
Common names: pioneer rattlepod (Eng.); usi, uvelabahleke (isiZulu)
Introduction
The pioneer rattlepod is a shrubby yellow-flowered plant with a scent attractive to honeybees.
Description
Description
Crotalaria natalitia var. natalitia is a large, perennial, woody shrub up to 3 m tall with hairy, upright, angular branches. The bark is dark brown, pubescent. The leaves are trifoliate, grey-green, clustered on branches and with conspicuous, leaf-like, narrow stipules; leaflets are about 15-50 mm long and 3.5-15 mm wide, often with a fine point. The leaf stalk is often short, about 5 mm long.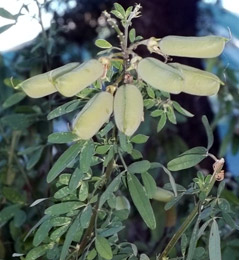 Flowers in C. natalitia var. natalitia are produced in short, terminal, drooping racemes, few, about 200 mm long; they are yellow or tinged reddish-brown, keel rounded. Flowering time is from March to July. Fruits are inflated, cylindrical pods, dark green on top and paler underneath, hairless, about 50 mm long. Fruiting time is from May to September.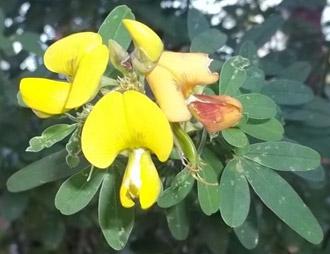 Conservation Status
Status
Although Crotalaria natalitia var. natalitia is used in African traditional medicine, it is not threatened because it is widely distributed and fairly common.
Distribution and habitat
Distribution description
Crotalaria is a genus of about 600 species; widespread in the tropics, extending into the subtropics, mostly to the southern hemisphere; about 64 species are known in southern Africa of which 54 are confined to South Africa.
Crotalaria natalitia var. natalitia is restricted to plateau regions of eastern tropical Africa and descending to southern Africa. The species occurs in three provinces in South Africa and in Swaziland. In South Africa, it is found along the coastal belt, in the eastern regions from KwaZulu-Natal, extending further north through Swaziland to Mpumalanga and Limpopo Province.
C. natalitia var. natalitia occurs at altitudes from 5-3000 m, in coastal areas, near wooded streams and lakes, on loamy and sandy soils. Usually found along edges of montane forest, in savanna, montane and valley grassland and disturbed areas; at high altitudes it is normally found in plateau regions.
Derivation of name and historical aspects
History
Crotalaria was named after the Greek word krotalon, meaning a rattle, in reference to the seeds of many species of this genus which rattle in the pod when ripe. The specific epithet natalitia is derived from Natal, the region in South Africa where the first specimen of this species was collected and from where it was described.
Ecology
Ecology
Crotalaria natalitia var. natalitia occurs in an array of fairly open habitats such as grassland, forest edges and roadsides, from sea-level along the coastal areas up to 3 000 m altitude on plateau regions. It is mainly found in damp grassland, especially in floodplains, depressions and along edges of swamps and rivers, but also in deciduous bushland. The flowers are attractive to honeybees.
Uses
Use
Crotalaria natalitia var. natalitia is used by African tribes as a source of traditional medicine. The root bark is chewed and sap is swallowed to treat ulcers. The root is also used to treat snakebite by rubbing it on the wounds. A decoction of root and leaf sap is drunk to treat malaria in children. The pounded root infusion is used for the treatment of heart conditions in African tribes. The powder of dried leaves is used to treat wounds.
Growing Crotalaria natalitia var. natalitia
Grow
The plant is easily propagated from seed, which is sown in rows 30 cm apart at a seed rate of 4-5 kg/ha. Depending on both soil fertility and moisture level, tapering is done 7 weeks after sowing to a spacing of 15 cm × 15 cm. When conditions are too dry, the spacing may be up to 30 cm × 30 cm. C. natalitia var. natalitia pod as a vegetable can be grown as a single crop or be intercropped with finger millet, maize and any other crop which benefits from the nitrogen-fixing capacity of this plant. It is favoured by warm conditions, and after the crop is well established and has formed long taproots and long lateral roots, it can tolerate rather dry conditions.
References
Germishuizen, G., Meyer, N.L., Steenkamp, Y. & Keith, M. (eds). 2006. A checklist of South African plants. Southern African Botanical Diversity Network Report No. 41. SABONET, Pretoria.
Leistner, O.A. 2000. Seed plants of southern Africa: families and genera. Strelitzia 10. National Biodiversity Institute, Pretoria.
Neuwinger, H.D. 2000. African traditional medicine: A dictionary of plant use and applications. Medpharm Scientific Publishers, Stuttgart.
Schmidt, E., Lotter, M. & McCleland, W. 2002. Trees and shrubs of Mpumalanga and Kruger National Park. Jacana Publishers, Johannesburg.
Walker, J. 2004. Wild flowers of KwaZulu-Natal. Walker Family Trust Publishers, Pinetown.
Credits
Sifiso Mnxati
KwaZulu-Natal Herbarium
August 2012
Plant Attributes:
Plant Type: Shrub
SA Distribution: KwaZulu-Natal, Limpopo, Mpumalanga
Soil type: Sandy, Loam
Flowering season: Autumn, Winter
PH: Alkaline
Flower colour: Brown, Red, Yellow
Aspect: Full Sun, Shade
Gardening skill: Average
Special Features:
Edible plant
Medical plant
Useful plant
Feeds honeybees
Pioneer plant
Horticultural zones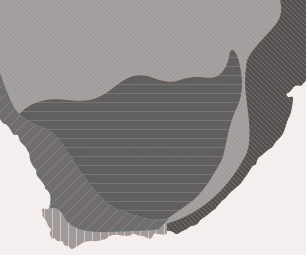 Zone 1 Coastal summer rainfall, frost free
Zone 2 Coastal winter rainfall, frost free
Google QR Code Generator