Cyclopia pubescens Eckl. & Zeyh.
Family: Fabaceae
Common names: Algoa honeybush, fluffy honeybush (Eng.); Algoa-heuningtee, donsigheuningtee (Afr.)
Introduction
Cyclopia pubescens is a very attractive, yet highly threatened species, endemic to the extreme east of the Fynbos Biome. Its club-like clusters of vibrant yellow spring flowers create an exceptional sight, which qualifies it as a contender in the ornamental plant stakes.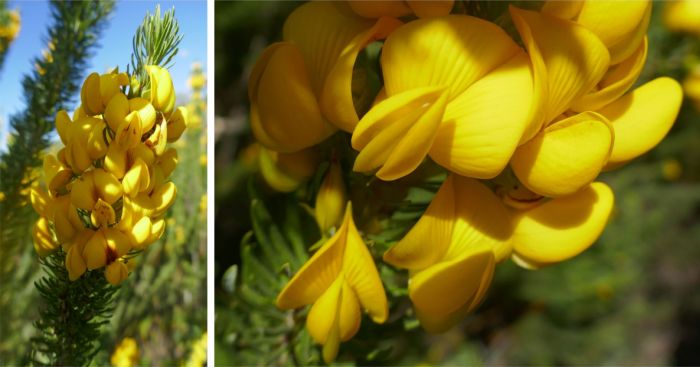 Fig. 1. Cyclopia pubescens inflorescence, and a close-up of the flowers.
Description
Description
An erect, single-stemmed shrub growing up to 2 m high. Leaves are alternate, palmate, with 3 leaflets. Leaflets are long and very narrow, cylindrical, covered with short hairs on the upper surface, and with strongly rolled-under (revolute) margins. Flowers are yellow and slightly honey-scented. Flowering time is in spring (September). The fruit is a pod.
Conservation Status
Status
Urban expansion, agriculture, as well as infestations of alien plants have transformed the habitat of Cyclopia pubescens to such an extent that it is currently assessed as Critically Endangered (CR) in the Red List of South African Plants. The remaining, severely fragmented, subpopulations continue to suffer ongoing loss of habitat to urban expansion, degradation of habitat quality because of invasive alien plants, and damage caused by vlei rats and regular mowing, all of which result in a continuing decline in the number of individuals.
Furthermore, this highly threatened species is confined to a small geographic range, thus, managing its remaining populations is extremely important.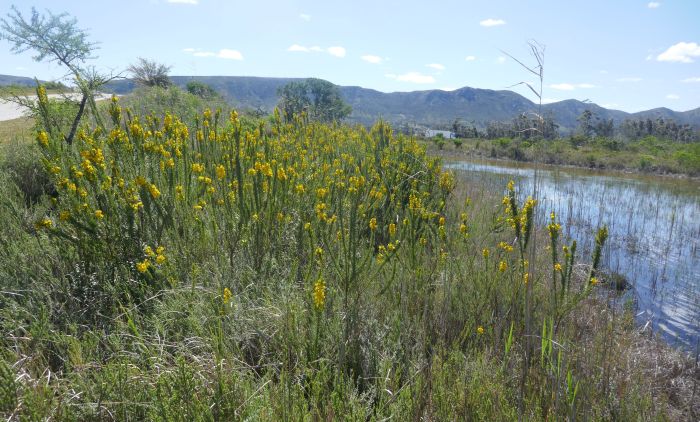 Fig. 2. Cyclopia pubescens growing on the edge of the vlei at Van Stadens Nature Reserve.
Distribution and habitat
Distribution description
Cyclopia pubescens is one of three honeybush species endemic to the Eastern Cape. This highly threatened species is restricted to the Nelson Mandela Bay Metropole, where it grows in wetlands and along drainage lines in lowland fynbos.
Most Fynbos species are exposed to regular fires and their life cycle, climatic, as well as habitat conditions have become adapted to the local fire conditions, including seasonality, intensity, frequency and extent of fire events (Beyers 2016). Although the role of fire for seed germination is still unclear for this species, since Cyclopia pubescens is a reseeding species, its germination requirements must be met for the population to persist, therefore, appropriate fire conditions are essential.
Reseeding species die during fire and rebuild their population exclusively through seeds (Kokotkiewicz & Luczkiewicz 2009), and too frequent fires can be detrimental to the perseverance of their population.
The climate of the Greater Cape Floristic Region (GCFR) is moderate, the temperature gradients are mild, with stable temperatures at the coast and more diurnal ranges in the mountains, so most of the GCFR has suitable growing conditions for many warm-temperate crop species. The eastern region, which is where Cyclopia pubescens is restricted to, has a less seasonal rainfall pattern.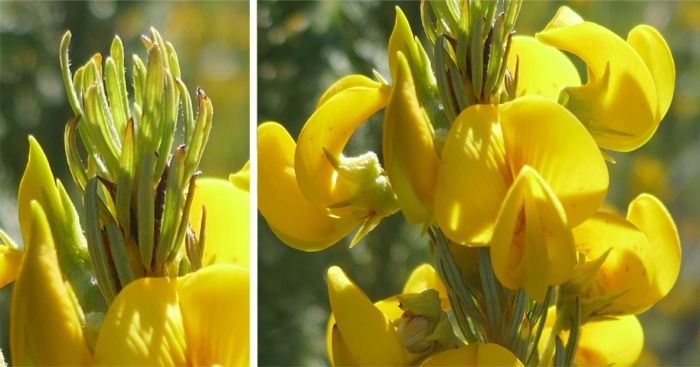 Fig. 3. Cyclopia pubescens leaflets, showing the revolute margins, and flowers, showing the calyx.
Derivation of name and historical aspects
History
The name Cyclopia is derived from the Greek word cyclops, meaning 'round-eyed', which refers to the circular depression or sunken area at the base of the calyx around the flower stalk (Joubert et al. 2011). The species name pubescens, refers to its leaflets that are covered with short hairs on the upper surface.
Cyclopia is a genus of the Fabaceae and is endemic to the Fynbos Biome of South Africa. There are 24 known species of Cyclopia, 23 of which are surviving (Schutte 1997). Cyclopias are commonly called honeybush or heuningtee in Afrikaans because the tea made from the leaves and flowers of Cyclopia genistoides has the aroma of honey, and a sweet taste (Smith 1966). Several species of Cyclopia are used to make honeybush tea, and the name honeybush is now commonly used for all species of Cyclopia. Some might think that they earned this name from their honey-scented blooms. Cyclopia pubescens is commonly known as fluffy honeybush because of its soft and woolly textured leaves.
Ecology
Ecology
Cyclopia is endemic to the Fynbos Biome, species occur on the coastal plains and in mountainous regions of the Western and Eastern Cape Provinces of South Africa. Some of the species are widespread, while others only occur within small areas in limited numbers (Joubert et al. 2011).
Cyclopia pubescens is pollinated by carpenter bees, Xylocopa flavorufa. There are at least 20 000 species of bees and they are one of the largest groups of pollinators, Bee-pollinated flowers are generally blue or yellow but rarely red since it is believed that red appears black to bees (Miller et al. 2011).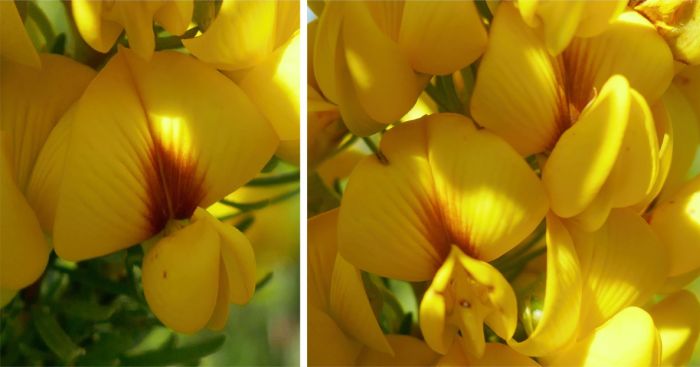 Fig. 4. Maroon markings serve as a nectar guides on Cyclopia pubescens flowers.
Ants are considered to be the agent of seed dispersal for this species, owing to the presence of an oily body, known as elaiosome, that serves to attract ants to the seeds, and they carry them away, thus dispersing them.
Cyclopia pubescens is restricted to Algoa Sandstone Fynbos, more specifically Rowallan Park Grassy Fynbos, a vegetation type which is currently listed as Vulnerable, and Colleen Glen Grassy Fynbos, a Critically Endangered vegetation type. Being Fynbos systems, both these vegetation types are prone to fires.
Fairly recent studies, however, have indicated that the rate of seed germination of Cyclopia pubescens is not that high under higher fire temperatures, but that it does require some fire for germination. Its habitat being marshy areas may be playing a role to regulate the intensity of the fire, to maintain the required heat for seed germination. Apart from stimulating the fire-dependent seed bank, fire is also important for reducing seed predators and sterilizing the soils from diseases and fungi (Pat Holmes, pers. comm.).
For population management of this species, it is imperative to consider these elements as of importance to ensure the future survival of Cyclopia pubescens.
Uses
Use
Cyclopia species are used to produce honeybush tea, hence are generally well-known as honeybush or heuningtee in Afrikaans. Honeybush tea is one of the traditional South African herbal teas with a long history of regional use, yet, unlike rooibos, which is made from Aspalathus linearis, it remained a cottage industry until the mid-1990s. The first review on honeybush tea was written by Du Toit et al. in 1998 and summarised, amongst other things, information collected on its traditional use and processing during field trips to the Langkloof area in 1994 and 1995 (Joubert et al. 2011).
Six of the 23 extant species of Cyclopia are used commercially to make honeybush tea, C. genistoides, C. intermedia and C. subternata are the main commercially used species. C. pubescens is not commercially used for tea production, but has ornamental potential, due to its attractiveness.
Growing Cyclopia pubescens
Grow
Cyclopias can be successfully propagated from seed or through cuttings. The vegetative propagation, or cuttings process, is slower and more expensive, as it requires advanced nursery infrastructure.
Honeybush seeds have a very hard casing, which should be scarified to enable germination. Alternatively, seeds can be softened by treatment with sulphuric acid. The time required for mechanical scarification depends on the age and condition of the seed, while for sulphuric acid treatment only, the species has an influence. Apart from scarification, the seeds of some species, such as Cyclopia intermedia, also require a cold or chemical treatment for successful germination (Joubert et al. 2011).
For most cyclopias, the soils of their habitat are well-drained, sandy to sandy loamy, with a low pH, phosphorus content, and nematode count.
Although , there is currently no detailed information on how to propagate Cyclopia pubescens, our colleagues from Kwelera NBG have had great success in growing it from seeds sown at the beginning of July, in a cocoa-peat medium and watered twice a week. Out of the 50 seeds sowed in the middle of winter, with no supplementary bottom heat, 3 seedlings have emerged, which shows that seeds germinate very easily with little effort.
Seedlings are shade intolerant, being found in an exposed unsheltered area, and therefore require full sunlight to flourish.
References
Beyers, A. 2016. Ecological principles for honeybush (Cyclopia spp.) Conservation and cultivation. Masters thesis. Faculty of Science, Nelson Mandela Metropolitan University.
Bredenkamp, C.L. 2019. A flora of the Eastern Cape Province, Volume 2. Strelitzia 41. South African National Biodiversity Institute, Pretoria.
Cowling, R.M. & Holmes, P.M. 1992. Flora and vegetation. In: Cowling, R.M. (ed.), The ecology of Fynbos. Nutrients, fire and diversity. Oxford University Press, Cape Town.
Hanley, M.E., Fenner, M. & Ne'eman, G. 2001. Pregermination heat shock and seedling growth of fire-following Fabaceae from four Mediterranean-climate regions. Acta Oecologica 22 (5–6): 315–320,
Joubert, E., Joubert, M.E., Bester, C., De Beer, D. & De Lange, J.H. 2011. Honeybush (Cyclopia spp.): from local cottage industry to global markets — the catalytic and supporting role of research. South African Journal of Botany 77 (4): 887–907.
Kokotkiewicz, A. & Luczkiewicz, M. 2009. Honeybush (Cyclopia sp.) – a rich source of compound with high antimutagenic properties. Fitoterapia 80(1):3–11.
Miller, R., Owens, S.J. & Rørslett, B. 2011. Plants and color: Flowers and pollination. Optics & Laser Technology 43(2): 282–292.
Raimondo, D., Dold, A.P. & Berrington, W. 2011. Cyclopia pubescens Eckl. & Zeyh. National Assessment: Red List of South African Plants version 2020.1. Accessed on 2021/09/10
Rebelo, A.G., Boucher, C., Helme, N., Mucina, L. & Rutherford, M.C. 2006. Fynbos Biome. In: Mucina, L. & Rutherford, M.C. (eds.), The vegetation of South Africa, Lesotho and Swaziland. Strelitzia 19. SANBI, Pretoria.
Schutte, A.L. 1997. Systematics of the genus Cyclopia Vent. (Fabaceae, Podalyrieae). Edinburgh Journal of Botany 54(2): 125–170.
Smith, C.A. 1966. Common names of South African plants. Memoirs of the Botanical Survey of South Africa No. 35. Government Printer, Pretoria.
Credits
Vathiswa Zikishe
Custodians of Rare and Endangered Wildflowers (CREW)
September 2021
Acknowledgements: the author thanks Nomama Mei, Curator of Kwelera National Botanical Garden, for providing more specific information on how to propagate Cyclopia pubescens.
Plant Attributes:
Plant Type: Shrub
SA Distribution: Eastern Cape
Soil type: Sandy, Loam
Flowering season: Spring
PH: Acid
Flower colour: Yellow
Aspect: Full Sun
Gardening skill: Easy
Special Features:
Fragrant
Feeds honeybees
Wet sites
Horticultural zones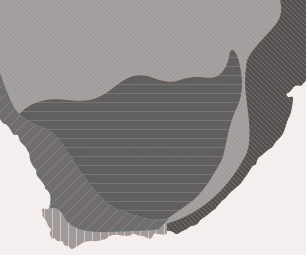 Zone 1 Coastal summer rainfall, frost free
Zone 2 Coastal winter rainfall, frost free
Google QR Code Generator