Cynoglossum hispidum Thunb.
Family: Boraginaceae
Common names: hound's tongue (Eng.); beestongblaar, knoppiesklitsbossie, ossetongblaar (Afr.); bohomenyana (Southern Sotho)
Introduction
This is a biennial or perennial herb with small, drooping, purplish red flowers.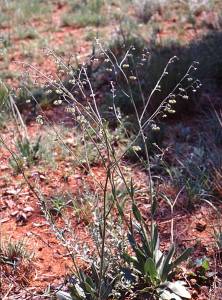 It is characterized by loosely branched inflorescences and fruits of four nutlets, densely covered with bulbous-based hooked hairs.
Description
Description
Cynoglossum hispidum is a biennial or perennial herb, 0.3-0.6 m high. The leaves at the base of the plant are prominently petiolate (stalked), whereas those towards the inflorescences are sessile. The leaf blade is more or less elliptic, variable in size, with coarse, rigid hairs, well spaced. Members of the species are characterized by inflorescences that lengthen considerably in fruit; deflexed fruit stalks up to 20 mm long; and four nutlets, densely covered with bulbous-based, hooked hairs. The corolla of the flower is purplish red and small, about 2 mm in length. The species flowers from October to March.
Conservation Status
Status
Cynoglossum hispidum is not a threatened plant species.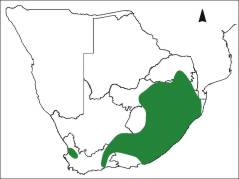 Distribution and habitat
Distribution description
The species occurs in open grassland, in slightly shaded areas, grassy slopes, woodland, marshes ( vleis ) and disturbed places, like road verges and abandoned land. It is predominantly widespread in the eastern parts of South Africa, Lesotho and Swaziland.
Derivation of name and historical aspects
History
The genus name Cynoglossum is derived from the Greek word cynos, meaning of a dog and glossa, tongue; the tongue of a dog alludes to the texture and shape of the leaves. When Thunberg described the species in 1794, he used the specific name hispidum because the leaves are covered with coarse, rigid hairs, harsh to the touch. Members of Cynoglossum, about 75 species, occur in temperate and warm regions in many parts of the world. Seven indigenous species are currently recognized in South Africa, Lesotho and Swaziland. The species differ in flower colour, length of the fruit stalk and the arrangement of glochidia (hairs with hooks).
Ecology
Ecology
Seeds of members of the family Boraginaceae are dispersed in various ways. The bright red or orange fruits of Ehretia and Cordia (see previous plants of the week) are eaten by birds or mammals such as monkeys. Plants of these genera are often found in bush clumps and along fences. However, the nutlets of Cynoglossum species attach to the surface of animals, for example. The hairs with hooks at their apices serve as attachment devices. For instance, the nutlets can be very troublesome in wool.
Growing Cynoglossum hispidum
Grow
Cynoglossum hispidum is, like Trichodesma physaloides, not grown horticulturally. However, C. amabile, known as the Chinese forget-me-not from East Asia, is cultivated and naturalized in many parts of the world. It is also grown in gardens here. This species has sky blue flowers, fading to pink.
References
Pooley, E. 2003. Mountain flowers: a field guide to the flora of the Drakensberg and Lesotho. The Flora Publications Trust, Durban.
Van Wyk, B. & Malan, S. 1997. Field guide to the wild flowers of the Highveld : also useful in adjacent grassland and bushveld. Struik, Cape Town.
Credits
Elizabeth Retief
Pretoria National Herbaium
May 2005
Plant Attributes:
Plant Type: Bi/Annual, Perennial
SA Distribution: Eastern Cape, Free State, Gauteng, KwaZulu-Natal, Limpopo, Mpumalanga, North West, Western Cape
Soil type:
Flowering season:
PH:
Flower colour:
Aspect:
Gardening skill:
Special Features:
Horticultural zones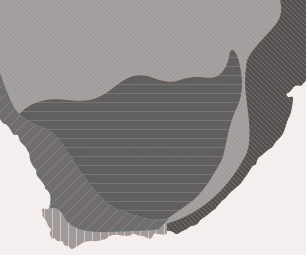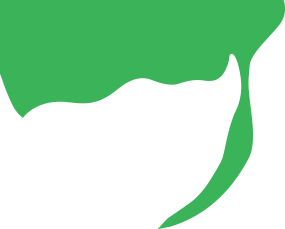 Zone 1 Coastal summer rainfall, frost free
Zone 2 Coastal winter rainfall, frost free
Zone 4 Summer rainfall Karoo and Highveld, Frost in winter
Zone 5 Bushveld summer rainfall, Light frost
Google QR Code Generator