Cyrtanthus obliquus (L.f.) Aiton
Family: Amaryllidaceae
Common names: Knysna lily (Eng.); Knysnalelie (Afr.); Umathaga (IsiZulu)
Introduction
Cyrtanthus obliquus is a very attractive evergreen species, with its large pendulous flowers and grey-green leaves. It would be a welcome addition to any water wise garden.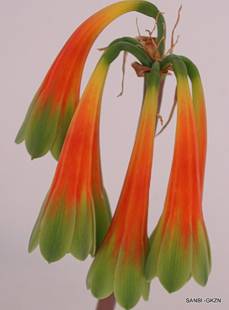 Description
Description
The bulb of Cyrtanthus obliquus is large and fleshy, like an onion. Leaves vary from area to area from sharp-pointed and strap-like with slight twists, to blunt, short and very twisted. I have observed that the hotter and drier the locality, the shorter and more twisted the leaves become.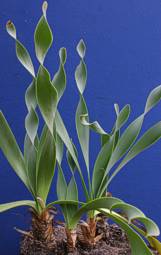 Flowers also vary considerably. The flowers are tubular with expanded calyx lobes and are 7 cm long, with 6-12 flowers on a pedicel. The common colours vary from shades of red to orange with various amounts of green on the lip of the umbel. The rarer colours are from yellow to bronze. It flowers predominantly in September to December in the Eastern Cape but has been seen to flower late in April and May. The seeds are papery and black.
Conservation Status
Status
Cyrtanthus obliquus is not a threatened plant, even though it used as medicine in traditional culture.
Distribution and habitat
Distribution description
Cyrtanthus obliquus grows on dry, rocky, sloping ground on sandstone-derived soils in open grassland and under thickets or low bushes where there is good drainage. It is found in the coastal grassland from KwaZulu-Natal through the Transkei to Humansdorp in the Eastern Cape.
Derivation of name and historical aspects
History
The genus Cyrtanthus is derived from the Greek word kyrtos, meaning curve, and anthos, referring to the perianth tube. The specific epithet obliquus means slanting or sideways and possibly refers to the way the leaves emerge from the bulb.
There are ± 50 Cyrtanthus species in southern Africa, except Botswana, and about two species in sub-Saharan Africa. The greatest species diversity is in eastern southern Africa.
Ecology
Ecology
Little is known about the pollinators of Cyrtanthus obliquus. However, the thick, grey leaves enable it to survive in the hot, dry conditions where it is found.
Uses
Use
The bulb of Cyrtanthus obliquus is used to relieve a chronic cough, and dry bulb layers are used as snuff and to relieve headaches resulting from head wounds. In the Xhosa and Zulu (Amathunga) language it means to sew or knit (as in knit in bones). It is used medicinally for broken bones, cuts and abrasions. It is often used in conjunction with other herbs such as Tsitsibala and Mhlonyana. Tsitsibala is the name for Pyschotria capensis subsp. capensis var. capensis and Mhlonyana is the name for Artimisia afra in Zulu. 
Its greatest potential lies in its use as a container plant.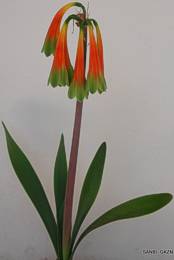 Growing Cyrtanthus obliquus
Grow
Cyrtanthus obliquus is an evergreen species that grows in well-drained soils and has a well-defined dry period during winter (March-August). Bulbs should be planted in relatively small pots in a well-drained, humus-rich potting mixture and kept in full sun. Care must be taken not to overwater the plants, and regular feeding with a commercial plant food is recommended.
Plants can be multiplied by removing the side bulbs that develop from time to time. Side bulbs can also be induced by damaging the basal plate of the parent bulb and then growing it in coarse sand until the new bulbs develop. Pot them up once they have grown sufficient roots to maintain themselves.
Seeds can be used to generate large numbers of plants but, due to the slow growth rate, it will be at least 10 years before they mature and flower.
Sow seeds in a fairly deep seed tray in a well-drained, humus-rich potting mixture. Lightly cover the seed and keep it moist in a well-ventilated, shady area. Germination takes 3-4 weeks.
The Amaryllis lily borer is one of the few pests which attack the foliage during summer. It can be controlled by either removing the caterpillars by hand or by spraying with a synthetic pyrethroid-based insecticide.
References
Du Plessis, N. & Duncan, G. 1989. Bulbous plants of southern Africa. Tafelberg, Cape Town.
Hutchings, A., Scott, A.H., Lewis, G. & Cunningham, A. 1993. Zulu medicinal plants. University of Natal Press, Scottsville, Pietermaritzburg.
Jackson, W.P.U. 1987. Origins and meanings of names of South African plant genera. University of Cape Town Ecolab.
Leistner, O.A. (ed.). 2000. Seed plants of southern Africa: families and genera. Strelitzia 10. National Botanical Institute, Pretoria.
Pooley, E. 1998. A field guide to wild flowers of KwaZulu-Natal and the Eastern Region. Natal Flora Publications Trust, Durban.
Zimmer, G.F. 1912. A popular dictionary of botanical names and terms. Routlage & Keegan Paul, London.
Credits
Lufuno Konanani
Kwazulu Natal National Botanical Garden
October 2009
Plant Attributes:
Plant Type: Bulb
SA Distribution: Eastern Cape, KwaZulu-Natal
Soil type: Sandy, Clay
Flowering season: Early Summer
PH: Acid, Neutral
Flower colour: Green, Orange
Aspect: Full Sun
Gardening skill: Average
Special Features:
Good potplant
Medical plant
Horticultural zones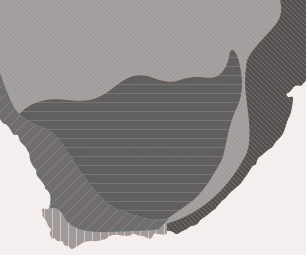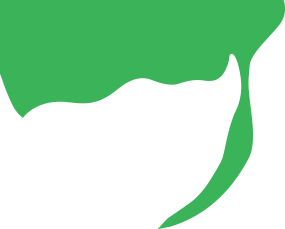 Zone 1 Coastal summer rainfall, frost free
Zone 2 Coastal winter rainfall, frost free
Zone 3 Winter rainfall Karoo, light frost
Zone 5 Bushveld summer rainfall, Light frost
Google QR Code Generator