Diascia lewisiae K.E.Steiner
Family: Scrophulariaceae
Common names: Joyce Lewis' diascia (Eng.); horinkies (Afr.)
Introduction
According to K.E. Steiner, who described the species, Diascia lewisiae is known from only two localities on the Roggeveld escarpment near Nieuwoudtville in the Northern Cape.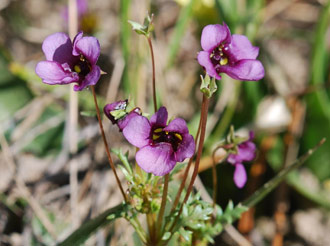 Description
Description
Diascia lewisiae is an annual herb with a single stem or branching from the base. The stems can be up to 280 mm long with few to many basal leaves which can be rosulate (arranged in a circle or rosette) or crowded. Leaves on the stem are much smaller and become more reduced upwards and are opposite, alternate or verticillate (in a whorl).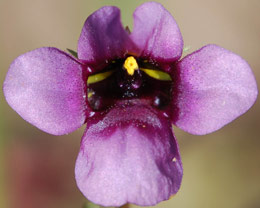 Flowers are axillary (arising in the angle between stem and leaf or bract), with one to three sweetly scented open flowers per stem. This species is characterized by its reddish-purple flowers, with erect stamens and two small pubescent sac-like projections. 
Flowering time is normally from August to September, but flowers appear only in years with high early winter rains.
Diascia lewisiae is closely related to Diascia insignis and they share similar habitat, leaves, sepals, capsules and seeds. The most noticeable difference are the short corolla sacs of D. lewisiae rather than the long spurs as in D. insignis.
Conservation Status
Status
Diascia lewisiae is red listed as Vulnerable (VU) (Raimondo et al. 2009).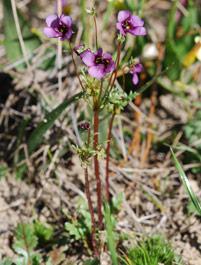 Distribution and habitat
Distribution description
Diascia lewisiae has a very restricted distribution. It is known only from the farm Grasberg and the Hantam National Botanical Garden (former Glen Lyon), both near Nieuwoudtville.
It grows in loamy sandy soils near Grasberg and more clayey-loamy soils in the garden. Plants are usually found on the margin of Renosterveld.
Derivation of name and historical aspects
History
The name Diascia, meaning two sacs (spurs), is derived from Greek. The species is named in honour of Dr Joyce Lewis who made the first collection of Diascia lewisiae.
Ecology
Ecology
Flowers are self-incompatible and produce oil. They are pollinated by Rediviva (Melittidae), an oil-collecting bee. Stamens are situated between the openings of the two corolla sacs, forcing the bees to straddle the stamens to insert their foreleg into the corolla sacs. Specially modified setae (bristles) on their front legs, allow the bees to mop up the oil secreted by the oil glands. As their bodies press against the anthers, pollen get stuck to them and is removed.
Growing Diascia lewisiae
Grow
Diascias can be used as filler plants or ground cover or even as border plants. Diascia lewisiae is an annual and is easily grown from seeds. This is a very good species to plant for additional colour in your garden during spring.
The more than 70 species of Diascia, all indigenous to South Africa, provide an abundance of flower colour. Because the plants are so delicate and fragile it's advised to plant them in seed trays until the seedlings are ready to be transplanted. Plants can be planted in full sun during winter, but will also grow in shade or semishade. Most diascias can tolerate modest frost and can also be used as pot plants together with other plants.
Plant them in sandy to clayey-loamy soil in full sun or semishade and water well, to prolong the flowering time.
References
Hilliard, O.M. & Burtt, B. 1984. A revision of Diascia section Racemosae. Journal of South African Botany. 50: 269-340.
Kampny, C.M.. 1995. Pollination and flower diversity in Scrophulariaceae. Botanical Review 61, 4, Oct.-Dec., 1995. Springer, New York Botanical Garden Press.
Raimondo, D., Von Staden, L., Foden, W., Victor, J.E., Helme, N.A., Turner, R.C., Kamundi, D.A. & Manyama, P.A. (eds). 2009. Red List of South African plants 2009. Strelitzia 25. South African National Biodiversity Institute, Pretoria.
Steiner, K.E. & V.B. Whitehead, V.B. 1990. Pollinator adaption to oil-secreting flowers - Rediviva and Diascia. Evolution 44, 6: 1701-1707.
Steiner, K.E. Two new Diascia (Scrophulariaceae) species from the Nieuwoudtville area, Western Cape.
Steiner, K.E. & Whitehead, V.B. 1991. Oil flowers and oil bees: further evidence for pollinator adaption. Evolution 45: 1493-1501.
Credits
Eugene Marinus
Hantam National Botanical Garden
March 2012
Plant Attributes:
Plant Type: Bi/Annual
SA Distribution: Northern Cape
Soil type: Sandy, Clay, Loam
Flowering season: Spring
PH: Acid, Neutral
Flower colour: Purple
Aspect: Full Sun
Gardening skill: Easy
Special Features:
Fragrant
Good potplant
Horticultural zones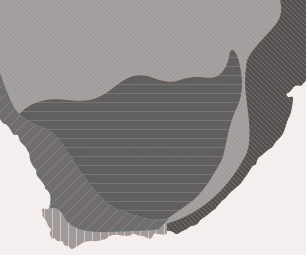 Zone 2 Coastal winter rainfall, frost free
Zone 3 Winter rainfall Karoo, light frost
Google QR Code Generator