Diastella fraterna Rourke
Family: Proteaceae
Common names: Palmiet silkypuff
Introduction
The Palmiet silkypuff is a decorative shrublet with a sprinkling of pretty puffy white flowers almost all year round.
Description
Description
Diastella fraterna is a low, single-stemmed shrublet, up to 700 mm high and 1 m in diameter. The leaves are oval, 8–14 mm long, 1–4 mm wide, and twisted when young. The flower-heads are white to cream-coloured, 10–15 mm across and solitary; later becoming brown and papery. It flowers almost all year round but mainly in summer.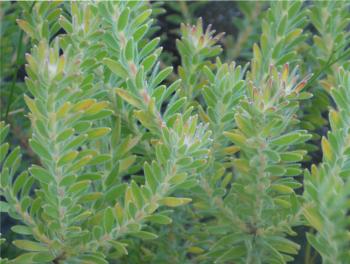 Conservation Status
Status
According to the website http://redlist.sanbi.org checked on 16 November 2015 the conservation status of this plant is Rare (R). It is Rare because it has a small natural range and is found only in the Kogelberg. It is not threatened because it is common in its range, its population is stable and it occurs within the Kogelberg Biosphere Reserve and is thus protected.
Distribution and habitat
Distribution description
Diastella fraterna is confined to the lower slopes of the Palmiet River Valley, ranging from the Kogelberg to Kleinmond Mountains. It is also found at higher levels in the mountains in the Betty's Bay area. It appears to be equally at home on stony, well-drained slopes and on moist sites, such as seepage areas or along streamsides.
Derivation of name and historical aspects
History
Diastella comes from the Greek word diastellein, which means 'to separate', referring to the free perianth lobes. The name fraterna is Latin, and means 'brotherhood of this species' as it is closely allied to Diastella divaricata subsp. montana (Mountain Silkypuff). The only outward distinguishing features between the two, are the taller, more erect growth of D. divaricata subsp. montana and its pink flowers, in contrast to the white flowers of D. fraterna.
It is found only in the mountains of Kleinmond and the lower Palmiet River, which is where the name Palmiet Silkypuff is derived from.
The genus Diastella has the smallest distribution range of any genus in the Proteaceae. It consists of 7 species and is endemic to the extreme southwestern Cape. Silkypuffs generally grow no taller than a metre, are often sprawling and have slender stems, which are much less woody than those of most proteas.
Ecology
Ecology
Diastella fraterna is pollinated by insects. The seeds of Diastella species carry a fleshy appendage, called an elaiosome, which is attractive to certain kinds of fynbos ants. The ants collect these seeds and store them in their nests underground where they eat the elaiosome, and where the seeds are safe from predation by birds and rodents, and where they can germinate after the passing of a fire.
Uses
Use
This plant is not used in traditional medicine. It is an attractive garden plant particularly when it is in flower, best suited to fynbos gardens.
Growing Diastella fraterna
Grow
Diastella fraterna can be grown from seed, but it is more successful from cuttings. Cuttings are taken from November to April. Dip the cuttings in a rooting hormone (Elsenberg mix) for 5–10 seconds and place them in a well-drained rooting medium mix of a half part of peat and half part polystyrene.
Sow seeds in autumn in a well-drained medium of one part peat and two parts sand. Spread evenly on a tray and thinly cover with a layer of sand or sifted bark. Seeds germinate in three to four weeks. When the first true leaves appear between the cotyledons, seedlings are ready for transplanting. Place them in a hardening-off area for three weeks before taking them out and planting them in the garden.
References
Burman, l. & Bean, A. 1985. Hottentots Hollands to Hermanus . Wild Flower Guide 5. Botanical Society of South Africa, Cape Town.
Germishuizen, G., Meyer, N.L., Steenkamp, Y. & Keith, M. 2006. A checklist of South African Plants . South African Botanical Diversity Network Report No. 41. SABONET, Pretoria.
Plants of southern Africa: an online checklist. http:posa.sanbi.org
Manning, J. 2007. Field guide to Fynbos. Struik Publishers, Cape Town.
Protea Atlas Project. www.proteaatlas.org.za
Rebelo, T. 1995. Proteas, a field guide to the proteas of southern Africa . Fernwood Press, Cape Town.
Vogts, M. 1982. South African's Proteaceae: know them and grow them. Struik, Cape Town.
See iSpot http://www.ispotnature.org/species-dictionaries/sanbi/Diastella%20fraterna for more images of Diastella fraterna
Credits
Nosiphelele Patricia Mapukata
Harold Porter National Botanical Garden
November 2015
Plant Attributes:
Plant Type: Shrub
SA Distribution: Western Cape
Soil type: Sandy
Flowering season: Sporadic/All year
PH: Acid
Flower colour: White, Cream
Aspect: Full Sun
Gardening skill: Challenging
Special Features:
Horticultural zones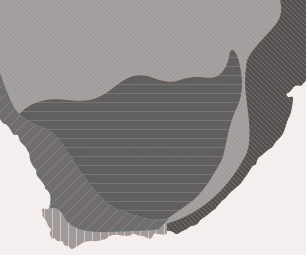 Zone 2 Coastal winter rainfall, frost free
Google QR Code Generator