Diastella thymelaeoides subsp. meridiana
Diastella thymelaeoides (P.J.Bergius) Rourke subsp. meridiana Rourke
Family: Proteaceae
Common names: Hangklip silkypuff (Eng.)
Introduction
The Hangklip silkypuff  is a rare gem, endemic to the Kogelberg, Hangklip and Betty's Bay area. Its pretty star-like flowers, present for most of the year, and compact shape, make it a lovely addition to a mixed fynbos garden.
Description
Description
Diastella thymelaeoides subsp. meridiana is an erect shrub growing up to 1 m tall. It has simple, elliptic-shaped leaves that are olive-green in colour, slightly hairy, and velvety to the touch. Largish solitary flower heads, 20 mm across, form at the tips of the branches.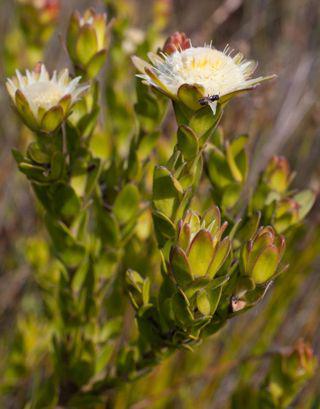 The flowers are white or rarely pink, with a yellow tinge at the centre when they are new. A number of bracts surround the base of the flower head and project beyond the perianth, giving the flowers a star-like appearance. It flowers most months of the year, with a peak flowering season from August to November. 2–4 silvery grey, nut-like seeds are released per flower head about 2 months after flowering.
Conservation Status
Status
According to the Red List of South African plants, Diastella thymelaeoides subsp. meridiana has a conservation status of VU (Vunerable), mostly due to coastal development and alien invasion. Although a large portion of its habitat is in protected areas, some of the largest subpopulations are in unprotected areas, likely to be developed in the future.
Distribution and habitat
Distribution description
The Hangklip silkypuff only occurs in the southern Kogelberg from Rooiels to Cape Hangklip and Betty's Bay. It occurs within the Kogelberg Sandstone Fynbos vegetation type, on well-drained, sunny slopes from 0–150 m. It is endemic to this species-rich, low, closed shrubland with scattered emergent shrubs. Proteas, ericas and restios dominate, and D. thymalaeoides subsp. meridiana is found growing alongside Leucospermum bolusii, Serruria adscendens, Elegia stipularis and Erica gysbertii. They occur as isolated patches of a few dozen plants.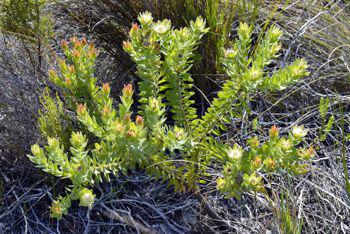 Derivation of name and historical aspects
History
The genus Diastella is endemic to the Southwestern Cape Floristic Region and consists of only 7 species and 2 subspecies, all of which are rare or endangered. Other species in the genus include:
D. buekii — CR
D. divaricata subsp. divaricata — Rare
D. divaricata subsp. montata — VU
D. fraterna — Rare
D. myrtifolia — CR
D. parilis — CR
D. thymelaeoides subsp. thymelaeoides — NT
Diastella proteoides — CR.
The name Diastella is derived from the Greek, diastellein meaning 'to separate' which refers to the free perianth lobes. The species name thymelaeoides comes from Greek thumon = thyme and ōdēs = like, meaning: similar to the genus Thymus.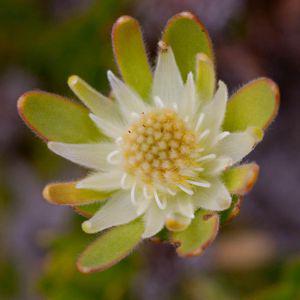 Ecology
Ecology
The Hangklip silkypuff is pollinated by bees. There is no nectar present within the flower and bees are attracted by, and collect, the abundance of pollen produced.
D. thymelaeoides subsp. meridiana occurs within the fire-driven fynbos ecosystem. Fire plays a very important role in regeneration and is a natural phenomenon occurring with a frequency of 4–40 years. Plants either survive fire by re-sprouting, or by producing seeds that are adapted to germinate in response to cues provided by fire. The Hangklip silkypuff is a re-seeder and its seeds are shed at maturity and then dispersed by ants who take them underground into their nests. The seeds have an elaiosome attached to them which is eaten by the ants. The seeds are protected and stored in the soil and usually germinate in the first autumn after a fire, depending on the occurrence of rainfall.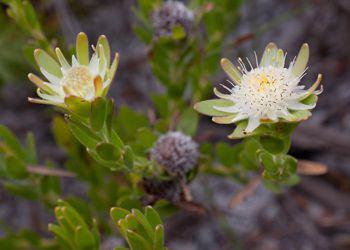 Uses
Use
There are no known medicinal or magical uses recorded for Diastella thymelaeoides subsp. meridiana, however, it is listed as having been harvested as a cut flower. As a garden plant, it adds year round interest to a fynbos border.
Growing Diastella thymelaeoides subsp. meridiana
Grow
As a garden shrub, Diastella thymelaeoides subsp. meridiana adds a continuous structural element to smaller gardens, and its long flowering period adds colour and beauty to a mixed fynbos border or rockery. Place it alongside Leucospermum bolusii, Serruria adscendens, Elegia stipularis, Erica gysbertii or E. pluckenetii. Plant D. thymelaeoides subsp. meridiana in a sunny area in well-drained acidic soils or a mix of 1 part coarse grit and 1 part compost. Diastella prefers good air circulation and will not tolerate high humidity. Plant it in the garden in early autumn when it is cool, and water well. Once established, they will tolerate less frequent watering. Plants can be pruned lightly after flowering to maintain a neat compact growth form and to encourage flower production.
Diastella thymelaeoides subsp. meridiana can be propagated by seed or cuttings. Seed collection is often difficult and time consuming, and seeds are hard to find as they are removed by ants or rodents from the flowers. Flower heads can be bagged, and when they begin to disintegrate, the fruits can be collected. Only mature, plump seeds should be collected for sowing. Sow seeds in early summer or autumn when fluctuating temperatures of 4–10°ᶜ  at night and 20–28°ᶜ during the day are ideal. Germination is further improved by smoke treatment which can be applied either by soaking the seeds in aqueous smoke treatment or by placing the sown seed trays inside a tent, filling it with fynbos smoke, and leaving it for 2–2.5 hours or until the smoke settles. Sow seeds either in the open ground or into trays filled with a well-drained mixture: 8 parts finely milled pine bark and 3 parts coarse sand. The ideal PH for growing diastella is 4.5–5.5. Sow seeds at a depth of 1.5 times the size of the seed, cover with dry sand, water well, and place in a sunny position with good air circulation. Seeds can be dusted with a systemic fungicide containing metalaxyl to prevent pre- and post-emergence damping-off fungi. After germination, when seedlings have some true leaves, they can be pricked out into pots.
When propagating from cuttings, collect tip or heel cuttings 30–70 mm long, from the current season's growth, in spring or autumn. Firm shoots that have completed their growth spurt, are ideal. Remove the leaves from the lower third of the cutting and treat them with a rooting hormone suitable for semi-hardwood material. Place in plug trays filled with an airy and well-drained medium of 1 part bark and 1 part polystyrene balls. They root well if placed in a greenhouse with hot beds and an intermittent misting system; however, they must not become too wet. Use a general fungicide to control fungi that may affect cuttings. Rooted cuttings are planted into pots and hardened off under 50% shade for three to four weeks before being placed in full sun.
References
Brown, N.A.C., Van Staden, J., Daws, M.I. & Johnson, T. 1913. Patterns in the seed germination response to smoke in plants from the Cape Floristic Region, South Africa. South African Journal of Botany 2003, 69(4): 514–525
Duncan, G., Brown, N. & Nurrish, L. 2013. Grow proteas. Kirstenbosch Gardening Series. South African National Biodiversity Institute, Cape Town.
Kesting, D. & Clarke, H. 2008. Botanical names: what they mean, wild flowers of the Cape Peninsula. Flora Documentation Programme, Friends of Silvermine Nature Area, Muizenberg.
Manning, J. & Goldblatt, P. 2012. Plants of the Greater Cape Floristic Region 1: the Core Cape Flora. Strelitzia 29. South African National Biodiversity Institute, Pretoria.
Petersen, L.M. 2013. Cape Town's informal economy of wild harvested resources and traditional medicine. Ph.D. thesis, Geography, Planning and Environmental Management, The University of Queensland.
Rebelo, T. 1995. SASOL Proteas, a field guide to the proteas of southern Africa, Edn 2. Fernwood Press, Vlaeberg, Cape Town.
Credits
Victoria Wilman
Kirstenbosch NBG
July 2015
Plant Attributes:
Plant Type: Shrub
SA Distribution: Western Cape
Soil type: Sandy
Flowering season: Sporadic/All year
PH: Acid
Flower colour: White
Aspect: Full Sun
Gardening skill: Average
Special Features:
Feeds honeybees
Horticultural zones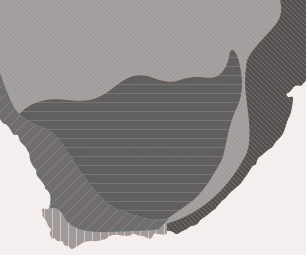 Zone 2 Coastal winter rainfall, frost free
Google QR Code Generator