Didelta spinosa (L.f.) Aiton
Family: Asteraceae
Common names: spiny salad bush (Eng.); perdebos, perdebossie, slaaibos, slaaibossie, t'arda (Afr.)
Introduction
Didelta spinosa is a fast-growing shrub or small tree with bright green leaves and large yellow flowers in winter and spring, that is drought-resistant and found in the winter rainfall region.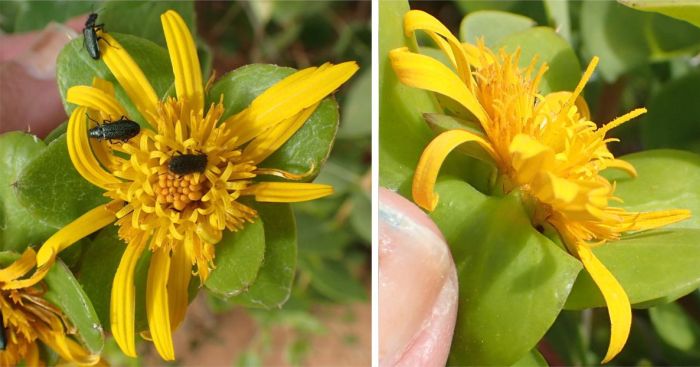 Description
Description
A shrub or small, slender tree with a dense crown, up to 2 m tall and cobwebby on the young parts. The bright green, succulent leaves are oval with some spines on the leaf margins. These spines are not always present. The leaves are arranged opposite to one another on the plant.
The large yellow flower heads are solitary at the branch tips. They have ray- and disc-florets, and 2 rows of bracts, an outer row of 3–5 large triangular leaf-like bracts that become membraneous with age and an inner row of several lance-shaped bracts. Flowers are borne from midwinter to spring (July to September). The fruit is a small nutlet with hairy scales on one end.
Perdebos has a fairly well-developed root system that consists of lateral roots without a specific tap root. The roots penetrate to a depth of 4 m (Van Breda & Barnard 1991).
Conservation Status
Status
Didelta spinosa is currently assessed as Least Concern (LC) in the Red List of South African plants. This means that the species is not threatened and is not at a risk of becoming extinct.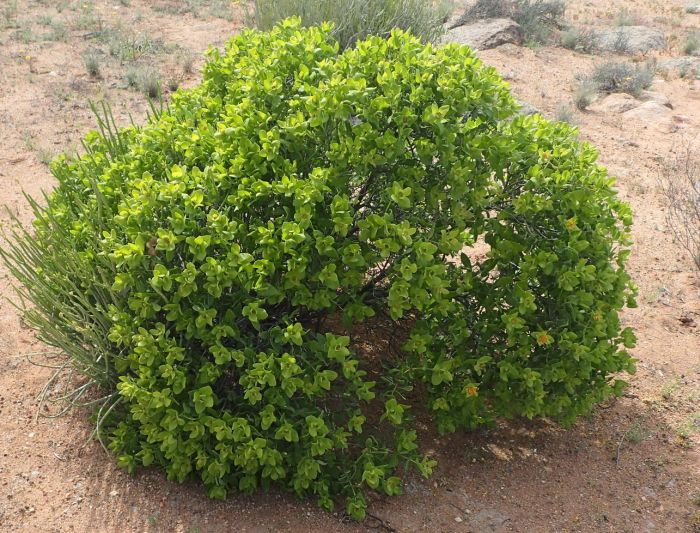 Distribution and habitat
Distribution description
This species is widespread, occurring in semi-desert areas from southern Namibia to the Richtersveld, Namaqualand and extending as far south as Piketberg, on dry granite and sandstone slopes, in succulent karoo and fynbos.
Derivation of name and historical aspects
History
The genus name Didelta is derived from the Greek words di, which means 'two', and delta, which is 'symbolized by a triangle', referring to the bracts that are in 2 rows and triangular in shape. The species name spinosa is derived from the Latin spinosus, referring to the spines on the leaves.
The Afrikaans common name perdebos, translated into English as 'horse bush' indicates that horses apparently relish these plants as fodder. The other common name slaaibos, meaning 'salad bush', is an appropriate one because the soft, young, new leaves are edible and used in salads.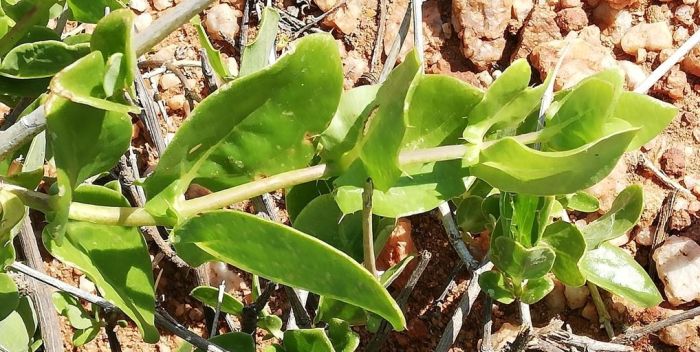 The genus Didelta is small, containing only 2 species, namely Didelta spinosa and D. carnosa, both in southern Africa. D. carnosa var. carnosa (dune salad bush/kusslaaibos) is a rounded shrublet up to 1 m, with fleshy leaves and attractive yellow flowers in winter and spring. The other variety Didelta carnosa var. tomentosa (hairy salad bush) is a prostrate, compact plant that is densely covered in white hairs, that give the plant a white, woolly appearance and reflect the light away from the plant, reducing transpiration. D. carnosa grows on coastal dunes and sandy flats from the Cape Peninsula in the Western Cape, through the Northern Cape, to southern Namibia.
Plant material of Didelta spinosa, and D. carnosa, was first introduced to Europe by Thunberg and Masson, in 1774. In 1781, the 2 currently recognized species of Didelta were first described by Carl Linnaeus the Younger and mistakenly placed in the genus Polymnia, an American genus. A detailed colour plate was published by Buc'hoz in 1785, in Grand Jardin de l'Univers, of a plant that had been cultivated by Trianon and named Breteuillia trianensis by him. This plant was the same as Linnaeus the Younger's Polymnia carnosa. The genus Didelta was based on this same plant and published in 1786 in L'Heritier's Stirpes novae as Didelta tetragoniifolia. Although the genus Breteuillia was published before Didelta, Burtt recommended that the name Didelta should be conserved because it was better known and more widely used. Later Didelta tetragoniifolia was shown by Aiton to be the same plant as Linnaeus the Younger's Polymnia carnosa, so this species and its sibling Polymnia spinosa, were transferred to Didelta in 1789. In his monumental work De fructibus et seminibus plantarum of 1788–1792, Joseph Gaertner published the species as Favonium spinosum. Thunberg, in his 1800 work Prodromus plantarum capensium placed both Polymnia in a new genus Choristea. Gaertner and Thunberg were working independently, from Linnaeus the Younger's work on Polymnia, and it is not known if they were aware of L'Heritier's work on Didelta or not, but since their work is later than L'Heritier's, his name, Didelta, stands.
The Asteraceae is one of the most familiar plant families in the world. In southern Africa it is also the largest family of flowering plants.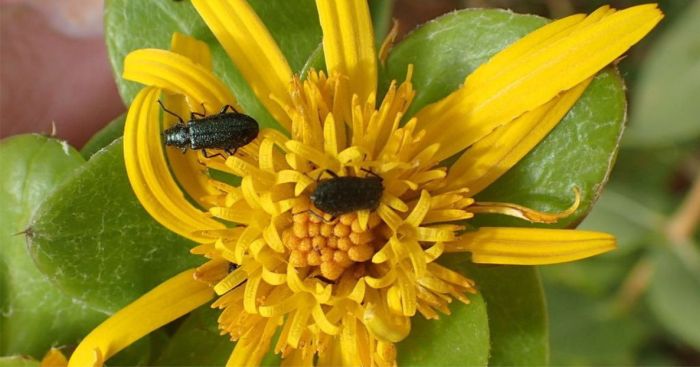 Ecology
Ecology
Didelta spinosa has bright yellow flowers that attract honey bees and monkey beetles, which feed on the nectar and pollen. These insects are possible pollinators too. Perdebos is also a water-wise plant, ideal for the low rainfall areas in the Western and Northern Cape. The mature fruits break into pieces and are dispersed by wind. The large wing-like bracts aid in seed dispersal and the tiny pit margins deter the seed predators. Even though perdebos can produce a lot of seeds, the seeds do not often mature or germinate, because of the variable rainfall in the areas where the plant occurs.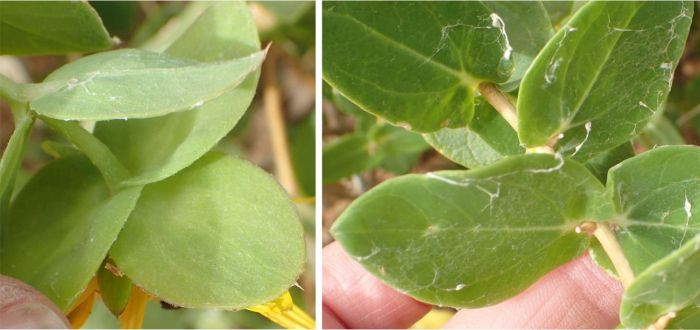 Uses
Use
The plant has horticultural potential, as the leaves and flowers are attractive and it is drought resistant. It is very palatable and provides good fodder to livestock in the unfavourable seasons of the year. In springtime the soft, young, new leaves are picked and prepared as a pot vegetable. It combines well with game dishes, like haas t'kom or ystervark-se-mielie. It is not available for sale from the nurseries but seed can be bought via the internet.
Growing Didelta spinosa
Grow
Sow the seeds in autumn, in a well-drained mixture of 2 parts sandy soil mixed with 1 part compost and lightly cover with some sand. Sow the seeds evenly to prevent overcrowding and competition between the seedlings for water and sunlight. To prevent pre-emergence damping off, use a fungicide. Use a mist sprayer to ensure that the soil is moist. The seed usually germinates after 6 or 7 days. Transplant the seedlings when they are about 100 mm tall. The plant is fast growing and is a pioneer shrub.
It can also be propagated from cuttings, in autumn during its growing season (Sue Dean Martin pers. comm. 2021).
It would be great in well-drained winter rainfall rockeries in full sun (Sue Dean Martin pers. comm. 2021). This plant needs little water in summer. To grow it as a tree you need to train it by pruning the lower branchlets.
Didelta spinosa can be planted with Cleretum bellidiforme (bokbaaivygies) to add extra colour to the garden, Euphorbia mauritanica (pencil milkbush) with its pencil-shaped leaves, Gazania krebsiana (botterblom) with its attractive dark orange flowers, Microloma sagittatum (bokhorings) with its interesting pink flowers, Monsonia spinosa (yellow bushman candle) with its pale yellow flowers and Osteospermum oppostifolium (skaapbos) with its bright yellow daisy-like flowers.
The plant is relatively pest free. A beetle by the name Julodis viridipes has been recorded feeding on the foliage of this plant.
References
Africa Wild. Africa Wild Flower Book - Order Asterales https://africawild-forum.com/viewtopic.php?t=342&start=30. Accessed 07/03/2021.
Burke, A. 2012. 111 Roadside plants: a tribute to Namibia's fascinating plant life. Namibia Scientific Society, Windhoek.
Burtt, B.L. 1948. Didelta and Cuspidia. Kew Bulletin 3(1): 69–73.
Coetzee, R. 2015. Food culture of the first humans on planet earth. A feast from nature. !GAROB ≠ŪΝ. Penstock Publications, Hermanus.
Koekemoer, M., Steyn, H.M. & Bester, S.P. 2015. Guide to Plant Families of southern Africa. Strelitzia 31. 2nd ed., 2nd print. South African National Biodiversity Institute, Pretoria, South Africa.
Le Roux, A. 2015. Wild flowers of Namaqualand. Struik Nature. Cape Town.
Manning, J. 2007. Field guide to Fynbos. Struik Publishers, Cape Town.
Smith, C.A. 1966. Common names of South African plants. Memoirs of the Botanical Survey of South Africa No. 35. Government Printer, Pretoria.
Van Breda, P.A.B. & Barnard, S.A. 1991. 100 Veld plants of the winter-rainfall region: a guide to the use of veld plants for grazing. Bulletin no. 422. Dept. of Agriculture Development, Cape & Transvaal Printers for the Government Printer, Pretoria.
Van Wyk, B. & Van Wyk, P. 2013. Field guide to trees of southern Africa. Struik Publishers, Cape Town, Johannesburg.
Von Staden, L. 2018. Didelta spinosa (L.f.) Aiton. National Assessment: Red List of South African plants version 2020.1. Accessed on 2021/02/22.
Wikipedia, the free encyclopedia. Didelta spinosa. https://en.wikipedia.org/wiki/Didelta_spinosa. Accessed 07/03/2021.
Williamson, G. 2010. Richtersveld: the enchanted wilderness. Revised 2nd edition. Umdaus Press, Hatfield.
Credits
Shireen Harris
Karoo Desert National Botanical Garden
May 2021
Acknowledgements: the author thanks Nicola van Berkel and Annari Van der Merwe for the use of their images.
Plant Attributes:
Plant Type: Shrub
SA Distribution: Northern Cape, Western Cape
Soil type: Sandy, Loam
Flowering season: Spring, Winter
PH: Acid
Flower colour: Yellow
Aspect: Full Sun
Gardening skill: Average
Special Features:
Drought resistant
Edible plant
Useful plant
Feeds honeybees
Pioneer plant
Horticultural zones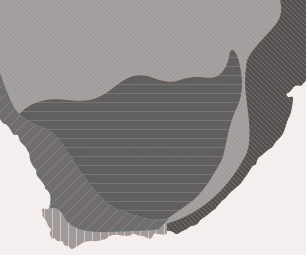 Zone 2 Coastal winter rainfall, frost free
Zone 3 Winter rainfall Karoo, light frost
Google QR Code Generator