Didymaotus lapidiformis (Marloth) N.E.Br.
Family: Aizoaceae
Common names: stone plant (Eng.); beeskloutjie (Afr.)
Introduction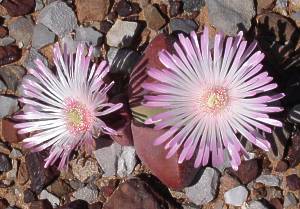 Didymaotus lapidiformis is a fascinating chunky succulent that looks like a lithops on steroids! It grows in the arid winter rainfall regions of the Tanqua Karoo, near Ceres, in the Western Cape.
Description
Description
Didymaotus lapidiformis is a compact succulent plant that has two opposite, fleshy, triangular leaves that lie flat on the ground. Paired flowers are borne at each side of the leaf. It flowers in September of each year. Flowers are either white, pink or silver pink and are 40 mm in diameter. The seed capsules ripen very quickly. Seed is ready in the second week of October. The plant lives for about 20-25 years in its natural habitat.
Conservation Status
Status
The current conservation status of the plant is Vulnerable. Didymaotus lapidiformis is considered vulnerable as a result of its localized and restricted habitat, and also the roads department cut a divisional road right through one of the few populations in the 1920s. In later years a borrowpit (area where aggregate is mined for road works) was excavated in the middle of what was one of the largest populations. Succulent collectors, over the years, have added to this species' further decline.
Distribution and habitat
Distribution description
Didymaotus lapidiformis is found in a restricted part of the eastern Tanqua Karoo. It grows in sandy mudstone shales in the open.
Derivation of name and historical aspects
History
Didymaotus is a monotypic genus (only one species in the genus). The generic name is taken from the Greek word, didymos, meaning double, and aotus, meaning flower - the plant that bears two flowers. The specific epithet lapidiformis means stone-like. It is not easily seen as it blends in with the surrounding stones.
Ecology
Ecology
Didymaotus lapidiformis is pollinated by moths and specialized bees. The flower opens fully from noon onwards. Like all mesembs, it has hygrochastic capsules. This means the capsule opens when wet, allowing seeds to be dispersed by rain droplets. When the capsule is dry, it closes again, thus preserving what's left of its seeds for another rainy day!
Uses
Use
The only real use for this plant is as a potplant. It does need specialist treatment and should not be overwatered during the summer months.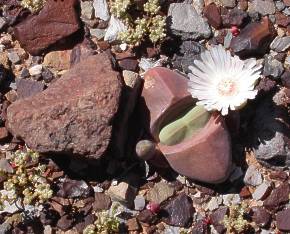 Growing Didymaotus lapidiformis
Grow
Didymaotus lapidiformis is not a plant that will do well in the garden. Rather grow this chunky succulent in a clay pot and keep it in a sunny position. The plant can be displayed in a sunny courtyard. Sow seeds from April to May. Where possible use fresh seeds; they are very fine and thus should not be sown too deep. Use flat plastic or wooden planting trays in a well-drained medium. The following mixture is recommended: 4 parts fine river sand, 2 parts coarse river sand, 1 part sieved, well-rotted compost, 1 part vermiculite and 1 part perlite.
Ensure that there is adequate drainage in the bottom of the flat seed pan and that the soil is thoroughly mixed. Use coarse sand on the top of the generic mix. It is in this coarse sand that the seeds must be sown. Cover with fine sand (0.5 mm) and water in with a fine mist spray. Keep the planting tray in a sunny position.
The seeds will germinate fairly rapidly; however, it could take up to two years before the plants are large enough to be transplanted into smaller containers. When planted out, they must be located in a well-ventilated site with good morning sunshine. Keep moist only in the winter and during summer they should be kept dry (winter rainfall area). In the summer rainfall areas give water only once a month and keep dry during the cold winters.
After a brief hardening off period (three months) place them in full sun. It is best to plant this species in clay containers as the pots tend to "breathe" better than the plastic ones. Generally some succulent plants live far longer in clay pots as opposed to those in plastic pots.
Pests Pests that attack Didymaotus lapidiformis are red spider mite and caterpillars (moth larvae). Red spider mite can easily be treated by using a solution of 20 ml oleum in one litre of water or 16 ml diazinon in 10 litres of water. Worms (moth larvae) are easily controlled by using 10 g Bathyroid wettable powder to 10 litres of water.
It is not necessary to use inorganic fertilizers. Rather use organic fertilizers such as Kelpak (sea weed extract). Feed only once a year with 10 ml Kelpak to one litre of water during the winter months in winter rainfall areas, and in the summer rainfall areas in March.
References
Oliver, I.B. 2005. Grow succulents. Kirstenbosch Gardening Series. SANBI, Cape Town.
Stearn, W.T. 1998. Botanical Latin. Clark, Edinburgh, UK.
Van Jaarsveld, E.J. & De Villiers Pienaar, U. 2000. Vygies, gems of the veld. Grafica Quadro, Tradate, Italy.
Credits
Ian Oliver
Karoo Desert National Botanical Garden
August, 2008
Plant Attributes:
Plant Type: Succulent
SA Distribution: Western Cape
Soil type:
Flowering season:
PH:
Flower colour:
Aspect: Full Sun
Gardening skill:
Special Features:
Drought resistant
Good potplant
Horticultural zones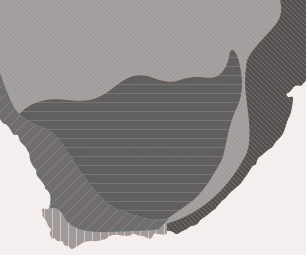 Zone 2 Coastal winter rainfall, frost free
Zone 3 Winter rainfall Karoo, light frost
Google QR Code Generator