Diosma aristata I.Williams
Family: Rutaceae
Common names: Mossel Bay buchu, spear-leaf diosma
Introduction
Diosma aristata is without a doubt the most threatened species in this enigmatic genus of plants. Buchus are well known for their medicinal qualities, but this species is a reminder of how special our flora is; it is restricted to one small area in Mossel Bay and is highly threatened by urban expansion. A team of spirited volunteers and conservation officials are working together to ensure the long-term survival of this very rare species.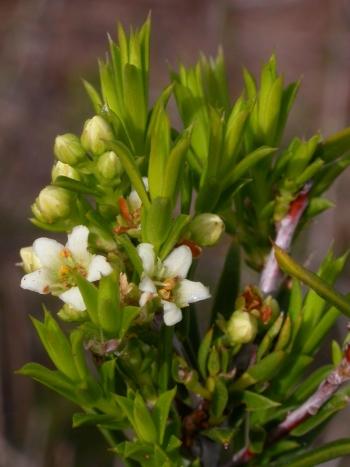 Description
Description
Diosma aristata is an erect, single-stemmed shrub, that can grow up to 700 mm high. It is well branched with hairless stems. The leaves are up to 19 mm long and have a very sharp point at the tip of the leaf. The midrib of the leaf is translucent and there are glands dotted on both sides of the midrib. Flowers are in terminal clusters of about 5 flowers, white with petals spaced widely. The waxy green disc at the base of the flower is clearly visible. Fruits are in 5 segments, hairless with small horns at the tips of the fruits. Fruits are covered in very fragrant glands.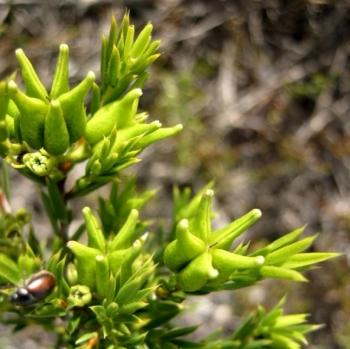 Conservation Status
Status
This species is Critically Endangered (CR). It is known from less than 250 plants and is known to occur in only one small reserve in Mossel Bay. There are a few more plants on a privately owned piece of land, but this is a relatively small population and the most of the plants occur at the Diosma Reserve. This species used to occur on other fragments between The Point and Dana Bay, but because of coastal developments, most of these populations were lost. After a fire at the site in 2005, there were concerns about the survival of the species, but there was viable recruitment and it was once again time for concerned residents to step in and support alien clearing operations at the site. Cape Nature and members of the CREW Outramps group have carefully monitored this species and lobbied for the protection and management of the site. In 2011 and 2012, 77 and 153 plants were recorded respectively. A more recent count revealed 380 plants. The site burnt again in 2016 and the CREW volunteers, in partnership with the Municipality, have made a considerable effort to clear aliens and illegally dumped waste off the site. Although this site is known to be a very important hotspot, there is still immense pressure on the site. Illegal dumping of waste, off-road driving with quad bikes and motorcycles still affect the ecological integrity of the site. Cape Nature is currently negotiating the formal protection of this, but it will still need the support of local residents and conservation officials to ensure the survival of Diosma aristata.
Distribution and habitat
Distribution description
Diosma aristata is confined to a small area west of Mossel Bay. The historical distribution of the species was to Dana Bay, which is still a very small restricted distribution. It grows in deep, sandy, coastal soils.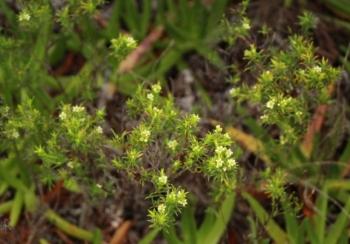 Derivation of name and historical aspects
History
Diosma is derived from the Greek work dios, meaning 'divine' and osme, meaning 'scented'. The species name aristata means 'having a long bristle at the apex'. This refers to the diagnostic character of the leaves having a long pointed apex. 
Ecology
Ecology
Most diosmas are pollinated by insects. Diosma aristata has a nectar-filled disc so it is also insect pollinated. The seeds are protected in a capsule that uses a catapult mechanism to disperse seeds, once the capsules are dried. This species is a reseeder so most of the seeds will germinate after a fire.
Uses
Use
Diosma aristata is in the Rutaceae family and one of the key features of the family is the scented glands on the leaves and fruits. This species does not have any recorded medicinal uses, but it has fragrant leaves with a similar scent to the more common, Diosma hirsuta.
Growing Diosma aristata
Grow
Although this species is not a popularly cultivated plant, it would be a great addition to coastal gardens and could be planted as a medium-sized shrub to add texture to a garden display. The scented leaves could add a nice feature to a garden. The plant will also attract insects to the garden.
Diosmas can be cultivated by cuttings and sowing seeds. Plants flower between January and March and seed can be collected once the capsules have developed and dried. It is recommended that seeds be smoke-treated before sowing. Sow seeds in seed trays with a well-drained medium. Once the first true leaves appear, the seedlings can be transplanted into small bags or pots. Cuttings can be taken from plants in autumn. Dip the base into a rooting hormone and place in a seed tray with a well-drained medium. A mix of equal parts of bark and polystyrene is recommended.
References
Goldblatt, P. & Manning, J. 2002. Cape plants: a conspectus of the Cape flora of South Africa. Strelitzia 9. National Botanical Institute, Pretoria and Missouri Botanical Garden, St Louis.
Mossel Bay Advertiser. 2017/08/17. Urban conservation area cleaned up. https://www.mosselbayadvertiser.com/news/article/general/urban-conservation-area-cleaned-up-20170817
Raimondo, D, Grieve, K, Helme, N, Koopman, R & Ebrahim, I. 2013. Plants in Peril. National Botanical Institute, Cape Town.
Schutte-Vlok, A.L. & Zikishe, V. 2012. Diosma aristata I.Williams. National Assessment: Red List of South African plants version 2017.1. Accessed on 2018/04/19.
Williams, I. 1982. Studies in the genera of the Diosmeae (Rutaceae): 14. A review of the genus Diosma L. Journal of South African Botany 48(3): 329–407.
Credits
Ismail Ebrahim
Custodians of Rare and Endangered Wildflowers (CREW)
May 2018
Plant Attributes:
Plant Type: Shrub
SA Distribution: Western Cape
Soil type: Sandy
Flowering season: Late Summer, Autumn
PH: Acid, Alkaline, Neutral
Flower colour: Green, White
Aspect: Full Sun
Gardening skill: Easy
Special Features:
Fragrant
Horticultural zones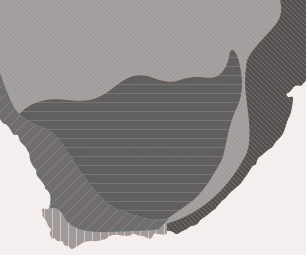 Zone 2 Coastal winter rainfall, frost free
Google QR Code Generator