Dracosciadium italae Hilliard & B.L.Burtt
Family: Apiaceae
Common names:
Introduction
This little-known member of the carrot family from KwaZulu-Natal makes an unusual and interesting addition to indigenous gardens.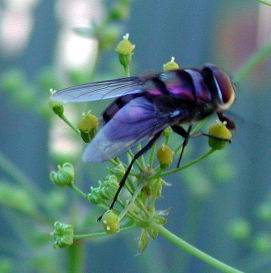 Description
Description
The most distinctive feature of this species is the peltate (shield-shaped), deeply divided fern-like leaves which form round clumps about half a metre in height.
In autumn the leaves turn attractive shades of red and orange before dying back in winter. The plants grow vegetatively by means of a horizontal underground rootstock. The richly branched flowering stalks appear in mid-summer (December) and bear delicate umbels of tiny, yellow, star-shaped flowers.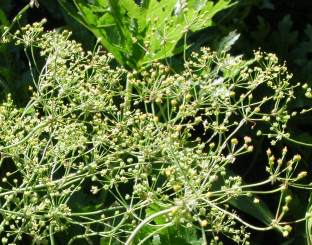 Conservation Status
Status
According to the Red List of South African Plants, Dracosciadium italae is assessed as Vulnerable (VU). It is known from only ten populations in the wild and its population is declining. Much of its habitat has been transformed by tree plantations, and what remains is being degraded by overgrazing.
Distribution and habitat
Distribution description
These plants grow on and around rock outcrops in shallow soil in montane and mist-belt grasslands between 1 200 and 1 600 m. The distribution range is very narrow, being confined to three localities in northern KwaZulu-Natal, a summer-rainfall region. They are able to withstand cold winter temperatures.
Derivation of name and historical aspects
History
The species was first described in 1986 by Hilliard and Burtt. The generic name is derived from the Latin draco meaning dragon, referring to the Drakensberg Mountains where the type species occurs, and the Greek sciadion meaning parasol, sunshade or umbel, referring to the shape of the inflorescence. The species name is derived from the Itala region in KwaZulu-Natal, where it was first collected.
This plant belongs to the carrot family, Apiaceae, together with the widely used medicinal herbs Peucedanium caffrum (wild parsley) and Alepidea amatymbica (ikhathazo). There is only one other species in the genus, Dracosciadium saniculifolium, also endemic to KwaZulu-Natal.
Ecology
Ecology
Bees and flies have been observed collecting pollen from the flowers.
Uses
Use
There are no records of this plant being used for traditional medicine. It has great horticultural potential with its attractive fern-like leaves and grows well both in borders and in containers. Flower arrangers have expressed great interest in the airy gypsophila-like inflorescences.
Growing Dracosciadium italae
Grow
Dracosciadium is easily propagated by both seed and root cuttings. Seed does not require any special treatment and germinates readily if kept moist. Suckers or pieces of rootstock placed in a well-drained medium such as sand and watered regularly develop a healthy root system within a few weeks and the plant can be potted up into a pine-bark medium or potting soil.
The plant is a good container subject (Scott-Shaw 1999).
The delicate shape of the leaves contrasts well with grasses and kniphofias. We have a mixed planting at Natal Gardens consisting of cycads, dracosciadiums and flame lilies, which provide an interesting and attractive mix of textures.
The plants are prone to red spider mite in late summer but this can be controlled with appropriate pesticides.
References
Scott-Shaw, C.R. 1999. Rare and threatened plants of KwaZulu-Natal and neighbouring regions. KZN Nature Conservation Service, Pietermaritzburg.
Hilliard, O.M. & Burtt, B.L. 1986. Notes on some plants of southern Africa chiefly from Natal. Part XIII. Notes from the Royal Botanic Garden Edinburgh 43: 220-225. Isabel Johnson Natal National Botanical Garden January 2004
Credits
Isabel Johnson
KwaZulu-Natal National Botanical Garden
January 2004
updated November 2016
 
Plant Attributes:
Plant Type: Perennial
SA Distribution: KwaZulu-Natal
Soil type: Sandy, Loam
Flowering season: Early Summer
PH: Acid, Neutral
Flower colour: Yellow
Aspect: Full Sun
Gardening skill: Average
Special Features:
Good potplant
Feeds honeybees
Horticultural zones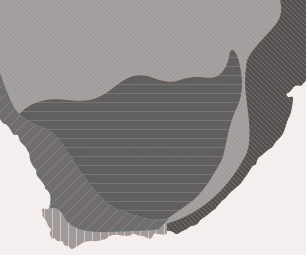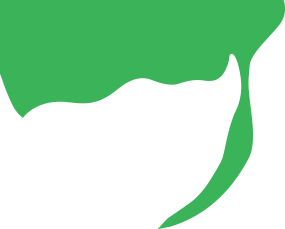 Zone 1 Coastal summer rainfall, frost free
Zone 2 Coastal winter rainfall, frost free
Zone 3 Winter rainfall Karoo, light frost
Zone 4 Summer rainfall Karoo and Highveld, Frost in winter
Zone 5 Bushveld summer rainfall, Light frost
Google QR Code Generator