Elegia fenestrata Pillans
Family: Restionaceae
Common names: stream golden-reed
Introduction
This rare restio has a spreading habit, thick, dark green culms (stems) with large, attractive, chestnut-brown sheaths (reduced leaves) at intervals up the culms and golden-brown spathes at the tips, somewhat concealing its male and female flowers.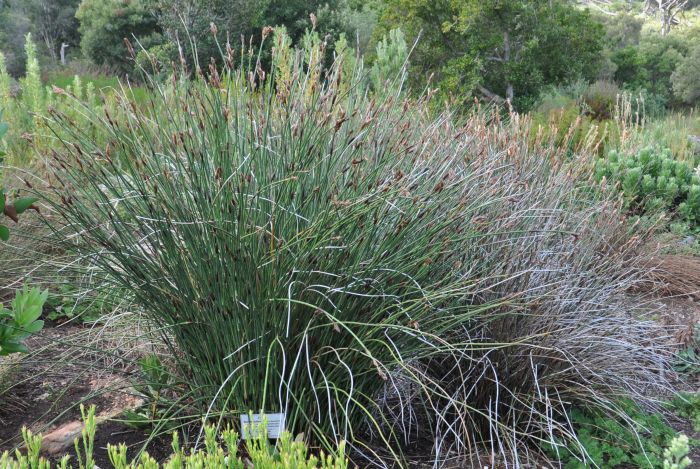 Description
Description
An evergreen, clump-forming, reed-like perennial, with a spreading habit created by the 1.5 to 2 m tall culms (stems). These culms are unbranched, solid and cylindrical, each at least 1.25 mm in diameter, growing upright and parallel on a long rhizome. Elegia fenestrata is at its most attractive with new growth, when the dark brown sheaths form a beautiful contrast with the dark green culms. The small but noticeable, dark marks all along the mature culms, are abscission rings that form at the nodes where the sheaths have dropped off.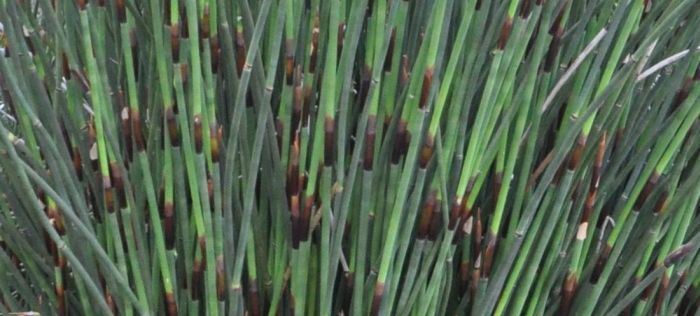 Oblong-shaped, brown inflorescences occur in summer, with large, somewhat overlapping spathes that protect the small, individual flowers borne in clusters, called spikelets, almost completely hiding them. The male and female inflorescences look similar, but there are some visible differences. The flowers grow on little stalks, called pedicels, that stand quite upright on female plants, and hang downwards, pendulously, on male plants. The male restio flowers produce copious amounts of pollen when flowering, and their anthers are just visible. Throughout flowering, the female flowers push out their feathery styles from behind the golden-brown sheaths to catch the pollen that is carried by the wind, to facilitate the pollination process. The female flowers produce small, dark nutlet seeds in autumn.
Conservation Status
Status
Elegia fenestrata is assessed as Vulnerable (VU) as it is known from only 9 locations and its coastal habitat is threatened by invasive alien plants and coastal development, which is causing habitat degradation and loss. The wild population trend is decreasing.
Distribution and habitat
Distribution description
Found in the Western Cape, mainly in the southern Cape Peninsula and the Bredasdorp coastal flats, below 100 m, in coastal sand, in seepages, marshy areas or along the banks of small streams in the following major types of habitats: De Hoop Limestone Fynbos, Agulhas Limestone Fynbos, Albertinia Sand Fynbos, Agulhas Sand Fynbos, Hangklip Sand Fynbos, Elim Ferricrete Fynbos and Overberg Sandstone Fynbos.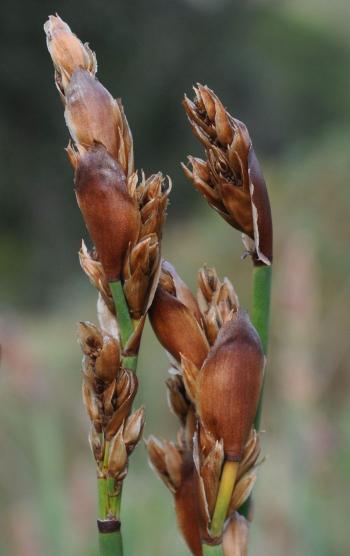 Derivation of name and historical aspects
History
Restionaceae is the family name of the restios, and contains 480 species globally, 330 of which are found in the Cape Floral Kingdom. They are frequently referred to as grasses, but they are actually classified as reeds. Restios are one of the main components of fynbos and are found growing mainly in the Western and Eastern Cape. 
The family name is derived from the Latin restis, which means 'rope' or 'cord' and refers to the traditional use of these plants in southern Africa. The genus name Elegia is derived from the Latin word elegia, meaning 'song of lamentation', possibly referring to the sound restios make while they are moving in the wind. The species name fenestrata is from the Latin fenestratus, meaning a 'window' which is unclear but possibly refers to one of the diagnostic features of this plant. The brown floral bract that usually hides the flowers in most Elegia species is shorter and so allows the flowers to 'peep' out.
The genus Elegia has approximately 49 species. Other very well-known species are Elegia capensis and E. tectorum (which was previously classified as Chondropetalum tectorum). Other species covered in the series so far include Elegia aggregata, E. cuspidata, E. equisetacea, E. filacea, E. fistulosa, E. grandispicata, E. nuda, E. persistens and E. stipularis. 
Ecology
Ecology
Restios are dioecious (female and male plants are borne in separate plants). The strong winds typical of its coastal habitat are responsible for pollinating these restios. The male flowers produces copious amounts of pollen, which also attracts bees, although they are not pollinators of this plant, and the female flowers produce seeds. 
Restios do not have leaves like other plants. Their leaves are reduced and form leaf-like structures, called sheaths. Restios have cylindrical stems, called culms, which are the only green part of the plants and perform the photosynthesis function.
The underground rhizomes of many species of Elegia produce new coppice growth after fires, which occur regularly in fynbos areas.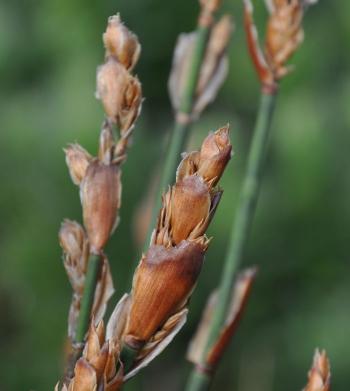 Uses
Use
This is a horticulturally worthy restio for the garden, where it provides an upright visual element within the bed, as well as bringing movement, often with the lovely sound of the culms moving against one another in the breeze. Elegia fenestrata can be used as a filler among slower growing plants in a mixed border, or use in small repeated groups of 3 or 5 plants within a mixed shrubbery planting.
Growing Elegia fenestrata
Grow
To grow any restios successfully, provide a position in the garden with full sun, well-drained soil and plenty of air movement. The plants adapt to a wide variety of soil types but do not like to grow in heavy clay soils.
Restios are adapted to a winter-rainfall climate, thus, their normal growing season is from autumn (April to August in the southern hemisphere) to early summer (October to December). The best time to plant restios in both summer- and winter-rainfall areas is in autumn (April and May), which is at the beginning of the rainy season of their winter-rainfall habitat. Elegia fenestrata prefers a marshy situation and should be watered regularly if planted in a year-round dry situation. 
The life-cycle of Elegia fenestrata stretches over 3 years. During the first year, a crop of new culms is formed; during the second year these stems flower and produce seeds; during the third year the stems stay green and produce food for the new growth and in the fourth year the stems turn brown and die. The old culms are retained and if not removed make for an untidy looking plant, as they tend to fall over. If the dead stems have to be removed, only the outer layer of dead stems should be cut off. It is important not to damage the new growth, as once damaged, the stems will die. The plants cultivated at Kirstenbosch National Botanical Garden last for about 4 years in the Garden, and then have to be replaced by new seedlings.
Most restios will respond to regular watering by showing more robust growth, but they are essentially plants that are adapted to a long dry season. Like most other fynbos plants, restios will benefit from a mulch of well-rotted compost. The mulch keeps the roots cool, reduces water evaporation and reduces the germination of weeds. 
Restios, in common with most other fynbos species, do not like to have their roots disturbed. They are, however, much more robust growers than most fynbos plants and do not seem to be plagued by soil-born fungi or many other diseases.
Restios respond well to regular feeding with low concentrations of nutrients, so, feed with liquid organic fertilizers. The potting soil can be mixed with a small amount of ammonium sulphate or a slow-release fertilizer with a low phosphate content. 
These plants are best grown from seed. The only other method is by division of the entire plant, which is not recommended, as the root system of E. fenestrata is very sensitive and division is rarely successful.
The ideal time to sow seeds is in autumn (April–May) when day and night temperatures fluctuate between 10º and 22ºC. Use a mixture of milled bark and sand (fynbos mixture). Sow seeds in trays with the fynbos mixture and cover them lightly with sand. Sand, instead of milled bark, is preferred for covering seeds, as they are very tiny. The seeds react well to treatment with smoke or with the 'Instant Smoke Plus' seed primer. The smoke from burning fynbos material produces a chemical cue that breaks the dormancy of seeds. Without this treatment the germination rate is poor. Germination should take about 4 to 6 weeks .
Seed trays must be kept moist, but not wet, as that can cause seeds and seedlings to rot (damping-off). Prevent this by spraying with fungicides every 2 weeks after seedlings have emerged. This is a common disease in restio seedlings. If the seedlings show signs of damping-off, the affected ones should be gently removed and the remainder treated with a fungicide. Generally, restios are disease resistant once they pass the seedling stage.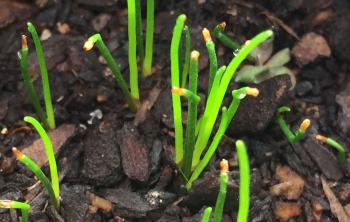 The seedlings can be transplanted when they have formed one or more real culms. They are generally very hardy at this first stage and adapt easily to the new growth medium. The soil mix should be fairly light and very well drained with a pH slightly below 7. Place the seedlings in the soil so that the roots are just below the surface of the soil (the root shoulder should not be exposed); use 12 packs, 9 cm pots or multitrays, as long as there is not an overwhelming amount of soil for the young roots to cope with. When the plants are ready for their next transplant, they will need to be potted on into larger bags or containers to grow on; look for roots appearing out the bottom of the containers to know when they are ready. A slow release fertilizer can be mixed into the soil before transplanting. 
The young plants are ready to plant in the open ground after a period of about 2 years when they have formed a good root ball in their pots /plant bags.
References
Brown, N., Jamieson, H. & Botha, P. 1998. Grow restios. Kirstenbosch Gardening Series. National Botanical Institute, Cape Town.
Dorrat-Haaksma, E. & Linder, H. P. 2000. Restios of the Fynbos, The Botanical Society of South Africa
Fernkloof Nature Reserve. Elegia. https://www.fernkloof.org.za/index.php/restio-identification Accessed 31 Jan 2020.
Jamieson, H. 2004. Elegia capensis (Burm.f.) Schelpe. (Restionaceae). PlantZAfrica. Online. http://pza.sanbi.org/elegia-capensis
Leistner, O.A. (ed.). 2000. Seed plants of southern Africa: families and genera. Strelitzia 10. National Botanical Institute, Pretoria.
Linder, H.P. 2011. The African Restionaceae: an IntKey identification and description system. Version 6. Contributions from the Bolus Herbarium 19.
Linder, H.P., Turner, R.C. & Pillay, D. 2006. Elegia fenestrata Pillans. National Assessment: Red List of South African Plants version 2017.1. Accessed on 2020/01/30.
McQuillan, M. 2007. Elegia stipularis Mast. (Restionaceae). PlantZAfrica. Online. http://pza.sanbi.org/elegia-stipularis.
Nndanduleni, N. 2019. Elegia filacea Mast. (Restionaceae). PlantZAfrica. Online. http://pza.sanbi.org/elegia-filacea
Nurrish, L. 2017. Elegia cuspidata Mast. (Restionaceae). PlantZAfrica. Online. http://pza.sanbi.org/elegia-cuspidata
Powrie, F. 1998. Grow South African plants. NBI Kirstenbosch, Cape Town.
Sikova, Z. 2014. Elegia aggregata (Mast.) Moline & H.P.Linder. (Restionaceae). PlantZAfrica. Online. http://pza.sanbi.org/elegia-aggregata
Credits
Cherise Viljoen
Kirstenbosch National Botanical Garden
May 2020
Plant Attributes:
Plant Type: Restio
SA Distribution: Western Cape
Soil type: Sandy, Loam
Flowering season: Early Summer, Late Summer
PH: Acid, Alkaline, Neutral
Flower colour: Brown
Aspect: Full Sun
Gardening skill: Average
Special Features:
Feature plant
Feeds honeybees
Wet sites
Horticultural zones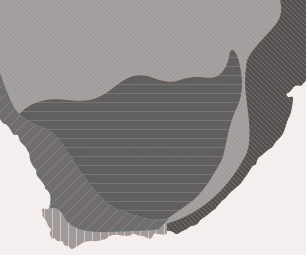 Zone 1 Coastal summer rainfall, frost free
Zone 2 Coastal winter rainfall, frost free
Zone 3 Winter rainfall Karoo, light frost
Google QR Code Generator