Elegia filacea Mast.
Family: Restionaceae
Common names: little golden curls
Introduction
A magnificent small, upright, tufted restio that shows off its golden–tan sheaths and bracts in early to midsummer, and makes a spectacular filler in the fynbos garden.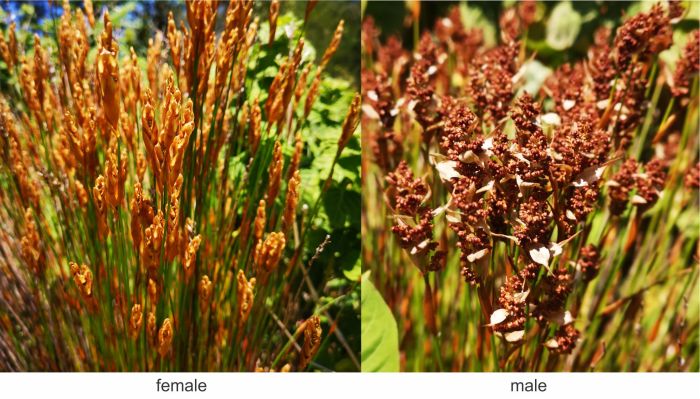 Description
Description
Elegia filacea is a reed-like, tufted, evergreen perennial, that grows from 0.2 to 0.8 m high and 0.1 m wide. It is compact, and does not have spreading rhizomes or stolons. Culms (stems) are slender, round and unbranched. It produces golden-tan sheaths, which drop off and leave small dark abscission rings at the nodes along the culms.
The male and female inflorescences are produced in small quantities and are made up of compact spikelets. The female inflorescence has 2–20 spikelets, almost completely covered by spathes (modified bracts), whereas the male inflorescence has 21–500 spikelets, which are visible and easy to see.
Elegia filacea flowers in early summer to midsummer (October to February), and seeds are released in late summer, before the next cohort of flowers are produced. The fruits are small, triangular nutlets.
Conservation Status
Status
According to the Red List of South African plants, Elegia filacea is listed as Least Concern (LC). The threats are unknown however, and the Threatened Species Programme (CREW) is busy completing the full assessment of this taxon.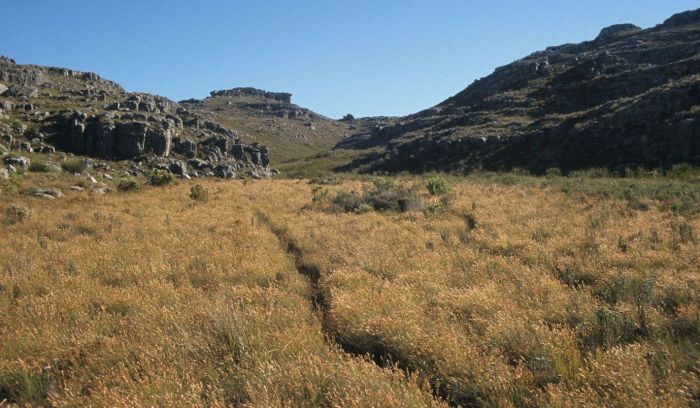 Distribution and habitat
Distribution description
Elegia filacea is widely distributed in the Cape Floristic Region, occurring in the Western, Northern and Eastern Cape, in Namaqualand, Northern Mountains, West Coast, Cape Peninsula, Southwestern Mountains, Bredasdorp Plains, Swartberg, Little Karoo, Langeberg and Outeniqua Mountains. This species is common in provincial Conservation Areas and National Parks, at 10–2 000 m above sea level.
Elegia filacea grows in Fynbos, in well-drained soils derived from Peninsula Formation Sandstone, and on sandy plains and at the bottom of valleys. A wide stand is found at Suurvlakte in the southern Cederberg, where it dominates on rocky slopes and in deep sand on the sandy plain.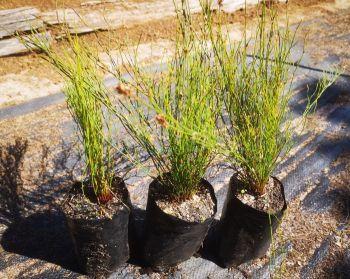 Derivation of name and historical aspects
History
The genus name Elegia is derived from the Latin word elegia, meaning 'song of lamentation', and the species name filacea, is also Latin and means 'a thread', maybe referring to the slender culms.
Restionaceae is the family name of the restios. The name is derived from the Latin restis, which means 'rope' or 'cord' and alludes to the use of these plants in southern Africa. Restionaceae has 400 species in about 40 genera and most of the species occur in winter rainfall regions, on poor sandy soils, in South Africa and Australia, with a few outliers in the north of Africa, Madagascar, Indo-China and Chile. The genus Elegia has approximately 49 species.
Ecology
Ecology
Restios are dioecious (female and male plants are borne in separate plants). They are wind-pollinated plants. The male and female plants in their natural habitat grow in groups. This means that the pollen from male plants must be carried by wind and find the female flower, drop and settle on the feathery styles, for fertilization to occur. The male plants produce masses of pollen to ensure that pollination can occur.
Restios do not have leaves like other plants. Their leaves are reduced and form leaf-like structures, called sheaths. Restios produce cylindrical stems, called culms, which are the only green part of the plants. They perform the photosynthesis function.
Elegia filacea is killed by fire and regenerates by seed. Seed dispersal is undifferentiated. Elegia filacea is a very variable species and displays anatomical variation across its range. According to Linder (1985), this variation needs to be studied.
Uses
Use
This is a beautiful small restio to use in any fynbos garden, in a well-drained soil and it can also tolerate alkaline soil. It can be used as a filler among the slow-growing shrubs, such as buchus, to cover the space between the plants or as a border. This species can be planted with many other companion fynbos plants, including Mimetes cucullatus, Erica spp., and the small buchus.

Growing Elegia filacea
Grow
The easiest way to propagate Elegia filacea is by seed. The seed are sown in the early winter season when the night temperature drops to 5–10ºC and the day temperature is 15–20ºC. Treat the seed with smoke derived from dry and wet fynbos plants material to break seed dormancy and stimulate the germination. Treatment can be done in a smoking tent or use the Instant Smoke Plus Seed Primer packets. Soak the seeds or dust them with fungicide and water the sowed seeds with fungicide once a week to prevent fungal infection.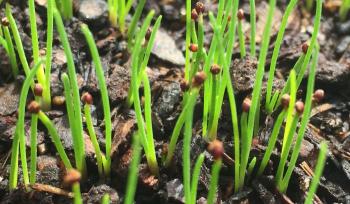 Lay the seed on the well-drained fynbos soil and cover with a finely sieved fynbos mixture. The seed takes about 4 weeks to germinate. Feed the seedlings with organic fertilizer during the growing season, to prevent yellowish and unhealthy plants. Keep your seedlings moist, not dry or too wet.
The seedlings are ready to plant in the open ground after a period of 2 or 3 years. Seedlings are slow to grow and reach flowering maturity in the early stage. The plants cultivated at Kirstenbosch last for about 4 years in the garden, and then have to be replaced by new seedlings. Plant your restios in the garden during a normal growing season at the beginning of the rainy season, this applies for winter and summer rainfall areas. Plants prefer full sun in a well-drained acidic soil, with plenty of air movement. Mulch the bed to reduce water evaporation, keep the roots cool and prevent weed growth.
References
Brown, N.A.C. & Duncan, G.D. 2006. Grow fynbos plants. Kirstenbosch Gardening Series. South African National Biodiversity Institute, Cape Town.
Brown, N., Jamieson, H. & Botha, P. 1998. Grow restios. Kirstenbosch Gardening Series. National Botanical Institute, Cape Town.
Fernkloof Nature Reserve. Elegia filacea. http://www.fernkloof.org.za/index.php/all-plants/plant-families/item/elegia-filacea
Dorrat-Haaksma, E. & Linder, P.H. 2012. Restios of the fynbos. Struik Nature, Cape Town.
Linder, H.P. 1985. A conspectus of the African Species of Restionaceae. Bothalia 15 : 3-4.|
Linder, H.P. 2011. The African Restionaceae: an IntKey identification and description system. Version 6. Contributions from the Bolus Herbarium 19.
Manning, J. & Goldblatt, P. 2012. Plants of the Greater Cape Floristic Region 1: the Core Cape Flora. Strelitzia 29. South African National Biodiversity Institute, Pretoria.
Restionaceae Scratchpad. Elegia filacea Mast. http://restionaceae.e-monocot.org/taxonomy/term/268
Turner, S. 2016. Elegia tectorum (L.f.) Moline & H.P. Linder (= Chondropetalum tectorum (L.f.) Raf.). (Restionaceae). PlantZAfrica. Internet 7pp. http://pza.sanbi.org/elegia-tectorum
Credits
Mashudu Nndanduleni
Kirstenbosch National Botanical Garden
June 2019
Plant Attributes:
Plant Type: Restio
SA Distribution: Eastern Cape, Northern Cape, Western Cape
Soil type: Sandy, Loam
Flowering season: Early Summer, Late Summer
PH: Acid, Alkaline, Neutral
Flower colour: Brown
Aspect: Full Sun
Gardening skill: Average
Special Features:
Drought resistant
Feature plant
Horticultural zones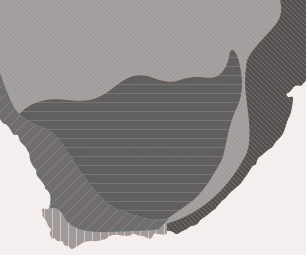 Zone 1 Coastal summer rainfall, frost free
Zone 2 Coastal winter rainfall, frost free
Zone 3 Winter rainfall Karoo, light frost
Google QR Code Generator