Encephalartos nubimontanus
Encephalartos nubimontanus P.J.H.Hurter
Family: Zamiaceae
Common names: blue cycad, cloud mountain cycad (Eng.); bloubroodboom (Afr.), isigciki-somkhovu (isiZulu); gebeleweni (siSwati)
SA Tree No: 14.9
Introduction
A stunning, desirable, fast-growing cycad, with beautiful, twisted, grey-blue leaves; illegal collecting of wild plants, because it is in high demand as a garden ornamental, has driven this species to extinction in the wild.
Description
Description
Encephalartos nubimontanus is a very attractive, fast-growing, small to medium sized, single-stemmed cycad, with an arborescent habit, sometimes forming clusters of offsets at the base. The stem grows up to 2.5 m tall and 350–400 mm in diameter.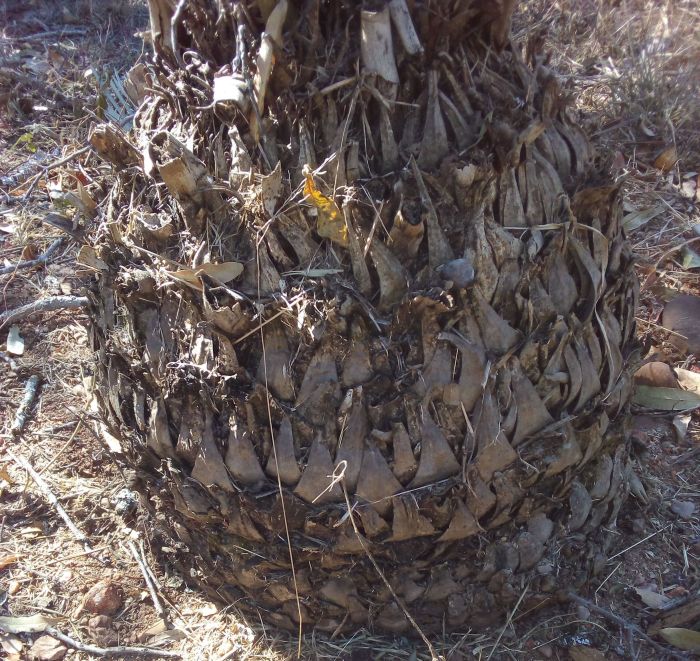 Leaves are about 1.2 m long, pinnate, blue-grey, with a straight, blue rachis, slightly twisted on some leaves, arranged in a rounded, arching crown on top of the stem. Leaflets have straight petioles, with no prickles.

It is a dioecious species. Male plants have 2 to 5, narrowly ovoid, bluish green cones, 250–400 mm long and 50–90 mm broad. Female plants have 1 to 3, ovoid, light blue-green cones, 350–400 mm long and 180–200 mm wide, appearing in early summer (November to December), turning to brownish at maturity in winter (June). The seeds are roughly ovoid, 25–38 mm long and 23–30 mm wide, with an orange-red fleshy covering when ripe.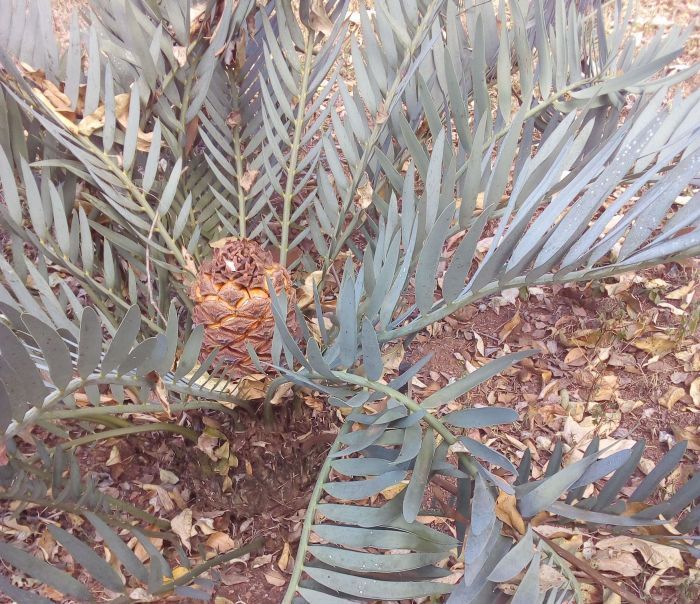 This species is similar to Encephalartos cupidus (Blyde River Cycad), but they differ in their growth habit; E. cupidus is a small, multistemmed plant, up to 1 m tall, and has a subterranean stem.
Conservation Status
Status
Encephalartos nubimontanus is Extinct in the Wild (EW) according to the Red List of South African plants. This species used to occur in the Drakensberg in the Limpopo Province, along the mountain range to the north and east of Penge, at an altitude of 1 000 m. There were estimated to be up to 100 mature wild plants in the past. There were 66 plants counted in surveys in the 1990s, but because this species is popular with collectors, there has been much poaching in the Limpopo Province, and recent surveys have shown that no wild plants exist today. 
Distribution and habitat
Distribution description
Encephalartos nubimontanus used to grow on cliff faces in low, open, deciduous woodland in the mountains north of Penge. 
Derivation of name and historical aspects
History
The genus name Encephalartos is derived from Greek words: en, meaning ín', cephale, 'a head' and artos, 'bread' or 'bread in the head' and refers to the farinaceous, starchy material in the trunks that was once used for food by local people. The specific name nubimontanus is from Latin, nubis, means 'cloud' and montanus means 'of the mountains', which translates into 'growing on the cloud mountains' and also refers to the Wolkberg Mountains, where this species was previously found.
Ecology
Ecology
Cycads are dioecious plants, having female and male individuals. The male plants form cones that produce pollen, and female plants form cones that produce seeds. For quite a long time it was believed that cycads were pollinated by wind, but recent studies indicate that it is insects (beetles and bees) that pollinate them in habitat. In cultivation, where the insects are not present, hand-pollination methods are used to produce viable seeds. The fleshy outer coat is eaten and dispersed by animals, mainly birds, rodents, small mammals and fruit-eating bats.
Uses
Use
Encephalartos nubimontanus can be grown as a focal point in the garden and is a decorative container plant because of its striking appearance. 
In South Africa, cycads are traditionally grown around the homestead as a charm to protect the homestead against lightning and evil spirits.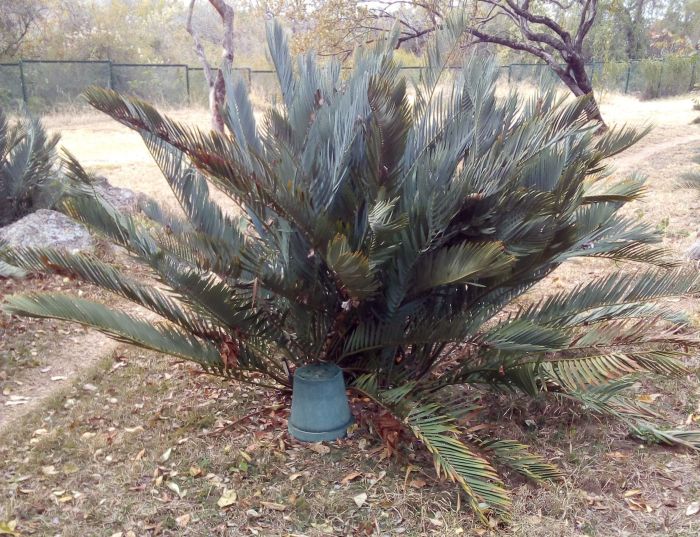 Growing Encephalartos nubimontanus
Grow
Fortunately, Encephalartos nubimontanus is relatively well represented in cycad collections around the world and can be easily propagated from seeds. Seeds are collected when they are red-orange in colour, cleaned by removing the outer coat using a table knife or by soaking them in water for 2 to 3 days and rubbing off the flesh. Then put them in a bucket filled with water to determine whether the seeds are fertile. The fertile seeds will sink to the bottom, whereas the infertile seeds will float on top. Seeds are sown on a bed of clean, coarse sand, with bottom heating of 25–28ºC, in a mist house with an automatic irrigation system. The seeds are pushed into the sand so that they are level with the surface of the sand. Sow seeds when they are fresh, at any time of the year. Another propagation method is to sow seeds under a tree where there is shade, a little bit of sunlight and lots of leaves. Place the seeds under the leaves and irrigate twice a week. After 2 months the seeds begin to germinate. The seedlings can be removed and potted after 10 months into 4 litre bags containing a mixture of compost and river sand, and placed in the nursery. This species can be planted out into the garden in summer, when the root ball is 2 cm wide.
Encephalartos nubimontanus can be also be propagated by removing offsets (suckers) in early spring. Remove them using a sharp, clean cutting tool. Apply fungicide to the cut area of the mother plant and the offset. Suckers with roots can be repotted immediately. Suckers with no roots should be left in a cool, dry area for a few weeks for the wound to form a callus, and then potted.
This species is a fast grower. It is hardy, drought resistant and responds very well in full sun or semi-shade, in well-drained soil, with sufficient moisture and in frost free conditions. It is suited to subtropical and warm temperate regions. Frost may burn the leaves but will not kill established plants. It prefers a sheltered position and wind is likely to damage the leaves.
When planting Encephalartos nubimontanus in the ground, dig a hole deep enough so that the soil around the base of the plant remains at its original level. To provide a good start for the plant, mix the soil with a little bit of slow-release, balanced fertilizer and bone meal. This species is naturally undemanding for nutrients. Spray the root ball with fungicide to reduce the risk of fungal infection and plant. Water the plant until soaked, once after planting, because it is adapted to a dry habitat. Too much water causes rot since this species likes its soil to dry out. Prune the leaves when they are completely dead, because it allows the plant to grow faster and fatter, whilst not easily noticed with the naked eye. This species can be planted anywhere since the roots are not aggressive. 
Encephalartos nubimontanus can be used in the garden as a focal point and it is suitable for containers.
Encephalartos nubimontanus is usually attacked by pests such as white scales and woolly aphids; pesticides are used to control them. Termites also attack the plant; insecticides are used to control them. 
References
Bergman, P. & Bergman, J. undated. Encephalartos nubimontanus. Online. Jungle Music, Palms & Cycads https://www.junglemusic.net//Encephalartos_species/Encephalartos_nubimontanus.html. Accessed 24 July 2020.
Donaldson, J.S. 2009. Encephalartos nubimontanus P.J.H.Hurter. National Assessment: Red List of South African plants version 2020.1. Accessed on 2020/07/29.
Dictionary of botanical epithets. http://www.winternet.com/~chuckg/dictionary.html
Hill, K. 1998–2010. Encephalartos nubimontanus. The Cycad Pages, Royal Botanic Gardens Sydney. Online. http://141.243.33.208/cgi-bin/cycadpg?taxname=Encephalartos+nubimontanus. Accessed?
Jones, D.L. 1993. Cycads of the world: Ancient plants in today's landscape. Reed, New South Wales.
Credits
Winfred Ngwenya
Lowveld National Botanical Garden
August 2020
Plant Attributes:
Plant Type: Shrub, Tree
SA Distribution: Limpopo
Soil type: Loam
Flowering season:
PH:
Flower colour:
Aspect: Full Sun
Gardening skill: Easy
Special Features:
Drought resistant
Feature plant
Good potplant
Horticultural zones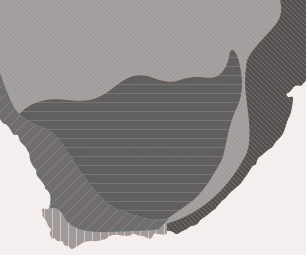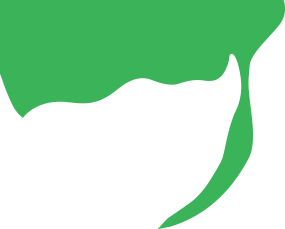 Zone 5 Bushveld summer rainfall, Light frost
Google QR Code Generator