Encephalartos villosus Lem.
Family: Zamiaceae
Common names: poor man's cycad
Introduction
Encephalartos villosus is one of the most common ornamental dwarf cycads in southern Africa. It is shade-loving and produces leaves which spread out gracefully, with glossy dark green leaflets. This species is a fast grower and in 5 to 8 years will develop into a substantial plant.
Description
Description
This species is often found growing in clusters and the stem is usually subterranean. If a stem develops above ground, it may grow to a height of up to 0.4 m and a diameter of 250 mm, with the occasional sucker. The young leaves are densely covered with white hairs. The mature leaves are dark green, glossy and lighter green on the underside of the leaves. The leaves are 1.5 to 3 m long, with the median leaflets ranging from 150 to 250 mm in length. The width of the leaflets are 15 to 20 mm. This species produces 1 to 4 cones on the female plants. The male cones are lemon-yellow, 600-700 x 120-150 mm, and can bear up to 5 cones. When mature, the male cone exudes an unpleasant odour. The female cone is a deep yellow, 300-500 x 200-250 mm. The seeds are dark red.
Distribution and habitat
Distribution description
This species occurs from East London in the Eastern Cape extending eastwards through the Transkei, KwaZulu-Natal and as far as Swaziland. It is by far the most widespread species of Encephalartos in southern Africa. The plants grow in forests and sheltered areas with a rainfall ranging from 900 to 1 300 mm a year in the summer months.
Derivation of name and historical aspects
History
The specific name villosus (Latin = hairy) refers to the young, newly sprouting leaves which are densely covered with white hairs. This species was described by C H Lemaire in 1867. In the 1800s this species was exported in large numbers and can be found growing in many conservatories in Europe. E. villosus is closely related to E. umbeluziensis.
Ecology
Ecology
The dark red seeds attract birds such as the Purple-crested lourie and the Trumpeter hornbill. In KwaZulu-Natal, young seedlings are found in abundance growing on the steep, forested slopes which are obviously distributed by these birds.
Uses
Use
E. villosus is one of the most common cycads in cultivation in southern Africa and does not sell at a high price as some of the rarer species do. Hence the common name poor man's cycad. It thrives in light or partial shade areas with sufficient moisture. It is suited to subtropical and warm temperate regions. Frost burns the leaves but will not easily kill established plants. E. villosus is an excellent species for landscaping as it develops into a substantial feature plant with a spread of up to 6 m across.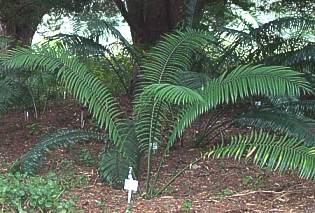 Growing Encephalartos villosus
Grow
This species responds well to cultivation provided it is grown in light shade, is well drained, with sufficient moisture in frost-free conditions. Ideal companion plants are Veltheimia bracteata, Scadoxus multiflorus subsp. catherinae, Asparagus densiflorus (Gwebe) and the genus Plectranthus. It is best to grow young seedlings on until the leaves are about a metre high before planting in the open ground. Dig a hole half a metre square and deep. Half fill the hole with well-matured compost, add a cup of bone meal and organic fertilizer. Mix well in the hole and then plant the cycad so that the growing point is just above the level of the ground. As far as pests are concerned, scale insects could be a problem and need to be treated with an oil based insecticide.
References
Giddy, C. 1974. Cycads of South Africa. Purnell, Cape Town.Goode, D. 1989. Cycads of Africa. Struik, Cape Town.
Grobelaar, N. 2002. Cycads. Pretoria Four Images Bureau, Pretoria
Jones, D.L. 2002. Cycads of the world. Smithsonian Institution Press, Washington DC.
Leistner, O.A. (ed.). 2000. Seed plants of southern Africa: families and genera. Strelitzia 10. National Botanical Institute, Pretoria.
Smith, C.A. 1966. Common names of South African plants. Memoirs of the Botanical Survey of South Africa No. 35. Department of Agricultural Technical Services, Pretoria.
Credits
John Winter
Kirstenbosch NBG
April 2005
Plant Attributes:
Plant Type: Shrub
SA Distribution: Eastern Cape, KwaZulu-Natal
Soil type:
Flowering season:
PH:
Flower colour:
Aspect: Shade
Gardening skill:
Special Features:
Feature plant
Horticultural zones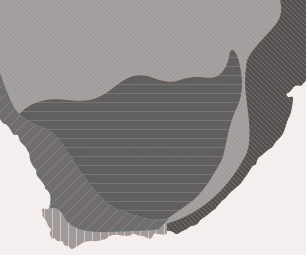 Zone 1 Coastal summer rainfall, frost free
Zone 2 Coastal winter rainfall, frost free
Google QR Code Generator