Entada rheedii Spreng.
Family: Fabaceae
Common names: giant sea bean, African dream herb, snuff box (Eng.); reuseseeboontjie, seeboontjie, boonbobbejaantou (Afr.); inkwindi, intindile, umbhone (isiZulu)
SA Tree No: 193.3
Introduction
A perennial climbing vine that is used by African traditional healers to induce vivid dreams that enable them to communicate efficiently with their ancestors. The seeds of this remarkable plant are coveted items in the local muthi market because of their medicinal and magical value.
Description
Description
Entada rheedii is a large liane with a main stem that can grow up to 75 m, long with a girth of up to 400 mm. The stems twine clockwise and anti-clockwise around other trees for support. Leaves are bipinnate, 120–250 mm long. The leaflets are oval in shape, 25–75 mm long and 11–35 mm wide, with rounded or sharp tips. Petioles are 50 mm long, with the primary axis ending in a forked tendril. Stipules are linear and grow up to 3 mm long.
Flowers are pleasantly fragranced, yellowish white or greenish yellow, in spikes that grow up to 230 mm long, from the axil of the leaves. It flowers in mid-summer, from December to January.
The fruit is an enormous flat, woody and segmented pod, that measures up to 2 m long and 150 mm wide. Seeds are shiny, hard, dark brown, ± 50 × 35 mm.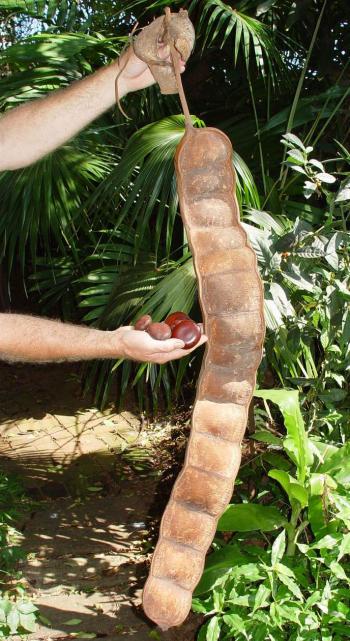 Conservation Status
Status
Entada rheedii is not threatened, and is listed in the Red List of South African plants as Least Concern (LC).
Distribution and habitat
Distribution description
Entada rheedii  has a cosmopolitan distribution; it is indigenous to Africa, Asia, Australia and Madagascar. In South Africa, it occurs in the KwaZulu-Natal Province. It grows in tropical lowlands, along the coastline and river banks, in woodland, thickets and riverine rain forests.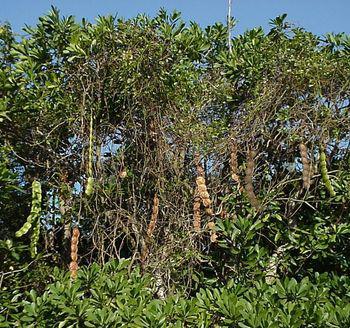 Derivation of name and historical aspects
History
The genus Entada is derived from the Portuguese word dentado, meaning 'toothed'. This describes the projection on the stems and leaves of some species. The species is named after botanist and naturalist Hendrik Adriaan van Rheede (1636–1691), who worked on plants of the Malabar region in India and produced the first volume of Hortus malabaricus.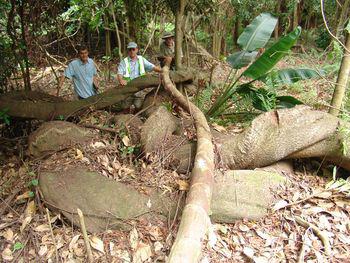 Ecology
Ecology
Entada species are assumed to self-pollinate, with pollen grains being transferred from the anther to the stigma of the same plant. Flowers produce gigantic pods that contain large seeds. The seeds are dispersed by water, and it takes some years before the seed coat is naturally scarified and the embryo is able to root. Once the plant has rooted, it encircles a surrounding tree such as Bauhinia purpurea, Cassia spectabilis, Broussonetia papyrifera, Tebebuia rosea, Eucalyptus tereticornis and Tectona grandis, and grows upwards. The leaves serve as larval food for two butterfly species: Logania distanti massalia and Nacaduba pactolus continentalis.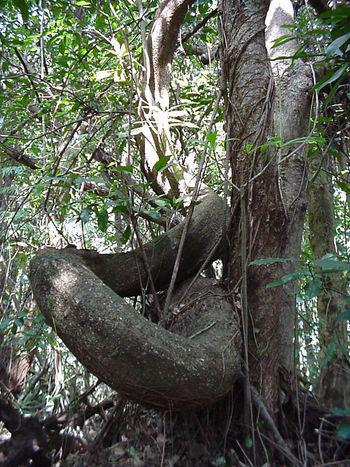 Uses
Use
Entada rheedii  has many uses amongst indigenous tribes in Africa. In South Africa, it is used by traditional healers to induce vivid dreams that allow them to communicate efficiently with their ancestors. To induce these vivid dreams, dried seeds are powdered and smoked in a pipe before bed time. The seeds are also believed to have magical properties. They are worn as necklaces and bracelets in order to bring good luck to the owner.
In Asia, a paste made from the leaves, bark and roots, is used to clean wounds, treat burns and heal jaundice in children. Tea made from the whole plant is used to improve blood circulation to the brain and heal the after-effects of a stroke. The bark is used to treat diarrhoea, dysentery and parasitic infections.
In Australia, the seeds are leached in water to remove toxic secondary metabolites and they are cooked and consumed as a vegetable by the Aborigines. The plant is also used for making rope, fish poison, and also for firewood
Growing Entada rheedii
Grow
Entada rheedii is best propagated from seeds. However, it is a challenge to extract the individual seeds from the fruit. It is best to extract the seeds from the pod in summer, when it is completely dry and easy to open. One other challenge is the removal of the seed coat, as seeds might not geminate when they have not been scarified. For seeds that are collected on beaches after they have been transported for long distances by ocean currents, sand paper can be used to remove the seed coat. For seeds with a hard seed coat, the embryo can be exposed by drilling a hole in the seeds until the embryo is visible.
The scarified seeds should be soaked in water for 24 to 48 hours until they start to swell. Trays in which the seeds are to be sown, should be washed with Jeyes fluid and placed in the sun to kill pests and fungi. To sow the seeds, place potting mix into the trays with good drainage and saturate it completely with water. Sow the seeds 50 mm into the soil. For seeds where you have drilled a hole to expose the embryo, place the seed with the exposed part facing upwards.
After sowing the seeds, cover them with the potting mix and tamp them down using a tamping tool. Cover the tray with cling wrap to create a humid environment. Place the tray in an area that receives sufficient sunlight and water the seeds when the soil becomes slightly dry. The seed will germinate in 3 to 4 weeks. Transplant the seedling into individual pots with the same germination medium when they have the first four leaves. When transplanting the seedlings, make sure that the soil is wet to prevent damage to the roots.
References
Burkill, H.M. 1985. The useful plants of west tropical Africa 3. http://plants.jstor.org. Accessed on 28 October 2016.
Cleversley, K. 2002. Entada rheedii — African dream herb. http://entheology.com/plants/entada-rheedii-african-dream-herb/. Accessed 10 October 2016.
Esterhuyse, N., Von Breitenbach, J. & Söhnge, H. 2001. Remarkable trees of South Africa. Briza Publications, Pretoria.
Jayakumar, M. & Karuppusamy, S. 2015. Ecological distribution of traditional medicinal plants in Alagar hills of eastern Ghats, tamilnadu. European Journal of Environmental Ecology 2 (3): 128–136.
Nichols, G. 2005. Growing rare plants: a practical handbook on propagating the threatened plants of southern Africa. Southern African Botanical Diversity Network Report No. 36.
Pooley, E. 1993. The complete field guide to trees of Natal, Zululand and Transkei. Natal Flora Publication Trust, Durban.
Ramachandra, T.V. et al 2016. Botanical wonder at Indian Institute of Science (Entada pursaetha — Wonder Climber of Western Ghats). Sahyadri Conservation Series 59, ENVIS Technical Report 111, Energy & Wetlands Research Group, CES, IISc, Bangalore, India.
Ross, J.H. 1975. Fabaceae. Flora of southern Africa 16 (1): 150, 151.
Sadat, M.N., Neogi, A.K., Rahman, M.S. & Mondal, A.C. 2016. Notes on two Lycaenid butterflies confirm to Bangladesh. BIOLIFE 4 (1):213–215.
Van Wyk, B.E. & Gericke, N. 2000. People's plants. Briza Publications, Pretoria.
Credits
Lerato Hoveka
National Herbarium, Pretoria
January 2017
 
Plant Attributes:
Plant Type: Climber, Tree
SA Distribution: KwaZulu-Natal
Soil type: Sandy, Loam
Flowering season: Early Summer
PH: Acid, Neutral
Flower colour: Cream, Yellow
Aspect: Full Sun, Morning Sun (Semi Shade), Afternoon Sun (Semi Shade)
Gardening skill: Challenging
Special Features:
Attracts butterflies
Fragrant
Edible plant
Medical plant
Useful plant
Horticultural zones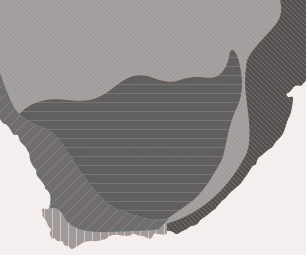 Zone 1 Coastal summer rainfall, frost free
Google QR Code Generator