Erepsia lacera (Haw.) Liede
Family: Aizoaceae
Common names: Paarl roosvygie
Introduction
Erepsia lacera is an erect shrublet with succulent leaves and somewhat rose-like flowers. It belongs to the mesemb family (Mesembryanthemaceae), flowers during early summer and is restricted to the Paarl region.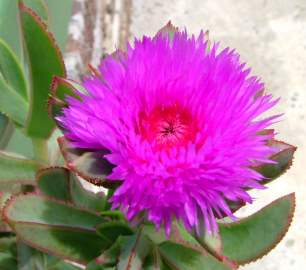 Description
Description
Erepsia lacera is an erect moderately branched succulent shrublet 60-80 cm high. Its stems are reddish brown but become grey and woody with age and up to 10 mm in diameter. The leaves are opposite, sickle shaped, up to 5 cm long and about 5 mm in diameter, triangular in cross section, pale green, and have a leathery keel. The leaf margins and the keel have rough soft teeth.
The flowers are carried on the branch ends (in terminal cymes), They bear many linear, very densely arranged, brightly purplish pink "petals". (The so called petals are derived from stamens and are known as staminodes), White-flowering plants have also been recorded. The fruit is a capsule about 15 mm in diameter.
Flowering time: November to January (southern hemisphere). The flowers remain open day and night.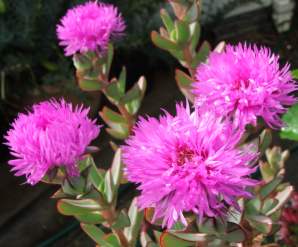 Conservation Status
Status
Even though Erepsia lacera is restricted to a relatively small area in the Paarl region it is not threatened, especially as part of its distribution area falls within a protected reserve.
Distribution and habitat
Distribution description
Erepsia lacera is endemic to the Paarlberg, Simonsberg and adjacent Perdeberg Mountains in the winter rainfall region of the southwestern Western Cape Province. It grows in renosterveld on sunny exposed rocky slopes among granite rocks at altitudes of 300-600 m. The climate is mild during winter, with an annual rainfall of about 600-700 mm. If frost occurs, it is mild. Summers are hot and dry. Erepsia lacera grows in association with other plants such as Olea europaea subsp. africana, Maytenus oleoides, Cliffortia ruscifolia, Crassula albiflora, Crassula nudicaulis and Aloe perfoliata.
Derivation of name and historical aspects
History
The name Erepsia is derived from the Greek erepso, I shall hide.
Erepsia lacera was named by the well known English succulent student Adrian Haworth. He named it Mesembryanthemum lacera Haworth in 1795, in his "Observations on the genus Mesembryanthemum". In 1927 the English botanist N.E. Brown transferred it to a new genus, Kensitia which he created. (After Louisa Bolus, neé Kensit, of the Bolus Herbarium). Siegrid Liede revised the genus Erepsia in 1989 and correctly transferred the species to the genus Erepsia, section Crassifolia. She created this section to accommodate the related large-leafed species such as Erepsia babiloniae, E. forficata, E. heteropetala, E. lacera and E. pillansii.
Twenty-two species of Erepsia are known, all endemic to the Cape Flora region and typical representatives of fynbos vegetation. Unlike many other mesembs which close their flowers during the night and in overcast weather, the flowers of Erepsia species remain open.
Ecology
Ecology
Erepsia lacera grows in renosterveld which is subject to occasional fire. The species is a re-seeder which means that it is killed by fire and cannot re-sprout and has to start afresh from seedlings. It is fire dependent: without fire the plants become tall and untidy. They are not long-lived and will grow for 3-8 years. The seeds are only released during rain. The fruiting capsules when dry retain the seeds but when they are moistened the capsules open and the seeds are dispersed by the falling rain drops which scatter the seed. The seeds remain in the soil until a fire occurs. The smoke stimulates them to germinate. Erepsia lacera is pollinated by bees.
Uses
Use
Erepsia lacera is grown as an ornamental and is not used medicinally.
Growing Erepsia lacera
Grow
Erepsia lacera is easily propagated from stem cuttings or seed. The stem cuttings are best made during autumn after the plant has flowered. The cuttings (6 - 15 cm long) root rapidly. They can be planted in full sun in sandy soil in rows or simply in any chosen site. They grow fast and will flower the same season. They should preferably be re-grown from fresh cuttings every 3-4 years as they tend to become untidy. Seed can be sown in a sandy acid soil. The seed must first be removed from the woody capsule by hand. The best time is during autumn. Cover the seeds with a thin layer of sand (2 mm thick) and keep moist. Germination is greatly improved with the Kirstenbosch smoke primer.
Erepsia lacera is best grown on sunny rockeries in the winter rainfall region. For the best effect it should be grown in groups. It also thrives in containers on sunny window sills. It is drought-tolerant and ideally suited for summer-dry Mediterranean climates.
References
Liede, S. 1989. Untersuchungen zum Merkmalbestand und zur Taxonomie der "Erepsiinae" (Mesembryanthemaceae). Beitr. Biol. Pflanzen 64: 391-479.
Hartmann, H. E. K. 2001. Illustrated Handbook of Succulent Plants. Aizoaceae A-E. Springer.
Van Jaarsveld, E.J. 2000. Wonderful waterwise gardening. Tafelberg
Van Jaarsveld, E.J., Van Wyk B-E. & Smith G. 2000. Succulents of South Africa, a guide to the regional diversity. Tafelberg.
Smith, G.F.; Chesselet, P., Van Jaarsveld, E. J., Hartmann, H., Hammer, S., Van Wyk, B-E.; Burgoyne, P., Klak, C. and Kurzweil, H. 1998. Mesembs of the world. 1998, Briza.
Van Jaarsveld, E.J. & Pienaar. U. de Villiers Pienaar. 2000. Vygies, gems of the veld. Cactus & Co.
Van Jaarsveld, E.J. & Pienaar. U. de Villiers Pienaar. 2004. Die Mittagsblumen Südafrikas. Les Mésembs d'Afrique du Sud. Stuttgart (D): Eugen Ulmer / Paris (F).
Credits
Ernst van Jaarsveld
Kirstenboch National Botanical Garden
May 2005
Plant Attributes:
Plant Type: Succulent
SA Distribution: Western Cape
Soil type: Sandy
Flowering season: Spring, Early Summer
PH: Acid, Neutral
Flower colour: Pink
Aspect: Full Sun
Gardening skill: Easy
Special Features:
Drought resistant
Feeds honeybees
Horticultural zones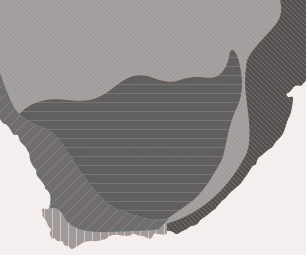 Zone 2 Coastal winter rainfall, frost free
Zone 3 Winter rainfall Karoo, light frost
Google QR Code Generator