Eriocephalus racemosus L.
Family: Asteraceae
Common names: coast wild rosemary (Eng.); strandveldkapok, kapkappie, strandkapokbos, kapokkie (Afr.)
Introduction
Eriocephalus racemosus is not only an ideal low screening plant but will also attract insects, and in turn the insects will encourage the birds to visit your garden too. It provides a bonus of a lovely aromatic scent that will freshen up your garden and disguise bad odours, such as a nearby compost heap. This is a very hardy plant and a plus for every garden as it 'drinks' very little water.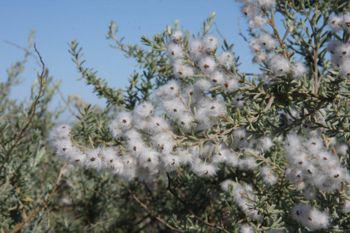 Description
Description
Eriocephalus racemosus is a dense, erect shrub that can easily reach a height of 1.5 m, with silver-hairy leaves which are linear and highly aromatic and densely grouped. Flowers are white to a creamy colour and borne along branches, and appear in winter, from July to early August.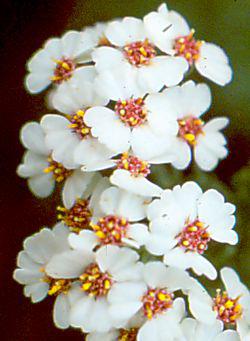 The fruits are inconspicuous and covered in showy white silky fluff. The plant is frost hardy and drought tolerant. 
Read more about this plant and its varieties, and other Eriocephalus here.
Conservation Status
Status
This plant is listed as LC (Least Concern); it is quite common in its natural habitat.
Distribution and habitat
Distribution description
Eriocephalus racemosus occurs naturally on coastal dunes and hills along the coast of Namaqualand of the Northern Cape and also the Western and Eastern Cape. Southern Africa is home to about 32 species of Eriocephalus, 13 of which are found in Namaqualand.
Derivation of name and historical aspects
History
Eriocephalus is derived from two Greek words, erion, referring to 'wool' and, cephale referring to 'head', thus 'woolly head'. The specific epithet, racemosus  is from the Latin and refers to the flowers which are arranged in a raceme.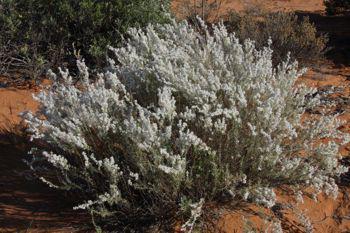 Ecology
Ecology
Insects are responsible for the pollination of this plant.
Uses
Use
Apart from having medicinal properties like its relatives E. africanus, E. ericoides and E. tenuifolius, it can also used for various areas of gardening. This plant has been very successfully used in coastal gardens but also grows without any difficulty inland due to its hardiness and high drought tolerance.
Growing Eriocephalus racemosus
Grow
Planting in garden beds:
This plant will grow happily in a garden spot where it receives sunlight for the larger part of the day; the soil must be well drained in order to prevent overwatering. The plant's greyish leaves provide for a nice contrast when planted among other plants with dark green and more colourful leaves, such as reds and yellows.
Propagation:
Plants can be easily propagated from cuttings or seed, make the cuttings after the flowering season (July–August). Make the length of the tip cuttings about 70–80 mm long. Use a semi-hardwood hormone powder to dip the cuttings in — this will help to encourage root development. Use the following mix to grow your cuttings: fine milled bark (50%) and polystyrene (50%). Place the cuttings in a warm sheltered area; roots start to develop after a period of four weeks. Pot up the cuttings by making up a mixture of 70% fine bark and 30% coarse river sand. (J. Beck  pers. comm. 2015).
Pests/disease:
The plant is relatively pest free, owing to birds that control the insects visiting the plant. The plant is strongly aromatic which also serves as a protective mechanism.
Overwatering may lead to stem rotting. Thin the bush out by regular pruning to allow for air circulation, to prevent an environment for fungal growth.
References
Cowling, R. 1992. The ecology of fynbos nutrients, fire and diversity. Oxford University Press, Cape Town.
Du Plessis, E. et al. 1972. Western Cape sandveld flowers. Struik Publishers, Cape Town.
Jackson, W.P.U. 1990. Origins and meanings of South African plant genera. University of Cape Town Printing Department, Cape Town.
Le Roux, A. 2005. Namaqualand. South African Wild Flower Guide 1. Botanical Society of South Africa, Cape Town.
Manning, J. 2007. Field guide to Fynbos. Struik Publishers, Cape Town.
Raimondo, D. et al. 2009. Red list of South African plants. Strelitzia 25. SANBI (South African National Biodiversity Institute), Pretoria.
Smith, C.A. 1966. Common names of South African plants. Memoirs of the Botanical Survey of South Africa No. 35. Government Printer, Pretoria.
Trinder-Smith, T.H. 2003. The Levyns Guide to the plant genera of the south western Cape. Bolus Herbarium, UCT, Red Roof Design CC, Cape Town
Credits
Benjamin Festus
Kirstenbosch National Botanical Garden
July 2015
Plant Attributes:
Plant Type: Shrub
SA Distribution: Eastern Cape, Northern Cape, Western Cape
Soil type: Sandy, Loam
Flowering season: Winter
PH: Acid
Flower colour: White
Aspect: Full Sun
Gardening skill: Easy
Special Features:
Attracts birds
Drought resistant
Fragrant
Hedge/screen
Medical plant
Horticultural zones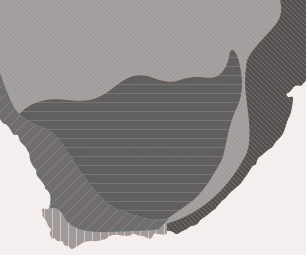 Zone 1 Coastal summer rainfall, frost free
Zone 2 Coastal winter rainfall, frost free
Zone 3 Winter rainfall Karoo, light frost
Google QR Code Generator