Erythrophysa alata (Eckl. & Zeyh.) Hutch.
Family: Sapindaceae
Common names: Namaqua red balloon (Eng.); Namakwa-rooiklapperbos, mannetjie-roldoring, kloe-kloekie (Afr.)
Introduction
The intensely red flowers of this small rigid tree are unlike those of any other small tree from Namaqualand.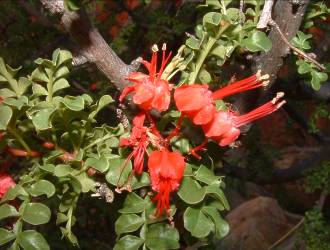 Description
Description
Erythrophysa alata is a very attractive shrub or small tree that reaches a height of between 3 and 4 m. The stocky secondary stems arise from a single main stem which, when mature, has a mottled silver-grey appearance in the sun and dark brown colour in the shade. The rather rough bark is prone to flaking in large and old specimens. The leaves are approximately 100 mm long, very attractive, dark green and shiny and clustered on short spur-branchlets, with four to seven pairs of opposite leaflets. The apex tapers at the base and the leaf margins are entire and somewhat wavy at times.
The flowers and fruits are most attractive, being a bright red colour and thus contrasting well with the dark green foliage from March till August. Flowers are about 20 mm x 60 mm, petals spurred and stamens long and slender protruding from the flowers. The indehiscent fruits that appear from September are just as attractively red, 3-lobed, round, inflated bladders approximately 60 mm in diameter. The round seeds are black and 15 mm in diameter.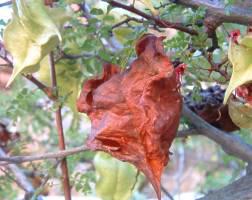 Conservation Status
Status
According to the Red List of South African Plants, Erythrophysa alata is not endangered, and has a status of Least Concern (LC).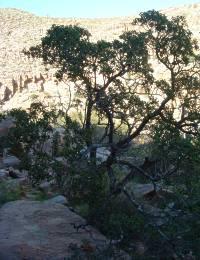 Distribution and habitat
Distribution description
Erythrophysa alata occurs in a relatively narrow north-to-south-orientated distribution range from southern Namibia across the Richtersveld into the klipkoppe (rocky hills) of northern Namaqualand in the Northern Cape. The plants are particularly common in rocky areas along stream banks and perennial river courses where they prefer both quartzitic and granitic soils.
Derivation of name and historical aspects
History
The genus name Erythrophysa is derived from erythros meaning red and physos meaning bladder, in reference to the appearance of the red fruits that look just like a bladder or balloon. The specific epithet alata means winged which refers to the winged fruits. Only two species of Erythrophysa are found in southern Africa namely E. alata and E. transvaalensis, which occurs in the Northwest and Limpopo Provinces.
Ecology
Ecology
Erythrophysa alata and its relative, E. transvaalensis, grow very easily from seeds, and it is rather strange that these two species have such relatively limited distribution ranges. The bright red flowers produce nectar that attracts pollinators such as birds and insects and the fruits are sought after by small mammals. Seeds that are not eaten by birds are dispersed by the wind and may land up in streams and perennial rivers during the rainy season. This may further assist with seed dispersal.
Uses
Use
Most parts of Erythrophysa alata, including the bark, are highly palatable to stock and other herbivores. The edible fruits have a pleasant smell and can be used for making a jelly or an alcoholic beverage. The edible seeds which contain good quality oil can be used in soap-making or to produce lubricants. Early farmers have oiled their rifles and farming implements with oil derived from these seeds. The leaves have medicinal properties and have been used to treat sore eyes, and a purgative can be made from the bark which is given as an enema to cattle.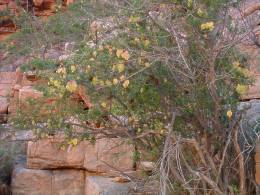 Growing Erythrophysa alata
Grow
Erythrophysa alata can be grown quite easily from fresh seed. The seeds are soaked in water overnight and then sowed out into a bark and sand medium. Seedlings grow fast initially and slow down as the plant becomes older. It is important not to disturb the roots and therefore seedlings should be pricked out into large containers to allow young plants to grow and develop over a long period. In the garden
Erythrophysa alata prefers a warm sunny position but will thrive in semi-shaded positions. The plants struggle in winter rainfall areas with too much rain as they prefer dryer conditions. Good companion plants include Schotia afra var. afra, Ficus cordata, F. ilicinia, Pelargonium magenteum, P. echinatum and Tylecodon paniculatus.
References
Coates Palgrave, M. 2002. Keith Coates Palgrave Trees of southern Africa,edn 3. Struik, Cape Town.
Coates Palgrave, K. 2001. Die Suid-Afrikaanse boomgids. CNA, Johannesburg.
Germishuizen, G. & Meyer, N.L. (eds) 2003. Plants of southern Africa: an annotated checklist. Strelitzia 14. National Botanical Institute, Pretoria.
Jackson, W P U, 1990. Origins and meanings of names of South African plant genera. University of Cape Town Printing Department.
Leistner, O.A. (ed.) 2000. Seed plants of southern Africa: families and genera. Strelitzia 10. National Botanical Institute, Pretoria.
Stearn, W. T. 2003. Stearn's dictionary of plant names for the gardener. Cassel, UK.
Smith, C A. 1966. Common names of South African plants, Memoirs of the Botanical Survey of South Africa No. 35.
Credits
Werner Voigt
Harold Porter National Botanical Garden
November 2010
Plant Attributes:
Plant Type: Shrub, Tree
SA Distribution: Northern Cape
Soil type: Sandy, Loam
Flowering season: Spring, Autumn, Winter
PH: Acid, Neutral
Flower colour: Red
Aspect: Full Sun, Morning Sun (Semi Shade), Afternoon Sun (Semi Shade)
Gardening skill: Average
Special Features:
Attracts birds
Drought resistant
Edible plant
Medical plant
Useful plant
Feeds honeybees
Horticultural zones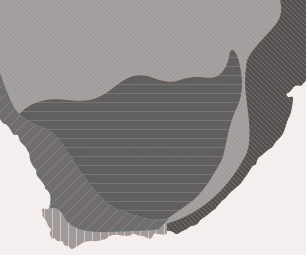 Zone 3 Winter rainfall Karoo, light frost
Google QR Code Generator