Eumorphia prostrata Bolus
Family: Asteraceae
Common names: silver cloud
Introduction
Eumorphia prostrata is a lovely silvery groundcover with white daisy-like flowers from late summer to autumn, and is also suitable for containers.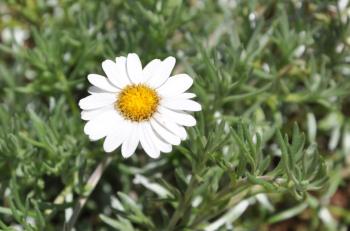 Description
Description
Eumorphia prostrata is a low-growing shrub with arching stems and a spreading habit, up to 600 mm high and 500 mm wide. It forms a dense mat, often rooting as it spreads and is an ideal groundcover. The branches are sericeous or silky (covered with fine hairs) when young, becoming glabrous (without hairs). The leaves are silky, silvery, linear, up to 10 x 1.5 mm, and are oppositely arranged and densely packed on the twigs.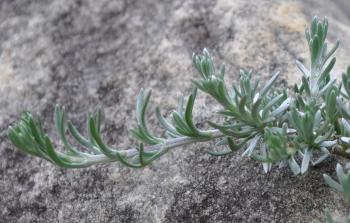 The flowerheads are typically daisy-like with white ray florets and yellow disc florets, about 9 mm in diameter. They are terminal (at the tip of a stem), borne on a short stalk, and solitary (one flower per stalk). Flowering time is late summer to autumn (December to April). The fruit is a cypsela, narrowly cylindric, 2 mm long, closely ribbed and minutely papillose (covered with very small soft bumps) and no pappus (tuft of bristles or scales).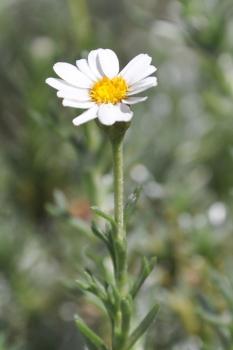 This species can be confused with E. sericea, but differs in that it has a creeping growth habit while E. sericea is an erect shrub to 1 m tall, and E. prostrata has no, or a few, marginal paleae (small bracts) on the receptacle (expanded top of the flower stalk) while there are paleae on the receptacle of E.sericea.
Conservation Status
Status
According to the website http://redlist.sanbi.org, checked on 8 October 2015, the conservation status of Eumorphia prostrata is Least Concern (LC).
Distribution and habitat
Distribution description
Eumorphia prostrata occurs in a small area of the high Drakensberg, at an altitude of 1 900 to 2 730 m, from Tina Head to Thamathu Pass, and as far as the Drakensberg Garden area in the Underberg District. It occurs in KwaZulu-Natal, Eastern Cape and Lesotho. E. prostata is found on rock sheets, cliff faces and on rocky or stony ground in mountain grassveld in seasonally wet areas. It withstands extreme cold to -10oC in winter, strong buffeting winds and high daytime temperatures in summer.
Derivation of name and historical aspects
History
Eumorphia is derived from the Greek words eu, meaning 'well or true' and morphe, meaning 'form or shape', alluding to the neatness of the foliage. The name prostrata, is derived from the Latin prosterno, meaning 'prostrate', and refers to the creeping growth habit of the plant.
There are six species in the genus Eumorphia, all are endemic to the mountains of southern Africa, occurring in Limpopo, Mpumalanga, Free State, KwaZulu-Natal, Western Cape, Eastern Cape and Swazil and Lesotho. Other species in the Eumorphia genus include, E. corymbosa, E. davyi, E. dregeana, E. sericea and E. swaziensis.
Eumorphia prostata belongs to the Asteraceae (daisy family); a family of more than 23 600 species worldwide, which include shrubs, herbaceous plants and trees; and more than 1 600 genera.
Ecology
Ecology
Insects are responsible for the pollination of this plant.
Uses
Use
Eumorphia prostrata is not known to have any cultural or traditional uses however, one species in this genus, E. sericea, has been recorded to be used as a source for fuel. E. prostrata is used in landscaping and domestic gardens.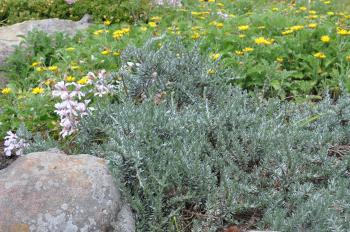 Growing Eumorphia prostrata
Grow
Grow Eumophia prostrata in a sunny spot where the soil drains well, in order to prevent overwatering. The plant is drought-, wind- and frost tolerant when established.
The silvery leaves of these plants provide for a nice contrast when planted among other plants with dark green and more colourful leaves. Feed with well-rotted compost or moderate amounts of organic fertilisers in spring. Prune after flowering to shape, although it needs little attention once established. Use as a groundcover, edging plant, in borders. It is recommended for rockeries, terraces, retaining walls, and hanging baskets or tubs. Suitable for alpine gardens, fynbos gardens, Mediterranean gardens and contemporary gardens.
Plants can be easily propagated from cuttings or seed. Take the cuttings in spring or early summer, before the flowering season (January–April). Make tip cuttings about 70–80 mm long. Use a semi-hardwood hormone powder to encourage root development. Use a sterile, well-drained soil mix to grow your cuttings, e.g.: 50% fine milled bark and 50% polystyrene. Place the cuttings in a warm sheltered area; roots start to develop after a period of four weeks. Pot up the cuttings into a soil mix such as 70% fine bark and 30% coarse river sand (J. Beck pers. Comm. 2015).
The plant is very hardy and easy to grow, however, overwatering may lead to branch- and stem-rotting, therefore plant in well-drained soil and allow for good air circulation to prevent this. Control the size of the plant by regular pruning.
References
Harris, G. & Harris, M.W. 1994. Plant identification terminology, an illustrated glossary. Spring Lake, Utah.
Hilliard, O.M. & Burtt, B.L. 1987. The Botany of the Southern Natal Drakensberg. National Botanic Gardens, CTP Book Printers, Cape Town.
Jackson, W.P.U. 1990. Origins and meanings of names of South African plant genera . University of Cape Town.
Plants of southern Africa an online checklist: www.posa.sanbi.org accessed 8 October 2015
Pooley, E. 2003. Mountain flowers, a field guide to the flora of the Drakensberg and Lesotho. Natal Flora Publications Trust, Durban.
Smith, C.A. 1966. Common names of South African plants. Memoirs of the Botanical Survey of South Africa No. 35. Government Printer, Pretoria.
Swelankomo, N.P. 2011. Flora of southern Africa. Asteraceae: Anthemideae: Eumorphia. Bothalia 41: 277–282.
Trinder-Smith, T.H. 2003. Guide to the plant genera of the southwestern Cape . Paarl Print, Paarl.
Credits
Benjamin Festus and Alice Notten
Kirstenbosch National Botanical Garden
9 November 2015
Plant Attributes:
Plant Type: Ground Cover, Shrub
SA Distribution: Eastern Cape, KwaZulu-Natal
Soil type: Sandy
Flowering season: Late Summer, Autumn
PH: Acid, Neutral
Flower colour: White, Yellow
Aspect: Full Sun
Gardening skill: Easy
Special Features:
Drought resistant
Good potplant
Horticultural zones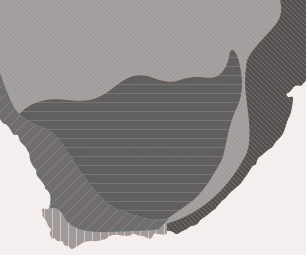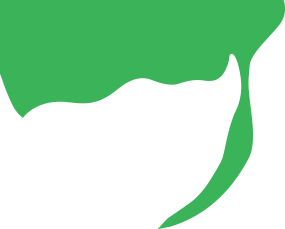 Zone 1 Coastal summer rainfall, frost free
Zone 2 Coastal winter rainfall, frost free
Zone 3 Winter rainfall Karoo, light frost
Zone 4 Summer rainfall Karoo and Highveld, Frost in winter
Zone 5 Bushveld summer rainfall, Light frost
Google QR Code Generator