Euryops chrysanthemoides (DC.) B. Nord.
Family: Asteraceae
Common names: golden daisy bush, daisy bush, resin bush (Eng.), geelmadeliefiebos, geelmargriet, harpuisbos (Afr.) (= Gamolepis chrysanthemoides DC.)
Introduction
Euryops chrysanthemoides is an attractive, easy-to-grow, evergreen flowering shrub with dense, bright green foliage and golden yellow daisy flowers.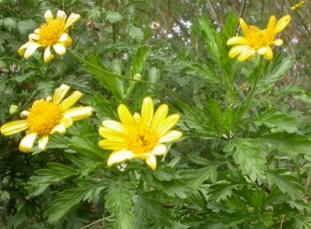 Description
Description
A compact, densely branched, leafy, evergreen shrub, 0.5 to 2 m in height. The leaves are attractive, shaped rather like an oak leaf, with 7 to 9 deeply indented lobes and they are close-set, particularly on young growth.
The flowers are yellow daisies, 30-40 mm across with 15-30 bright yellow ray-florets and deep golden yellow disc-florets. They are carried well above the leaves on thin, wiry stalks 100-150 mm long. Peak flowering is in autumn-winter-spring (March to September) but flowers are usually found on the bush throughout the year.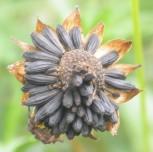 Numerous small, ridged, black seeds are produced after flowering; they are shaped like a spindle with blunt ends.
Distribution and habitat
Distribution description
Euryops chrysanthemoides occurs in the Eastern Cape, along the coast and inland, to KwaZulu-Natal, Mpumalanga and Swaziland. It is usually found on forest edges, in riverine bush and in ravines, as well as in coastal scrub, grassland and disturbed areas.
Derivation of name and historical aspects
History
The genus name Euryops is derived from the Greek eurys meaning large and ops an eye, referring to the large flowers. The species name chrysanthemoides means resembling a chrysanthemum. The genus Chrysanthemum means gold flower from the Greek chrysos gold and anthemon a flower.
The name resin bush is applied generally to Euryops species and is a direct translation from the Dutch name harpuis bosch from the Dutch word hars (resin) and puisje (a small pimple), referring to the resinous secretion exuding from the stem and branches in the form of small pimply drops.
Euryops is a member of the daisy family (Asteraceae) and consists of 97 species that occur in Africa with one that extends into the Arabian Peninsula and Socotra. There are 89 species in southern Africa where they are widespread. Other species at Kirstenbosch include: E. pectinatus, E. virgineus, E. annae, E. abrotanifolius, E. tysonii, E. linearis and E. speciosissimus and a hybrid between E. pectinatus and E. chrysanthemoides called 'Kirstenbosch'.
Ecology
Ecology
The bright yellow flowers attract many pollen- and nectar-feeding insects as well as butterflies, and seed-eating birds eat the seeds.
Uses
Use
Although there are no recorded uses for this species, other Euryops species were used in the past and this species was quite likely used in the same way. Euryops species are rich in resin, which sometimes appears as blobs on the stems and twigs. This resin was greatly esteemed at one time, by both the Khoi and the colonists, for its alleged medicinal properties. It was used as a substitute gum, and to preserve leather, like boots and saddles.
Its attractive dense foliage and bright flowers and its free-flowering nature have made Euryops chrysanthemoides a popular pot plant in Europe, Japan and America as well as in its native land where it is sold in garden centres and supermarkets. The flowers do not close overnight or indoors and last well in posies and small arrangements.
Growing Euryops chrysanthemoides
Grow
A vigorous, hardy, free-flowering shrub that tolerates brackish, poor and dry soils, but for it to perform at its best, plant it in a sunny situation in good, compost-enriched soil. To keep it neat and to stimulate new growth and therefore more flowers, prune hard in late winter-spring after its peak flowering period. Dead-heading will prolong flowering. It responds very well to foliar feeding, organic or inorganic fertilisers and occasional deep irrigation once it is established. In South Africa it can be considered frost hardy, but in colder climates it probably will not survive outdoors where there is a winter minimum lower than -1 to -7 °C (zone 9).
Plant Euryops chrysanthemoides as a specimen shrub in groups of three or five, or use it to form an informal low hedge, e.g. around a building where you don't want to obscure the windows, or along pathway or a driveway, or to finish off a shrub border, or plant it as part of the backdrop for a herbaceous border.
Easy to propagate by seed sown in spring or summer, or cuttings taken in early spring. It seeds itself freely, and these seedlings are easily transplanted to other parts of the garden.
References
Germishuizen, G. & Meyer, N.L. (eds) 2003 Plants of southern Africa : an annotated checklist. Strelitzia 14. National Botanical Institute, Pretoria
Jackson, W.P.U. 1990 Origins and Meanings of Names of South African Plant Genera. U.C.T. Printing Dept., Cape Town.
Leistner, O.A. (ed.) 2000 Seed plants of southern Africa : families and genera, Strelitzia 10. National Botanical Institute, Pretoria.
Nordenstam, B. 1968 Genus Euryops Part 1: Taxonomy. 1st Ed. Opera Botanica no 20. Sweden Societae Botanica.
Nordenstam, Bertil, 1963 Hybrids of Euryops in Kirstenbosch, J.Bot.Soc.SA 49:15-16
Pooley, E. 1998 A Field Guide to Wild Flowers of KwaZulu-Natal and the Eastern Region. Natal Flora Publications Trust, Durban.
Flora Dania website: http://www.floradania.dk
Credits
Christien Malan & Alice Notten
Kirstenbosch National Botanical Garden
January 2005
Plant Attributes:
Plant Type: Shrub
SA Distribution: Eastern Cape, KwaZulu-Natal
Soil type: Sandy, Loam, Brack/saline
Flowering season: Spring, Autumn, Winter, Sporadic/All year
PH: Acid, Neutral
Flower colour: Yellow
Aspect: Full Sun, Morning Sun (Semi Shade), Afternoon Sun (Semi Shade)
Gardening skill: Easy
Special Features:
Attracts butterflies
Good potplant
Feeds honeybees
Pioneer plant
Horticultural zones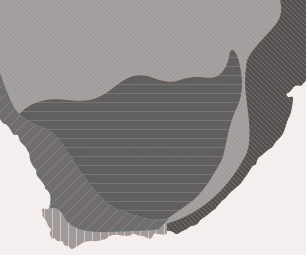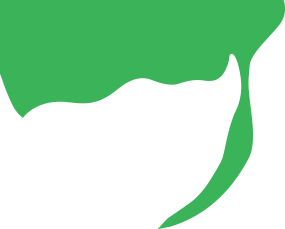 Zone 1 Coastal summer rainfall, frost free
Zone 2 Coastal winter rainfall, frost free
Zone 3 Winter rainfall Karoo, light frost
Zone 4 Summer rainfall Karoo and Highveld, Frost in winter
Zone 5 Bushveld summer rainfall, Light frost
Google QR Code Generator