Euryops muirii C.A.Sm.
Family: Asteraceae
Common names: limestone euryops (Eng.); strandharpuis (Afr.)
Introduction
Euryops muirii is a very special species that is restricted to the limestone in and around Still Bay. It has a very limited distribution and occurs in close association with many other limestone endemic species.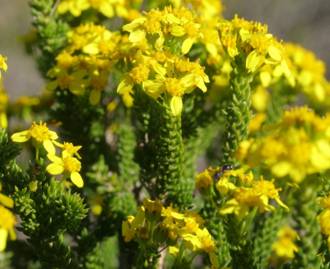 Description
Description
Euryops murii is a much-branched rigid shrublet up to 400 mm high. Young branches are closely leafy and hairy towards the tip. Leaves are bright green and pressed up against the stem, somewhat curved upwards, 2-5 mm long, thick and boat-shaped with small white tips. Flower heads are bunched at the tips of branches. The involucre is cup-shaped, and most of the flower heads are on short peduncles 5-15 mm long. The florets are yellow, and flower heads have 5 or 6 ray florets in the outer row. Flowering occurs mostly in September.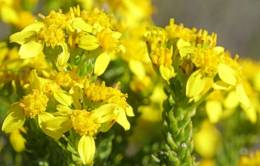 Euryops muirii is distinguished from other members of the genus in having free involucral bracts (i.e. they are not fused) and in having hairy achenes (fruits). The small imbricate (overlapping) leaves, together with the small terminal flower heads, are a special feature of this species.
Conservation Status
Status
Euryops muirii is currently listed as Endangered (Raimondo et al. 2009). It occurs at three locations in a restricted area near to Still Bay in the southern Western Cape. The species is declining as a result of severe infestations of Acacia cyclops (rooikrans). A fourth subpopulation was destroyed for a housing development.
Distribution and habitat
Distribution description
This species is known from two historical localities: Melkhoutfontein and limestone hills above Still Bay. The Melkhoutfontein population is extinct as there are housing developments on the site and the population has not been relocated since it was originally found there by Muir in the 1920s. Although extensive searches have taken place in similar habitats, Euryops muirii remains confined to a small area near Still Bay. It occurs in low shrubby ericoid limestone fynbos. There is usually a presence of exposed limestone rocks and the plants occur in medium grain limestone-derived soil.
Derivation of name and historical aspects
History
Euryops is derived from the Greek word, eurys, meaning large or wide, and ops, meaning eye or face, referring to the large, showy flower heads of the typical species in the genus.
Euryops muirii is named in honour of Dr John Muir, who was an enthusiastic botanical collector in the area. He discovered many new species in the limestone vegetation. Many rare and localised species in this area have been named after this iconic collector.
Uses
Use
There are no recorded uses for this species but because of its beautiful shape and flowers it may have very good horticultural potential, especially in areas that are close to the coast or have limestone derived soils.
Growing Euryops muirii
Grow
There are no specific growing recommendations for this species of Euryops, but this general guide for Euryops species can be followed.
It requires a well drained soil, in a sunny position. Because this species grows in an area close to the sea it is probably suited for coastal gardens. Cuttings can be rooted in late spring or summer. Seeds can be sown in late spring.
References
Bohnen, P. 1986. Flowering plants of Southern Africa, 1986, Still Bay Trust, Still Bay.
Burgers, C. 1980. Unpublished report, ISEP, Cape Nature, Jonkershoek.
Goldblatt, P., Manning, J. 2000. Cape plants: A conspectus of the Cape Flora of South Africa. Strelitzia 9 . National Botanical Institute, Cape Town.
Raimondo, D., Von Staden, .L., Foden, W., Victor, J.E., Helme, N.A., Turner, R.C., Kamundi, D.A., Manyama, P.A. (eds) 2009. Red List of South African plants 2009. Strelitzia 25. South African National Biodiversity Institute, Pretoria
Nordenstam, B. 1968. Genus Euryops. Part 1. Opera Botanica 20.
Credits
Ismail Ebrahim
CREW
August 2011
Plant Attributes:
Plant Type: Shrub
SA Distribution: Western Cape
Soil type: Sandy, Loam
Flowering season: Spring
PH: Alkaline
Flower colour: Yellow
Aspect: Full Sun
Gardening skill: Average
Special Features:
Horticultural zones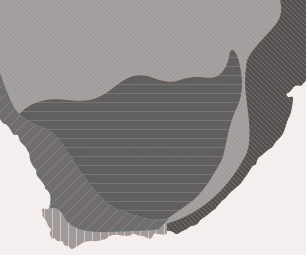 Zone 2 Coastal winter rainfall, frost free
Google QR Code Generator