Faurea rochetiana (A.Rich.) Chiov. ex Pic.Serm.
Family: Proteaceae
Common names: broad-leaved boekenhout (Eng.); breëblaarboekenhout (Afr.) ; Mogwapi (North Sotho); siSefo (siSwati); N'wamidzumba (Tsonga); Mutango (tshiVenda)
SA Tree No: 76
Introduction
At first glance this small tree does not look like a member of the protea family.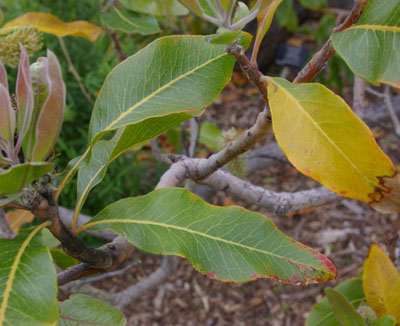 The broad-leaved boekenhout is a gnarled, deciduous tree of a form one associates with the Lowveld; yet it grows at a higher altitude than true lowveld, and its flowers show it to be a member of the large and varied protea family.
Description
Description
The gnarled, twisted trunks are the first character one will see that distinguishes Faurea rochetiana from its relatives. It is a small tree, 4-7 m high The bark is craggy, rough, fissured and almost black on mature trunks.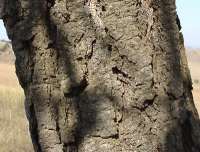 The leaves are very hairy when young but become hairless with maturity; unusually in this family, the upper surface is noticeably darker green than the lower (most proteaceous leaves are the same on both sides). Adult leaves are short-stalked and usually 70-170 x 25-60 mm, wider than most leaves in the genus. The leaves turn attractive fiery scarlet shades in autumn before falling.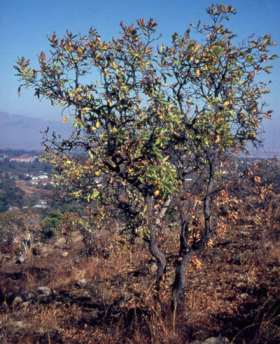 Like all species of Faurea, this one bears its flowers in conspicuous hanging spikes, up to 250 mm long, starting in late summer and continuing to the following spring (February-March to September in South Africa). The individual flowers are greenish creamy yellowish, and show the typical structure of a proteaceous flower; one free and three fused perianth parts, four stamens attached to the perianth, and a single pistil arising above the perianth.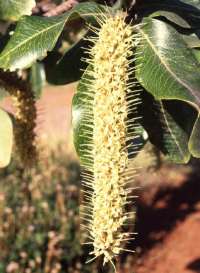 The fruit is a small nutlet ripening about three months after flowering.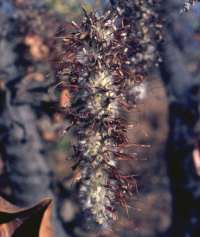 Conservation Status
Status
This species is very widespread and by no means rare. It is not threatened, and so is not mentioned on any Red List.
Distribution and habitat
Distribution description
The broad-leaved boekenhout occurs along the Limpopo-Mpumalanga-Swaziland escarpment, extending a very short distance into Kwazulu-Natal. It also occurs in the Chimanimani-Vumba Mountain chain on the Zimbabwe/Mozambique border, and extends northwards to Ethiopia and westwards to Nigeria and Angola. In southern Africa one finds it generally below the highest ridges of the escarpment, in warm, dryish bushveld usually on poor, sandy soils. These are warm to hot areas with little to no frost; away from the equator, rainfall is mainly to exclusively a summer occurrence, and even where there is no distinction between summer and winter, there are definite wet and dry seasons.
Derivation of name and historical aspects
History
The genus name commemorates William Caldwell Faure (1822-1844), a South African soldier and botanist killed on active service in India. The specific epithet commemorates C.L.X. Rochet d'Herincourt, a French chemist who took part in an exploring expedition to Ethiopia between 1839 and 1845, and who collected the first recorded specimen of this species there.
The genus Faurea includes 15 species, and occurs in the summer rainfall area of southern Africa, extending to tropical Africa and Madagascar. Four of these species occur in southern Africa.
Faurea rochetiana is distinguished from the others in the field by its crooked trunks and deciduous leaves with distinctly different upper and lower surfaces, and in dried collections by the wider leaves and longer flowers than other species.
Ecology
Ecology
There is nothing specifically published about the interactions between Faurea rochetiana and any animals. Therefore, discovering actual pollinators and dispersal agents would be a good project for an observant and patient enthusiast living close to a natural area with these trees. Most members of the family Proteaceae are noted for their production of nectar, which attracts a wide variety of birds and insects. This suggests that Faurea, too is likely to be quite undemanding in its choice of pollinator. The dispersal agents of the seeds are unknown.
Uses
Use
Several species of Faurea are large enough to yield usable timber. The wood has the distinctive and attractive 'guinea-fowl' figure of all species of Proteaceae. The wood of F. rochetiana is durable, but as one rarely finds straight pieces, it is unsuited to making furniture. Caution is advised when working this wood, as the sawdust of some species of Proteaceae (notably Grevillea robusta, Australian silky oak-which nevertheless makes beautiful furniture) is known to be an irritant and may cause dermatitis.
The roots have been used in traditional medicine to treat diarrhoea and ear infections.
Growing Faurea rochetiana
Grow
Although the flowers of this tree are attractive, and will certainly encourage visits by birds and insects to any garden, the main glory of Faurea rochetiana is the autumn colour of the leaves.
No species of Faurea has ever been listed for the Botanical Society plant sale in Durban, which suggests that these plants are rarely if ever offered for sale, at least in our area. It seems that as this genus is not the showiest of the Protea relatives, even collectors seldom attempt to grow it. If, however, one were to raise a tree to adult size, it would be an attractive specimen in even quite a confined space.
The first difficulty one will encounter in growing this plant is in acquiring seed. This will necessarily be field-collected, and so one will need the landowner's permission and possibly permission from provincial and national authorities to transport the seed across the relevant boundaries. Geoff Nichols, the gardening expert, tells me that although he has not attempted to grow this species, others that he has tried, do not appreciate an overdose of fertilizer-a small quantity of organic matter is best, and it is as well to plant the seedlings in their final position as soon as is practical. We believe that, like many Proteaceae, seeds of this species would respond well to smoke or smoke essence.
Many Proteaceae are naturally quite short-lived, and in addition one finds that in gardens, many of them are unusually susceptible to pathogens belonging to the genus Phytophthora. These spores are almost always present on garden tools, and so as with any relative of Protea, one should be very circumspect about carrying out any garden maintenance around these trees. It would be far safer from the plants' point of view to share the bed with a perennial ground cover than to be subject to frequent and enthusiastic loosening of soil.
References
Balkwill, K., Boon, R., Coates Palgrave, M., Glen, H., Jordaan, M., Lötter, M., Schmidt, E. & Thomas, V. 2004. SAPPI Tree spotting lifer list. Jacana, Johannesburg.
Beentje, H.J. 1994. Kenya trees, shrubs and lianas. National Museums of Kenya, Nairobi.
Brummitt, R.K. & Marner, S.K. 1993. Flora of tropical East Africa: Proteaceae. Balkema, Rotterdam.
Coates Palgrave, M. 2002. Keith Coates Palgrave Trees of southern Africa, edn 3. Struik, Cape Town.
Germishuizen, G., Meyer, N.L., Steenkamp, Y. & Keith, M. (eds). 2006. A checklist of South African plants. Southern African Botanical Diversity Network Report No. 41. SABONET, Pretoria.
Glen, H.F. 2004. SAPPI What's in a name? Jacana, Johannesburg.
Klopper, R., Chatelain, C., Bänninger, V., Steyn, H.M., De Wet, B.C., Arnold, T.H., Gautier, L., Smith, G.F. & Spichiger, R. 2006. Checklist of the flowering plants of sub-Saharan Africa. An index of accepted names and synonyms. Southern African Botanical Diversity Network Report No. 42. SABONET, Pretoria.
Schmidt, E., Lötter, M. & McCleland, W. 2002. Trees and shrubs of Mpumalanga and Kruger National Park. Jacana, Johannesburg.
Von Breitenbach, F. 1965. The indigenous trees of southern Africa. Government Printer, Pretoria.
Credits
Hugh Glen
Kwazulu-Natal Herbarium
January 2008
Plant Attributes:
Plant Type: Tree
SA Distribution: KwaZulu-Natal, Limpopo, Mpumalanga
Soil type: Sandy, Loam
Flowering season: Spring, Autumn, Winter
PH: Acid, Neutral
Flower colour: Green, Cream, Yellow
Aspect: Full Sun
Gardening skill: Average
Special Features:
Attracts birds
Attracts butterflies
Feature plant
Medical plant
Useful plant
Feeds honeybees
Horticultural zones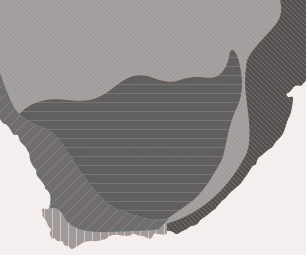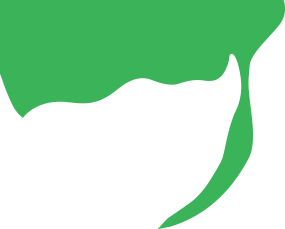 Zone 1 Coastal summer rainfall, frost free
Zone 2 Coastal winter rainfall, frost free
Zone 5 Bushveld summer rainfall, Light frost
Google QR Code Generator