Freylinia helmei Van Jaarsv.
Family: Scrophulariaceae
Common names: Bot River bell-bush (Eng.); Botrivierseklokkiesbos (Afr.)
Introduction
This is another of the attractive bell-bushes, which make interesting garden shrubs.
Description
Description
Freylinia helmei is a very attractive, erect, branched, evergreen, woody shrub that grows to a height of 2.5 m. The beautiful subpendulous to pendulous, white through cream to pale purple flowers add to the attractiveness of the plant. The characteristic elliptical to linear-elliptical leaves are often twisted sideways. This beautiful bell bush flowers from winter to early summer (from July/August to November).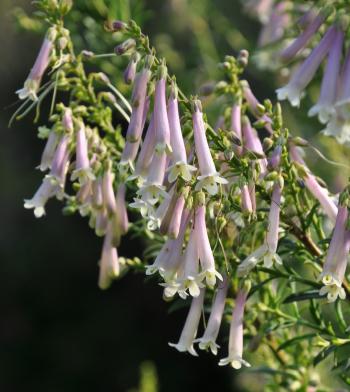 Conservation Status
Status
Freylinia helmei is Red Listed as Vulnerable (VU). Although its current population is stable it is known from only three locations and is potentially threatened by crop cultivation, loss of pollinators due to fragmentation of its habitat and an incorrect fire regime.
Distribution and habitat
Distribution description
Freylinia helmei is endemic to a small area in the Caledon region, some 13 km north of a small village called Botrivier. It occurs on various farms west of the road R43, east of the Bot River and north of the national road, the N2 highway. The bell bush grows in renosterveld on steep south and southeast-facing shale slopes, too steep to plough, at altitudes of 200-300 m. The plant receives rainfall in winter that ranges from 300-400 mm per year.
Derivation of name and historical aspects
History
The genus Freylinia was named after Count L. de Freylino who owned a famous garden in Buttigliera near Marengo in Italy in the early 19th century. The species name helmei is named in honour of Nick Helme, who together with Kristal Maze discovered the plant during field work for the Botanical Society Cape Lowlands Project. The genus Freylinia consists of eight other species of which F. tropica, F. undulata, F. visseri, F. densiflora and F. lanceolata make beautiful garden plants.
Ecology
Ecology
Freylinia helmei is well adapted to fire. The bell bush has a lignotuber (woody, swollen, underground stem ) that is adapted to survive a fire. This root system allows the plant to resprout with new growth after fire. The other Freylinia species are also subject to occasional fires after which they resprout. The beautiful tubular flowers are pollinated by sunbirds. The seed capsules ripen from late summer and split open releasing flat, winged seeds, which are dispersed by wind.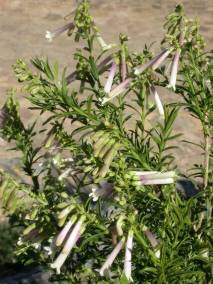 Growing Freylinia helmei
Grow
Freylinia helmei is grown easily from cuttings. Take soft wood to semi-mature, short cuttings in autumn, spring or summer. These cuttings can be treated with a rooting hormone to help stimulate rooting. They will root within a month. Once the cuttings have rooted place them in a slightly shaded area to harden off for three weeks before potting. Pot in a well-drained soil mix and place under a shade net until ready for planting.
Propagation from seed has not yet been tried.
The bell bush is an ideal plant for any fynbos garden and will make an excellent water-wise garden plant. It will grow particularly well in loamy soils and will do well in a warm sunny spot in your garden or a light ly shaded area. The plant grows tall and vigorously so it can be planted as a screen to hide any structures or walls and can also be planted at the back of a bed with smaller shrubs and herbaceous perennials growing in front of it. Regular pruning will keep the bush nice and tidy.
References
Helme, N.A., van Jaarsveld, E. & Raimondo, D. 2006. Freylinia helmei Van Jaarsv. National Assessment: Red List of South African Plants version 2015.1. Accessed on 2016/03/15
Van Jaarsveld, E. & Thomas, V. 2003. Freylinia helmei. Flowering Plants of Africa 58: 112-116, pl. 2197. National Botanical Institute, Pretoria.
Credits
Trevor Adams
Kirstenbosch National Botanical Garden
August 2005
Red List status updated in March 2016
Plant Attributes:
Plant Type: Shrub
SA Distribution: Western Cape
Soil type: Sandy, Loam
Flowering season: Spring, Winter
PH: Acid, Neutral
Flower colour: Purple, White, Cream
Aspect: Full Sun
Gardening skill: Average
Special Features:
Attracts birds
Drought resistant
Horticultural zones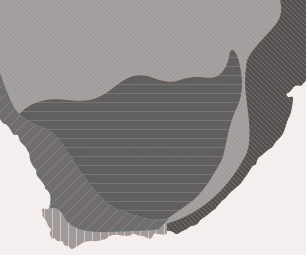 Zone 1 Coastal summer rainfall, frost free
Zone 2 Coastal winter rainfall, frost free
Zone 3 Winter rainfall Karoo, light frost
Google QR Code Generator