Freylinia longiflora Benth.
Family: Scrophulariaceae
Common names: Elgin bell-bush, Elgin freylinia (Eng.); Grabou klokkiesbos (Afr.)
Introduction
This critically endangered shrub makes an attractive garden plant.
Description
Description
Freylinia longiflora is an erect, slender, much branched shrub that grows up to 1.5 m high. The plant has simple, leathery, elliptic leaves with trusses of white to cream-coloured, tubular flowers on the branch tips. This beautiful bell-bush flowers in spring, from September to October.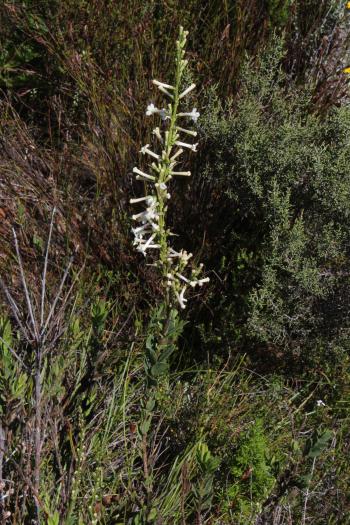 Conservation Status
Status
Freylinia longiflora is Red Listed as Critically Endangered (CR). This is a long-lived, resprouting plant with an estimated generation length of 100 years and it has lost 80% of its habitat over the past 120 years to fruit- and wine farms. At present it is found at only three sites, which are under threat from the expansion of farmlands. It was once common in the Elgin valley.
Distribution and habitat
Distribution description
Freylinia longiflora is only known from the farm Arieskraal in the Elgin area in the Caledon District. The plants grow in a small fynbos patch, on a north-facing slope of a hill. Orchards surround this fynbos patch. The soil in the area is sandy, acid and derived from quartzitic sandstone with underlying koffieklip. The area is characterized by winter rainfall of 700 to 800 mm on average per year. Its habitat used to be the Elgin Shale Renosterveld and the transition soils between Elgin Shale Fynbos and Kogelberg Sandstone Fynbos.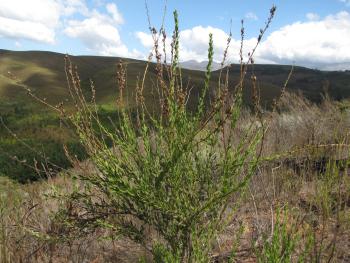 Derivation of name and historical aspects
History
The genus Freylinia was named after Italian Count L. de Freylino. The Count owned a famous garden in the 19th century in the town Buttigliera near Marengo in Italy. The species name longiflora refers to the long tubular flowers.
The species was first collected in the Zwartberg near Caledon by a Danish countryman Christian Ecklon (1795-1868) who came to settle in the Cape in 1826. He was a chemist by profession who became a collector of natural history specimens. His South African botanical collections are well known today; many of them were new to science and they were often named after him. The genus Freylinia consists of other species of which F. tropica, F. visseri, F. undulata, F. lanceolata, F. helmei, F. densiflora and F. vlokii make beautiful garden shrubs.
Ecology
Ecology
The bell bush, like most of the other Freylinia species, is subject to occasional fires after which the species resprouts again. This means that the shrub has a persistent rootstock (lignotuber), which allows it to survive fires. Sunbirds are the pollinators of this species. The seed capsules ripen from late spring to early summer and split open, releasing flat, winged seeds, which are dispersed by wind.
Growing Freylinia longiflora
Grow
Freylinia longiflora, like all the other species in the genus, can easily be grown from cuttings. Short, semi-hardwood stem cuttings can be taken in spring and summer. These cuttings can be treated with a rooting hormone to help stimulate rooting. The cuttings are then placed in a rooting medium of 50% bark and 50% polystyrene. Place the cuttings in a mist unit with under-bench heating of about 24º C, if such facilities are available. Rooting will take place within a month. Once rooted, the cuttings should be placed in a slightly shaded area to harden off for three weeks before being potted. The potted plants can be placed in a lightly shaded area until ready for planting.
Propagation from seed has not yet been tried. The bell bush is an ideal plant for the home gardener who is particularly interested in fynbos. The shrub is ideal for any warm, sunny spot in your garden and is fairly drought resistant. Prune regularly after flowering to keep the plants bushy and neat.
References
Goldblatt, P. & Manning, J. 2000. Cape Plants. A conspectus of the Cape flora of South Africa. Strelitzia 9. National Botanical Institute, Pretoria & Missouri Botanical Garden, Missouri.
Kesting, D. 2004. Wild flowers of the Cape Peninsula. Botanical names: derivation and meaning. Friends of Silvermine Nature Area, Muizenberg.
Powrie, F. 1998. Grow South African Plants. A gardener's companion to indigenous plants. National Botanical Institute, Cape Town.
Van Jaarsveld, E. & Thomas, V. (Artist). 1995. Freylinia longiflora. Flowering Plants of Africa 54: 74-77, t. 2115. National Botanical Institute, Pretoria.
Van Jaarsveld, E. & Raimondo, D. 2009. Freylinia longiflora Benth. National Assessment: Red List of South African Plants version 2015.1. Accessed on 2016/03/15
iSpot southern Africa http://www.ispotnature.org/species-dictionaries/sanbi/Freylinia%20longiflora?nav=search
Credits
Trevor Adams
Kirstenbosch NBG
September 2006
Conservation status and images updated March 2016
 
Plant Attributes:
Plant Type: Shrub
SA Distribution: Western Cape
Soil type: Sandy, Loam
Flowering season: Winter
PH: Acid
Flower colour: White, Cream
Aspect: Full Sun
Gardening skill: Average
Special Features:
Attracts birds
Horticultural zones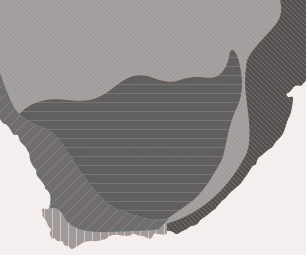 Zone 1 Coastal summer rainfall, frost free
Zone 2 Coastal winter rainfall, frost free
Zone 3 Winter rainfall Karoo, light frost
Google QR Code Generator