Freylinia visseri Van Jaarsv.
Family: Scrophulariaceae
Common names: Velddrif bell-bush (Eng.); suurlat, Velddrif klokkiesbos (Afr).
Introduction
Freylinia visseri is a very attractive and unusual shrub with pretty purple flowers in spring to early summer, and is well suited to sandy coastal gardens.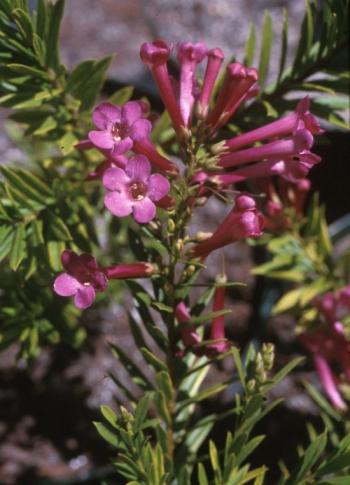 Description
Description
Freylinia visseri is a very attractive and unusual, erect, evergreen woody shrub that grows to a height of 3 m. The foliage adds to the attractiveness of this plant, as the leaves are oblong, firm and pointed. The beautiful tubular, bell-shaped flowers are borne in glossy dark purple clusters in spring and early summer (from September to November). During this flowering period it will attract sunbirds to your garden.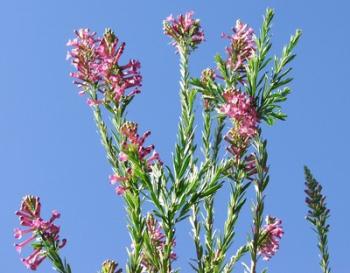 Conservation Status
Status
Freylinia visseri is assessed as as Critically Endangered (CR) on the Red List of South African Plants (http://redlist.sanbi.org). This species might have been extinct if it wasn't for the efforts of Mr Floors Visser who, in 1954 planted four plants that he had saved from the farm Hermanuskraal/Volstruisvlei (Veldrif District), on the farm Grootklipfontein in Aurora where he lived. Two of these survived and grew into substantial shrubs. In 1983, cuttings taken from these plants were cultivated at Kirstenbosch. In 1992, the Botanical Society Search and Rescue Team went back to the Velddrif District to plant 20 of these saved plants back on the farm at the original site where they naturally occurred.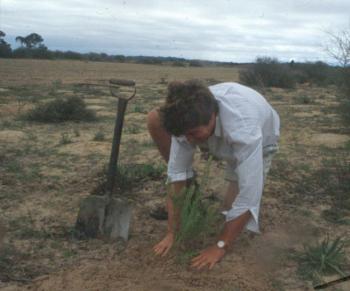 A second population of Freylinia visseri was discovered also in 1992 by Geoff Hemm on the Farm Steenboksfontein near Hopefield. Occurring about 1 km from the Berg River on a small site of 3 ha, in strandveld. Strandveld is characterized by very loose, sandy, neutral or alkaline soil.
Distribution and habitat
Distribution description
Freylinia visseri is a strandveld endemic of the Velddrif District in the Western Cape. The plants grow in an area that receives winter rainfall 200 to 300 mm per annum.
Derivation of name and historical aspects
History
The genus Freylinia was named after Count L. de Freylino. The Count was the owner of a famous garden in Buttigliera near Marengo in Italy in the early 19th century. The species name refers to Mr Floors Visser, who through his insight and actions, saved the plant from possible extinction. There are nine species of Freylinia in South Africa of which F. tropica, F. lanceolata and F. undulata make beautiful garden plants.
Mr Floors Visser first collected a flowering specimen of this plant in 1947. It was known locally as suurlat (sour rod) at Hermanuskraal (Veldrif district). This specimen was sent to Prof. Compton at the Compton Herbarium, who recognized it as an undescribed species of Freylinia. In 1954 the owner of Volstruisvlei, a wheat farm in the Hermanuskraal area, enlarged his wheat field and in the process destroyed that whole population of plants. Mr Visser, who realized the rarity of this species, quickly collected four of the ploughed up plants and planted them in his garden at Grootklipfontein (Aurora), where two survived.
In 1983 there was further interest by Mr Ernst van Jaarsveld from Kirstenbosch National Botanical Garden, who set out in search of this species in the region from old Hermanuskraal coastward, but had no luck in finding the plant. Through much searching and inquiries he located Mr Floors Visser at the farm in Aurora. Mr. Visser described the plant's appearance, where he had collected it and the habitat in which it had grown. Despite an extensive search of Hermanuskraal and the surrounding areas, there was no evidence of the plants. It was then realised that had Mr. Floors Visser not saved the plants in 1954 and replanted them, the species might have become extinct. His actions were acknowledged in the naming of the plant. Subsequently another population of the species was found near Hopefield.
It is interesting to note that long before Mr Visser sent a specimen to Prof Compton, Carl Thunberg (1743-1828) had collected a specimen of this Freylinia on his travels in South Africa which is in the herbarium in Uppsala, Sweden, but he never named this plant or noted exactly where it he collected it.
Ecology
Ecology
The beautiful purple, tubular flowers of the bell bush are pollinated by sunbirds. The seed capsules of the plant ripen from early summer and split open, releasing flat, winged seeds which are dispersed by wind. It also has rhizomes from which it resprouts and produces small suckers. This is another way of ensuring its survival in the veld, particularly after fire or being grazed.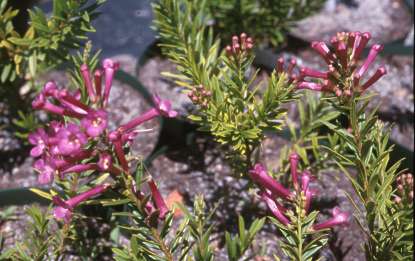 Growing Freylinia visseri
Grow
Freylinia visseri is grown easily from seed or cuttings. Seed should be sown in a well-drained soil mixture and will germinate within three weeks. Semi-mature cuttings can be taken in autumn, spring or early summer. These cuttings can be treated with a rooting hormone and rooting should take place within four weeks. Once the cuttings are rooted they should be placed an in area where they can be hardened off for approximately three weeks before being potted in a sandy soil mixture.
F. visseri is an ideal subject for any difficult, sandy coastal garden. Because it grows very tall and vigorously it can be planted in front of walls or other structures you wish to hide, acting as a natural screen or barrier, or at the back of a bed with smaller shrubs and herbaceous perennials planted in front of it. It grows in full sun and requires average watering. Regular pruning of the shrub will keep it nice and tidy.
References
Beaumont, A. 1993 Freylinia visseri growing in the wild, a search and rescue report. Veld & Flora 79: 60.
Joffe, P. 2001. Creative gardening with indigenous plants, a South African guide. Briza Publications, Pretoria.
Van Jaarsveld, E. & Duncan, G. 1983. Freylinia visseri. Veld & Flora 69: 2, 3.
Van Jaarsveld, E. 1995. Freylinia visseri. Flowering Plants of Africa 54: 78-82. National Botanical Institute, Pretoria.
Credits
Trevor Adams
Kirstenbosch National Botanical Garden
November 2004
Conservation status updated in March 2016
Plant Attributes:
Plant Type: Shrub
SA Distribution: Western Cape
Soil type: Sandy, Loam
Flowering season: Spring, Winter
PH: Acid, Alkaline, Neutral
Flower colour: Purple, Mauve/Lilac
Aspect: Full Sun
Gardening skill: Average
Special Features:
Attracts birds
Drought resistant
Horticultural zones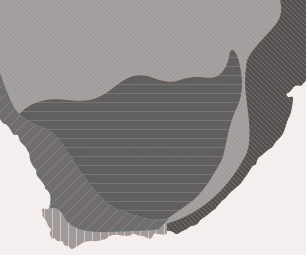 Zone 2 Coastal winter rainfall, frost free
Google QR Code Generator