Gasteria nitida (Salm-Dyck) Haw.
Family: Asphodelaceae
Common names: Bathurst ox-tongue; Bathurst-beestong (Afr.)
Introduction
Gasteria nitida is a medium-sized, aloe-like succulent, endemic to the Eastern Cape, growing in grassland regions. It has showy, banded leaves, and grows well in containers or on a rockery.
Description
Description
The plants are stemless (acaulescent), decumbent to erect, 60–200 mm tall, 50–280 mm in diameter, solitary or proliferating from the base to form small groups. The roots are succulent, up to 12 mm in diameter and gradually dilating from the tip upwards.
The juvenile leaves are in two opposite rows (distichous), becoming spirally twisted in a rosette. The adult leaves are triangular spear-shaped (triangular-lanceolate), rarely spear-shaped, ascending, 16–180 mm long, 25–80 mm broad at the base; upper surface channeled, the lower surface somewhat rounded but with a distinct off-centric keel. Both surfaces are smooth and shiny, dark green, with faint to dense, white spots arranged in irregular transverse bands. The leaf margin is entire but can sometimes be indistinctly tuberculate. The leaf tip is acute with a white tubercle. The juvenile leaves have a tuberculate leaf surface.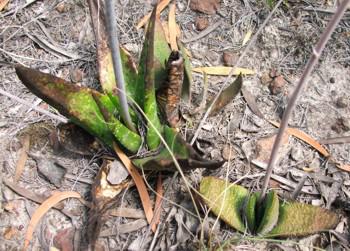 The inflorescence is an ascending lax panicle, 200–1200 mm long, up to 500 mm in diameter. The young plants often have a simple raceme. The flower stalks (pedicels) are 7–8 mm long and pendent. The flowers are 20–25 mm long, bright reddish pink, the basal portion swollen (5–8 mm in diameter), the tube 4–5 mm wide. The stamens do not protrude. The style is 13–15 mm long, with a minute stigma. The fruiting capsule is 24–30 mm long, 8 mm in diameter containing black seeds 3–4 mm long, 2  mm wide.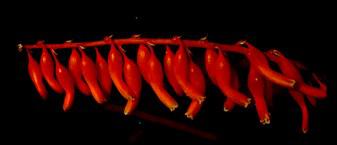 Gasteria nitida is related to Gasteria excelsa from the Eastern Cape. The latter a much larger species usually confined to cliffs or shady regions, with longer, less spotted leaves (sharp margin) and a dense, large, many branched inflorescence up to 2 m tall.
Conservation Status
Status
 It is only known from the Port Elizabeth, Bathurst and Grahamstown disticts of the Eastern Cape. It is still fairly common, and consequently has not been taken up in the Red List of South African plant species (Raimondo et al. 2009).
Distribution and habitat
Distribution description
Gasteria nitida is widely distributed in the south-eastern Cape coastal regions, from south-east of Uniondale in the west, to near the Great Fish River mouth in the east, and inland as far north as Grahamstown, up to an altitude of approximately 1 000 m. It is frequently associated with mineral-poor, slightly acidic, quartzitic sandstone soils of the Cape Supergroup, with a pH of 5.4–5.6, which include the Table Mountain Group, as well as Witteberg Group. The plants occur singly, or in small groups, in full sun or light shade, in Kouga Grassy Sandstone Fynbos and also grassland (Bisho Thornveld). They usually grow in a rocky terrain, and when not in flower they are difficult to detect. The climate is hot in summer and mild in winter. Frost, if it occurs, is slight. Annual rainfall of 600 and 800 mm is in summer and winter, but there is a tendency for summer dryness.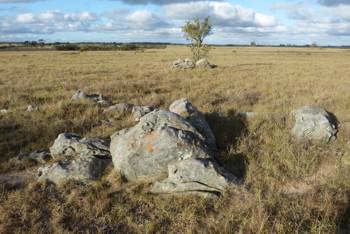 Plants in their natural habitat, between Hankey and Loerie, occurr on an open hillside with a northerly aspect. consists of shrubs 1.0–1.5 m tall , Shrubs in their habitat including, Dicerothamnus rhinocerotis, Passerina rigida, Pteronia incana, Leucadendron salignum, Protea neriifolia, Metalasia muricata and a species of Agathosma. G. nitida was observed in full sun as well as light shade. East of Bathurst, plants were observed in open grassland on a hilly terrain among quartzitic sandstone rocks, growing together with Crassula perfoliata var. minor, Bulbine frutescens, Corpuscularia sp., Crassula nudicaulis and Hawortiopsis reinwardtii. (Haworthia was recently divided into 3 genera Haworthiopsis, Haworthia and Tulista (Published by John Manning)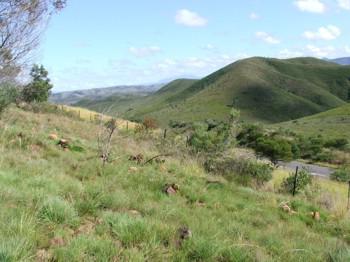 Derivation of name and historical aspects
History
The specific Latin epithet 'nitida' pertains to its shiny leaf surface ('nitidus' = shiny). G. nitida was first collected at the Cape by Hendrik Swellengrebel, second son of Hendrik Swellengrebel who was Governor at the Cape from 1739 to 1751. Although he was born in the Cape in 1734, he settled in the Doorn, a province of Utrecht, Holland. (Gunn & Codd 1981). He had a keen interest in South African plants, which he grew on his estate Schoonoord. He visited the Cape in 1776–1777 and collected the plants presumably in the Langkloof in 1776 on his second expedition to the Eastern Cape. In 1790 he donated seeds of this species to the Botanic Gardens of Utrecht (Berger 1908).
In 1817, Prince Salm-Dyck first named this species as Aloe nitida from live plants in his succulent collection. Later in 1827, the succulent botanist Haworth transferred it to its rightful place in the genus Gasteria.
Ecology
Ecology
It is pollinated by sunbirds and the seeds, which are borne on the elongated inflorescence as with most Gasteria species, are clearly wind-dispersed. Seeds ripen in late summer and autumn co-inciding with the rainy season. Like many other Gasteria species, its leaves are brittle and will form roots and grow when they fall to the ground.
Although fires are frequent where the plants occur, the plants are well adapted to these conditions; after fire usually the centres of the plants remain intact, and only the upper portion of the leaves are scorched, after which the plants recover rapidly.
Plants are grazed by livestock.
Uses
Use
The plants are not used medicinally, but are used in horticulture.
Growing Gasteria nitida
Grow
Gasteria nitida is a fairly slow-growing, attractive plant with horticultural appeal. It is easily propagated by division, offshoots, leaf cuttings or seed. If grown in shady conditions, the leaves tend to be longer and greener, as opposed to plants growing in full sun, bearing much shorter, compact leaves. Plants prefer a mineral-poor slightly acidic soil.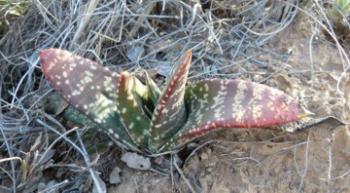 Gasteria nitida adapts well in cultivation and does best in rockeries or grown as a pot plant. It is best grown in coastal grassland gardens (Van Jaarsveld 2010), or similarly dry Mediterranean-type gardens in other parts of the world, where frost is not too severe. Plants are adapted to grow in full sun and should reach flowering size in about 3 years. To obtain pure seed, it is best to cross-pollinate two individuals. This can be accomplished using a sharpened match stick to transfer the pollen from a genetically different plant of the same species to the stigma, thereby ensuring that the species breeds true.
Propagation
Gasteria nitida seed should be sown preferably during the warmer months in a shady position. Cover with a thin layer of slightly acidic sand, and keep moist. Germination is usually within 3 weeks. Seedlings grow slow and are best planted out when large enough to handle. Propagation from leaf cuttings is best undertaken in spring. Allow the leaf cutting to form a heel by placing it on a dry window sill for a week or three. Cuttings are best rooted in a small container in a well-drained medium. Once rooted, plantlets would appear at the base of the leaf, and these can be detached once they are strong and large enough to handle. Best to feed plants with an organic feeding (compost or any other liquid fertilizer). Gasteria nitida can be watered at any time of the year, however, should be reduced during winter.
References
Mucina, L. & Rutherford, M.C. 2006. The vegetation of South Africa, Lesotho and Swaziland. Strelitzia 19. South African National Biodiversity Institute, Pretoria.
Van Jaarsveld, E.J. 1994. Gasterias of South Africa. Fernwood Press, Vlaeberg.
Van Jaarsveld, E.J. 2007. The genus Gasteria, a synoptic review. Aloe 44, 4: 84–103
Van Jaarsveld, E.J. 2010. Water wise gardening. Struik, Cape Town.
Raimondo, D., Von Staden, L., Foden, W., Victor, J.E., Helme, N.A., Turner, R.C., Kamundi, D.A. & Manyama, P.A. (eds) 2009. Red list of South African plants. Strelitzia 25. South African National Biodiversity Institute, Pretoria.
Credits
Ernst van Jaarsveld
Kirstenbosch National Botanical Garden
December 2014
Plant Attributes:
Plant Type: Succulent
SA Distribution: Eastern Cape
Soil type: Sandy
Flowering season: Early Summer
PH: Acid
Flower colour: Red, Pink
Aspect: Full Sun, Shade, Morning Sun (Semi Shade), Afternoon Sun (Semi Shade)
Gardening skill: Average
Special Features:
Attracts birds
Drought resistant
Good potplant
Horticultural zones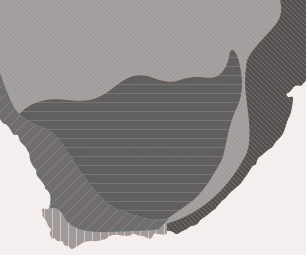 Zone 1 Coastal summer rainfall, frost free
Google QR Code Generator