Geissorhiza radians (Thunb.) Goldblatt
Family: Iridaceae
Common names: winecups, satin flower
Introduction
Looking much like half-full wine glasses, Geissorhiza radians lights up the veld in late spring, providing a spectacular but uncommon sight.
Description
Description
Geissorhiza radians is one of the most beautiful and well known species in the genus, having deep purple flowers with a large red centre usually separated by a fine white ring. Plants are normally 80 - 160 mm high and each plant may have from one to six flowers during the season.  This is a geophyte which dies back to a small bulb during the summer months and experiences fairly dry conditions. Plants normally flower in the third year from seed and can form vast expanses in wet areas.
Conservation Status
Status
Geissorhiza radians is not immediately threatened but is not considered common.
Distribution and habitat
Distribution description
Geissorhiza radians is found in seasonally marshy areas north of Cape Town, around Darling, and puts on an incredible show in mid spring. It is often found growing alongside Sparaxis bulbifera, another common wetland species. There are two other species which have similar flower colouring which also grow in the same area. G. mathewsii has slightly smaller flowers with a brighter shade of red and G. eurystigma has flowers with more muted tones. All three species are fairly restricted in their range and are quite sought after during the spring months by flower enthusiasts.
Geissorhiza radians has a fairly limited distribution with the main populations being around the town of Darling. It is also found in smaller patches through to Gordon's Bay. The plants nearly always occurs in seasonally moist wetlands which become dry in the summer months.
Derivation of name and historical aspects
History
The name Geissorhiza is derived from the Greek words geisson and rhiza which mean 'tile' and 'root' respectively. This is reference to a tunic which covers the corms like a roof tile. Geissorhiza belongs to the family Iridaceae which comprises plants with a bulb-like structure which is used as a storage organ during the dormant period. The genus Geissorhiza comprises more than 80 species in South Africa and is closely related to the genus Hesperantha, the main difference being that most Hesperantha are night bloomers.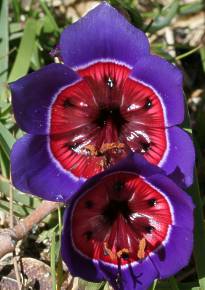 Ecology
Ecology
Geissorhiza species are pollinated by a variety of specie of insects. Several species are pollinated by bees and those species with a dark centre are pollinated by monkey beetles. The purple and red markings of the flower will appear differently to insects who will see neon colours rather than what humans perceive. Seeds usually ripen on the plants and fall within a short distance of the parent plant, resulting in large colonies forming in wet areas.
Uses
Use
Geissorhiza radians would make a fantastic addition to a patio or stoep garden when grown in small pots and can also be used to brighten up dull winter lawns.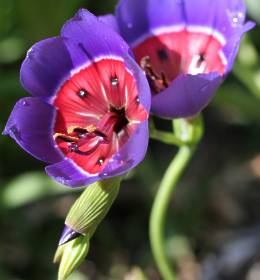 Growing Geissorhiza radians
Grow
Plants are easy to cultivate and should be grown in small pots for best effect. They need constant moisture during the winter months and should not be allowed to dry out. This species can also be naturalised in a lawn as long as it receives sufficient winter moisture and is protected from the blades of the lawn mower.
The best way to grow these plants is from corms but they are not often readily available, except from specialist growers. Seed may be an easier option. Sow seed in small pots in autumn once the weather has cooled down. Use a soil mixture which consists of equal parts river sand and fine compost. Cover the seeds lightly with sand and keep the soil moist - the pots can even sit in a saucer of water to mimic their natural conditions. The seeds can take up to a month or more to germinate and once growing can be fed every two weeks with a liquid fertilizer. Fertilizing the plants during the first year will ensure that the bulbs will be of maximum size before being stored for the summer. The size of the bulb determines the probability of having flowers during the plant's second spring. If one is lucky enough to purchase bulbs then the plants should flower during their first spring. After flowering plants should be watered until the leaves begin to yellow, which indicates impending dormancy. The plants can then be dried off during the early summer months and the bulbs lifted to be stored in a dry cupboard or garage in paper, never plastic bags.
Pests are not generally a problem but the plants may be attacked by snails or occasionally thrips.
References
Manning J., Goldblatt P., Snijman D. 2002. The Colour Encyclopedia of Cape Bulbs. 162 - 163, 176.
Van Der Spuy U. 1976. Wild Flowers of South Africa for the garden. 177 - 179.
Doutt. R. L. 1994.Cape Bulbs. 131 - 134.
Duncan. G. 2000. Wine Cups. Veld & Flora. Vol 86(3). 114 - 117.
Credits
Gary Shanks
Kirstenbosch National Botanical Garden
October 2008
Plant Attributes:
Plant Type: Bulb
SA Distribution: Western Cape
Soil type: Sandy
Flowering season: Spring
PH: Acid
Flower colour: Blue, Purple, Red
Aspect: Full Sun
Gardening skill: Average
Special Features:
Good potplant
Feeds honeybees
Wet sites
Horticultural zones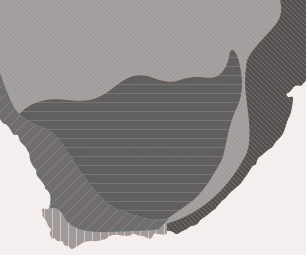 Zone 2 Coastal winter rainfall, frost free
Google QR Code Generator