Gladiolus carmineus C.H.Wright
Family: Iridaceae
Common names: cliff gladiolus, Hermanus gladiolus
Introduction
Gladiolus carmineus is a striking geophyte with intensely red-pink flowers.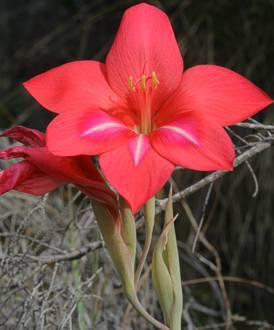 Description
Description
A cormous, perennial geophyte growing 300-500 mm high. The vertical underground stem (20-25 mm diameter) is globe-shaped and covered in layers of thin papery leaves. Modified underground leaves remain at the base of the stem (cataphylls). Three to five reduced leaves, typically flat and often trailing, cover the stem. A lowermost larger leaf, up to 50 mm long, and shorter upper leaves, usually without a blade, are distinguishable. The erect, unbranched flowering stem is flexed outward below the spike. Flowers are funnel-shaped and deep red-pink, occasionally pale in colour. The lower three tepals are each marked with a characteristic median white band. The spike bears 2-3 (sometimes up to 6) unscented flowers, with a style that arches over shorter stamens bearing yellow anthers. This species flowers during the summer months, mid-February to early April.
Gladiolus carmineus is closely related to G. carneus and was once historically confused with G. stefaniae. Differences between G. carmineus and G. carneus are the flowering time (G. carneus flowers in October-November) and the distinctive open structure of the flower. Gladiolus stefaniae is unlike G. carmineus by having larger, scarlet flowers that are shaped slightly differently and occurs in a different area. Another trait  related to the flowering time of G. carmineus, is that the foliage leaves  are completely dry and dead at flowering time. Gladiolus stephaniae is similar in this regard.
Conservation Status
Status
Gladiolus carmineus is listed as Vulnerable (VU) on the 2009 Red List of South African plants (Raimondo et al. 2009). This Gladiolus species is a habitat specialist, restricted to a small stretch of rocky coastal cliffs and always occurs in sight of the ocean. Rocky habitats, where this species can be found, are currently not particularly threatened and remain intact. However, proposed housing developments in the southwestern Western Cape area can possibly affect the localised distribution of this species.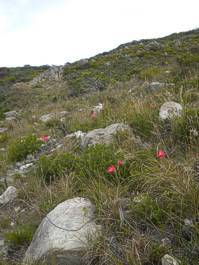 Distribution and habitat
Distribution description
Gladiolus carmineus is a narrow endemic of the southern African winter rainfall region and is restricted to coastal cliffs and rocky outcrops of the southwestern Western Cape. It occurs in the Pringle Bay area in the west and its distribution extends eastwards up along the coast to Cape Infanta. Gladiolus carmineus is confined to sandstone cliffs and rocks. The corms (modified underground stems) are often stuck in the cracks of rocky outcrops and not covered with soil.
Derivation of name and historical aspects
History
Gladiolus is a large genus of petaloid monocots and comprises more than 250 species. The name of the genus is derived from the Latin word gladius, meaning a sword and refers to the sword-shaped leaves. In particular, Gladiolus means `little sword'.
The specific name, carmineus, refers to carmine (which is also derived from Latin) and implies the bright, dark reddish colour of the flowers. It is thought that Gladiolus carmineus was originally collected by the Controller & Auditor General of the Cape of Good Hope, Sir Abercrombie Smith. He collected several corms of this very species in 1903 and sent some of them to the Royal Botanic Gardens Kew (Britain).
Ecology
Ecology
Underground storage and regenerative organs (typical of geophytes) allow Gladiolus species to remain dormant underground for most of the year. Gladiolus carmineus commences its growth cycle in the wet winter months; eventually above-ground parts dry out followed by a flowering period - this sequence of events often extends over two years. Therefore, green reduced leaves on the flowering stem are often seen long after flowering. Flowering in late-summer months, like Gladiolus carmineus, has certain ecological benefits. One being that competition for pollinators, which is often a limiting factor during spring (when many other plants are flowering), is significantly reduced. Most Gladiolus species depend heavily on specialised pollinators for sexual reproduction. The pollinator of Gladiolus carmineus is thought to be a butterfly but this is mere speculation and has never been documented.
Gladiolus is a genus very well adapted to fire and is known for edaphic specialisation (specialising on certain types of soil). Fire seems to be less important for Gladiolus carmineus, as this species is often seen flowering in old (more than 10 year old) vegetation. However, edaphic specialisation is particularly relevant to Gladiolus carmineus, as this species is confined to sandy soil on coastal rocky outcrops.
Gladiolus carmineus growing in habitat
Uses
Use
Gladiolus carmineus has no known cultural or medicinal use.
Growing Gladiolus carmineus
Grow
Growing this southern Western Cape endemic is not a task for the novice, but for the specialist and enthusiastic bulb grower it is possible to cultivate it as a garden or container plant.
This winter-growing gladiolus can be grown from corms as well as seeds. Grow this species in rocky, well-drained areas with an acid, sandy growing medium. Sow seeds or plant corms in autumn, when cool weather has set in, preferably in a well-ventilated area with a sunny aspect. Full sun exposure is desirable. Give plenty of water, every seventh to tenth day, during the growing season (winter). If conditions are ideal, flowers can be expected in the third growth season. Stake the delicate flower stems when plants are flowering to ensure that the plants remain upright. The dormant corms can be stored but must be kept completely dry during the rest period.
When cultivated these plants are not particularly long-lived.
References
Barnhoorn, F. 2005. Growing bulbs in southern Africa, edn 2. Struik, Cape Town.
Bean, A., Johns, A. 2005. Stellenbosch to Hermanus. South African Wild Flower Guide 5 (2 nd edition). Botanical Society of South Africa, Kirstenbosch.
Burman, L., Bean., A. 1985. Hottentots Holland to Hermanus. South African Wildflower Guide 5. Botanical Society of South Africa, Cape Town.
Goldblatt, P., Manning, J. 2000. Cape Plants: A Conspectus of the Cape Flora of South Africa. Strelitzia 9. National Botanical Institute, Cape Town.
Goldblatt, P., Manning, J. 1998. Gladiolus in Southern Africa. Fernwood Press, Vlaeberg, Cape Town.
Lewis, G.J., Obermeyer, A.A., Barnard, T.T. 1972. Gladiolus : a revision of the South African species. Journal of South African Botany Suppl. 10.
Manning, J. 2009. Field Guide to Wild Flowers of South Africa, Lesotho and Swaziland. Struik Nature, Cape Town.
Raimondo, D., Von Staden,.L., Foden, W., Victor, J.E., Helme, N.A., Turner, R.C., Kamundi, D.A., Manyama, P.A. (eds) 2009. Red List of South African plants 2009. Strelitzia 25. South African National Biodiversity Institute, Pretoria
Credits
Martina Treurnicht
Custodians of Rare and Endangered Wildflowers (CREW)
May 2011
Plant Attributes:
Plant Type: Bulb
SA Distribution: Western Cape
Soil type: Sandy
Flowering season: Autumn
PH: Acid
Flower colour: Red, Pink
Aspect: Morning Sun (Semi Shade), Afternoon Sun (Semi Shade)
Gardening skill: Challenging
Special Features:
Good potplant
Horticultural zones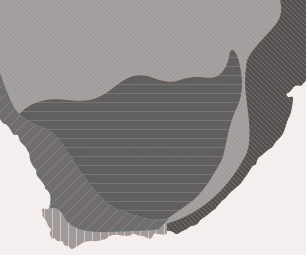 Zone 2 Coastal winter rainfall, frost free
Zone 3 Winter rainfall Karoo, light frost
Google QR Code Generator