Gladiolus ecklonii Lehm.
Family: Iridaceae
Common names: sheathed gladiolus (Eng.); kxahla, litsoantsoang, makhabebe (SS); sidvwana (Sw)
Introduction
A cormous plant with beautiful, variously spotted, pink, red or purple flowers on a white background, in summer.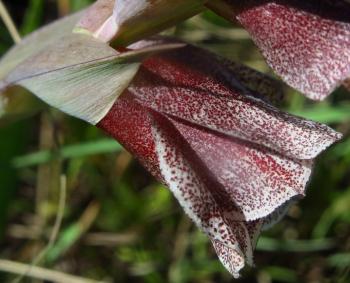 Description
Description
Plants grow 0.35–1 m high. Corm is subglobose, meaning it shaped like a ball, but not having the perfect shape of a sphere or ball, 25–40 mm in diameter, covered with tunics of coarse, brown fibres extending up into a neck, 20–60 mm long. Leaves 6–10, rarely up to 13, about 240 × 30 mm, the lower 4 leaves more or less basal and longest, usually forming a stiff, spreading fan. Leaf margins are strongly thickened, red or yellow, and the midrib is curved at the base.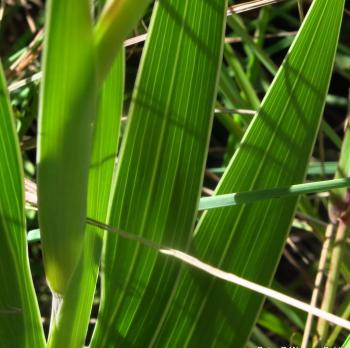 Flowers have large, whitish tepals, variously spotted, pink, red or purple. Flowering is in summer, from late December to early March. The seeds are shaped like a disc and are reddish brown.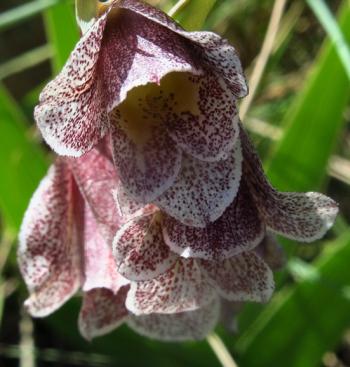 Conservation Status
Status
According to the Red List of South African plants, the conservation status of this species is Least Concern (LC), meaning that it is not threatened in its natural habitat.
Distribution and habitat
Distribution description
Gladiolus ecklonii is one of the most widespread species of southern African Gladiolus in the summer-rainfall zone. It occurs naturally from the coast to an altitude of 2 250 m in the Eastern Cape, Free State, KwaZulu-Natal, Limpopo and Mpumalanga Provinces. The species is found in well-watered, low grasslands, often in stony places, and occasionally at the edge of marshes and vleis.
Derivation of name and historical aspects
History
The genus name Gladiolus is derived from the Latin gladiolus, meaning 'little sword' and this refers to the flattened, sword-shaped leaves, which is a characteristic of the entire iris family. This species was named in 1830 after C.F. Ecklon, who first collected the species in the Amatola Mountains, near Katberg. Just like other species of Gladiolus, the flowers of G. ecklonii close at night and only open again the following morning, after the sun has risen.
Gladiolus is one of the world's most important horticultural plants, valued both as ornamental garden plants and as cut flowers. It is ranked among the most in-demand cut flowers in the world. A wide range of hybridized gladioli are available, and used for floral decoration. In the garden, gladioli are the ideal bulbs to plant amongst grasses in a grassland garden and in herbaceous borders.
Ecology
Ecology
The small, short-tubed flowers are pollinated by long-tongued bees, which visit the flowers for the nectar. Two species of Anthophorid bees, Amegilla capensis and A .fallax, have been recorded foraging for the nectar on the flowers, and in so doing, pollinating them.
Uses
Use
Gladiolus ecklonii is used in traditional medicine to treat rheumatic pains. It is also used as cut flower by florists.
Growing Gladiolus ecklonii
Grow
Gladiolus can be propagated from corms and seeds. G. ecklonii must be planted in a sunny position, in a well-drained, sandy loam soil. This is a summer-growing plant; corms must be planted in mid-spring and watered throughout the summer growing season. They may flower throughout summer. The corm can be planted roughly 150–200 mm deep and about half a foot apart. Use composted, horse manure and bone meal to mix with the soil. They take about 70–100 days to grow. During the winter season, the corms are dormant and should be left in the soil, or dig them out, shake the soil off as much as possible, and store in a dry, dark, cool place to prevent decay.
Seed can be sown in spring in a deep seed tray. The soil medium should be a mixture of fine potting soil and river sand. Water the medium 2 to 3 times, until the water runs out at the drainage holes in the bottom. Sow seeds evenly across the tray; scatter a thin layer of fine soil on top of the seeds. Water the planted seeds to moisten the top layer of the soil. Place the tray in a warm temperature of 21˚C, in full, direct sunlight. Keep the soil moist with frequent watering. Germination takes place within 4 to 6 weeks.
References
Goldblatt, P. & Manning, J. 1998. Gladiolus in southern Africa. Fernwood Press, Vlaeberg, Cape Town.
Guadalupe, L.-P. & Mayanin, R.-B.I. 2015. Use of modified atmosphere on packaging cut flower gladiolus Gladiolus grandiflorus Hort. Journal of Stored Products and Postharvest Research. 6(9): 77–82.
Lewis, G.J., Obermeyer, A.A. & Barnard, T.T. 1972. Gladiolus: a revision of the South African species. Journal of South African Botany Suppl. 10
Pooley, E. 2013. A field guide to wild flowers KwaZulu-Natal and the eastern region. Natal Flora Publications Trust, Durban.
Credits
Lungisani Zondi
Walter Sisulu National Botanical Garden
June 2017
Acknowledgements: Images courtesy of Peter Warren.
 
Plant Attributes:
Plant Type: Bulb
SA Distribution: Eastern Cape, Free State, KwaZulu-Natal, Limpopo, Mpumalanga
Soil type: Sandy, Loam
Flowering season: Early Summer, Late Summer
PH: Neutral
Flower colour: Purple, White, Pink
Aspect: Full Sun
Gardening skill: Easy
Special Features:
Medical plant
Feeds honeybees
Horticultural zones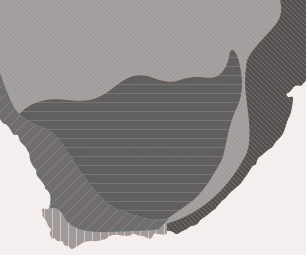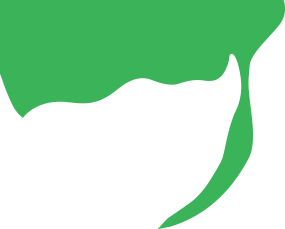 Zone 1 Coastal summer rainfall, frost free
Zone 4 Summer rainfall Karoo and Highveld, Frost in winter
Zone 5 Bushveld summer rainfall, Light frost
Google QR Code Generator