Gladiolus monticola G.J.Lewis ex Goldblatt & J.C.Manning
Family: Iridaceae
Common names: mountain painted lady, autumn painted lady (Eng.); bergpypie (Afr.)
Introduction
When you find yourself walking on the top of Table Mountain in February or March, you might be fortunate to lay eyes on this rare beauty with its delicately coloured flowers. Gladiolus monticola is endemic to the Cape Peninsula and it is worth exploring the mountains to experience the wonderful fynbos and the rare gems that can be found within.
Description
Description
A cormous geophyte. Plants grow up to 450 mm high. The corm is globe-shaped and has coarse to fine vertical fibres. Leaves are linear to sword-shaped, slightly hairy, with thick margins and midrib. Foliage leaves are produced after flowering and are dried up or already decayed at flowering time. Leaves of the flowering stem are relatively short, up to 30 mm long and 3 to 6 mm wide. The flowering stem is erect and slightly flexed to the outside. Flowers are arranged in a lightly flexed spike, with 3 to 9 flowers per spike. Flowers are pale apricot to cream-coloured. Upper tepals usually have a pinkish flush and lower tepals have a yellow stripe, usually outlined in a darker pink. Flowers have a long cylindrical tube with exserted filaments. After flowering, ovoid-ellipsoid seed capsules develop. Flowering time is mid to late summer, from mid December to March. 
Gladiolus monticola is similar to G. brevifolius (autumn pipes, herfspypie), which is a much more common species. G. monticola differs from G. brevifolius in that it has a longer perianth tube of between 22 and 30 mm with an abrupt curve at the base of the throat of the perianth. The yellow median stripe with pink border, is also characteristic. 
Conservation Status
Status
The current conservation status of Gladiolus monticola, according to the Red List of South African plants, is Rare. It is a highly restricted species and because it occurs in the Table Mountain National Park, it is relatively safe. There is, however, a potential threat of alien invasive plant species, like pines and acacias, especially in the area around Red Hill and Simonstown. There are also a number of growing pine patches on the Back Table section of the Table Mountain National Park. Because of it being a Rare species, it might be desirable to geophyte collectors, but at this stage it is not, and there is no evidence of it being illegally collected for the horticultural market.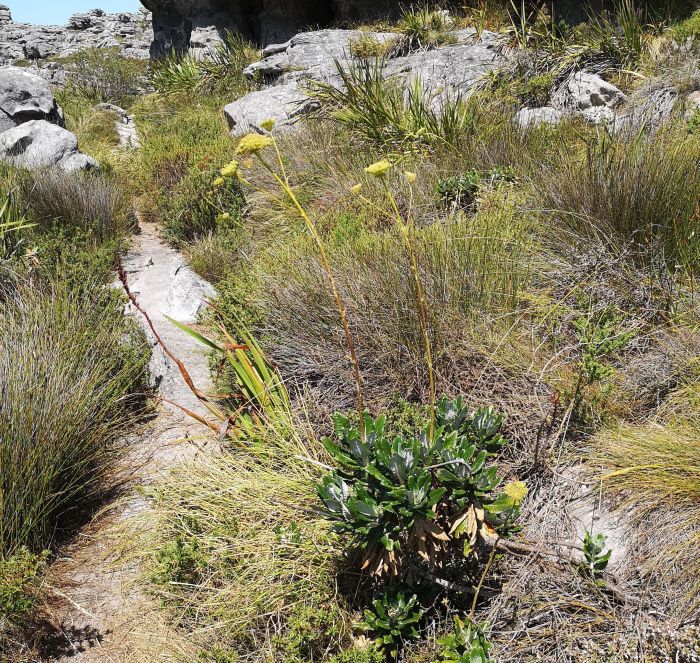 Distribution and habitat
Distribution description
Gladiolus monticola has a highly restricted range and is endemic to the Cape Peninsula, in the Western Cape. It occurs on the Back Table as well as Constantiaberg and further south towards Simonstown. Plants grow in rocky sandstone areas. They are often seen along paths and in slightly disturbed areas. 
Derivation of name and historical aspects
History
The name Gladiolus is derived from the Latin word for 'small sword', which refers to the sword-shaped leaves of most of the species in the genus. The species name monticola means 'growing on mountains' or 'mountain dweller', which refers to the habitat of this species. 
The genus Gladiolus was first described in Species plantarum by Linnaeus in 1753. Six species were included in this work. Today the Gladiolus genus is the largest genus in the Iridaceae family, with over 255 species described. G. monticola was first described in 1768 where it was recognized as a variety of Gladiolus puniceus (which later became a synonym of G. hirsutus). Ecklon cited, but did not formally describe a species he called G. tabularis and the species we now know as G. monticola became associated with that name in Flora capensis. In 1948 G.J. Lewis named the plant she thought corresponded to G. tabularis as G. monticolus but because the former was not formally described, the name G. monticolus G.Lewis was taxonomically invalid. It was finally formally described by John Manning and Peter Goldblatt in their 1998 monograph of the genus.
Ecology
Ecology
The morphology of the species clearly indicates that this species is pollinated by long-tongued flies either in the Nemestrinidae or the Tabanidae. The long-tubed flowers hold nectar at the base of the tube and it is only these specialist pollinators that are able to reach the nectar, and in the process, provide the pollinating function. Many geophytes are adapted to fire and these species usually flower profusely in the first and second year after fire. Thereafter, fewer individuals in the population flower annually.
Uses
Use
Gladiolus is a very popular group of plants in the cut-flower trade. Horticulturally they are also very important garden plants, as their flowers are exceptionally beautiful. 
Growing Gladiolus monticola
Grow
This species is not easily found in cultivation. It does, however, make an interesting subject for a potplant and because of its unusual flowering time, it can bring some colour. Plant in a sandy acidic soil mix to closely mimic the natural conditions. It is recommended that this species be grown in pots and although this species might be very difficult to obtain material because of its natural rarity, similar growing requirements will apply as for most Fynbos Gladiolus species. Seed can be sown in autumn, maybe late autumn will be more suitable, as this species flowers in late summer. Seeds can be sown in a well-drained mix of river sand and bark. 
References
Goldblatt, P., Helme, N.A. & Raimondo, D. 2006. Gladiolus monticola G.J.Lewis ex Goldblatt & J.C.Manning. National Assessment: Red List of South African plants version 2017.1. Accessed on 2020/05/06.
Goldblatt, P. & Manning, J. 1998. Gladiolus in southern Africa. Fernwood Press, Vlaeberg, Cape Town.
Lewis, G.J., Obermeyer, A.A. & Barnard, T.T. 1972. Gladiolus: a revision of the South African species. Journal of South African Botany Suppl. 10
Manning, J., Goldblatt, P. & Snijman, D. 2002. The color encyclopedia of Cape bulbs. Timber Press, Cambridge.
Credits
Ismail Ebrahim
Custodians of Rare and Endangered Wildflowers (CREW)
June 2020
Acknowledgements: the author thanks Sharndre Courtriers for images of the flowers.
Plant Attributes:
Plant Type: Bulb
SA Distribution: Western Cape
Soil type: Sandy
Flowering season: Late Summer, Autumn
PH: Acid
Flower colour: Pink, Cream
Aspect: Full Sun, Morning Sun (Semi Shade), Afternoon Sun (Semi Shade)
Gardening skill: Average
Special Features:
Good potplant
Horticultural zones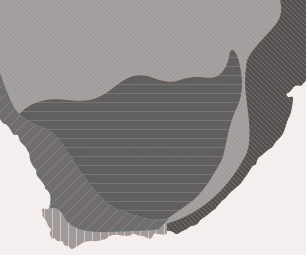 Zone 2 Coastal winter rainfall, frost free
Google QR Code Generator