Grewia caffra Meisn.
Family: Malvaceae
Common names: climbing raisin, yellow starflower (Eng.); rankrosyntjie (Afr); ilalanyathi, umunyumunu, iphata, iklolo, isaka, isilandula (isiZulu); likholo, (siSwati), nsihana (Xitsonga)
SA Tree No: 459
Introduction
A multi-stemmed shrub or small tree with a climbing habit, often seen sprawling into nearby plants for support. It bears striking, yellow, star-like flowers on 4-sided stems in summer. Its fruits are a valuable food source for many people.
Description
Description
Grewia caffra is a variable plant, a robust climber, multi-stemmed shrub or small tree, 2–8 m tall. Older stems become 4-sided. Leaves are simple, alternately arranged, oblong-ovate to lanceolate, medium to dark green; smooth and hairless or thinly stellate on both sides, with finely toothed margins.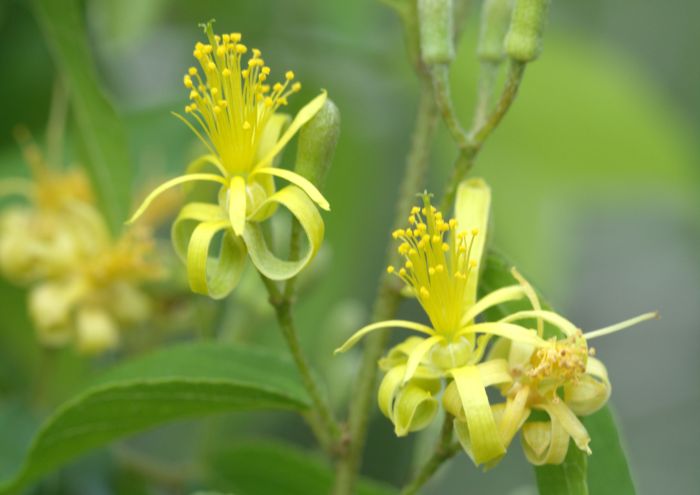 Flowers are yellow, star-like, with 5 yellow, recurving petals and 5 green, shorter sepals, borne on short stalks in axillary clusters, in summer and autumn (November to March) .
Fruit is a drupe, globose, to 10 mm diameter, yellow-green turning brown to reddish as it matures. Fruits are edible and sweet tasting.
Conservation Status
Status
Grewia caffra is not threatened and, therefore, it has a Red List Status of Least Concern (LC).
Distribution and habitat
Distribution description
Grewia caffra is native to South Africa, from the Kei River in the Eastern Cape, through KwaZulu-Natal, Mpumalanga and Limpopo. It has also been identified in Eswatini (formerly Swaziland), the southern parts of Mozambique and Zimbabwe. A thick, brush-like species with a scrambling nature, usually found at low elevations in bushveld. It is found growing close to large bodies of water, alongside river banks, near streams, large dams and on the margins of coastal forests.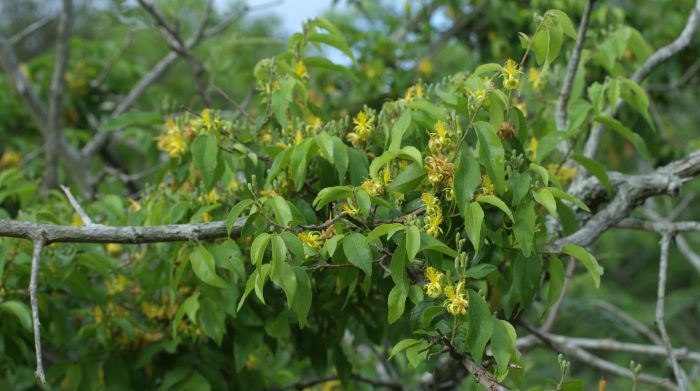 Derivation of name and historical aspects
History
The genus Grewia was named by Carl Linnaeus to pay tribute to English botanist Nehemiah Grew (1641–1712), regarded as a pioneer in the fields of plant anatomy and microscope research. The epithet caffra was given to plants in older botanical works, meaning 'from Kaffraria', a former name for the southeastern parts of South Africa.
There are over 400 species of Grewia, widely distributed in Africa, Asia and Australia. Of the 27 southern African species, some worth growing in your garden are Grewia occidentalis, G. flavescens, G. lasiocarpa and G. robusta.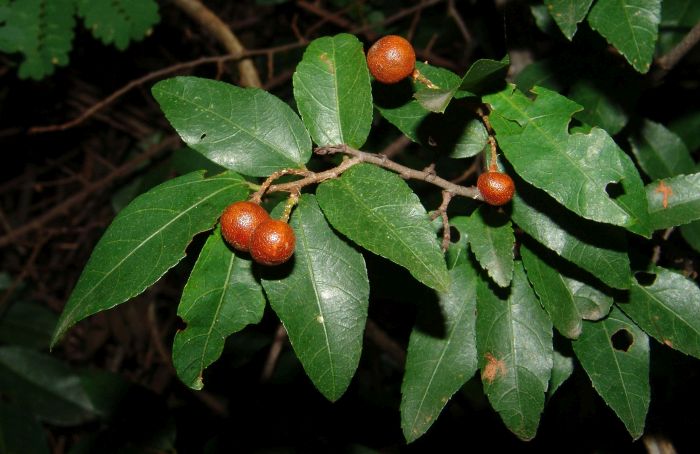 Ecology
Ecology
The larvae of butterflies belonging to the Hesperiidae family are known to feed on species of Grewia. Leaves are browsed by game and stock. Ripe fruits are enjoyed by various birds, wild animals and humans. Seeds that have passed through these animals germinate rapidly, the stomach acids speed up the breakdown of the seed coat.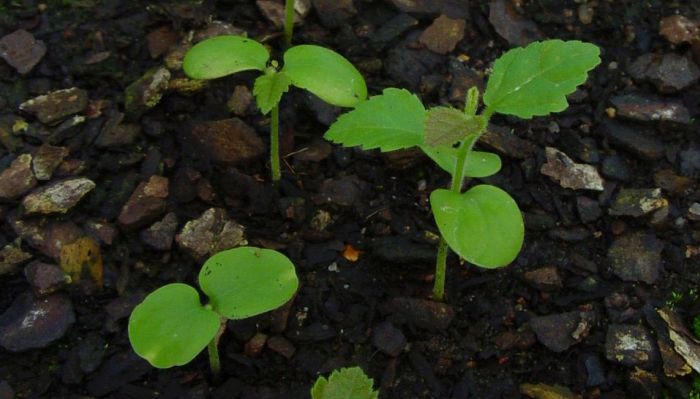 Uses
Use
The fruit of Grewia caffra is edible and consumed either raw or dried. Grewia caffra is valued in certain cultures for its medicinal value. Leaves, stems and roots have shown to possess soothing and healing properties, taken as an infusion, decoction or applied topically; it is used as a remedy to treat diarrhoea and dysentery or applied to wounds, cuts, ulcers or skin irritations.
Stems are used to make traps for monkeys and crocodiles, and for hut building. Good sticks can be made from the wood.
Growing Grewia caffra
Grow
A hardy plant, best grown in the full sun and blessedly tolerant of a wide variety of soils. Use in a mixed background planting or as informal, loose hedging. Prune lightly to shape when necessary. Plants will benefit from occasional fertilising. It is an ideal plant for a wildlife-friendly garden as it attracts and feeds both birds and butterflies.
Grewia caffra can be propagated from sowing seeds in spring or taking stem cuttings at any time of the year. Remove seed from the capsule and sow in a sandy loam soil mix in a seed tray. It is not necessary to treat them. Keep the tray moist and in a warm place. Germination can take anything from 3 to 6 weeks. Semi-hardwood cuttings are best treated with a root-stimulating hormone powder before being placed in a well-drained rooting medium and kept moist for 4 to 6 weeks. Once rooted, they can be planted in individual containers and grown on until well established for planting into the garden.
References
Fern, K. 2021. Grewia caffra. Useful Tropical Plants. Online. https://tropical.theferns.info/viewtropical.php?id=Grewia+caffra. Accessed 23/08/2021.
Foden, W. & Potter, L. 2005. Grewia caffra Meisn. National Assessment: Red List of South African Plants version 2020.1. Accessed on 2021/09/14
Hyde, M. A., Wursten, B. T., Ballings, P. & Coates Palgrave, M. 2021. Flora of Zimbabwe: Grewia caffra. https://www.zimbabweflora.co.zw/speciesdata/species.php?species_id=138400. Accessed 23/08/2021
iSpot share nature. Grewia caffra. https://www.ispotnature.org/communities/southern-africa/species-dictionary/27374/grewia-caffra/observations. Accessed 24/08/2021.
Learn2grow. Grewia caffra. http://www.learn2grow.com/plants/grewia-caffra/ Accessed 23/08/2021.
Long, C. 2005. Eswatini's Flora – siSwati Names and Uses. Online. http://eswatininaturereserves.com/flora/clbotanical.asp.
Palmer, E. & Pitman, N. 1972. Trees of southern Africa. Balkema, Cape Town.
Pooley, E. 2003. The complete field guide to trees of Natal, Zululand and Transkei. Natal Flora Publication trust.
Credits
Robert Jooste and Cherise Viljoen
Kirstenbosch National Botanical Garden
October 2021
Acknowledgements: images by Geoff Nichols.
Plant Attributes:
Plant Type: Climber, Shrub, Tree
SA Distribution: Eastern Cape, KwaZulu-Natal, Limpopo, Mpumalanga
Soil type: Sandy, Clay, Loam
Flowering season: Early Summer, Late Summer, Autumn
PH: Acid, Neutral
Flower colour: Yellow
Aspect: Full Sun, Morning Sun (Semi Shade), Afternoon Sun (Semi Shade)
Gardening skill: Easy
Special Features:
Attracts birds
Attracts butterflies
Hedge/screen
Edible plant
Medical plant
Useful plant
Feeds honeybees
Horticultural zones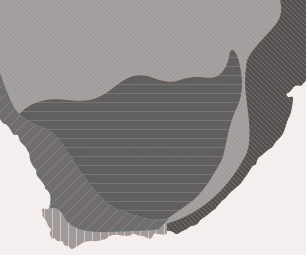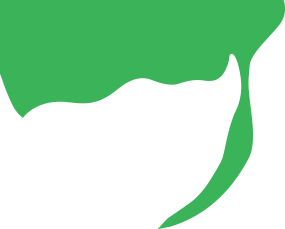 Zone 1 Coastal summer rainfall, frost free
Zone 2 Coastal winter rainfall, frost free
Zone 3 Winter rainfall Karoo, light frost
Zone 5 Bushveld summer rainfall, Light frost
Google QR Code Generator