Grewia flavescens Juss.
Family: Malvaceae
Common names: sandpaper raisin, rough-leaved raisinbush, square-stemmed raisin (Eng.); skurweblaarrosyntjie (Afr.); mogwane (N. Sotho); loklolo (Swazi); nsihana, nciwana (Tsonga); mokgomphatha, motsotsojane, motuu (Tswana); mupharasheni (Venda); ilalanyathi (Zulu)
SA Tree No: 459
Introduction
The light green Grewia flavescens has beautiful, bright yellow, and sometimes fragrant flowers. It is a frost-resistant, hardy shrub or small tree that is adaptable to all soils, from clay to sand, and does not require much water. It makes a good screen for your bird garden.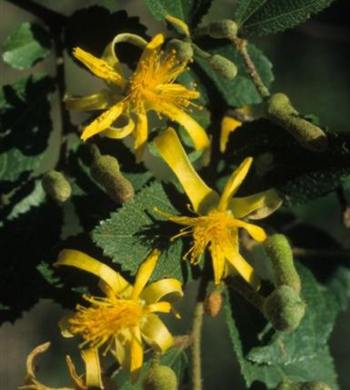 Description
Description
Grewia flavescens is a multi-stemmed shrub or small tree, up to 5 m high. Its bark is dark grey-brown. The main stem is 4-angled and deeply grooved.
The young branchlets have rough hairs and later become smooth. The leaves are alternate, oblanceolate, obovate or oblong-lanceolate, 40-120 x 20-85 mm, usually ± 70 x 30 mm, with apex pointed or with a drip tip. They are 3-veined from a rounded or lobed base, almost symmetric, light green, roughly hairy, particularly below, and the margin is irregularly serrate. The leaf stalk is up to 7 mm, with long hairs. The flowers are bright yellow, borne in axillary clusters of 3 on short stalks, and are sometimes fragrant. Their sepals are yellowish-green flushed with pink on the outside and yellow inside. The petals are yellow and about half the size of the sepals. The flowers have a central mass of yellow stamens. The fruits are single, shallowly 2-lobed, or occasionally 4-lobed; each lobe is 8-14 mm in diameter and shiny with rough white hairs. The flowering time is December-March.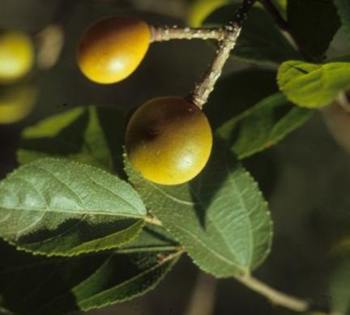 Conservation Status
Status
According to Raimondo et al. (2009), Grewia flavescens was of Least Concern (LC), when it was evaluated against the five IUCN criteria, as it does not qualify for the categories Critically Endangered, Endangered, Vulnerable or Near Threatened.
Distribution and habitat
Distribution description
Grewia flavescens naturally occurs in bushveld, open woodland and thicket. It is frequently associated with termite mounds, rocky koppies, riverine fringes and the margins of forests. It is widespread at medium to low altitudes, in temperate climates with moderate summer rainfall. Its distribution ranges from northern KwaZulu-Natal to tropical Africa, and India.
Derivation of name and historical aspects
History
The genus Grewia was named after Nehemiah Grew (1641-1712), an English physician. The specific name flavescens refers to the yellowish flower colour. Grewia flavescens is sometimes mistaken for Grewia retinervis, which is a multistemmed shrub or small tree from arid bushveld, usually on Kalahari sand. It has a compressed stem which is not 4-angled, unlobed drupes, and leaves which are slightly rough on both surfaces.
Ecology
Ecology
The sandpaper raisin is often associated with termite mounds, rocky koppies and riverine fringes. Wild animals such as warthogs, antelopes and baboons, as well as birds, eat the fruits. The seeds that have passed through the stomach of these animals germinate rapidly, presumably due to the stomach acids that help to dissolve the tough seed coat.
Uses
Use
The leaves of this Grewia are browsed by game and livestock. The fruit is edible, tasty and loved by birds. In Kaokoland in northern Namibia, the berries of Grewia flavescens (omuhe in Herero) are soaked in water for two or three days to make a refreshing drink. This species makes a good screen for the garden, being very attractive with its light green leaves and bright yellow flowers. It could form an essential part of bush clumps or a bird garden.
Growing Grewia flavescens
Grow
Grewia flavescens can be grown from seed, but germination is unpredictable. For best results collect seeds from wild animal droppings. Such seeds germinate better. These trees grow best in temperate climates with moderate summer rainfall, but in marginal climates they are leafless for three months. They do not require much water and are frost-hardy. The initial growth of Grewia flavescens is 1 m in height per year. Normally it will start flowering and fruiting when about two or three years old. It flowers profusely, and in an experimental garden the fruits attracted more birds than any other plant. Best results can be expected by accommodating the scrambling habit along a fence.
References
Boon, R. 2010. Pooley's Trees of eastern South Africa: A complete guide, edn 2. Flora & Fauna Publication Trust, Durban.
Coates Palgrave, M. 2002. Keith Coates Palgrave Trees of southern Africa, edn 3. Struik, Cape Town.
Johnson, D., Johnson S. & Nichols, G. 2002. Gardening with indigenous trees. Struik, Cape Town.
Raimondo, D., Von Staden, L., Foden, W., Victor, J.E., Helme, N.A., Turner, R.C., Kamundi, D.A. & Manyama, P.A. (eds). 2009. Red List of South African plants 2009. Strelitzia 25. South African National Biodiversity Institute, Pretoria.
Schmidt, E., Lötter, M. & McCleland, W. 2002. Trees and shrubs of Mpumalanga and Kruger National Park. Jacana, Johannesburg.
Van Wyk, [A.E.] Braam & Van Wyk, P. 1997. Field guide to trees of southern Africa. Struik, Cape Town.
Van Wyk, A.E., Van den Berg, E., Coates Palgrave, M. & Jordaan, M. 2011. Dictionary of names for southern African trees: Scientific names of indigenous trees, shrubs and climbers with common names from 30 languages, edn 1. Briza Publications, Pretoria.
Van Wyk, B.-E., & Gericke, N. 2000. People's plants: A guide to useful plants of southern Africa. Briza Publications, Pretoria.
Credits
M.S. Mothogoane
National Herbarium, Pretoria
November 2012
Plant Attributes:
Plant Type: Shrub, Tree
SA Distribution: Gauteng, KwaZulu-Natal, Limpopo, Mpumalanga, North West
Soil type: Sandy, Clay
Flowering season: Late Summer
PH: Neutral
Flower colour: Pink, Yellow
Aspect: Full Sun
Gardening skill: Challenging
Special Features:
Attracts birds
Hedge/screen
Edible plant
Horticultural zones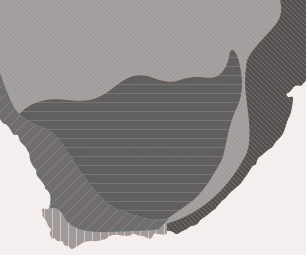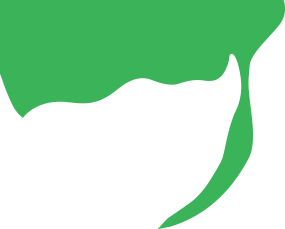 Zone 1 Coastal summer rainfall, frost free
Zone 5 Bushveld summer rainfall, Light frost
Google QR Code Generator