Greyia Hook. & Harv.
Family: Melianthaceae
Common names: wild bottlebrushes
Introduction
This family occurs only in South Africa, and consists of a single genus, Greyia Hook. & Harv. with 3 species, all small trees or shrubs.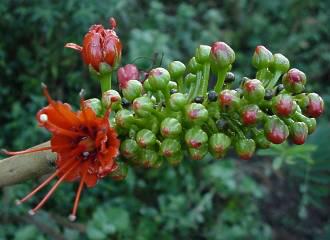 The three species have a number of common names :
Greyia sutherlandii Hook. & Harv.: Natal bottlebrush (Eng.); Natalse baakhout (Afr.); isiDwadwa, inDalu, uBande (Zulu); umBere-bere (Xhosa)
Greyia radlkoferi Szyszyl.: woolly bottlebrush, Natal bottlebrush (Eng.); wollerige baakhout (Afr.); inHlazane (Siswati), inDlebelembila (Swazi)
Greyia flanaganii Bolus : Kei bottlebrush (Eng.); Kei baakhout (Afr.); uSinga lwamaxhegokazi (Xhosa)
Description
Description
 Greyia are all shrubs or small trees. Leaves are simple, spirally arranged, clustered at the ends of the branchlets, almost circular, with 3 or more veins from the base. Flowers are showy, red, in terminal, petals longer than the sepals, overlapping and funnel-shaped.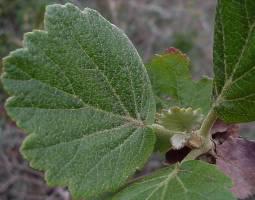 Conservation Status
Status
In the Red Data List, only G. flanaganii is categorized as Rare, while the other two species are both in the Least Concern category.
None of the species in this genus are listed under the Tree Species Protected list in terms of the National Forest Act of 1998 (Act 84 of 1998).
Derivation of name and historical aspects
History
The genus was named in honour of Sir George Grey (1812 - 1898) who was a Governor of the Cape Colony. He was a great patron of botany.
In G. sutherlandii, the specific epithet honours Peter Cormack Sutherland (1822 - 1900), a medical doctor from Aberdeen, Scotland, who was the Surveyor-General of Natal in 1855; he made many plant collections during his term of office. He was also the first person to send specimens of the tree to England. The common name bottlebrush suggests the resemblance of the flowers to those of the common cultivated bottlebrush of the Australian genus Callistemon.
G. flanaganii was named after Henry George Flanagan, 1861- 1919, a South African-born collector and traveller. Flanagan also owned Prospect Farm in the Komga District of Eastern Cape, where he developed a noteworthy garden containing rare exotics as well as South African trees and shrubs.
In G. radlkoferi the specific name is derived from Ludwig Radlkofer (1829 - 1927), Professor of Botany and Director of the Botanical Museum in Munich. The Swazi name means 'dassie's ear'.
Ecology
Ecology
G. sutherlandii flowers attract birds. The nectar-rich flowers of G. flanaganii attract many insects such as honeybees, as well as pollinators like sunbirds.
Uses
Use
The light, soft wood of the Natal bottlebrush, G. sutherlandii, is known to be used by some African tribes to make household utensils. Some farmers use it for fencing. It is more popular horticulturally than its cousin species, G. radlkoferi and G flanaganii. G. sutherlandii is best for smaller gardens and courtyard gardens. It can also be grown in a pot on the veranda.
Xhosa people in Eastern Cape place the roots of G. flanaganii on either side of their kraals (enclosures) as it is thought to ward off sickness and prevent theft of livestock.
All Greyia species are worth cultivating, but G. sutherlandii is the most attractive and suitable for the average garden. Although the greyias are large shrubs or even small trees, they make good pot-plants which will flower when quite small. They could be used as decorative window plants in countries where the winters prove too bitterly cold for their survival. They should be given water about once a fortnight in winter, just enough to keep them alive in the pots.
Growing Greyia
Grow
G. sutherlandii is hardy and will survive cold winters in Johannesburg. It likes light, well-drained soil containing compost, and is ideal for a sunny rockery. This fairly drought-resistant shrub should be given moisture during the summer months, but needs little or none during the winter. It does not like the sub-tropical climate in Durban. It may grow from seed sown in September and will grow easily from cuttings struck from new shoots which grow up from the base. It is relatively hardy, and fairly drought-resistant. Under suitable conditions with well-drained soil and good aeration, it is a fast grower but may not grow taller than 3 m in a garden. It does not flower well in coastal areas.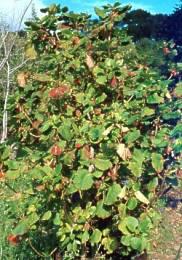 G. flanaganii has great horticultural potential as a spring-flowering shrub that is yet to be fully explored by growers and gardeners. This tree is growing in several botanical gardens associated with universities and botanic gardens in South Africa. It is very frost tolerant and remains evergreen even in areas exposed to frost in winter. It is very hardy and drought-resistant.
In cultivation, established plants will thrive in any soil type. It is well suited to small gardens, but it can also be used to good effect as a specimen plant in larger gardens. It is relatively slow-growing, and is propagated from cuttings and seed. Softwood cuttings taken from leafy shoots and placed in a well-drained growing medium will root readily at any time of the year. Raising plants from seed is more challenging. It is best to sow freshly collected seed which has a germination rate of about 75%. Seedlings need a lot of care as they are fragile and should only be transplanted when they are quite large and have been hardened off.
G. radkoferi is easy to grow from seed or cuttings. For best results take woody cuttings in spring and keep misted, but not damp. When sowing seed, place them in a sunny location and keep moist. Both cuttings and seeds will root faster if they have bottom heat. Prick out seedlings into trays or small packets in midsummer and leave them there for the remainder of the season. When the cold weather arrives the young plants will drop their leaves. Transplant to the garden the following spring. G. radlkoferi will grow at the coast but it won't flower as well, as this plant needs colder, drier winters to set bud. It does flower in Cape Town at Kirstenbosch, where it receives winter rain. The open structure of G. radlkoferi provides a dappled shade, perfect for growing Agapanthus, Dietes or Tulbaghia.
This Greyia is susceptible to aphid infestation during its flowering and leafing-out period.
Species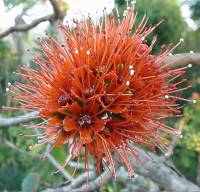 G. sutherlandii grows on the slopes and rocky ridges of the Drakensberg up to an altitude of about 1800 m, also in the Eastern Cape, the eastern Free State, KwaZulu-Natal, Swaziland and eastern Gauteng.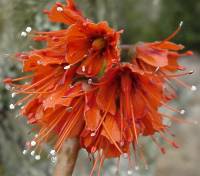 G. radlkoferi occurs mainly in the mist-belt mountains of Mpumalanga, in KwaZulu-Natal near Ngome and in Swaziland. It grows in deep channels along streambanks, bordering evergreen forest and among rocks.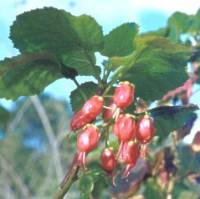 G. flanaganii is a rare endemic of Eastern Cape, where it is found on the grassy hillsides and among rocks on the steep slopes of the Kei River and its tributaries, the Toise and Kabusi Rivers. The seedlings are tiny and fragile. This may be the reason why these shrubs are often found emerging from fissures in rocks.
References
Coates Palgrave, M. 2002. Keith Coates Palgrave Trees of southern Africa, edn 3. Struik, Cape Town.
Coates Palgrave, K. 1983. Trees of southern Africa. Struik, Cape Town.
Manning, J. 2001. Eastern Cape. South African Wild Flower Guide 11. Botanical Society of South Africa & National Botanical Institute, Cape Town.
Nichols, G. 1998. Liven up your garden. Farmer's Weekly 84: 68.
Palmer, E. & Pitman, N. 1972. Trees of southern Africa, vol. 2. Balkema, Cape Town.
Pooley, E. 1993. The complete field guide to trees of Natal, Zululand and Transkei. Natal Flora Publications Trust, Durban.
Steyn, E.M.A. & Smith, G.F. 1998. Greyia flanaganii: Tree of the Year. Veld & Flora 84: 14, 15.
Steyn, E.M.A., Smith, G.F. & Condy, G. 1999. Greyia flanaganii. Flowering Plants of Africa 56: 86 - 92.
Steyn, E.M.A., Robbertse, P.J. & Van Wyk, A.E. Floral development in Greyia flanaganii with notes on inflorescence initiation and sympodial branching. South African Journal of Botany 53: 194-201.
Van Wyk, A.E. (Braam) & Van Wyk, P. 1997. Field guide to trees of southern Africa. Struik, Cape Town.
Credits
Frank Nonyane
Pretoria National Herbarium
September 2010
Plant Attributes:
Plant Type: Shrub, Tree
SA Distribution:
Soil type:
Flowering season:
PH:
Flower colour:
Aspect:
Gardening skill:
Special Features:
Horticultural zones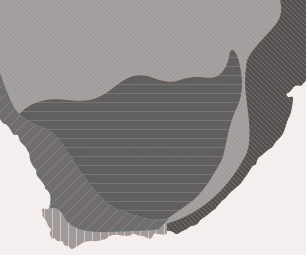 Google QR Code Generator