Haemanthus humilis subsp. hirsutus
Haemanthus humilis Jacq. subsp. hirsutus (Baker) Snijman
Family: Amaryllidaceae
Common names: Rabbit's ears (Eng.); bobbejaanoor, velskoenblaar (Afr.); tsebe ea phofu, sekitla (Sesotho)
Introduction
One of the best available bulbous plants to grow in those rocky, shady spots, the rabbit's ears knows how to put on a show. Whether it is in fruit, or flowering, or not, it sure is a specimen not to be missed.
Description
Description
Haemanthus humilis subsp. hirsutus is a deciduous, perennial bulb, about 300 mm tall. The leaves are tongue-shaped, held more or less erect, can grow up to 300 mm long and 40–130 mm wide, light green and hairy or hairless, or hairless with hairy margins, or the upper surface is hairless and the undersurface is hairy. It has pink or white flowers in a stiff inflorescence which sprouts straight out of the bulbs, in spring to late summer (Sep. to Feb.). The inflorescence stalk is slightly curved, pale green to reddish purple, measuring 50–300 mm long and the umbel has about 20–120 flowers and is 50–120 mm wide. The flowers usually measure about 18 mm long and the flower tube is 12 mm long; the stamens are slightly spreading, longer than the perianth, sticking out by 5 to 15 mm. The anthers are yellow; and the style is as long as the stamens. Fruit is white to orange, ovoid, about 10 mm in diameter, with a fruity smell when ripe.
The subsp. humilis can be distinguished by having stamens that are included or shortly exserted, compared to those of subsp. hirsutus which are well exserted.
Conservation Status
Status
According to the South African National Biodiversity Institute Red List of South African plants, Haemanthus humilis subsp. hirsutus is not threatened and is assessed as Least Concern (LC), meaning that it has a low risk of extinction.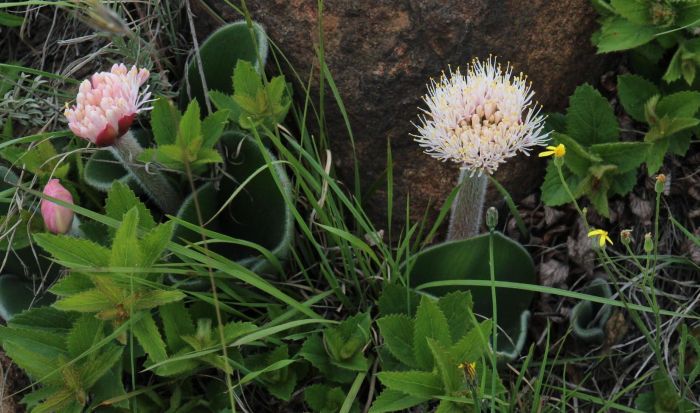 Distribution and habitat
Distribution description
Haemanthus humilis subsp. hirsutus is not endemic to South Africa, as it also occurs in Lesotho and Eswatini (Swaziland). It can be found mainly in the northern regions of South Africa, and is widespread in the Highveld and the Drakensberg Escarpment of Mpumalanga and the midlands of KwaZulu-Natal, as well as in Gauteng, Limpopo, Free State and the Eastern Cape.
Most species in the genus Haemanthus occur in the arid Namaqualand, in the northwestern part of South Africa. Some species occur in the winter rainfall region and the others are found in the summer rainfall region, and some, such as H. albiflos occur in both. Some species, such as H. pubescens subsp. pubescens, occur in the coastal dunes, just above the high water mark.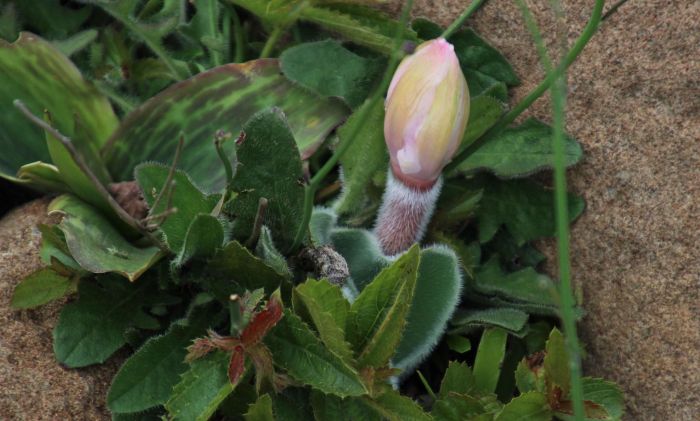 Derivation of name and historical aspects
History
Haemanthus humilis subsp. hirsutus was first described by Baker in 1878, from a plant from the Transvaal sent by Mr C. Mudd, to the nurserymen, Messrs. Veitch and Sons in Chelsea, England, where it flowered.
The genus name Haemanthus means 'blood flower', and refers to the red flowers of some of the species. The species name humilis means 'low growing', referring to the size of the plants, and the subspecies name hirsutus means 'hairy', referring to the leaves.
Ecology
Ecology
They grow in rocky places where its bulb can be protected from animals that feed on the bulbs, such as porcupines.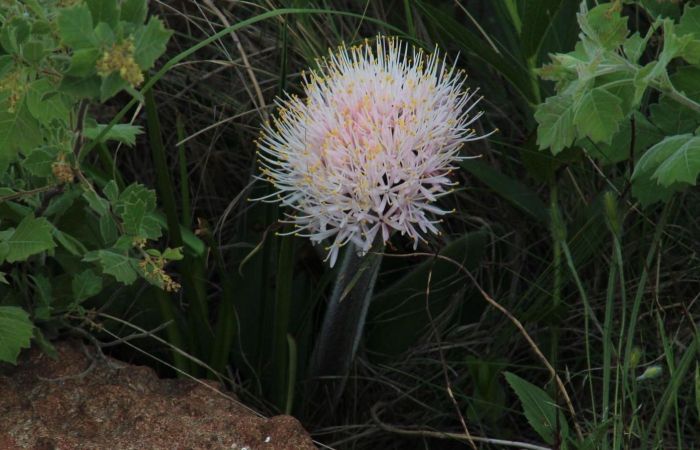 Uses
Use
A mixture of crushed bulb and water is used to fend off evil spirits by spraying the mixture around the house. This plant is used in traditional medicine to treat stomach complaints, wounds and asthma. It also gives negative tests for cardiac glycosidal activity.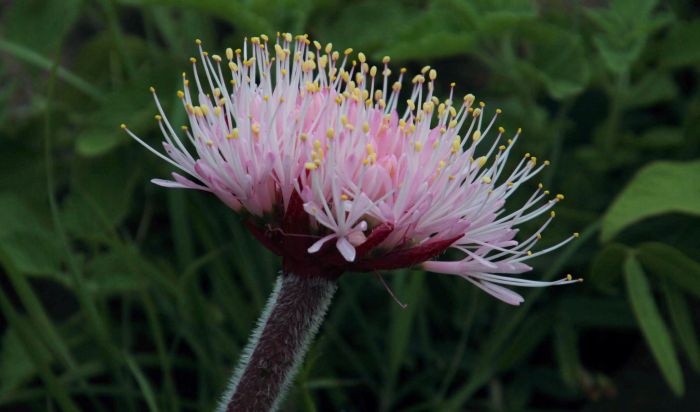 Growing Haemanthus humilis subsp. hirsutus
Grow
The rabbit's ears can be propagated from leaf cuttings, offsets and seeds. Propagation by seeds is the most reliable way to increase the stock. Haemanthus seeds have a short life span. Alex March, a horticulturist from Nkosi Nursery in Howick, KZN, advises that the seeds must be collected while they are still fresh on the plant or just as they are about to drop. As they mature, they turn orange-red. The seeds must be sown immediately, in deep seed trays or pots. Use a well-drained growth medium, of equal parts of coarse river sand and compost. Place the seeds on the medium surface, with enough space between each other and simply press them down into the medium, to lie just below the medium level. They will germinate in between 10 to 20 days. Allow them to spend one season undisturbed in the trays, then pot them up when they are dormant. In spring, they will grow and bulk up in size. Watch out for Amaryllis caterpillar, they love to eat the bulbs and leaves.
Plants can be lifted and offsets removed in early spring, just before growth begins. 
Haemanthus humilis is easy to grow and well suited to rock gardens and containers. Use a sharply drained, compost-enriched soil. Plant the bulb with the top of the neck just above the soil level. Water in spring and summer and allow the soil to dry out between drenchings. Keep the plants dry and cool in winter.
Grow Haemanthus humilis in light shade.
References
Arnold, T.H. et al. 2002. Medicinal and magical plants of southern Africa: an annotated checklist. Strelitzia 13. National Botanical Institute, Pretoria.
Duncan, G. 2010. Grow bulbs. Kirstenbosch Gardening Series. South African National Biodiversity Institute, Cape Town.
Germishuizen, G. & Meyer, N.L. (eds) 2003. Plants of southern Africa: an annotated checklist. Strelitzia 14. National Botanical Institute, Pretoria.
LLIFLE, The encyclopedia of bulbs, Haemanthus humilis subsp. hirsutus (Baker) Snijman. http://www.llifle.com/Encyclopedia/BULBS/Family/Amaryllidaceae/33598/Haemanthus_humilis_subs._hirsutus. Accessed 14 November 2005.
Pooley, E. 2003. Mountain flowers, a field guide to the flora of the Drakensberg and Lesotho. Natal Flora Publications Trust, Durban.
Snijman, D.A. 1984. A revision of the genus Haemanthus L. (Amaryllidaceae). Journal of South African Botany, Suppl. Vol. 12.
Snijman, D.A. & Victor, J.E. 2004. Haemanthus humilis Jacq. subsp. hirsutus (Baker) Snijman. National Assessment: Red List of South African plants version 2020.1. Accessed on 2020/11/06.
Credits
Ndiyafhi Muthuhadini and Dineo Dibakwane
Walter Sisulu National Botanical Garden
December 2020
Acknowledgements: the authors thank Tony Rebelo for providing the images and Alex March for propagation information.
Plant Attributes:
Plant Type: Bulb
SA Distribution: Eastern Cape, Free State, Gauteng, KwaZulu-Natal, Limpopo, Mpumalanga
Soil type: Sandy, Loam
Flowering season: Spring, Early Summer, Late Summer
PH:
Flower colour: White, Pink, Yellow
Aspect: Shade, Morning Sun (Semi Shade), Afternoon Sun (Semi Shade)
Gardening skill: Easy
Special Features:
Feature plant
Fragrant
Good potplant
Medical plant
Horticultural zones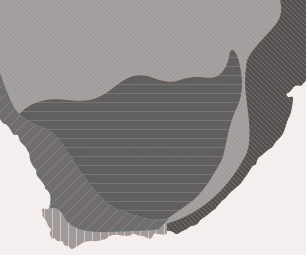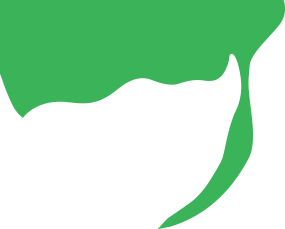 Zone 4 Summer rainfall Karoo and Highveld, Frost in winter
Zone 5 Bushveld summer rainfall, Light frost
Google QR Code Generator