Haworthiopsis coarctata (Haw.) G.D.Rowley (= Haworthia coarctata Haw.)
Family: Asphodelaceae
Common names: crowded haworthiopsis
Introduction
A delightful little succulent that makes a very attractive and singular, small house plant or groundcover in the garden.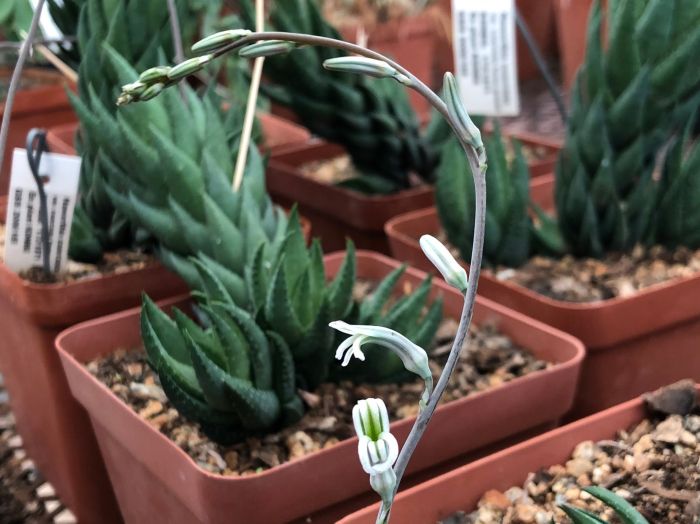 Description
Description
Haworthiopsis coarctata has long stems packed with robust, succulent leaves, covered with distinctive white, pearly warts or bands and grows from 50 mm, up to 200 mm tall; the stems growing longer with age. The mature rosettes of leaves are up to 300 mm long. New plants form at the base and they develop into large clumps. Leaves are normally dark green, but sometimes acquire a rich purple-red when grown in full sunlight.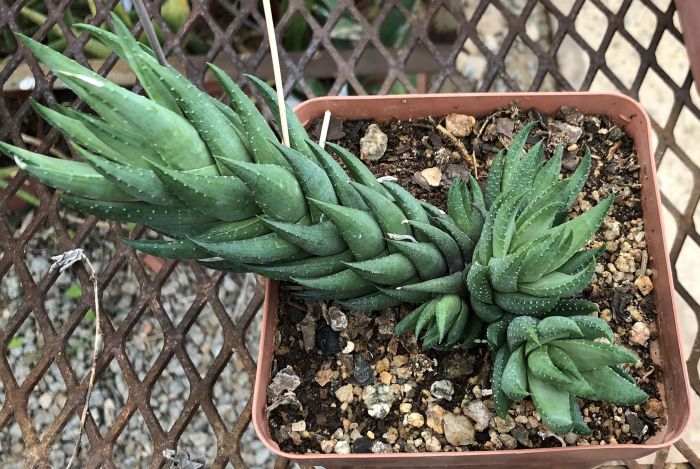 It has a whip-like inflorescence stem with tiny, greenish white, tubular flowers that occur at the tip of the stem, up to 300 mm high above the foliage, in spring. The inflorescence is simple or occasionally compound. The tepals are fused, the floral tube is straight and the lower inner tepals are revolute.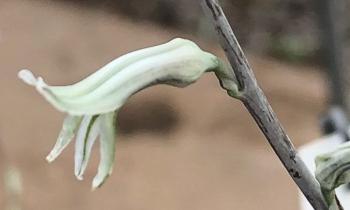 Haworthiopsis coarctata may be confused with H. reinwardtii, both having the same stemmed habit, but the warts (tubercles) on the leaves of H. coarctata are smaller, smoother and rounder, and the leaves are usually wider and flatter, than those of H. reinwardtii.
Conservation Status
Status
This species is not threatened and is evaluated as Least Concern (LC) on the Red List of South African plants. The main threats are harvesting for the medicinal plant trade, competition from alien invasive plants and removal from the wild for the succulent plant trade.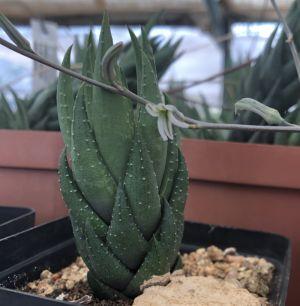 Distribution and habitat
Distribution description
The population of Haworthiopsis coarctata is concentrated in the Grahamstown area, but extending to Addo in the west and near the great Fish River in the east, of the Eastern Cape, in stony soil among rocks, on hillsides and often in exposed situations.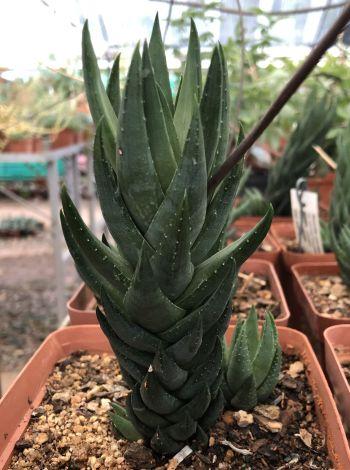 Derivation of name and historical aspects
History
In the early days of the Cape Colony, shortly before 1700, these plants were included in the genus Aloe. The genus Haworthia was first used in 1809 by Henri Auguste Duval, and was named in honour of the English botanist, Adrian Hardy Haworth. Recent molecular research has split the old genus Haworthia into 3 new genera, one of them being Haworthiopsis, which means 'like Haworthia', alluding to their similarity to haworthias. The species name coarctata means 'crowded'.
Plants in this genus generally have smaller rosettes of leaves, and the leaves are tougher, with a thicker epidermis than those of Haworthia.
Haworthias and Haworthiopsis (like gasterias) are variable in the field and in the past, collectors would pick out plants that had a leaf, habit or character that looked different to its companions and then publish it as a new species. Plants in cultivation also may develop features that differ from those in the natural environment and have also be published as a separate taxon. Nevertheless, these variants should not be given species status.
The genus Haworthia is restricted almost entirely to the southern regions of South Africa. There are, however, outliers in Mozambique, Mpumalanga, Swaziland and KwaZulu-Natal, as well as a few in the Free State and Namibia. The genus Haworthiopsis occurs mainly in the Eastern Cape, where 14 of the 18 species occur, the rest are spread in the central, southern and western parts of South Africa and in southern Namibia, with a small disjunct population in Mpumalanga and Limpopo.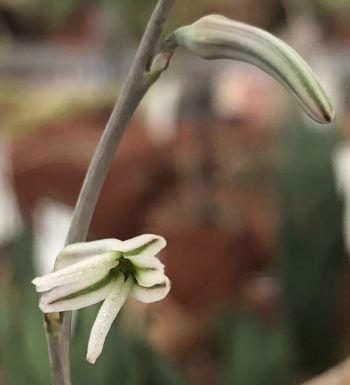 Ecology
Ecology
Haworthiopsis coarctata flowers are pollinated by bees and wasps, and the plant is fed on by grasshoppers, crickets, tortoises and porcupines.
Uses
Use
Historically it was used as a charm in times of war, as it is believed to make the warriors fearless. These plants are cultivated by healers and traders, as there is a large demand for it in the traditional medicinal plant trade, as it is believed to ward off evil spirits.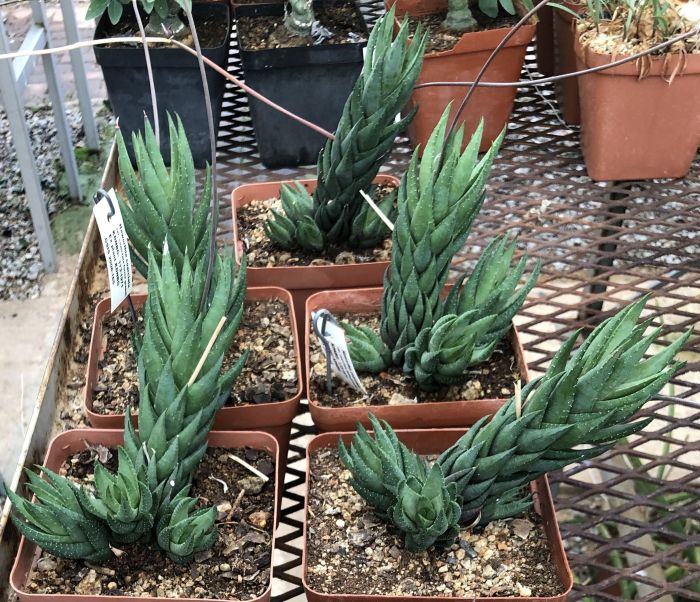 Growing Haworthiopsis coarctata
Grow
Haworthiopsis coarctata plants are relatively slow growing They can be propagated in 3 ways: offsets, leaves and seeds. With offsets, new small plants will sprout up around the base of the motherplant; simply pull these up, allow these offsets to dry for 1 or 2 days, before replanting. Leaves can be used to propagate new plants: choose a firm, healthy leaf, remove it from the main plant by gently twisting the leaf from the stem; always be sure not to leave any of the leaf on the stem. Allow the leaf to dry for several days to form a callus over the wound, and then lay it on well-drained soil, and water sparingly, when the soil has dried completely. After the roots have formed and a rosette has developed and mother leaf has withered away, transplant the new plant to a separate pot. Seeds are sown in spring in a well-drained soil, kept slightly moist and placed in the full shade house for germination to take place.
Older clumps can also be divided, split up and replanted.
Haworthiopsis coarctata can be cultivated in containers, and in frost-free areas with low rainfall. It can be cultivated in the garden where it is ideal for rockeries or among rocks, in a semi-shaded position, although they will tolerate full sun. Sun will bring out more colours in the leaves.
When growing Haworthiopsis coarctata, never allow water to collect in the rosette, because it will cause the plants to rot. They require warm temperatures in summer, but cool in the winter, down to 10°C. Bright light is required, but not direct sunlight. White or yellow leaves usually indicate that it is receiving too much sun, which must be avoided. Soil must be very well drained, a mixture of 50% potting soil and 50% washed river sand is recommended for the plant to grow well.
The most dangerous situation for these plants is too much water. They should never be allowed to sit in water under any circumstances.
References
Bayer, B. 2012. Haworthia update Essays on Haworthia Vol. 7, Part 1.
Bayer, M.B. 1971. Changes in the genus Haworthia. Cactus and Succulent Journal (US) 43: 157–162.
Gildenhuys, S.D. 2017. Haworthiopsis — an illustrated taxonomy. Aloe 53(1): 4–78.
Gildenhuys, S.D. & Klopper, R.R. 2016. A synoptic review and new infrageneric classification for the genus Haworthiopsis (Xanthorrhoeaceae: Asphodelaceae). Phytotaxa 265(1): 1–26. http://dx.doi.org/10.11646/phytotaxa.265.1.1
Klopper, R.R. & Gildenhuys, S.D. 2018. Haworthiopsis (Asphodelaceae). PlantZAfrica. Internet 10 pp. http://pza.sanbi.org/haworthiopsis
Scott, C.L. 1985. The genus Haworthia, a taxonomic revision. Aloe Books, Johannesburg.
Von Staden, L. 2014. Haworthiopsis coarctata (Haw.) G.D.Rowley. National Assessment: Red List of South African plants version 2017.1. Accessed on 2019/04/15.
Credits
Katlego Selemela
Walter Sisulu National Botanical Garden
April 2019
Plant Attributes:
Plant Type: Succulent
SA Distribution: Eastern Cape
Soil type: Sandy
Flowering season: Spring
PH: Acid
Flower colour: Green, White
Aspect: Full Sun, Morning Sun (Semi Shade), Afternoon Sun (Semi Shade)
Gardening skill: Easy
Special Features:
Drought resistant
Good potplant
Medical plant
Horticultural zones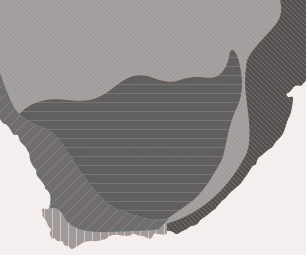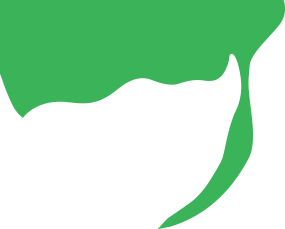 Zone 1 Coastal summer rainfall, frost free
Zone 5 Bushveld summer rainfall, Light frost
Google QR Code Generator