Haworthiopsis nigra (Haw.) G.D.Rowley
Family: Asphodelaceae
Common names: black haworthiopsis
Introduction
Haworthiopsis nigra, formerly known as Haworthia nigra, is a slow growing, dwarf, flowering succulent plant, that will instantly capture your attention with its triangular leaves that are arranged in three tiers and are slightly curved downwards. It is an ornamental plant which is most attractive in any environment, with unusually coloured leaves, that vary from very dark green to almost black, to light grey. It grows naturally in the Great Karoo.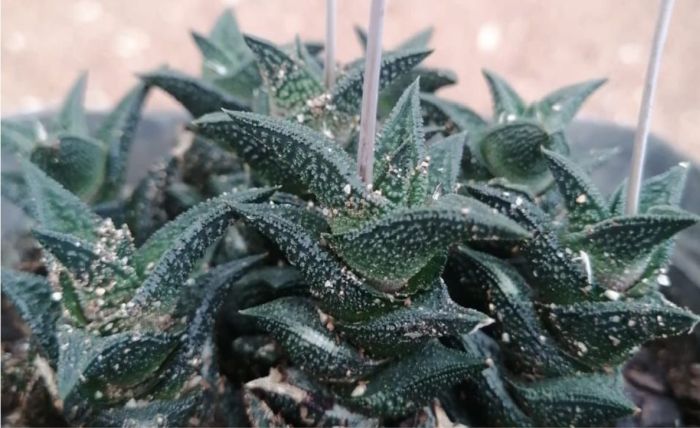 Description
Description
Haworthiopsis nigra is a small plant, with a short stem that varies from being as long as 50 mm or reduced to almost stemless. It is a slowly proliferous or stoloniferous species that forms rosettes up to 60 mm in diameter and 100 mm high, but often shorter. Characteristically, it produces columns of 3-ranked leaves packed closely along its stems, although some varieties have a diverse leaf arrangement.
The leaves are 30 × 15 mm, leathery, triangular with a pointed tip, they may be recurved and stretched out away from the stem or short and compressed upon one another. They are greatly textured, covered in dark, raised, tubercles and marked with lines and ridges, very dark green to brownish black, dull to smoky green or greyish green . Young leaves may be a brighter green before becoming darker.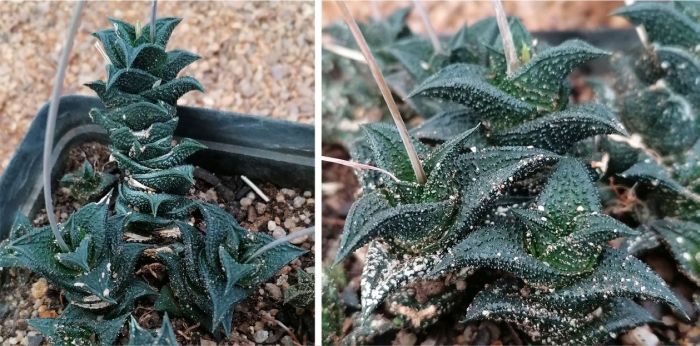 Tubular, bell shaped, white to cream-white flowers are produced in a simple, lax inflorescence on a slender stalk, arising from the centre of the plant, in spring and summer.
Three varieties are recognised: var. nigra, var. diversifolia and var. elongata. The typical form has short stems, blackish-green, recurved leaves with tubercles usually the same colour as the leaves. The variety diversifolia has grey-green leaves with lighter tubercles often merging together forming transverse bands, and the leaves are short, with slightly recurved tips and are very obviously in 3 tiers. The variety elongata has long stems, some reaching up to 400 mm in length.
Conservation Status
Status
According to the Red List of South African plants website, Haworthiopsis nigra is not considered threatened and is assessed as Least Concern (LC).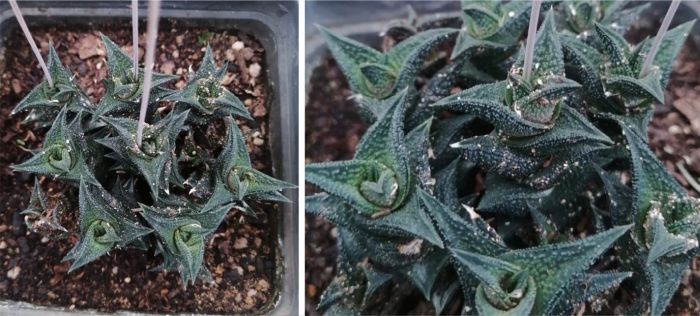 Distribution and habitat
Distribution description
Haworthiopsis nigra is a variable species which is spread over a large part of South Africa, in the Northern, Western and Eastern Cape Provinces, occurring largely in the Great Karoo, in areas where the average rainfall is low and inconsistent. It grows on plains, rocky ridges, rocky outcrops and on cliffs, in well drained sandy soil, habitually under rocks and bushes which supply partial shelter from the sun.
The typical variety nigra occurs in the east of its range, in the Eastern Cape as far east as East London. The variety diversifolia occurs in the west of its range, mainly in the Western Cape, around Loeriesfontein and the variety elongata occurs near Somerset East in the Eastern Cape.
Derivation of name and historical aspects
History
The genus name Haworthiopsis means 'like the genus Haworthia' and indeed these plants were included in the genus Haworthia until 2014 when genetic studies showed that they were distinct enough to warrant a genus of their own. The species name nigra means 'black', referring to the colour of their leaves.
Ecology
Ecology
In their natural habitat, Haworthiopsis nigra leaves are often covered with sand and plants grow in the shade of bushes, plants are thus sheltered from the harsh sun and hidden from predators. If a plant is grazed, disturbed or trampled, broken-off pieces can root and become new plants. The succulent leaves store water and enable the plants to survive periods of drought.
Uses
Use
Many Haworthiopsis are used in traditional medicine as a charm to ward off evil spirits.
All Haworthiopsis develop very well in containers, whether indoors or outdoors or on a patio. One should allocate sufficient room for growth, and keep in mind that the looser the roots, the taller and healthier your Haworthiopsis will be. In the process of growth, if the plant becomes rootbound, growth slows and that is when one should transplant it into a bigger pot. Haworthiopsis nigra can be used as container plant, a mini feature plant, a house plant, and can be grown outdoors in a rock garden or retaining wall in dry, temperate climates.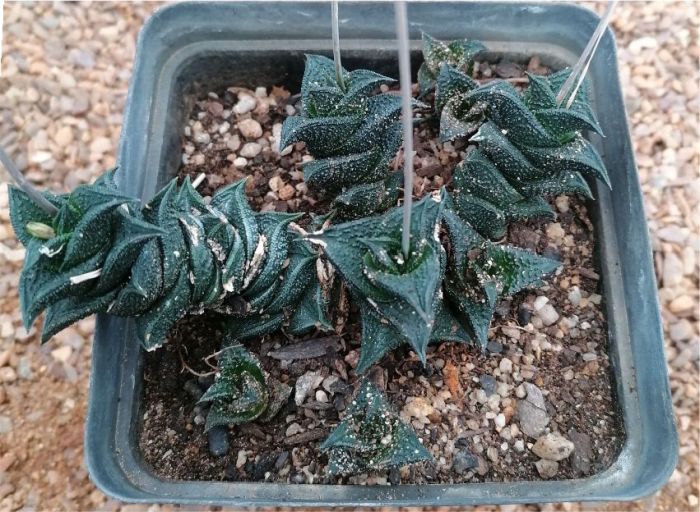 Growing Haworthiopsis nigra
Grow
Haworthiopsis nigra is a slow-growing, long-lived species, and when successfully grown, it can be very striking and forms beautiful groups. It is easy to care for and requires little attention. It needs well-drained (sandy) soil, regular watering in summer (but take care not to overwater as plants are prone to rotting – water when the soil is dry to the touch), a dry winter, a position in bright light but not direct sun (indoors) or dappled shade or partial sun (outdoors) and free air circulation. Apply fertilizer in moderation, a slow-release fertilizer is preferable. When unfertilized, it will tend to grow at a slower rate.
Haworthiopsis nigra can be easily propagated from stolons or offsets.
These succulents are not difficult house plants to grow. As with all succulents, the most hazardous situation is too much water, they should never be allowed to sit in water under any situation.
These attractive, little plants can also be grown in unusual containers such as teacups and even tiny baby shoes. Some plants can be so slow growing that they produce no more than one or two leaves a year and remain content in a 6 cm pot for many years.
Haworthiopsis nigra is an excellent window-sill plant that is able to withstand more neglect than almost any other plant, while thriving in both bright and medium light locations; it is an interesting addition to any dish-garden or table top.
When you receive your new Haworthiopsis, there is no need to be concerned about planting it right way. Your new plant can be stored for a while by simply placing it in a tray and moving it to a shady location and watering when dry. This will give you plenty of time to choose the perfect position for your new Haworthiopsis.
In cooler areas containerized Haworthiopsis nigra can be relocated indoors for the winter months.
References
Bayer, M.B. 1999. Haworthia revisited – 51. Haworthia nigra. Accessed via Haworthia Updates. https://haworthiaupdates.org/1999/02/21/haworthia-revisited-51-haworthia-nigra/
Breuer, I. 2002. The world of haworthias, Volume 2. Ingo Breuer und Arbeitskreis fur Mammillarienfreunde e.V (AfM) Niederzier and Homburg/Saar.
Cactus Art Nursery, Haworthia nigra. http://www.cactus-art.biz/schede/HAWORTHIA/Haworthia_nigra/Haworthia_nigra/Haworthia_nigra.htm. Accessed on 2021/11/24.
Court, D. 1981. Succulent flora of southern Africa. Balkema, Cape Town.
Jilemicky, J. undated. All you want to know about Haworthia, Gasteria and Astroloba. Haworthiopsis nigra. https://haworthia-gasteria.blogspot.com/2008/02/haworthia-nigra.html?m=1. Accessed on 2021/11/24.
Klopper, R.R. & Gildenhuys, S.D. 2018. Haworthiopsis (Asphodelaceae). PlantZAfrica. Online. http://pza.sanbi.org/haworthiopsis
LLIFLE The Encyclopedia of Succulents, Haworthia nigra (Haw.) Baker. http://www.Ilifle.com/Encyclopedia/SUCCULENTS/Family/Aloaceae/13690/Haworthia_nigra. Accessed on 2021/11/24.
Raimondo, D. & von Staden, L. 2016. Haworthiopsis nigra (Haw.) G.D.Rowley. National Assessment: Red List of South African Plants version 2020.1. Accessed on 2021/11/24
Scott, C.L. 1985. The genus Haworthia, a taxonomic revision. Aloe Books, Johannesburg.
World of Succulents, Haworthiopsis nigra (Black Haworthia). https://worldofsucculents.com/haworthia-nigra-black-haworthia/. Accessed on 2021/11/24.
Credits
Sihle Nqentsu & Sboniso Zwane
Pretoria National Botanical Garden
December 2021
Plant Attributes:
Plant Type: Succulent
SA Distribution: Eastern Cape, Northern Cape, Western Cape
Soil type: Sandy, Loam
Flowering season: Spring, Early Summer
PH: Acid
Flower colour: Cream
Aspect: Morning Sun (Semi Shade), Afternoon Sun (Semi Shade)
Gardening skill: Easy
Special Features:
Drought resistant
Good potplant
Indoor plant
Horticultural zones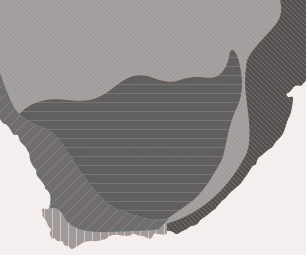 Zone 3 Winter rainfall Karoo, light frost
Zone 4 Summer rainfall Karoo and Highveld, Frost in winter
Google QR Code Generator