Haworthiopsis tessellata (Haw.) Rowley
Family: Asphodelaceae
Common names: veined haworthiopsis (Eng.); venstertjie (Afr.)
Introduction
This species forms small to large clumps of numerous, small plants made up of short, leafy stems. Its leaves are customarily dark green, more or less deltoid, and the upper surfaces are noticeably traversed by a network of lighter lines.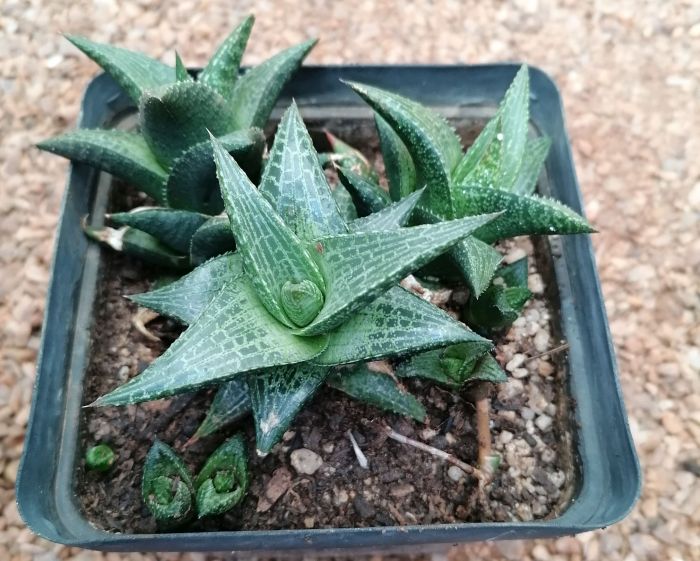 Description
Description
Haworthiopsis tessellata is said to be a common and very adaptable succulent plant. It is a stemless, slow-growing, evergreen plant, with stoloniferous roots, that can grow up to 150 mm high and 100 mm wide. It has sessile leaves, up to 50 mm long and up to 30 mm wide at the base. The leaves are corpulent, firm in texture and mostly triangular in shape, sturdily bent backwards, and brownish to green at the apex. The upper surface is marked with light green, vertical lines that form a square-patterned design. The lower surface is usually slightly rounded with elevated coriaceous tubercles. The leaves form a rosette and turn reddish when exposed to full sun.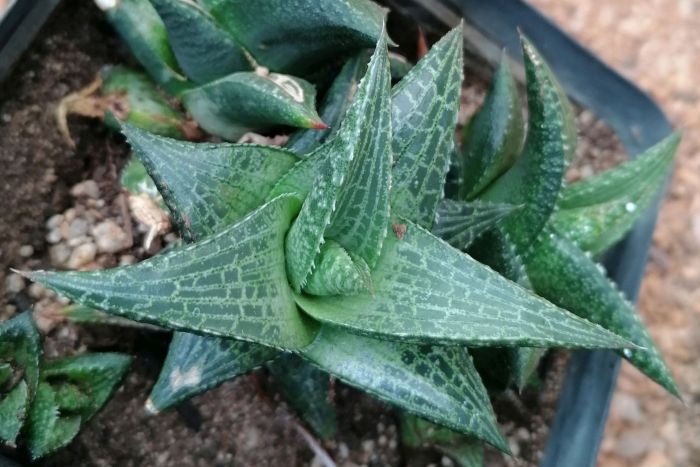 Inflorescences are thin and wiry, with two-lipped, off-white, greyish flowers.
Conservation Status
Status
Distribution and habitat
Distribution description
Haworthiopsis tessellata is widely spread in South Africa and in southern Namibia, occurring mostly in the Eastern Cape but also in the Free State, Northern and Western Cape Provinces. It is one of the most adaptable, widespread and variable of the Haworthiopsis, primarily found in the summer rainfall region. It grows in bushy and rocky areas. Usually it is very prolific, forming clusters in nature and filling up the space it has.
Derivation of name and historical aspects
History
The genus name Haworthiopsis means 'like Haworthia', a closely related genus which honours the British botanist Adrian Hardy Haworth (1767–1833). The specific epithet tessellata is Latin and means 'square-patterned'.
Until recently all Haworthiopsis were included in the genus Haworthia, and there are a number of synonyms for this species, including Haworthia tessellata and Haworthia venosa subsp. tessellata.
Ecology
Ecology
Succulents share certain features, such as fleshy leaves, and stems or roots that can store water, which allows them to survive with a lesser need of water. Succulence and innovative water storage and saving mechanisms contribute to their resilience.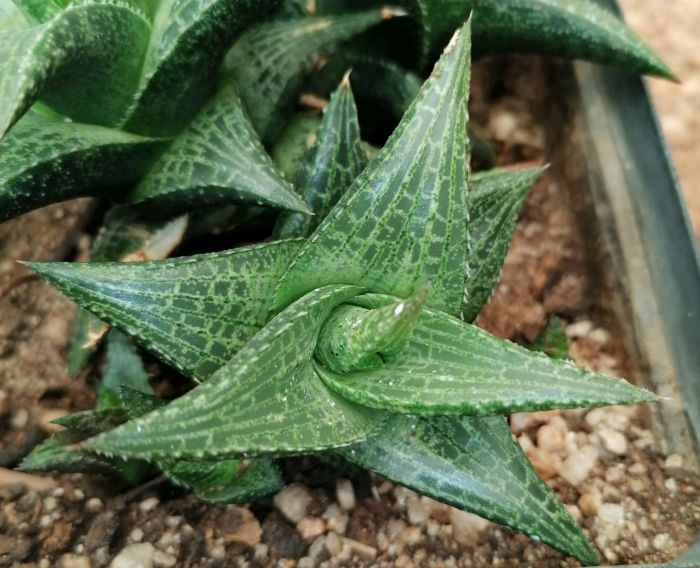 Uses
Use
Haworthiopsis plants are said to be non-toxic to animals and human beings. Some animals do search for these plants and consume them. Although, the consumption of these plants by some animals is not purely just eating them as food, they also consume them as source of water.
They can also be used as decorative little plants and can be grown in attractive containers such as teacups and even small baby shoes. They are generally grown for their decorative leaf markings and architectural forms and are also suitable for patio landscapes. These plants are one of many plant lovers' favourite houseplants, because they are simple plants that are not so easy to eradicate, which makes them perfect for new plant parents.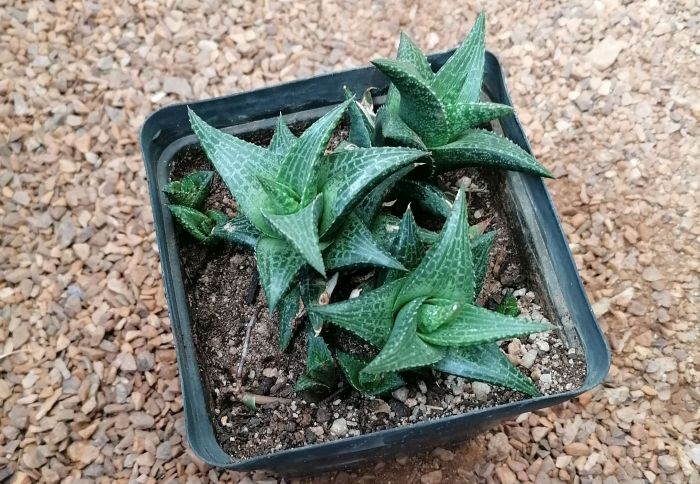 Growing Haworthiopsis tessellata
Grow
Haworthiopsis tessellata is best suited to containers, but could be grown outdoors in a semi-shaded rockery or water-wise garden in arid regions that have low rainfall.
Growing succulents is not considered difficult. It is said that, if you can keep a pot of aloe alive on a windowsill, chances are you can do the same with a dish of Haworthiopsis. As with all succulent plants, the most dangerous situation for them is too much water. H. tessellata should not be allowed to sit in water under any conditions.
Haworthiopsis tessellata plants do the propagation for us. They produce many offsets which sooner or later grow into full-sized plants. One should allow the offsets to grow to a reasonable size before separating them from the parent plant. In fact, the key requirement for separating plants is to make sure that the offsets have some roots that will enable them to survive on their own after being separated.
Haworthiopsis tessellata should be watered deeply but only when the soil has dried out in the pot. Using a finger to check the moisture level has always been the most efficient technique used and is a necessity. One should make sure that the potting mix is dried out a number of centimeters before considering watering.
The other important consideration in watering is drainage; a drainage hole in the container is a must, and also make sure to provide it a fast-draining potting mix, which will let all excess water drain out of the pot after watering.
It is also important to reduce watering this plant during the hottest parts of summer, because the growth rate of these plants slows down or sometimes stops in the summer and, therefore, they do not require much water.
Medium light is all that is needed for this plant. Direct sunlight will burn its leaves. You will know the suitability of your light levels just based on the coloration of the leaves. H. tessellata will be green in low to medium light and will be brown to red in medium to bright light. Direct sunlight is just not an option.
The best location in the house for your H. tessellata plant is in a place that is well lit but not in direct sun, such as on a south-facing windowsill (north-facing windowsill in the northern hemisphere), and it will persist just fine. Alternatively, place it near an east- or west-facing window.
Just like other houseplants, this Haworthiopsis will survive in the same temperatures that we humans like to live in and normal household humidity levels are fine. However, if one has a humidifier running in the house, it is not recommend to keep H. tessellata too close to the humidifier. The more humid its environment, the more likely fungal diseases, such as root rot, will affect the plant.
References
Breuer, I. 2002. The world of haworthias, Volume 2. Ingo Breuer und Arbeitskreis fur Mammillarienfreunde e.V (AfM) Niederzier and Homburg/Saar.
Court, D. 1981. Succulent flora of southern Africa. Balkema, Cape Town.
Dave's Garden. Haworthiopsis species, Haworthiopsis tessellata. https://davesgarden.com/guides/pf/go/76693/#b. Accessed 13 April 2021.
Klopper, R.R. & Gildenhuys, S.D. 2018. Haworthiopsis (Asphodelaceae). PlantZAfrica. Online. http://pza.sanbi.org/haworthiopsis
Liquidambar Girl Gardening. How to care for Haworthia tessellata. https://lggardening.com/2020/08/01/how-to-care-for-haworthia-tesselata/. Accessed 13 April 2021.
Smith, G.F., Crouch, N.R. & Figueiredo, E. 2017. Field guide to succulents in southern Africa. Struik Nature, Cape Town.
Von Staden, L. 2014. Haworthiopsis tessellata (Haw.) Rowley. National Assessment: Red List of South African plants version 2020.1. Accessed on 2021/04/20.
World of succulents. Haworthia venosa subsp. tessellata (Veined Haworthia). https://worldofsucculents.com/haworthia-venosa-tessellata-veined-haworthia/. Accessed 13 April 2021.
Credits
Sboniso Zwane and Sihle Nqentsu
Pretoria National Botanical Garden
May 2021
Plant Attributes:
Plant Type: Succulent
SA Distribution: Eastern Cape, Free State, Northern Cape, Western Cape
Soil type: Sandy
Flowering season:
PH: Acid
Flower colour: Cream
Aspect: Shade, Morning Sun (Semi Shade), Afternoon Sun (Semi Shade)
Gardening skill: Easy
Special Features:
Drought resistant
Good potplant
Indoor plant
Horticultural zones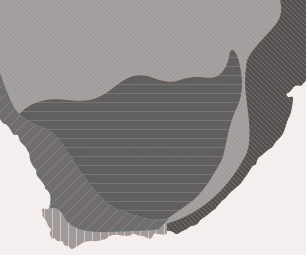 Zone 3 Winter rainfall Karoo, light frost
Zone 4 Summer rainfall Karoo and Highveld, Frost in winter
Google QR Code Generator